Above: Biggie Smalls shop front, images courtesy Technē Architecture and Interior Design.
Known for his high-end Middle Eastern restaurant Maha, acclaimed Melbourne chef Shane Delia has opened a second venue, designed by Technē Architecture and Interior Design.
Located on Collingwood's Smith Street, Biggie Smalls (an ode to Brooklyn rapper The Notorious B.I.G. aka Biggie) combines two of Delia's personal passions: kebabs and hip-hop.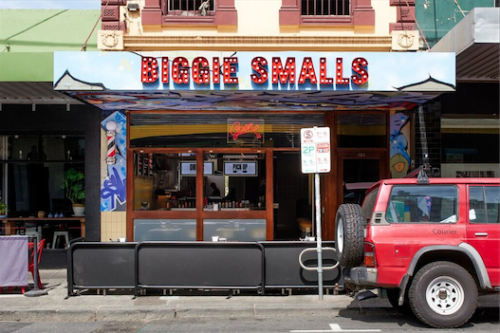 The brief provided to Technē Architecture and Interior Design was to create a space inspired by the streets of Brooklyn where Biggie grew up, and complemented the borough's laidback approach to food.
"We wanted to create a space that captured the spirit of '80s and '90s NYC and would become a relevant part of the local social fabric," Technē Lead Interior Designer, Kate Archibald, said.
Referencing the classic New York diner, Technē has formed a material palette of stainless steel, vinyl, coloured tiles and timber laminate. Yellow upholstered booths with black and white-chequered trim conjure instant visions of New York's iconic taxi fleet, while overhead chrome luggage racks appear lifted straight from the city's subway cars.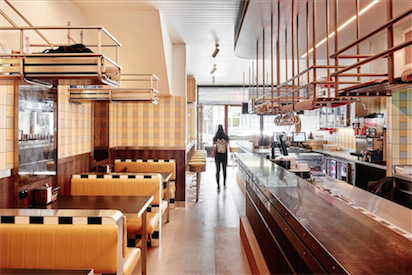 With five booths seating groups of four, and stools lining a bar that curves from point-of-sale to the street facing window, the 85 square metre space seats 35 patrons.
Technē commissioned local graffiti artist Jimmy B of GraffixCreative to produce artwork that adorns the underside of the canopy and façade.
With the addition of a pair of vintage speakers that have been owned by Delia's dad for 35 years, which sit upon the wall aside a montage of Biggie portraits, Technē has created a space that feels ready to be lived in and worn out.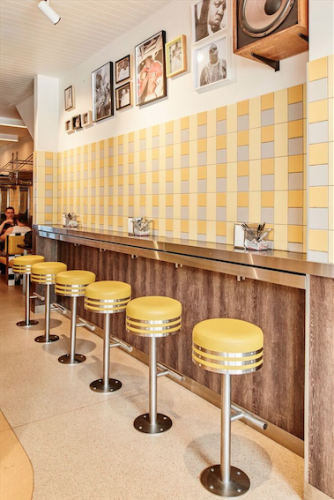 Although the design and soundtrack is distinctly New York, the menu carries several influences of Delia's Middle Eastern heritage. Items include kebabs with harissa, smoked hummus and almond mayo and chips served with preserved lemon and spiced butter.
While the venue's design immerses the diner in a Brooklyn aesthetic, it still retains the feel of a Melbourne local. "I wanted somewhere with something better than Carlton Draught on tap, no cheesy hip hop paraphernalia and a menu that's in keeping with Melbourne's world-class dining scene," Delia said.