Above: The Infinity building, renders courtesy of Koichi Takada Architects.
Construction has begun on a landmark $575-million mixed-use building in Sydney's Green Square, following a ceremony attended by Sydney Lord Mayor Clover Moore yesterday.
Featuring around 400 apartments, the Infinity building by Crown Group will be situated on the corner of Bourke Street and Botany Road. In addition to apartments, it will include approximately 30 retail outlets within a public plaza, as well as restaurants, cafés, and a conference centre.
Infinity's design, however, it what positions it as groundbreaking. In a climate where height often gauges attention, height alone does not always provide the maximum quality of life available for apartment living. A public engagement survey, released at the beginning of the year, found that 60 percent of people interviewed saw access to daylight as the most important amenity when it comes to apartment living, while 80 percent argued that natural light along with good ventilation is the single most essential amenity.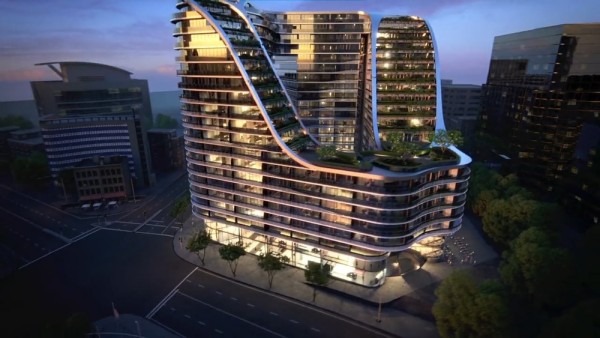 Attention to the desire for these amenities and the development of design which thoughtfully addresses them positions the Infinity building, designed by Koichi Takada Architects, as becoming one of Green Square's most recognised structures and a pioneering design for future apartment towers.
Forming a unique loop with a void in its north-facing façade, the unconventional architecture allows natural light to penetrate the building's inner-facing apartments, as well as the 1180-sqm landscaped plaza which sits at its lower level. On Infinity's south side, apartments sit in a tiered pattern, which provides them with year-round daylight, while north-side apartments are able to capture light from the north.
Quality of life for Infinity's residents is repeatedly realised through Koichi Takada's design. Amenities for residents include an infinity pool, a spa, gym, music room with a baby-grand piano, media theatre, a roof-top terrace and sky lounge, complete with views of Sydney's CBD. Apartments also feature external gardens, floor-to-ceiling glass windows and a rooftop terrace.
Crown Group CEO Iwan Sunito praised Koichi Takada's work, which has already won its first award – the 2014 Urban Development Institute of Australia (UDIA) NSW Concept Design award. "Infinity by Crown Group will set a new benchmark in city living and architecture," he said.
Koichi Takada discusses the Infinity building and importance of considering high-rise design at a human level in the next issue of AR magazine, available at news stands and at shop.niche.com.au.