Above: Impression of the Gold Coast Airport redesign, render courtesy Cox Architecture.
The Gold Coast Airport (Coolangatta) is set for a $300 million redevelopment, following its approval by the Australian Federal Government last month. Designed by Cox Architecture, the project will be completed over two stages – the first, to be completed in 2017, involves a redevelopment of the terminal building and the construction of three new aircraft parking stands. The second stage, to be completed in 2021, will add two more parking stands.
The Gold Coast airport has reported a record month of over 600,000 passengers in January 2016, and with the Commonwealth Games taking place in 2018, another 126,000 visitors, athletes, officials, and media are expected to make their way through the airport, arguably making the redevelopments a necessity.
The Gold Coast, however, is not the first airport to recruit Australian architects for terminal and facility transformations. In 2013, the $480 million overhaul of the Canberra Airport was completed by Guida Moseley Brown Architects, who won a competition to take on the project. The resulting airport is not only grandiose in design, but also functional, efficient, and resides as a place of public interest.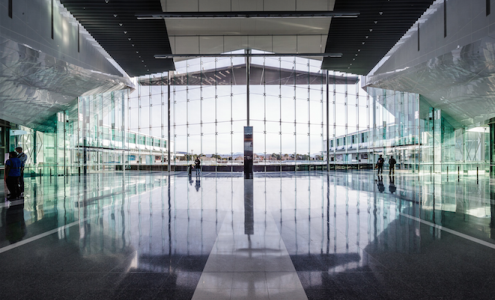 Further, the development carefully worked towards transforming the airport into Australia's greenest. Considered building materials known for longevity were utilised in the construction, while a rainwater tank and energy-efficient lighting were installed. The roof of the airport is capable of collecting 1.3 million litres of water, which is recycled for use within the terminals and surrounding landscape.
A three-storey glazed facade marks the entrance to the Canberra airport, which was voted as the 'Australian Airport of the Year' at the National Airport Industry Awards in 2013.
Over the sea in New Zealand, Melbourne-based architects BVN, in association with Jasmax, raised the bar with their redesign of the Christchurch Regional Airport Lounge. The attentively detailed lounge won a collection of awards, including the IDEA international category for 2014 as well as the the Commercial Architecture and Interior Architecture award at the NZIA National Awards in the same year. The lounge's aesthetic carefully harmonises with New Zealand's culture and landscape – its folded ceiling reflects the island country's iconic mountains, while arched, flowing seating serves as a reminder of sea kelp found on South Island beaches.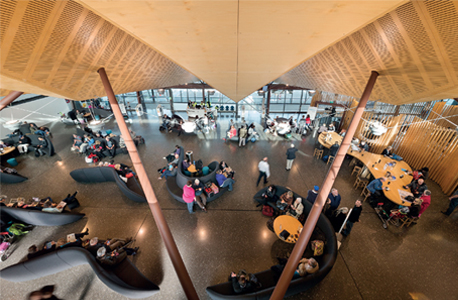 As a traveller's first point of contact with a city or country, the ease of access, appearance, and design of an airport can make a lasting impression and shape the beginning of one's stay. The involvement of thoughtful, local architects can transform an airport's facilities from a place you can't wait to pass through into a surrounding that invites attention and creates a connection with the culture you are entering or leaving. With a range of highly commended projects under their belt, it will be exciting to see what Cox Architecture has in store for the future of the Gold Coast airport.