Images courtesy Beulah International. Above image: 'Big Bang' chandelier by Foscarini illuminates the office foyer.
With the intent to create a professional and inspiring work office for her Melbourne-based company Beulah International, Adelene Teh transformed a bare 1960's Collins Street office into an aesthetically beautiful, New York loft inspired space.
With a mixture of monochrome and earthy tones, Beulah International's office features high ceilings, a greenery wall and double volume windows that saturate the space with natural light.
"My vision was to create a space that people love to work in and a space that encourages interaction, team work and communication, which is achieved through the juxtaposition of corporate and residential design characteristics, " says Adelene. "The open plan office features a curved work station that encourages our staff to collaborate and communicate as a team. We've also centralised the kitchen into the middle of the office as it enables us to share conversations and share ideas over a meal."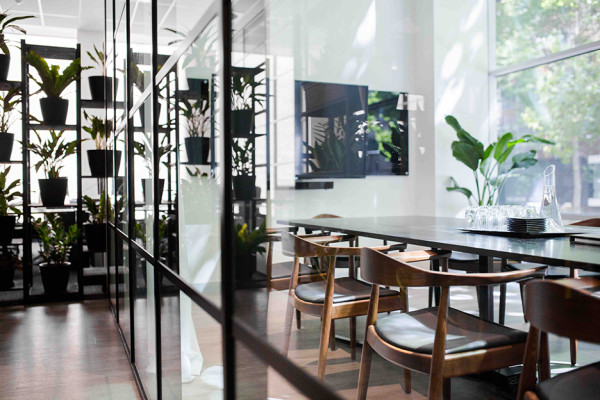 The office boasts a distinct colour palette of grey textured concrete, stunning black lines from the framed glazed walls, warm walnut tones throughout the timber wall paneling and beautiful ash grey timber flooring that scales the walls, emphasising the verticality of the space.
The office foyer features the stunning 'Big Bang' chandelier by Foscarini, with the board room boasting Australian designed balance pendants from Viktor Legin.
The homely yet professional feel of the office is complimented by Adelene's choice of black furnishings, Danish-designed boardroom chairs and a lush greenery wall that not only acts as a privacy barrier but encapsulates the company's vision of delivering residences that are surrounded by a garden oasis.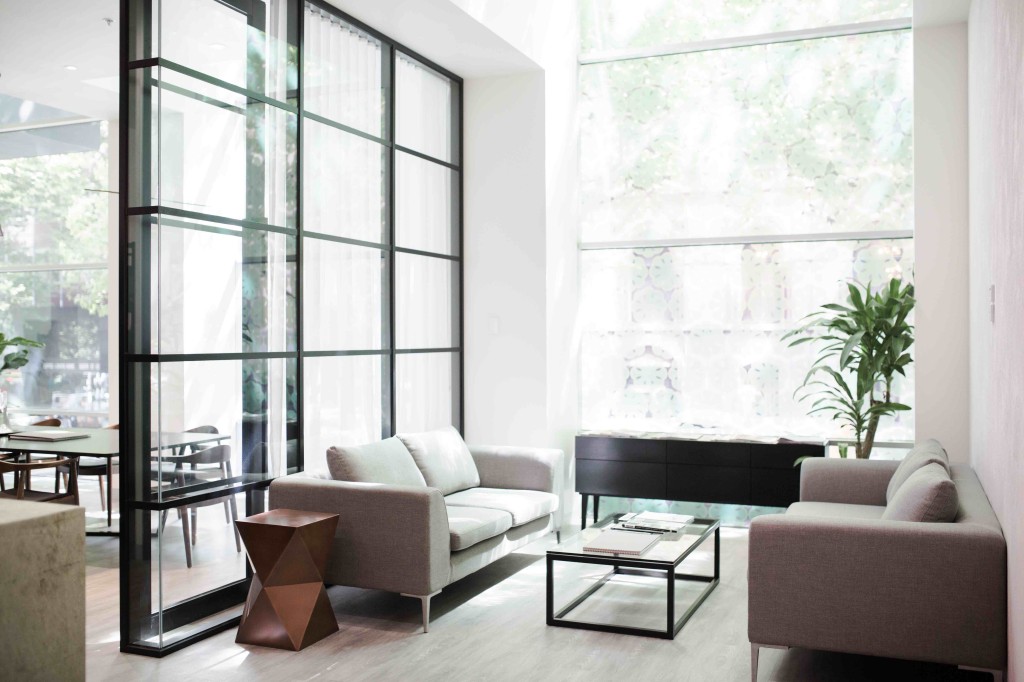 "Greenery walls are also known to increase staff productivity and aid in stress relief, which compliments the calming and collaborative space we set out to achieve," says Adelene.
A recent study* shows that a green working environment is consistently more enjoyable for employees and more productive for a business, with levels of activity increasing by 15 percent due to the improved air quality.
As developers of high-end luxurious developments, Adelene says it's essential the company vision of delivering aesthetically beautiful yet functional projects is a consistent message that is reflected in all aspects of the business.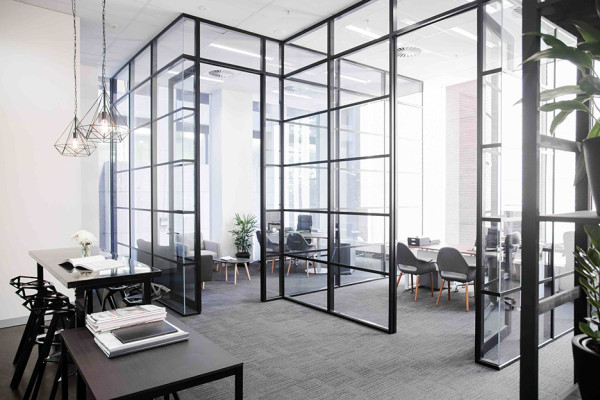 "We're incredibly passionate about design and delivering beautiful living spaces so our office needs to be reflective of what we believe in. We believe that good work comes from a well-designed factory and our office is the heart of our business.
"Our design style is centered around innovation and alternative solutions. We don't believe that the most expensive option is always the best so we look for solutions that offer maximum impact but are still affordable. This is reflective in both our office design and our first development Gardenhill. We're always looking at what our customers, clients and staff member's needs are and how to best meet them from a design perspective," says Adelene.
*Cardiff University of Psychology 2014 Research