Following Brisbane City Council's recent approval for three towers in Toowong by Zaha Hadid, this week, the prolific architect reveals plans for a second project – a pair of towers at Mariner's Cove on the Gold Coast. The projects are a significant boon for both cities, set to raise Queensland's profile within international architecture circles.
Hadid's design for the Grace on Coronation towers casts the multi-residential buildings as tapered columns within bone-like exoskeletons. The neofuturistic structures are a radical departure from the existing buildings on the riverside site, and will almost double the area's 15-storey height limitations.
The trio of buildings includes two at 24 storeys and one at 27 storeys, housing roughly 500 apartments in all. While Hadid's new buildings dominate the riverbank, Grace on Coronation remains sensitive to the site's Heritage-listed fig trees and Middenbury House (circa 1860) on-site.
"The design tapers each structure to minimise their footprint and open the riverfront to the public, creating a vibrant civic space for Toowong within a new riverside park," Hadid said of the Toowong project.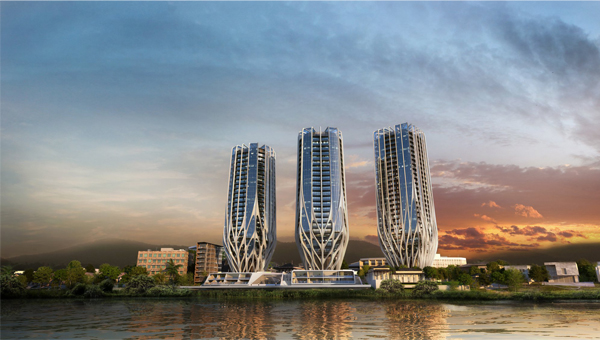 Hadid's two commissions from Sunland Group developers follows Frank Gehry's 2014 Dr Chau Chak Wing Building at UTS, heralding a new era of big name foreign architects looking to make their mark on Australian soil. Celebrity appeal aside, what effect might these multimillion-dollar projects have on shaping our local architectural landscape?
In an article for The New York Times, Witold Rybczynski, emeritus professor of urbanism at the University of Pennsylvania, cautioned against the allure of starchitect "franchises, particularly those of the globe-trotters: Renzo, Rem, Zaha and Frank".
The chief concern in Queensland is the homogeneity of works, and whether the celebrity architect's creative agenda is contextually appropriate to the site. The three Grace on Coronation buildings are markedly similar in appearance to the pair of multi residential towers planned for the Gold Coast, raising concerns that the UK-based architect's vision for the two projects could henceforth dictate the scale and language of Queensland's built environment.
The twin buildings at Mariner's Cove will stand at 44 storeys each, including 370 apartments, with plans for a boutique hotel and a 1950-square metre retail and dining precinct beneath.
Though the towers fairly eclipse surrounding buildings, Sunland's managing director, Sahba Abedian, says, "At the ground plane, the towers merge seamlessly with public spaces dedicated to culture and the arts… the museum's sweeping organic forms reflect the landscape of its unique location, symbolic of the dunal shapes distinctive to the Broadwater setting."