All images by Peter Clarke.
Elenberg Fraser's recently completed Avenue apartment building, on the corner of Chapel Street and Alexandra Avenue, viewed from across the Yarra River, has a striking sense of sadness. With its gentle, curved surface billowing out, while also retreating from the corner, offering a soft visual gateway into South Yarra, how would anyone be able to paint 'Bonjour Tristesse' way up on the facade?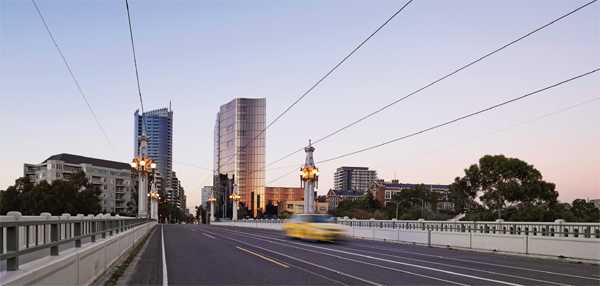 The intended 25-storey tower by the previous developer, designed by Wood Marsh, shared formal cues with their Balencea Apartments. Interestingly named, Tresor was an obvious reference to the highly influential Berlin techno club just up the road from Álvaro Siza's Bonjour Tristesse apartment building. Wood Marsh's design used the same fluting as the Balencea Apartments and applied it to Tresor, with a dominant flute on the corner, effectively creating the inverse of Elenberg Fraser's and Siza's approach to a corner. The difference is stark. Tresor dominated its site, with its sharp arises giving it a formal authority. Simple, elegant but mostly dominant.
Tresor, however, was deemed excessively tall and the site subsequently sold to its current developer. The school behind the site had reasonable concerns about the tower to its north and Lindsay Fox objected as he lands his helicopter on his old school's grounds. Elenberg Fraser then produced the 16-storey Avenue, seemingly not overly mocking the council's stated 12-storey (38-metre) limit to the north of Chapel Street – this limit was recently changed to 76 metres and overruled in favour of a 92-metre development.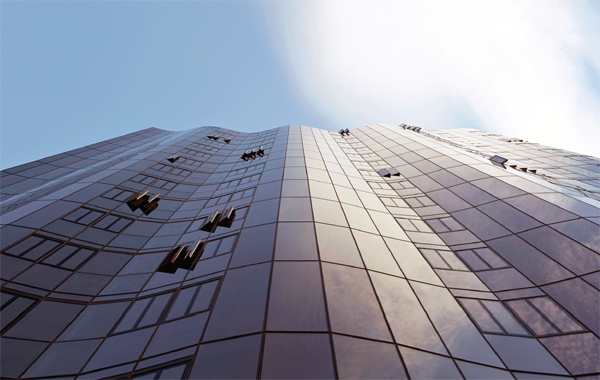 Avenue has a striking purity, most notable through a lack of visible spandrels or mullions in its aptly named curtain wall. A series of regular smooth undulations across the facade resolve themselves in gentle points, apart from the main corner to the intersection. Here it skips an undulation and pulls back from the edge more than its regular geometry allows. In plan, this effective chamfer creates a somewhat awkward triangular plan on the corner, whereas for all intents and purposes, the bulk of apartment plans are loosely rectilinear.
The overall plan forms an L-shape in its lower reaches, neatly containing what now seems a very quaint block of three-storey apartments to the west and pushing back in towards the school. Above five storeys it pulls back its western arm from the school and singularly addresses itself to Chapel Street. The internal planning is unsurprisingly efficient. This extends to the use of car stackers in the basement car park. Of note though, is the use of conservatories in each apartment, typically providing a space between the facade and bedroom. This is combined with a series of casement windows. These banks of windows convincingly break the purity of the image, as they stamp their scale upon the curtain and hint at inhabitation behind.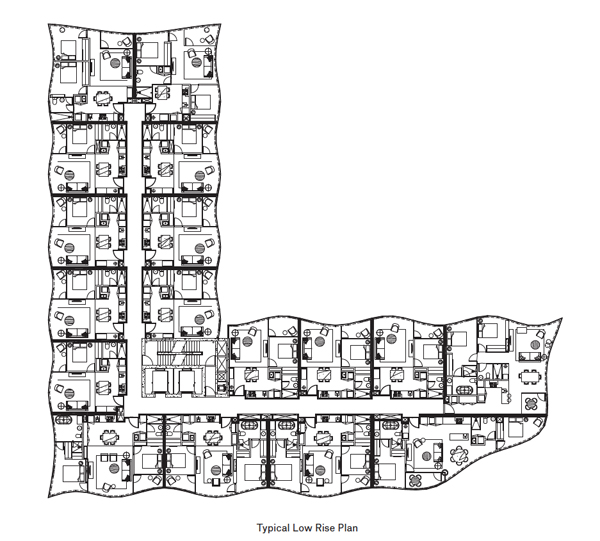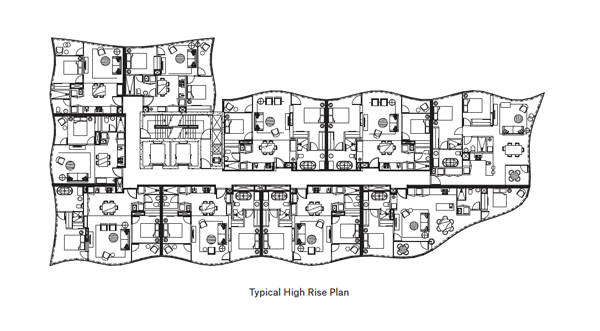 It is this minor, uncontrolled hint that subtly animates the facade at close quarters. At mid and long distance, the curtain wall is dominated by its bronze solar-control IGUs, which, being highly reflective, pick up the surrounding fabric and distort it – incidentally the distortions are particularly pleasing to view from the freeway across the river. Other taller, noisier buildings come into view earlier, but with nothing surprising in form, materiality or location, they appear insignificant – the background noise on the other side of the sound barrier. Avenue signals itself with each panel acting as a mirror and all at slightly different angles, announcing itself with an irresistible subtlety. The visual background noise is disturbed as it breaks into shards upon the waving facade. Avenue refrains from announcing itself through its formal articulation, but more how this articulation registers its surroundings. The direction and intensity of light curates this process, with its articulated form lost to elevation and even, at times, the reflections.
This temporal nature makes the facade a pleasing success, with each viewing offering altered attenuations of the surroundings. This welcome subtlety starkly contrasts the choiring shout of immutable banality from some of its speculative neighbours.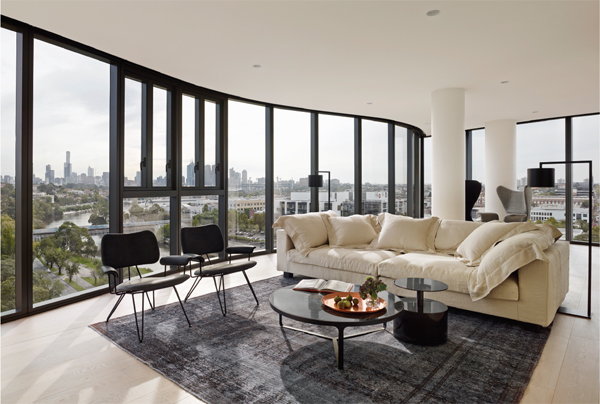 While distant views are best animated through light and locomotion, at street level, the detail of reflections can be read with clarity and the casement windows work at this scale to bring a range of unexpected reflections to the broader facade. The occasional window in movement draws the eye, as stillness moves and the typically mute typology speaks for a moment.
However it is this inhabitation that is particularly difficult to reconcile. By providing a conservatory rather than a balcony, the plan curates its facade with authority, neatly sidestepping the unpredictable facade domination of the balcony, sadly more a space of storage and condensing units than an optimistic animation of lived fabric. While Avenue's facade does cleanly respond to its inhabitants, there is no sense that it extends beyond its impenetrable fourth wall. The graffiti and pizza shop of Bonjour Tristesse, messy but suggestive of inhabitation of the street too, are not in evidence. At street level, ground-floor retail destined for a succession of businesses address the corner, while a mirrored canopy signals the overtly secure lobby entrance. The busy intersection seems amplified through the widened footpath and hot with reflected light from the sun, with no sense of sanctuary evident.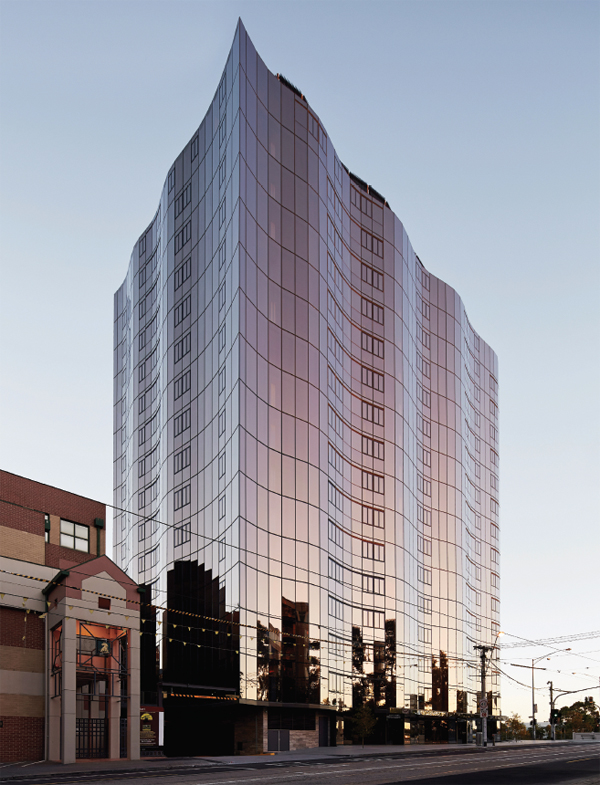 Perhaps this seems more lacking from a form articulated, such that it does not dominate visually, seemingly more compassionate than the original concept or Tresor designs? But, speculative property development is not primarily concerned with dwelling or community, with architecture walking a fine line among it. However, it offers something architectural beyond its private interiors, with an exterior that provides a mercifully broken and changing reflection of its surroundings, both in the middle and long distance views that is wholly generous. But inherent in its elegant formal simplicity is an escape from the street to the tower, which is not addressed. There is no surface to paint a message on, but it speaks anyway. Au revoir à la rue perhaps?
Review by Peter Knight for Architectural Review Asia Pacific.