Designed by Elenberg Fraser the Oxley + Stirling Residences sits on a picturesque bend between two reaches of the Brisbane River.
Architect's statement
The proposal was to enhance the connection between the site and the spectacular views of the Brisbane River and the city centre to the north. Harnessing the unique outlooks across to the CBD and botanical gardens formed a building that would not work anywhere else. With the opportunity to create views for days, we could see that this exemplar of riverside architecture called for a touch of yesterday's grandeur. Sometimes it's best to return to the classics.
Shared spaces echo the glamour of days gone by, with a modern twist. Pulling up to the building you're welcomed by the epic proportions of a porte-cochere with large columns and dedicated drop-off zones. Inside, the lobby gleams with brass balustrades and rods.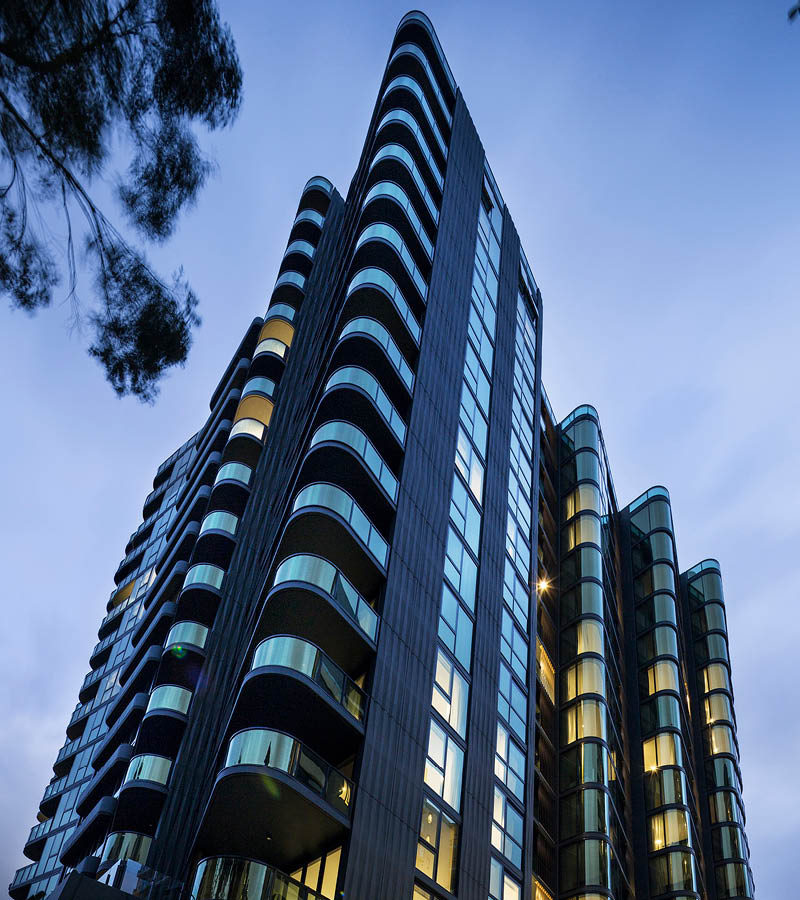 On the second floor is a library as well as a contemporary interpretation of a coffered ceiling. A rooftop pool area gives you the best seats in the house for soaking up the 360° views, with a decadent combination of infinity pools and landscaped areas with visible barriers removed.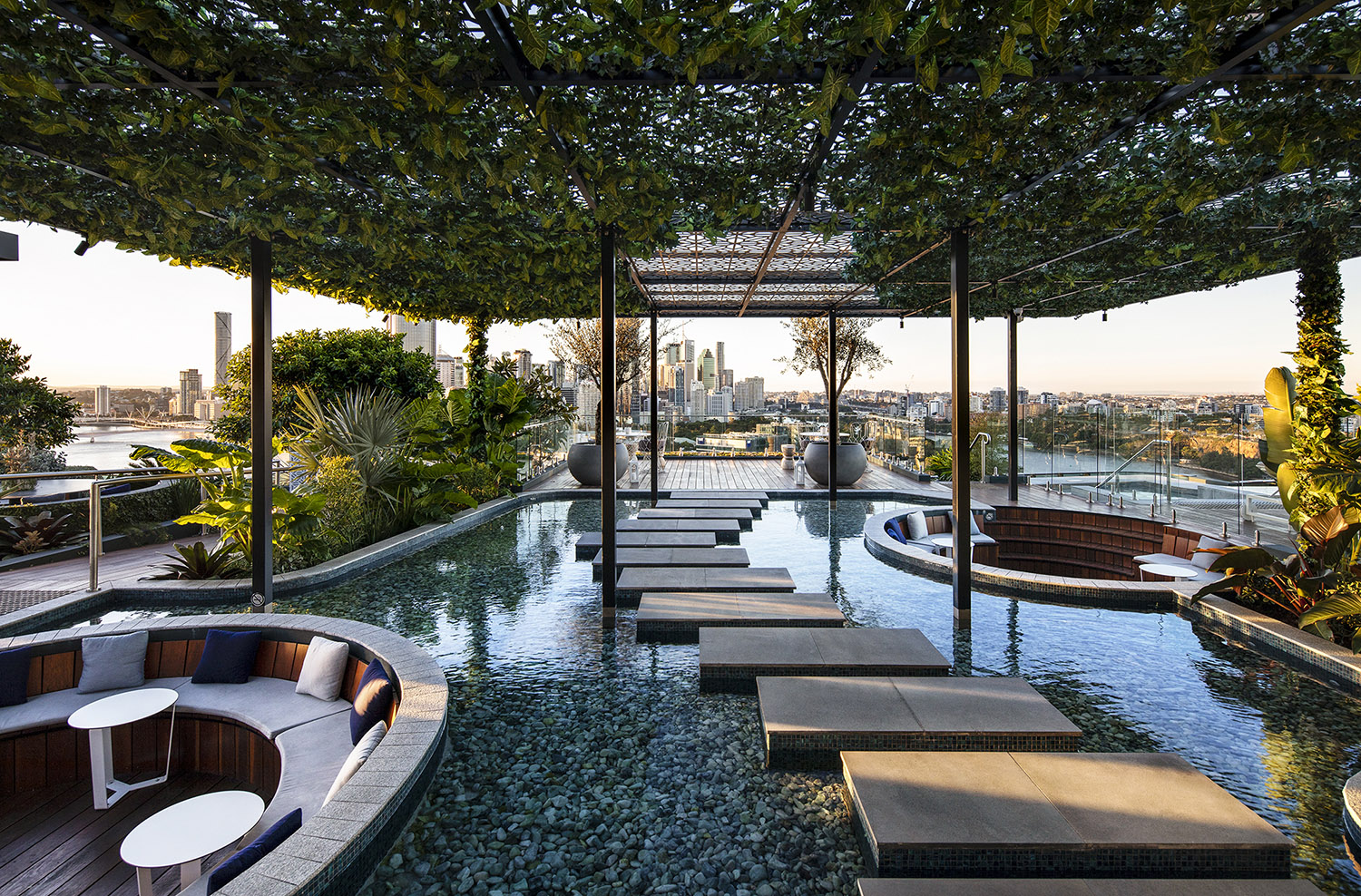 Exiting the lift, bluestone paving greets you and guides you across the reflecting pool towards the viewing platform; the level also includes a gym and outdoor yoga space. Cinemas and private dining mean you can have a great night out with only a lift ride home.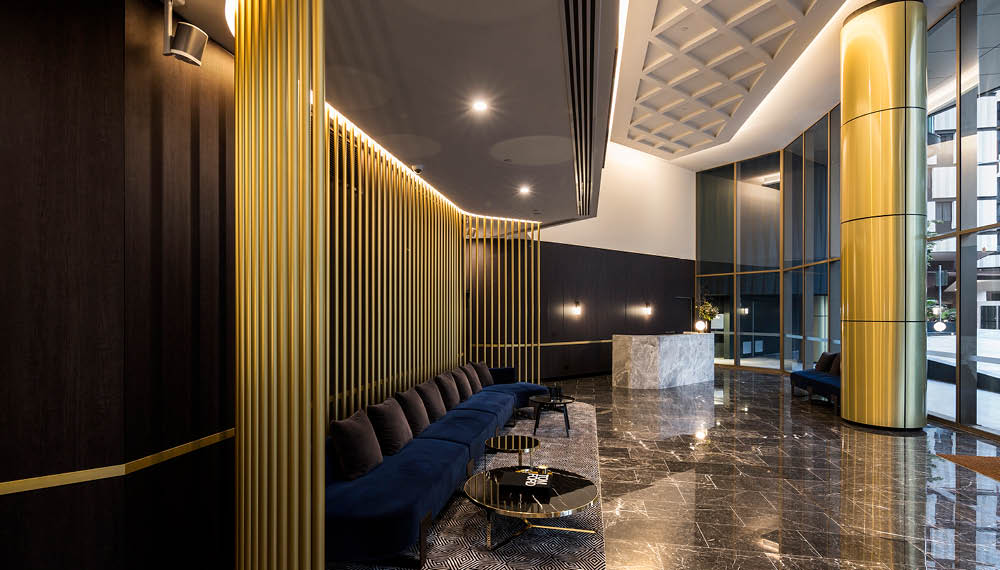 The form was shaped by the views – created to maximise every single apartment angle to give all residents the best possible access to those stunning panoramas. Each living room projects out past the next, fanning themselves out towards the view.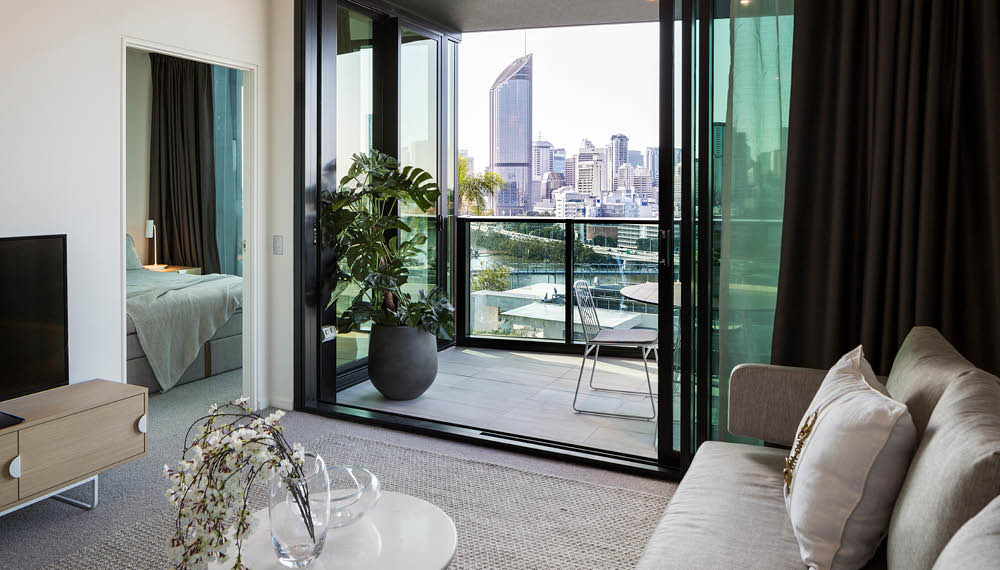 From the moment you open the front door, you are presented with uninterrupted vistas, accentuated by bay windows and framed by fileted, curved glazing. The reflective, flowing façade mimics the sinuous turns of the adjacent river, while the warm gold green colour pulls in the surrounding natural landscape. Twisted screens offer fine grain detail to the building's surface, providing privacy and seclusion to each residence.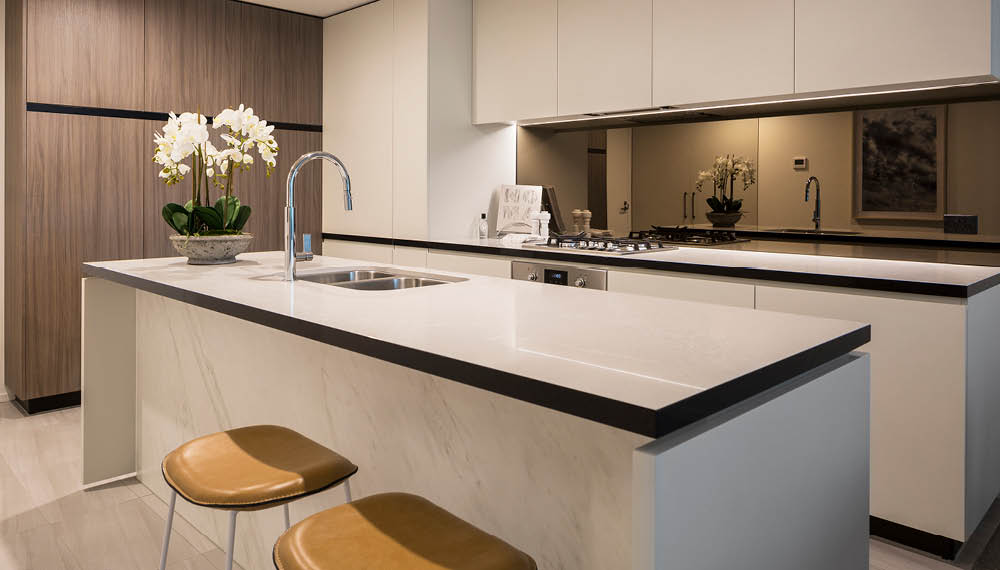 Sustainability
The building employs the latest innovations in passive environmental design with a view to be a contemporary high-rise version of the traditional Queenslander house; allowing excellent passive ventilation and environment control to each unit.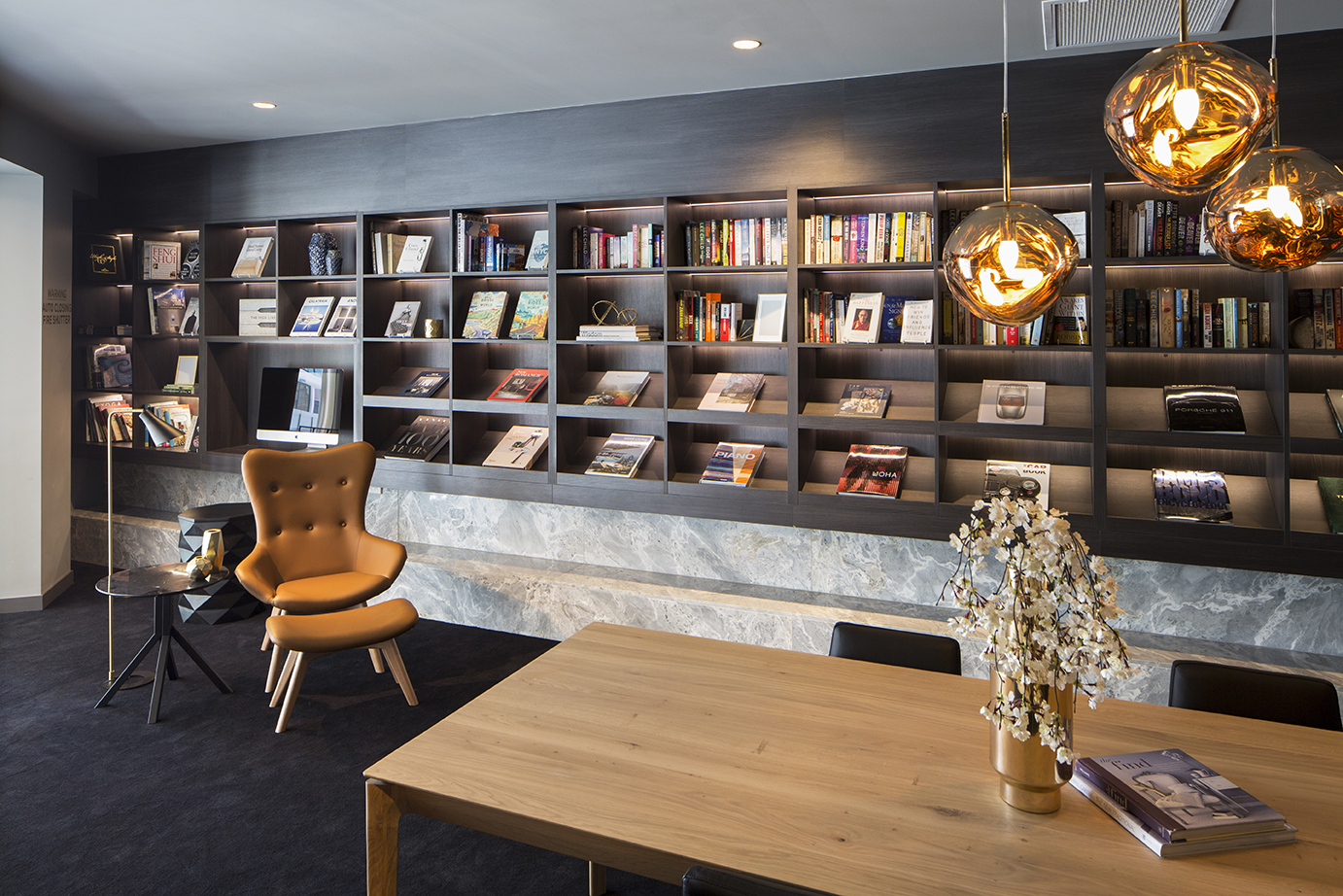 High-performance glazing applied to the majority of the building as well as modular curved glass corners ensure that residents are afforded uninterrupted panoramic views of the river and city skyline. The environmental response was adhered to by incorporating passive ventilation and environmental control to each unit and deep balcony arrangements to provide solar sun shading.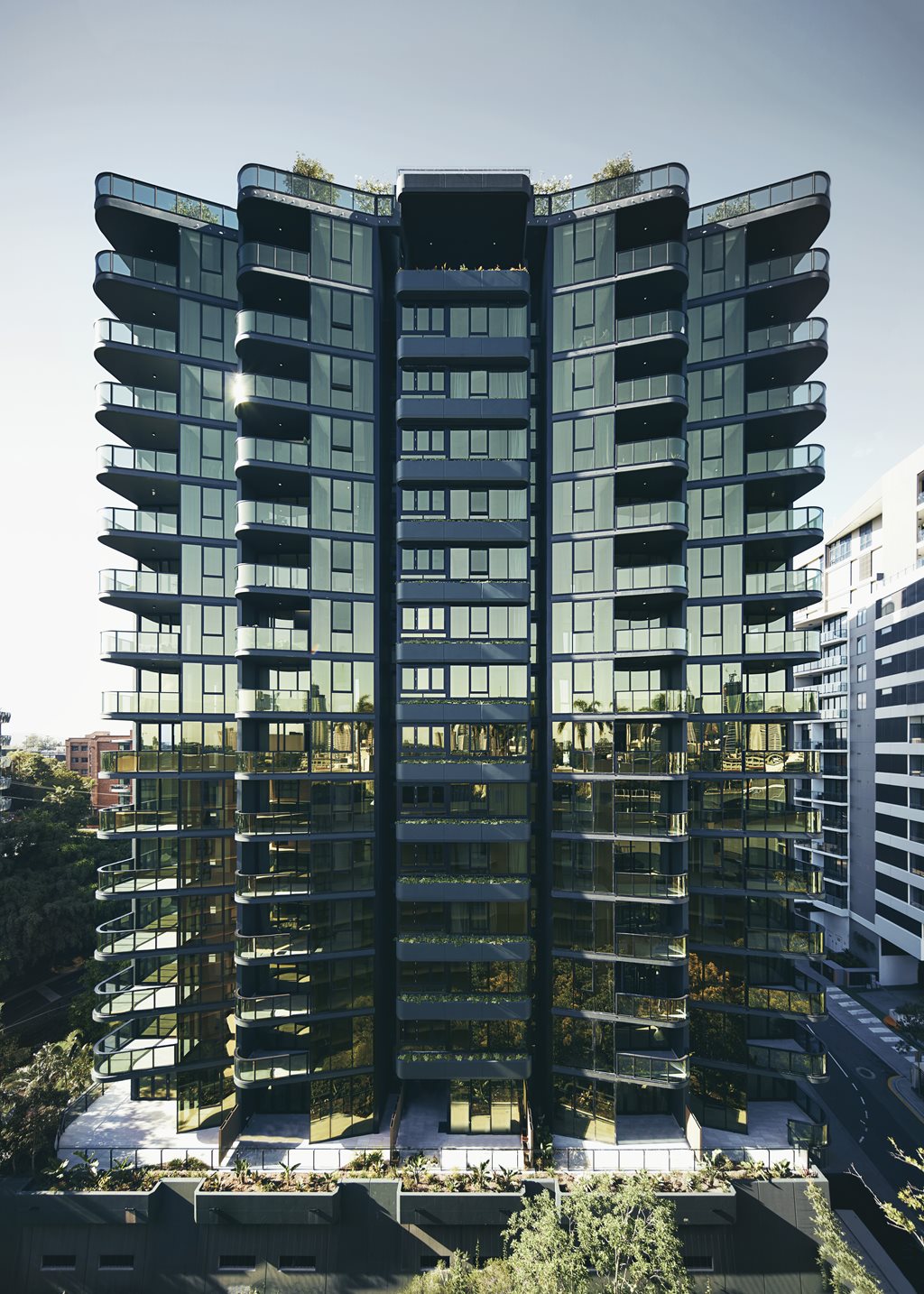 Photography by Cieran Murphy