Fender Katsalidis principal and Brisbane studio leader Megan Rodgers paints a picture of Brisbane's current architecture and how better consideration of climate and place-making could transform the city.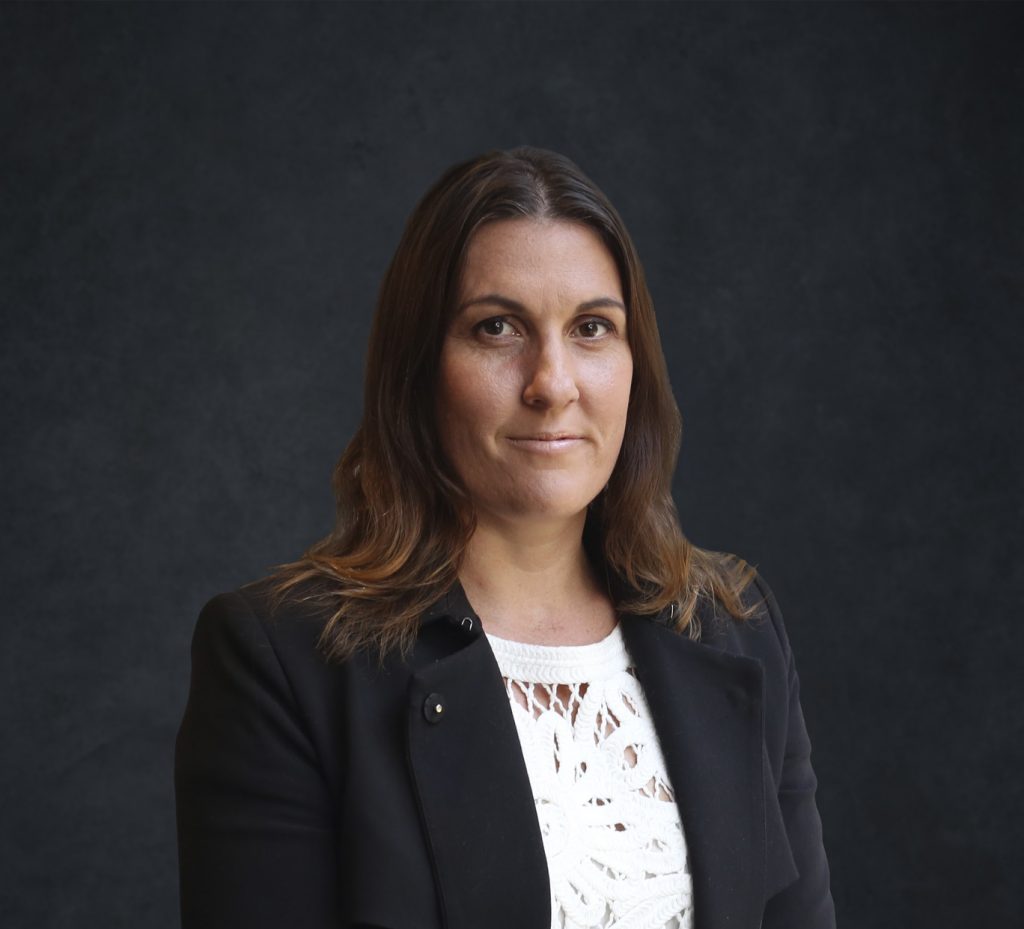 ---
It's not often you will hear the people of Brisbane describe their city as underdeveloped. More than likely, you will hear them say that it's "under-demolished". A curious notion and possibly one that deserves further interrogation if we are to design our cities with the intent of developing a positive legacy.
Brisbane is most renowned for its climate and outdoor lifestyle. As an urban landscape, the city has been developed along the meandering Brisbane River. The CBD sits neatly within the elbow of the river bend, constrained by its geography. The suburbs, on the other hand, sprawl radially out with incontiguous connections, creating the spatial displacement of its community through the complexity of its navigation.
First-time visitors to Brisbane have often described their experience of the city as disorientating. Notwithstanding this, Brisbane is undeniably afforded a desirable subtropical climate, and a lifestyle that embraces the outdoors.
The urban fabric, that weaves together the building stock within the Brisbane CBD lacks the continuity and connectivity that is typical of a human-centric global city. To create a city with legacy is to create a city that provides its people with spaces that are memorable, connected, legible and occupiable.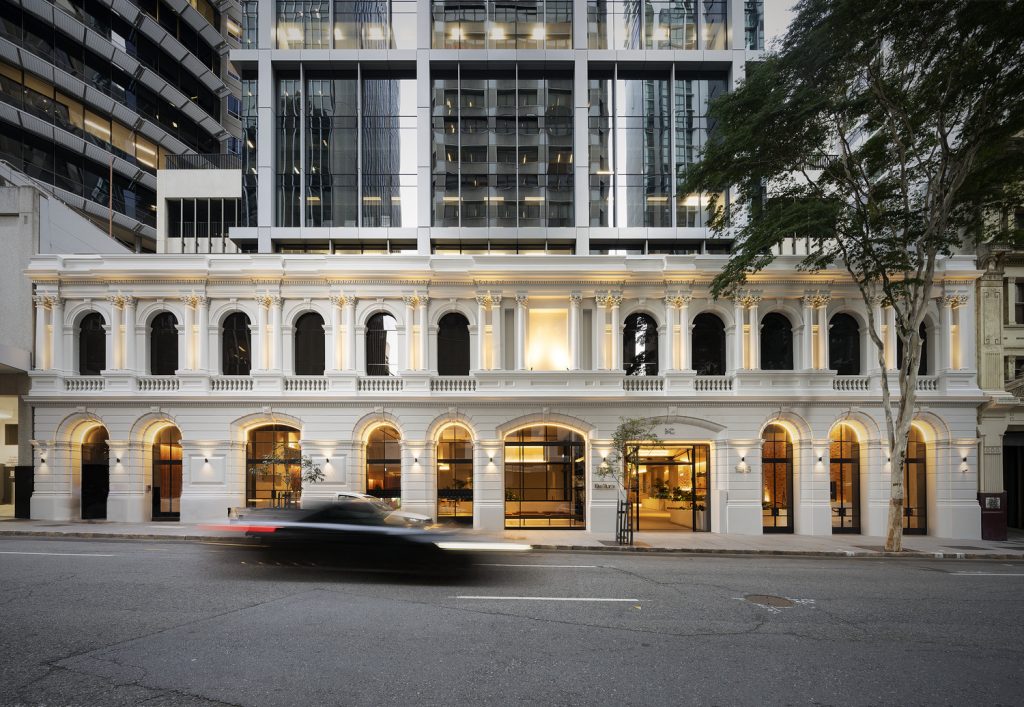 Brisbane's CBD is currently home to a plethora of aging building stock that ranges from the tired to the deteriorating. While the built character of this urban centre has been shaped by various geographic, climatic and planning factors, and despite its incontiguous connections, there exists the untapped potential for adding new vitality to the city.
If developed with consideration of its climate and the ingredients that contribute to place-making, Brisbane is ripe for renewal and adaptation into a people-centric global city.
From a building perspective, Midtown Centre, as designed by Fender Katsalidis, exemplifies the transformation of existing tired and dilapidated assets within the city. We use the term 'adaptive reuse' to describe the practice of reutilising an existing building, oftentimes for a purpose other than which it was originally designed for.
It is both an effective and sustainable strategy for optimising the operational and commercial performance of built assets. Most importantly, it breathes new life into a building or asset that is no longer fit for purpose in its current state.
The process of adapting underutilised or end-of-life structures can take on various forms. Such as with Midtown, it may involve the removal of entire facades, strengthening of structure and core, upgrading existing building services, vertical additions or change of function appropriate to the market demand.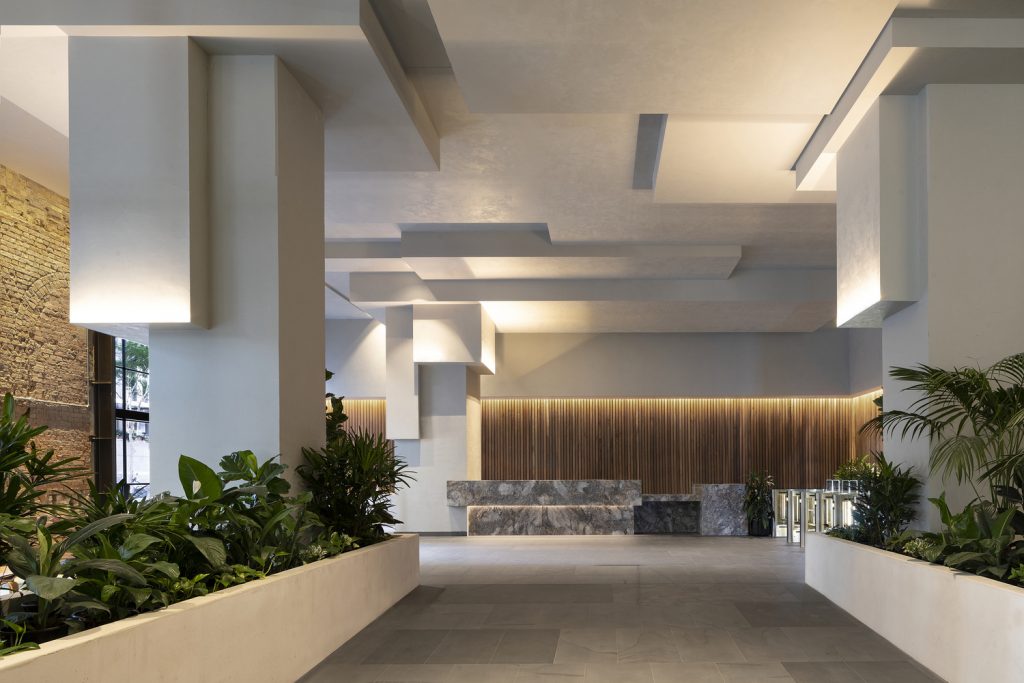 The decision to repurpose through adaptive reuse depends primarily on a building's suitability to adapt; ie the core value of the building, its development and uplift potential, its structural integrity, the sustainable effectiveness and financial appropriateness of its transformation.
Partnering with the resulting increased value of an asset is the opportunity to minimise the environmental impact and carbon creation through the demolition of existing assets and the construction of new ones.
Setting a benchmark in adaptive reuse is Brisbane's Midtown Centre. Recently recognised by the Australian Institute of Architects for its exemplary repurposing of a pair of underutilised assets into an innovative, contemporary workplace with minimised environmental impact, Midtown Centre is a first of its kind.
Midtown is the result of a rare opportunity where two city blocks had adjacent buildings which both faced one another and fell under the same ownership. This presented a unique opportunity that enabled the integration of the two buildings using a campus-style approach, maximising the cross-city connections for landlocked city blocks.
The adaptive reuse resulted from the removal of an end-of-life precast window wall façade, a slab extension and a new contiguous curtain wall. The servicing strategy and structural integrity of the base building were uplifted, enabling the building to support an additional seven levels while responding to market demand for a PCA A-grade commercial building.
Compared with a demolish and rebuild scenario, Midtown Centre's adaptive reuse and infill achieves a 37 per cent CO2 reduction compared to a new build. Equating to 11,000 tonnes of carbon savings, it is equivalent to running the fully occupied building carbon neutrally for four years.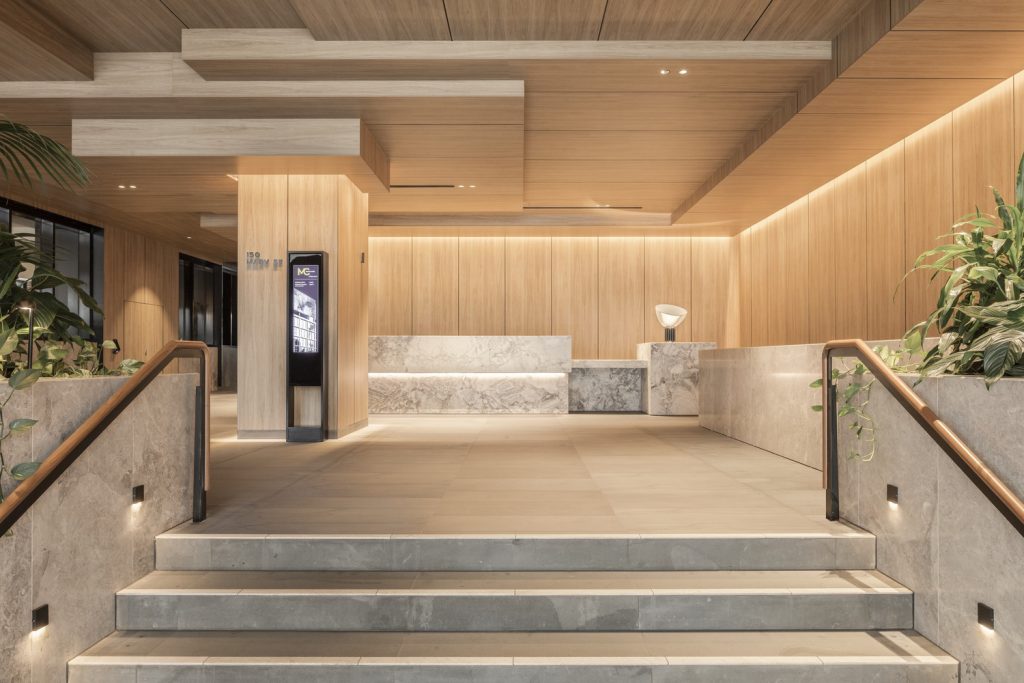 Incremental to Midtown's adaptive reuse was the opportunity to maximise the building's climatic value within Brisbane. Enabling a 'greening' of the city, something which has been amiss from much of Brisbane's urban landscape, the building comprises 3,000sqm of landscaped areas featuring sky gardens, outdoor terraces integrated into its commercial floor plates, with a 'green seam' that pulls together and envelopes the two original buildings.
This development also provided the opportunity to re-present the Walter Reid & Co. heritage facade on Charlotte Street to allow the community to re-appreciate aspects with its intricate detailing reconfigured to suit the current context. We believe that this social value gives currency back to the city.
Looking beyond the opportunities for uplifting Brisbane's decaying assets is the potential to reposition the ground plane and reimagine the streetscape relationship in a manner that establish new cross-block connections and 'ant trails' at the pedestrian level.
From a city-making perspective, when we consider building adjacencies, Fender Katsalidis has the unique opportunity to influence the ground plane on adjacent city blocks. Midtown Centre and the proposed 133 Mary Street Annex building are resounding examples of how building renewal can uplift and support connectivity within a city.
Situated on opposite sides of Mary Street and connecting the ground plane between Edward and Charlotte, these buildings house an integrating laneway network that runs throughout other parts of the city, improving connections and interweaving the urban landscape.
Fender Katsalidis has moulded Brisbane City Council's laneways initiative and the opportunity to adaptively re-use the ground plane to capture the essence of human-centric cities within a small part of the city. Actively promoting such initiatives holds a key to improving Brisbane's groundscape legibility and urban connectivity.
133 Mary Street is an initiative that plans to turn Brisbane's last remaining annex site at 133 Mary Street into a useable commercial building that will include the addition of boutique office space and the creation of public outdoor space with an infusion of nature.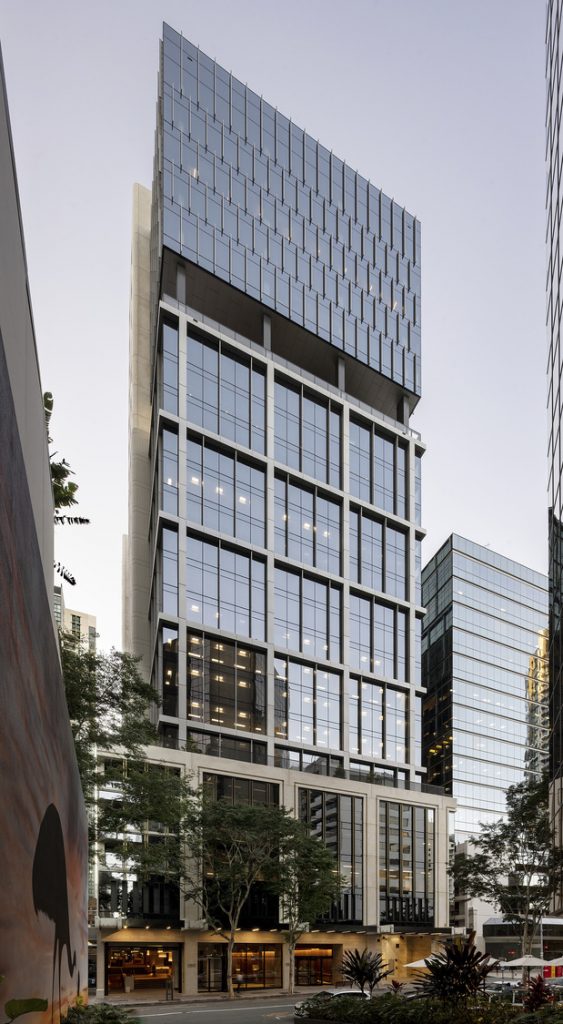 Within this mix of typologies, the Mary Street development will form a distinctive new urban marker at the intersection of two major streets in the city's CBD. The 22-storey tower will encompass more than 18,000sqm of office space across 18 floors, a level dedicated to co-working, and outdoor balconies with living greenery.
From an urban place-making perspective, the ground plane is given over to the public, raising the typical commercial floor plate to sit above the datum line that has been created by neighbouring heritage buildings. The case in point here, is that 'lifting up' these buildings enables people to walk through with the added protection of a building canopy allowing the lobby and urban condition to act as one.
All built forms inherently retain a unique story, enabling us as architects to formulate a storybook for our city's urban fabric. The removal of any building eliminates connection to place, which unfortunately isn't often considered when knocking down a structure that isn't heritage listed. Redevelopment illustrates that history while updating the asset to suit the needs of today and a more sustainable future.
In the coming years, we expect to see more uplift in the form of adaptive reuse as it takes the place of demolition. However, these are only small interventions in creating a legacy within the city and have been initiatives of private developers.
Brisbane has a much greater challenge for itself in delivering a viable future that aligns with the anticipated population growth over the next decade. With the upcoming Olympic and Paralympic games, Brisbane needs to prioritising the city's legacy for an effective, efficient, sustainable and liveable city that extends well beyond a one-month window.
---
Photography by Angus Martin unless otherwise stated.
Fender Katsalidis is a multi-disciplinary international design firm delivering projects around the globe, with offices in Melbourne, Sydney, Brisbane and a sister-studio in London.
The practice's work includes ground-breaking projects such as Mona in Hobart and Merdeka 118 in Kuala Lumpur, set to become the world's second tallest tower. Spanning cultural, commercial, multi-residential, seniors living and hotel typologies, Fender Katsalidis delivers holistic solutions in architecture, masterplanning, urban design and interiors. The practice's core philosophies – place, sustainability and innovation – are embedded across Fender Katsalidis' project portfolio.