Article by ADR contributor Emily Taliangis. Image above appears on adidas.com.
World-renowned starchitect Zaha Hadid and pop icon Pharrell Williams have collaborated to design a pair of super slick sneakers as part of the musician's latest and highly anticipated collection for Adidas.
The Iraqi-born British architect is one of a series of superstars from the art world that Williams asked to work on the collection, which launches in two weeks.
"I'm a huge fan of Zaha's, I've always been," says Williams, in a promotional video for Adidas that can be found here. "I would venture to say that she's one of the most talented architects of our time, and of history in my opinion."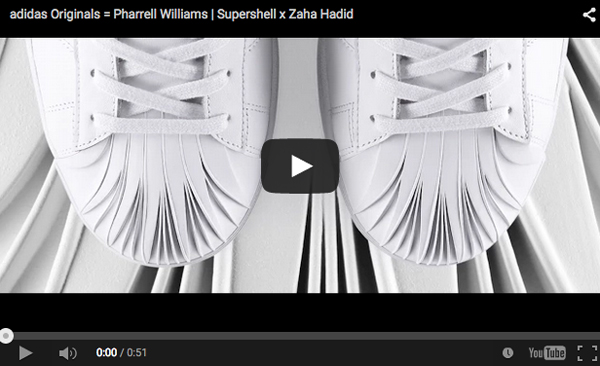 The caps of the white sneakers – part of the Superstar Pharrell Supershell Shoes range – feature Hadid's signature geometric and curvaceous lines, and are subtly reminiscent of her Al Wakrah Stadium in Qatar.
"I think that Zaha's designs are just like her buildings, they augment reality forever," says Williams. "The kinds of shapes and kinds of structures that she transcribes from her mind's imagination…cast shadows that weren't necessarily there."
Hadid is no stranger to shoe design. She has previously collaborated with Lacoste for whom she designed a limited-edition boot, in addition to her moulded plastic designs for Brazilian shoe brand Melissa.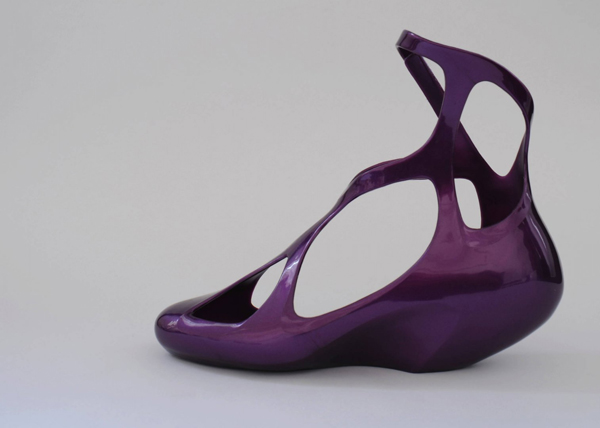 In 2013, Hadid collaborated with United Nude to design a pair of revolutionary haute couture heels, ignoring all rules to create an entirely new form of shoe – the NOVA.
"Our collaboration with United Nude reinterpreted the classic shoe typology, pushing the boundaries of what was possible without compromising integrity," says Hadid.
The upper-shoe combines metallic chromed vinyl rubber, lined with the highest quality Italian kid leathers. Techniques such as injection and rotation modelling, as well as hand-moulded methods including vacuum casting were combined – an entirely new way of shoe making invented.
There is a long history of architects collaborating with fashion-houses as a means of pushing boundaries and experimenting across different design platforms. It seems for Hadid, there is no limit.