Images by Karon Photography.
Bringing the Heston Blumenthal pizazz to Melbourne's Crown Resort, Bates Smart has set the scene to match the performance. Calling on staging and theatricality for an almost entirely bespoke interior, the design is focused on the experiential. Yet there is nothing of the grit of a circus ring restaurant. Rather, it is a soft landing of familiar white linen dining, where the bombast of the restaurant fades from view as the delights of the dining experience take over.
If you are among the fortunate few to have secured one of Blumenthal's exclusive golden tickets, you will pass through an unassuming door into an impossibly proportioned corridor, lit softly by warm LED. As panelled walls edge closer, the ceiling slopes downward to meet inclined flooring and timber floorboards (Classic Oak by Amtico UK) that diminish to almost a one-point perspective; the corridor will appear to have shrunk around you.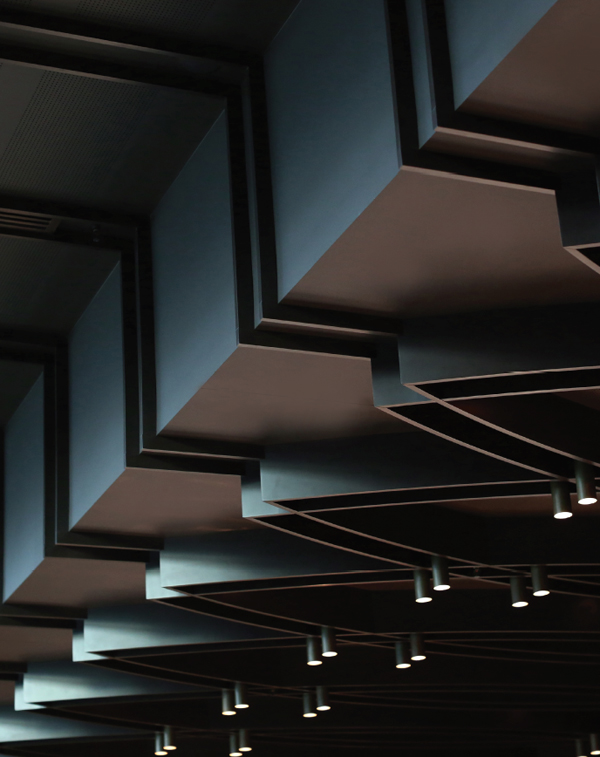 After a pause, a hidden panel slides open, and the Fat Duck is revealed. Blumenthal – gastronomic avant-gardist and culinary storyteller – has three Michelin stars and a fanatic international following to his name. The home of his success is the original Fat Duck, a 50-seat restaurant in Bray, west of London. Announcing plans to shut the restaurant for a six-month refurbishment in 2015, Blumenthal gathered his staff to temporarily replicate the superlative dining experience at Melbourne's Crown Towers.
Bates Smart was given what principal designer Jeff Copolov describes as, the "logistically onerous" brief to have the new Duck finished and open in 12 months. By February of this year, the circus, and its charismatic ringmaster, had come to town. Copolov was intrigued by the Fat Duck's theatricality and, having a background in stage and set design, was well-placed to craft its reincarnation together with associate director Grant Filipoff. Their challenge was to deliver an interior that, like the chef at its helm, would take guests on a "trip to the unknown or unexpected," Copolov says.
The restaurant's deceptive entrance was conceived as the beginning of the sensory adventure. Manipulating false perspective, the ramp that began as a means to meet disability access codes (and resolve a 600-millimetre discrepancy in flooring levels) became an "entrance experience for all," as Copolov describes it. "A decompression zone that allows you to move from the world into a mindset." Upon entering the restaurant, sombre hues lit in chiaroscuro fashion (Bates Smart in collaboration with Electrolight) recall the rich palette of Old Masters' paintings.
Near-black custom wall panelling in Dulux Spanish Eyes fully envelops the space with a subtle 2-pak sheen, a modern iteration of the Georgian tradition, hinting at the restaurant's British heritage. Dark walls are echoed by charcoal-coloured flamed granite (Antique Brown from CDK Stone), which gives a tactile leather-like feel to waiters' bench tops. Luxurious plum velvet on dining chair upholstery (Blackberry Wine by Wemyss, The Selvedge Group) is matched by royal purple velvet carpet pile (Brintons) to add warm dimensions to the rich palette.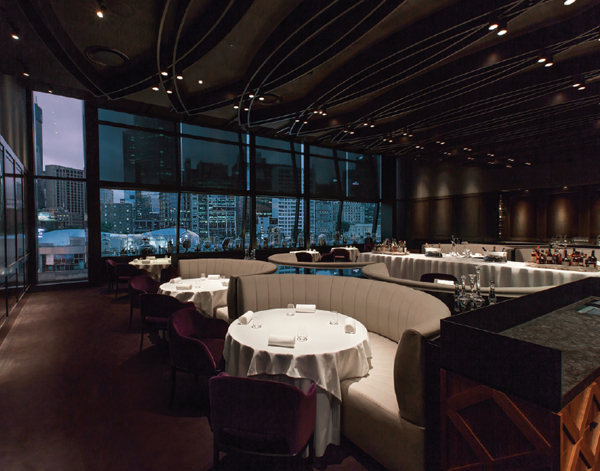 Light, and its atmospheric application, is of foremost importance in the space. Lighting is positioned to accentuate the crisp white tablecloths and produce a dramatic effect of light and shadow. "The whole thing was about the table as theatre, and food as its presentation," Copolov explains. Bespoke chairs and soft leather banquette booths (IMG) are sumptuously upholstered (Dune, Decor Design Centre) to provide a comfortable experience of the four-hour, 17-course feast.
Resplendent in the centre is a long sommelier's table, seemingly spread with a generous white cloth. In fact, its oversized folds are expertly moulded resin-coated polystyrene, the work of local props maker Stage One. Crowned with large antique silver trays, the table intentionally alludes to the proportions of what may be considered the ultimate banquet, The Last Supper, as depicted by Leonardo da Vinci. Perhaps a sacrilegious revelation in a setting of overt indulgence, but a fitting altar to Dionysus.
If the Fat Duck is pure theatre, Melbourne certainly takes a leading role. A deep-set window, scaling most of the four-and-ahalf-metre height, frames the riverside metropolis like a stage. A fantastical assortment of glass oddities adorns the mirrored sill as a living installation of air plants. Arranged by the aptly-named florist Fleur McHarg, the apothecary style glassware brings Heston's love of archaic scientific paraphernalia to the fore.
Central to the composition and directly opposite the skyline view, a vast jigsaw is slowly taking shape. Akin to Roman tile murals, a visual confection of colourful puzzle pieces are gradually being added. The full picture will be completed over six months, to reveal Heston in the centre of a whimsical tableau. On another wall, a giant gold fob watch counts backwards in time. Both features were imagined by Blumenthal's concept team to mark the restaurant's limited stay in Melbourne. "It's here, and then it's gone – and when it appears, it's fleeting and transitional," Copolov says.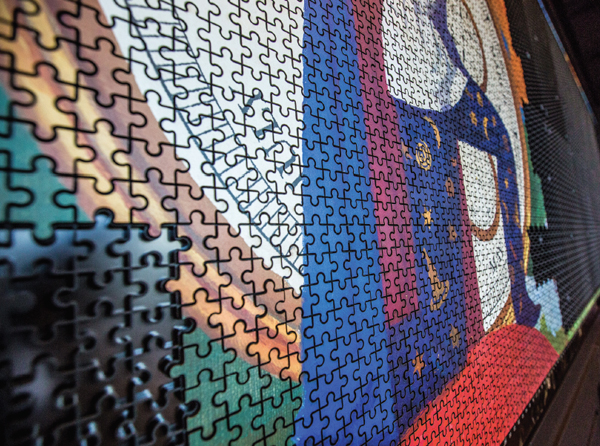 A further transformation is completely concealed for the moment. "We had the challenge of really designing two restaurants that have a different ambience, and a different culinary experience, all in one spot," says Copolov. The costume change will occur during a brief intermission, after which the more affordable Dinner by Heston will emerge, while the Fat Duck migrates back to its native Bray.
Like the food itself, Fat Duck Melbourne's interiors are highly conceptual and richly layered. Bates Smart has crafted a popup with permanence, achieving the entertainment of the pantomime without artifice. The result is an inspired yet restrained environment where mise en scene meets mise en place, and the creative integrity of Blumenthal's showmanship takes centre stage.
The Fat Duck's 6-month stint is set to come to an end in early August 2015.  This article appears in (inside) magazine issue 87, available on Google Play and Zinio.