Fieldwork has honoured a former brothel's colourful past through a residential restoration in Melbourne's Fitzroy.
The architecture practice was approached by client Paul Ghaie, co-founder of wine and craft beer store Blackhearts & Sparrows, who was keen to celebrate the space's sordid history, rather than erase it. The brief was to design a beautiful and practical home, subtly honour the site's past, without being too flashy and to create a space that functions well and looks good but doesn't take itself too seriously.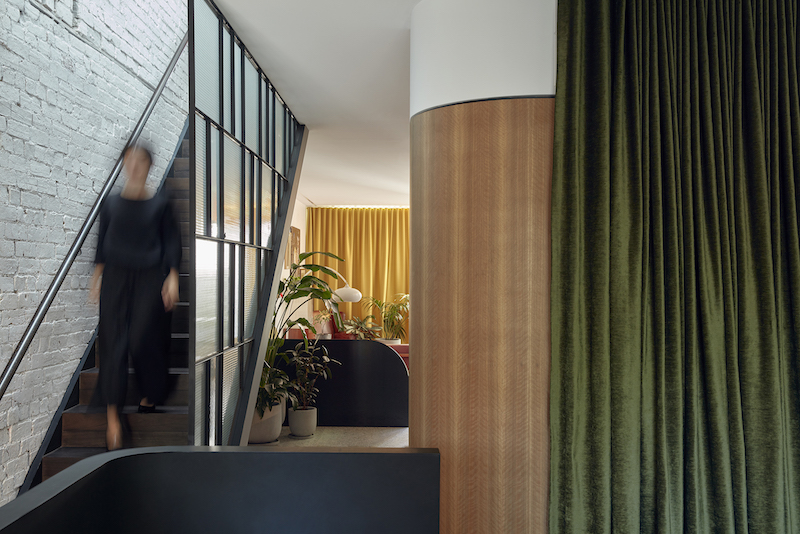 Given the history of the space, Fieldwork encountered some unique challenges as Fieldwork director Joachim Quino Holland tells ADR.
"The brothel was sold with everything intact, including dirty sheets on the beds, and condoms on the bedside tables. While the first site visit was confronting, we also drew a lot of inspiration for materiality and colour schemes from this, which would later be incorporated into the design.
"Despite the interiors being seedy and squalid, there were punctuated moments of beauty and an interesting combination of materials, such as a brass trim above bright pink wall features."
Fieldwork salvaged red neon, custom pink LED lights, bespoke leather and velvet furniture, herringbone floorboards, textured tiling with brass and pink colour accents, which were matched exactly to the pink tones of the brothel.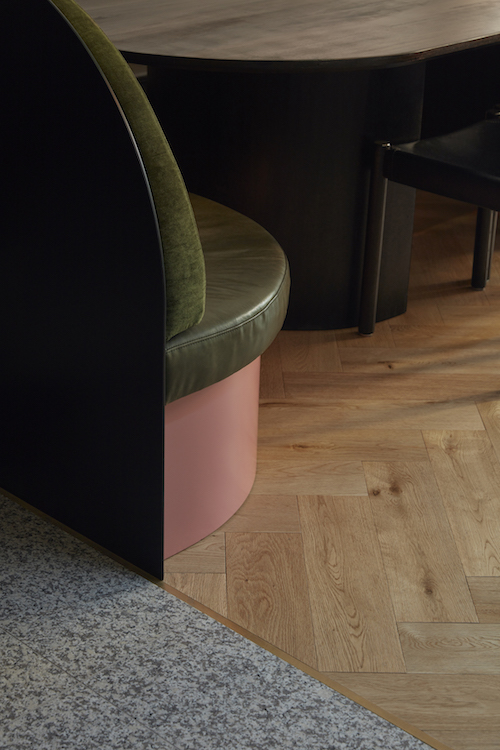 "It was important to choose materials that were practical but would also age gracefully. The brass for the kitchen benches was only lightly waxed, intentionally, allowing it to patina over time. Every imprint and scratch, telling a different story of the home's use," says Holland.
The main challenge was getting light into the centre of the house while opening the site to landscape. This was achieved by integrating a skylight over the staircase to the east of the site and adding a one-meter setback to the west, providing glazed access to a raised garden bed.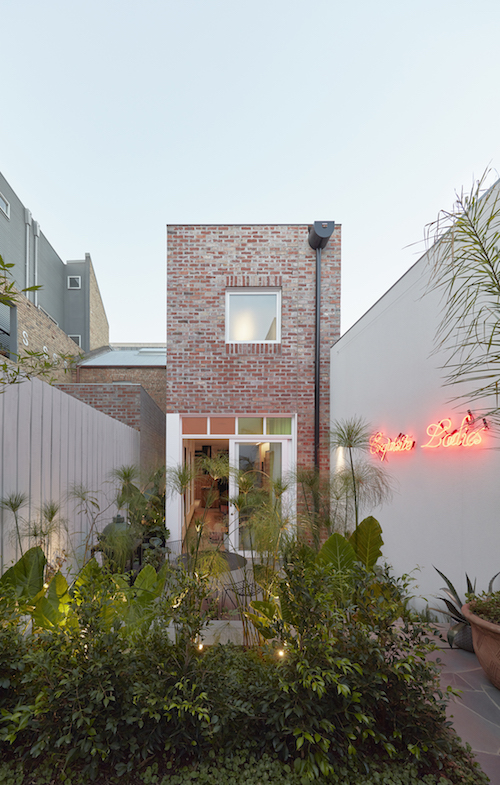 Fieldwork used textured glazing in the steel staircase to allow softer northern light into the kitchen and front lounge spaces, and the clear glazing adjacent to the south garden to provide natural light to the kitchen, dining room and rear lounge.
The design also refurbishes the existing terrace and adds a new dwelling to the rear connected by a central shared bluestone and timber deck courtyard.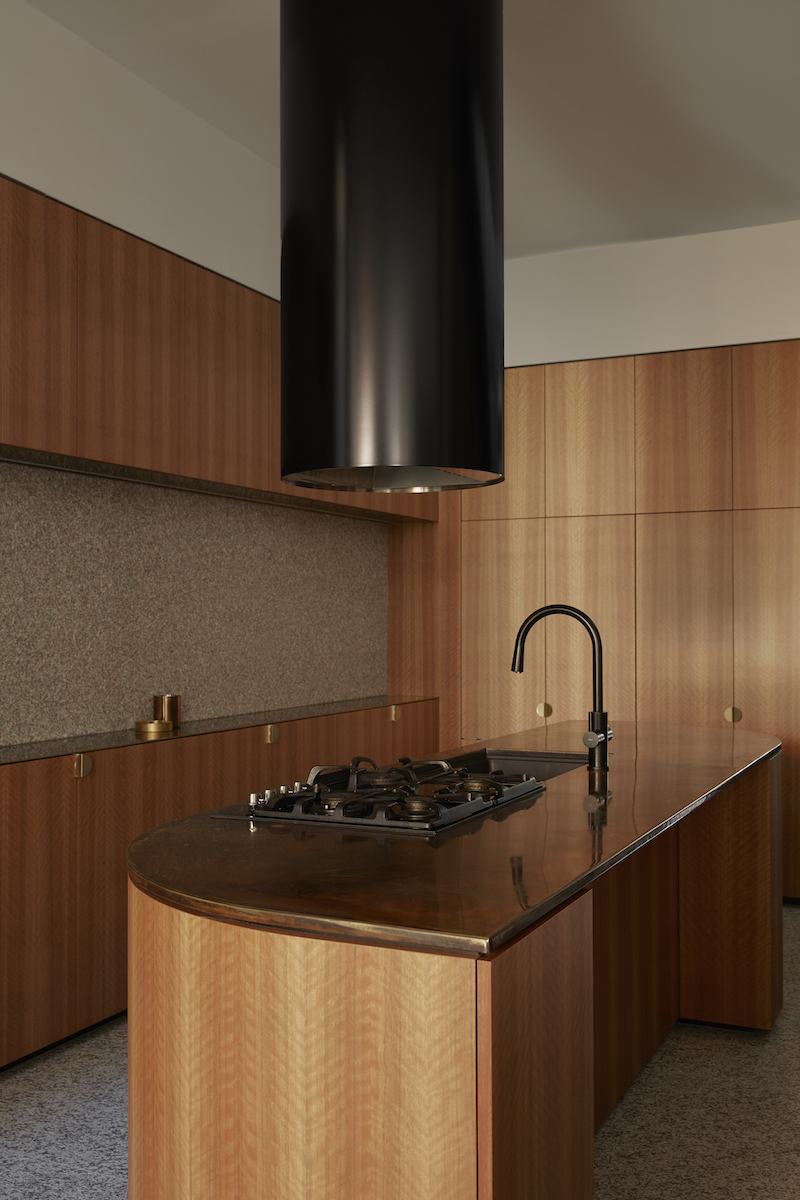 "The central planted courtyard mediates the space between the main residence and the rear outbuilding," adds Holland. "Landscape was very important to us and we worked with MUD Landscape Design to achieve something verdant and lush.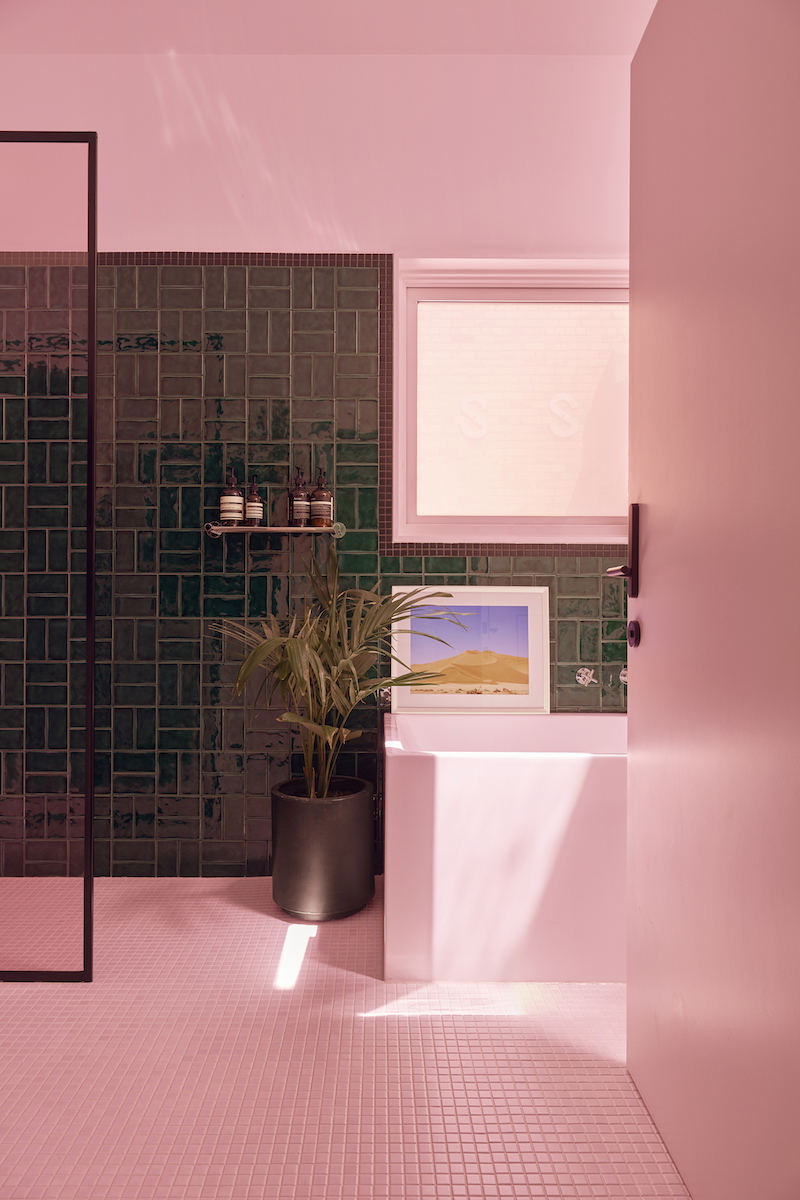 "By day, the outdoor space is a bright, green oasis. By night, the building's colourful past is highlighted in a playful way, with the use of a combination of red neon and pink led lights."
Photography by Tom Ross