Located on the 24th floor of Goldfields House in South Yarra, Beverly Rooftop is undoubtedly one of Melbourne's most talked about projects this year, with an industry-first retractable rooftop system by Australian industrial design practice Tilt Industrial Design.
Beverly is a first of its kind Melbourne rooftop experience that could be weather dependent year round.
Designed by Cox Architecture and emerging as the only dedicated commercial destination in the South Yarra precinct, Tilt Industrial Design was commissioned to design the project by Beverly's co-owners, Goldfields' CEO Lachlan Thompson and managing director Marco Gattino as well as hospitality heavyweight Cameron Northway.
"The palette is inspired by earthy tones of terracotta, rusts and soft golden hues, with some touches of green to tie it to its surround of greenery. A real nod to Southern California, Beverly offers stunning views from the coast to the city across the ranges, it's a different perspective to see Melbourne from," said Northway.
As part of the collaborative process to compliment Cox's design, Tilt's specialty in technical and innovative industrial design leveraged advanced mechatronics and seamlessly transformed the 24th-floor rooftop into an interior-to-exterior dining experience.
"Beverly is designed to be an immersive space that will transform from daylight to sunset with 270-degree views over Melbourne's CBD skyline and beyond," said Northway.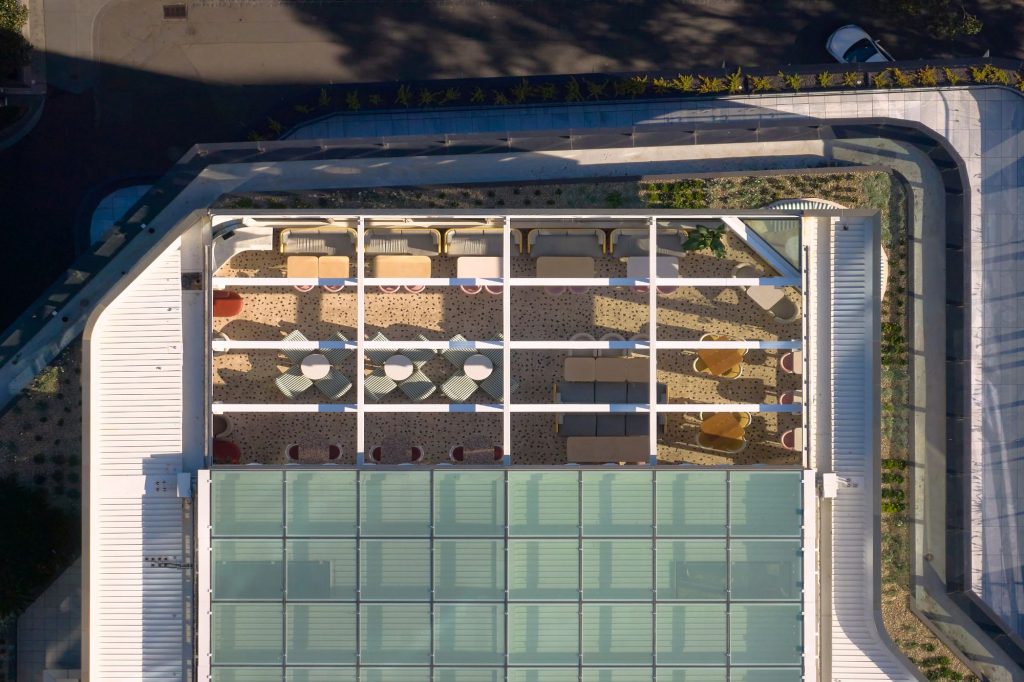 For Tilt's managing and creative director Tim Phillips, the project demonstrates how developers are seeking to bolster their value proposition through the unique hospitality and amenity outcomes seen in mixed-use projects.
"We're receiving more and more interest from property developers seeking to find creative ways to elevate their projects. Often, we help them at the concept development stage to determine what can be possible," says Phillips.
"We've already seen a flight to amenity in commercial developments, now we're seeing clients looking to incorporate A-grade hospitality and retail space benefitted by bespoke design outcomes that go above and beyond what is out there."
In collaboration with project engineers, Tilt drew on site-specific environmental conditions in designing a revolutionary roofing system capable of withstanding the strong winds and pressures of high elevation.
Utilising a vertical lift operating system similar to that of a vehicle sunroof, the 100 square metres glass-panelled roof can retract fully via a two-step process.
The system is equipped with wind and rain sensors linked with building maintenance systems to provide additional functionality and improved environment conditioning.
The roofing system is complemented by glass curtain walls and high-performance proprietary glass sliding doors – all designed and delivered by Tilt – which achieve appropriate wind and water pressure compliance at the elevated location.
Traditionally, Section J compliance obligations would prevent architects from specifying retractable and sliding roofing concepts due to thermal performance requirements for commercial buildings. However, Tilt's concept resolved this challenge through the provision of a high-performance air ingress seal for the roof when it is closed.
The $400 million Goldfields House secured interest last year during a resurgence in the demand for office accommodation on Melbourne's city fringe.
For Goldfields' managing director Marco Gattino, Tilt's innovative roof system has added return on investment for both Beverly and the Goldfields House itself, positioning their offering as a front-runner for exclusive and sought-after mixed-use space in a competitive city-fringe location.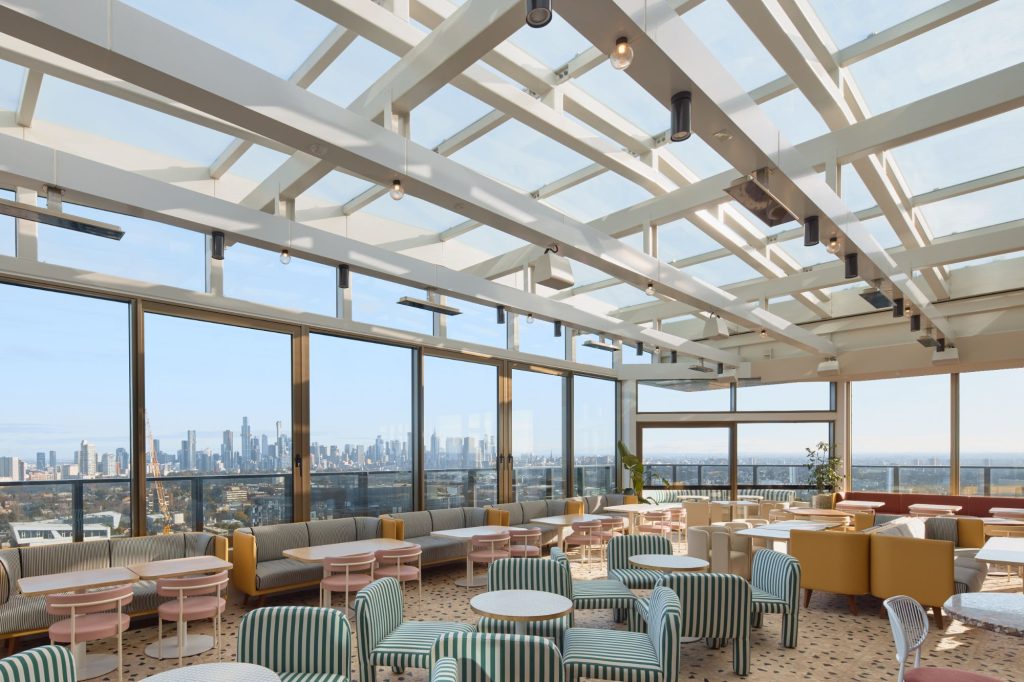 "From the outset, we knew we wanted to create a unique rooftop experience that Melbourne and Australia has never seen before. Not only does Beverly add to the building's allure and contribute to the robust offering within Goldfields House for tenants to enjoy, but the venue adds a much-needed new dimension to the top end of Chapel Street," says Gattino.
"The rooftop is just another example of Goldfields House setting a new benchmark for what a mixed–use building can look like. Tilt's realisation of our vision has further elevated Beverly's position as the ideal spot to escape and enjoy a world-class dining experience."
Cox Architecture associate Daniel Colaneri and project lead for Beverly also added that:
"Beverly complements what is already a successful mixed-use commercial building, adding to the vibrancy and activation of the South Yarra precinct. Through close consultation with the team at Tilt, COX worked collaboratively to realise and achieve Goldfields' unique vision for the rooftop."
With Californian-inspired interiors by Mitchell & Eades – known for their work on Grill Americano and Carlton Wine Room – the mixed-use building is quickly becoming a landmark destination and reference point for exemplary experimental mixed-use design.
This offering only further adds to the building's A-grade amenities such as hotel-style concierge services, premium co-working facilities and meeting spaces, as well as luxury end of trip facilities.
Photography by Peter Marko from Oliben Media
Discover Techne's retrorama fit out of Albury ice creamery.