Melbourne-based artist Jacquelyn Stephens is known for works that embody paint, earth, air, water and fire.
Combining her interests in water, science, nature, the environment, as well as taking inspiration from her training in nursing, her works transcend the standard and create a world of their own.
Her works have been featured in art galleries, media publications, as well as appearing on popular television shows like The Block and Healthy Homes Australia.
In a career spanning over 25 years, Jacquelyn Stephens continues to evolve and be inspired as an artist, even after having overcome a near brush with death, she isn't close to slowing down.
Australian Design Review recently sat down with Stephens to discuss her career journey, the inspiration behind her works, as well as her viewpoint on the future of the Australian art and design landscape.
ADR: How did your journey into art begin, and how has it developed to reach this point?
JS: I have been painting and making art since as long as I can remember.
Growing up on a coastal farm, I did not know you could actually be an 'Artist'. It was not until after I studied nursing and knew my passions were elsewhere that I began my real journey as an artist.
In 1996, I was awarded a Bachelor of Fine Art – Majoring in Painting from the Victorian College of the Arts. In the following years of hard slog in the studio, I found my own voice and have had several successful solo and group exhibitions in commercial galleries and artists run spaces. My paintings can be seen in many media publications and are held in private collections worldwide and recently appeared on the popular TV renovation shows The Block and Healthy Homes Australia.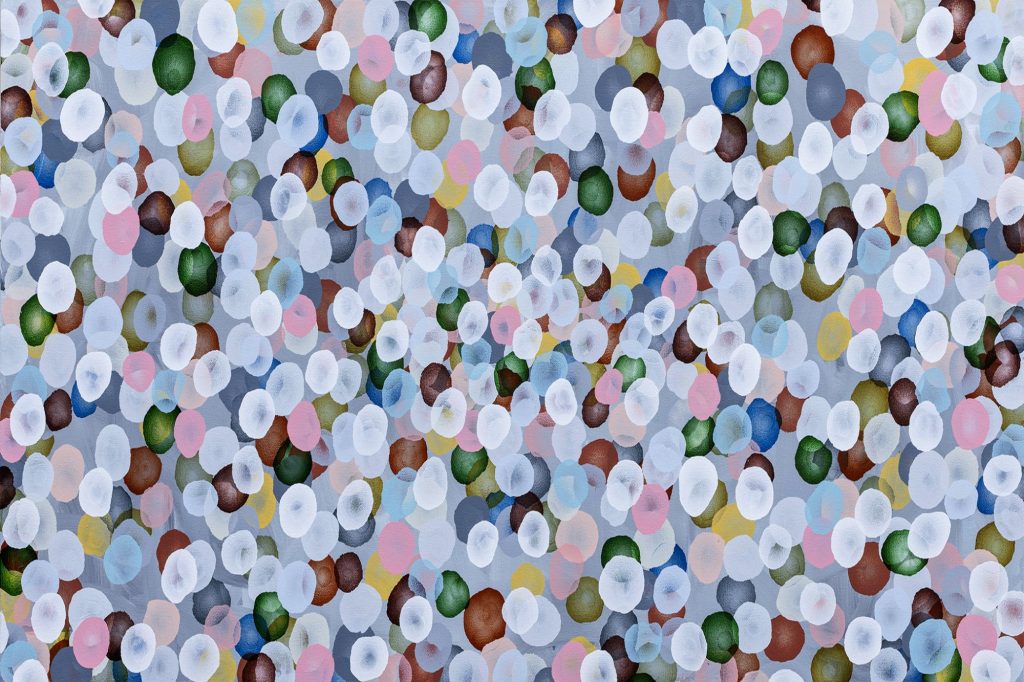 When it comes to creating your works, what are you most inspired by?
JS: My greatest inspirations read like the milestones of my life.
Many of the key themes in my work have been informed by my interest in water, science, nature, the environment and the domain of medicine (especially following a brush with death from a mysterious aggressive tumour next to my brain, the micro-cellular origin of which was never discovered).
My paintings explore a sublime of the small and celebrate the life forces and luminosity inherent in all things microscopic, sub-atomic and aquatic. I like to explore the miniscule building blocks of existence and enlarge these to express pulsating energy fields, colour vibrations and the inherent life forces we can only imagine occur in these unseen worlds.
Having grown up on the cliffs of Flinders, staring into the eye of Bass Strait, I am also deeply inspired by the life-giving waters of the ocean and what inhabits it. I aim to create magical underwater fields of mysterious ethereal glowing forms inhabiting ambiguous dark-lit spaces.
Sea-life, nudibranchs, algae, bioluminescent organisms, miniscule cell growth, and more recently, man-made illumination, all these universes inform and influence the pictorial content and spaces in my paintings.
The reference to light is also about creating a glow, an incandescence, a moment of illumination, something mysterious, magical and special amidst the obscure dark. I am drawn to re-interpreting light and reference the blurred light or 'bokeh' of photography, the dark-light of microscopic imagery, and all the image making underwater documentary world of revealing life's glow.
I think about all these things when I create a painting and somehow manage to fuse them into a language that takes the viewer to a different place of contemplation and calm.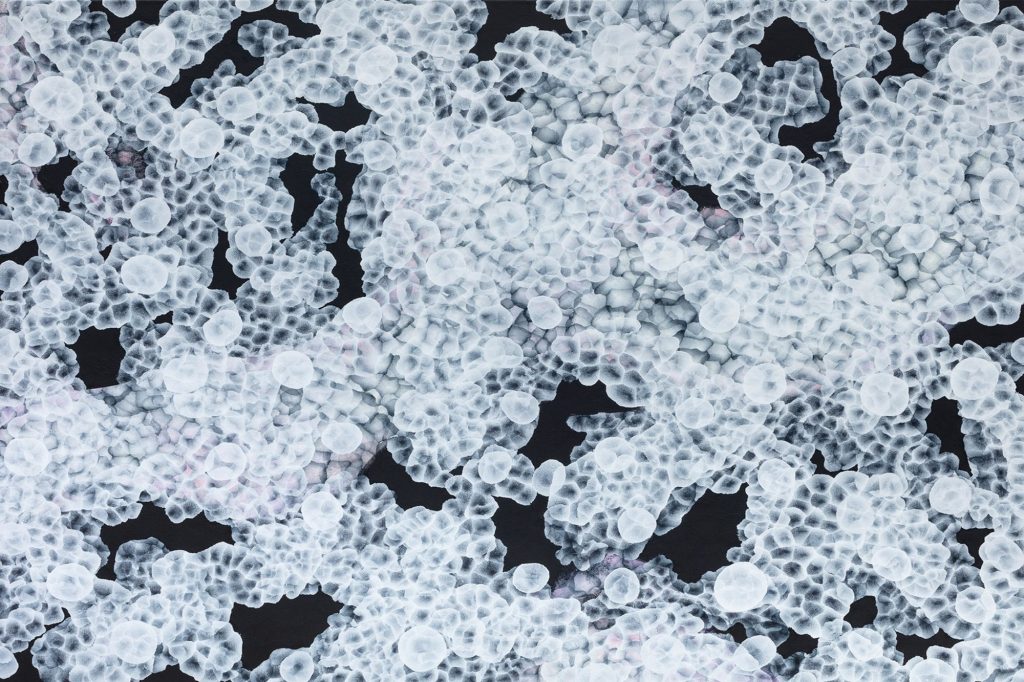 Who are your biggest artistic influences?
JS: Where do you start and stop…
There is much diversity in who I would call out as my influences. I am indebted to the sublime atmospherics and sense of awe of romantic painters Casper David Fredrick and William Turner and impressionists Claude Monet, you may often see their influence in my backgrounds. Pointillists painters Georges Seurat and Paul Signac in breaking down the images to dots of colour.
Light and movement I learnt very early on from the Orphism of Sonia and Robert Delaunay, which is possibly where my use of the ovoids started.
More recently I am inspired by artists Bridget Riley, Victor Pasmore, Chuck Close, Emily Kame Kngwarreye and Yayoi Kusama, in opening up so many possibilities of what a painting can be.
When creating a piece of art for a home, or any space, what do you consider?
JS: Because my art is very unique, commission clients usually come to me with a particular style of mine, and usually an example of my work, that they already have in mind.
I then have a whole list of questions which work around the clients' ideas first and who it is for. I have an actual concept design sheet that we fill out together so everyone is on the same page.
We always start with the scale they are thinking of and then we consider the space where the client wants the piece to go.
The conversation continues, and it is too big, or too small.
Once scale has been established, we look at the 'Concept Design' of the painting, incorporating the style, subject, atmosphere, mood, palette, tonalities in relation to the artworks and looking closely at the interior of where the art is going to go. Specifically looking at wall colour, light, furnishings, the room's function, the whole design of the space and who is going to inhabit that.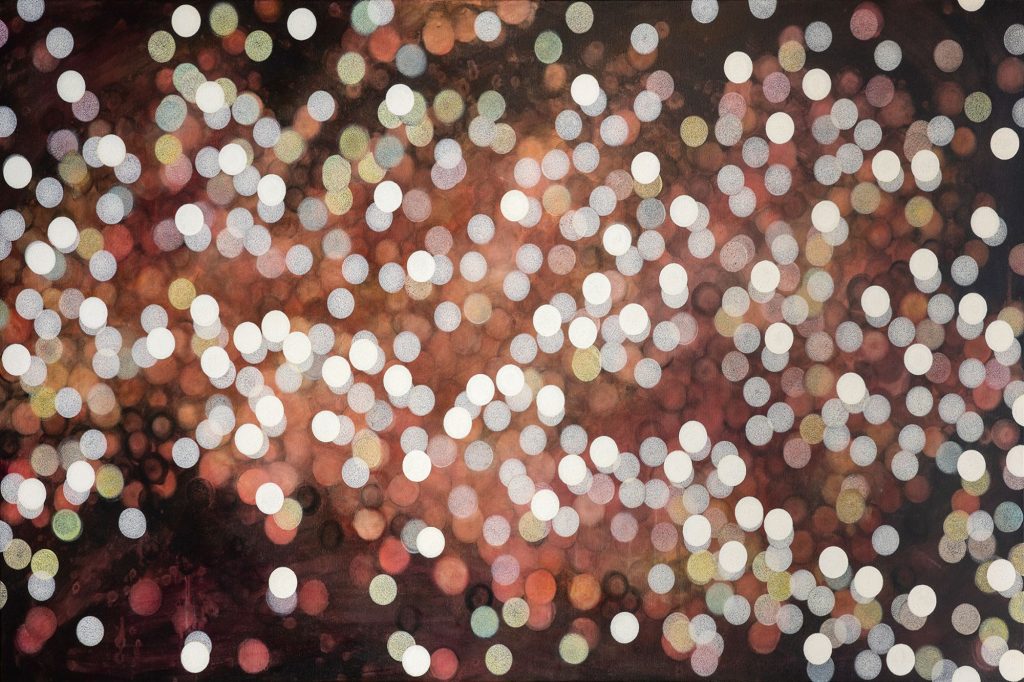 How do you see art playing a role in our society?
JS: In the chaotic lives of this era where we are bombarded with moving images, good and bad, and the demanding work-loads, catastrophic global events, I can only hope my paintings act as an antidote and produce a healing calm for those viewing them.
My art practice always aims to create paintings with their own beautiful life-force. Something unique, that breathes with an uplifting energy. An out of the ordinary experience to take viewers to a place of reverie and contemplation. And give a glimmer of hope in gloomy difficult times.
And, so often, for the viewers, the paintings reference other familiar characteristics of the natural world. I intentionally make the artwork ambiguous and not distinctly one nameable thing or another. I want the images to allude to real things, to act as memory triggers. Bioluminescent organisms, coral reefs, seaweeds, galaxies, flower petals, atoms, molecules, drifting seaweeds, moments of reflected light and as many different life forms as your imagination can conjure.
I delight in all the varied responses the images conjure up. The suggestion of real things acts as a memory trigger for recollections and reminiscences that reference our important place in the fragile natural world. I think that is pretty important in these environmentally challenging times.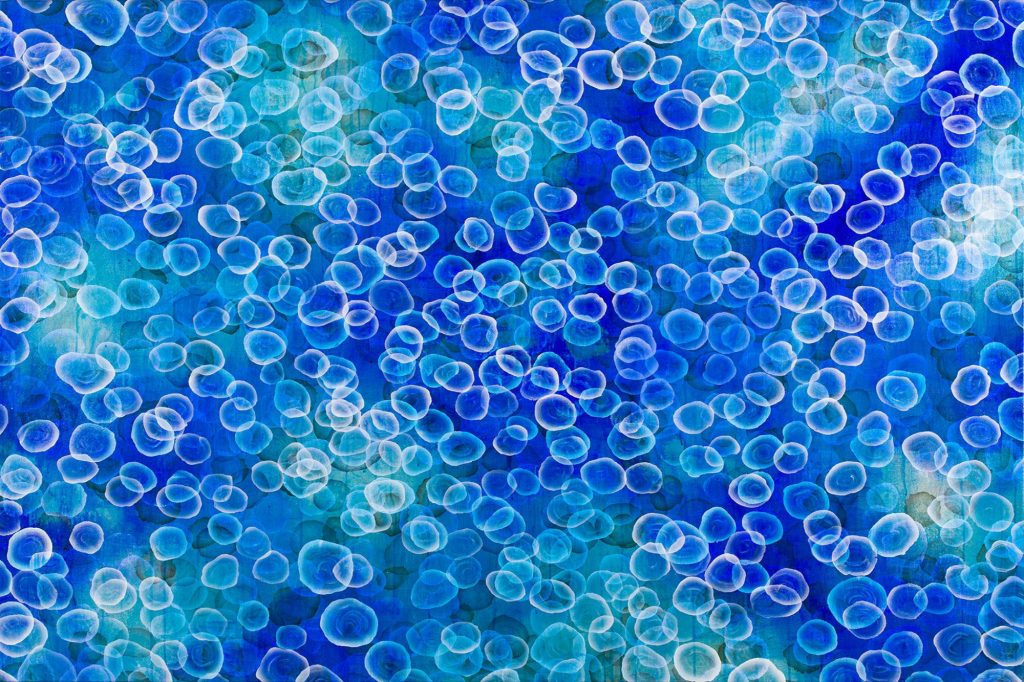 What is your perspective on Australia's current art and design landscape? Could you identify the industry's strengths, weaknesses, areas for improvement and shining moments?
JS: For me, Australia has a healthy art & design landscape. I feel that our distance from the rest of the world is a strength in that we get a taste of what is happening overseas but put our own unique take on it, particularly in our palettes and unique Australian light.
We are a young country with fresh perspectives that are also tainted with a dark and quirky history. I think that opens up possibilities for us as a nation and comes through in our art and design choices. I feel these perspectives are maturing all the time.
It is great that we are developing all the time and moving beyond the cultural cringe and conservative aesthetics we once had. I think Television shows like Grand Designs, The Block etc., although we may not like all the design outcomes, have sparked an interest in Australians considering their homes and living differently. And, the post-covid, realisations that our homes need to be comfortable, kind to eyes and have beautiful aesthetics. That just can't be a bad thing.
Which of your works would you say you're most proud of?
JS: With so many years under my belt, my art age has taught me to edit well so that I am generally always proud of what I do and put out there.
The paintings that are holding a special place in my heart at the moment are:
Aqueous Drift – Coral Bloom II
Aqueous Pulse IV
Bio Bloom Reef Song I
Bioluminous Ocean Dancer, and
Bioluminescent Coral Bloom.
Images provided by Jacquelyn Stephens.
You can find Jacquelyn's work available on her website: jacquelynstephensart.com.au
Check out ADR's chat with NGV's chief curator for the Melbourne Winter Masterpieces series.