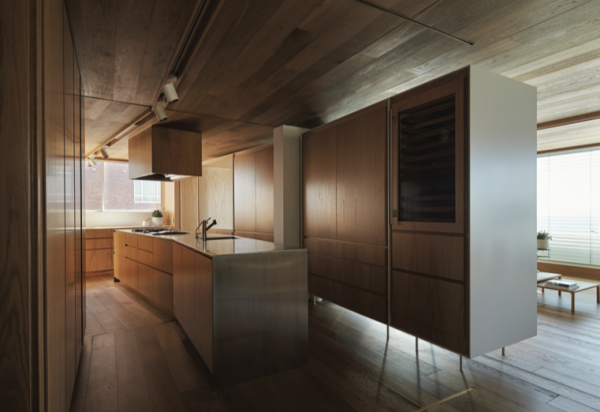 "We conceived the space in three bays, each with different orientation and geometry, yet with openings and views through all aspects," says Chenchow. The kitchen is a proverbial tardis of space management, housing three fridges, an appliance and a drinks cupboard, ample storage and bench space. "Our clients like to entertain and so the kitchen had to be fully equipped. It can also be closed off when guests are there but the framed view from the kitchen to the main living area and beyond provides connection," says Little.
The clients approached Chenchow Little because they sought something beyond the norm, so while formal in some ways they also wanted a sense of surprise embedded in the interior concept. "We treated each space as distinct in character. The client has a sense of humour and enjoyed the notion of playing tricks," says Chenchow.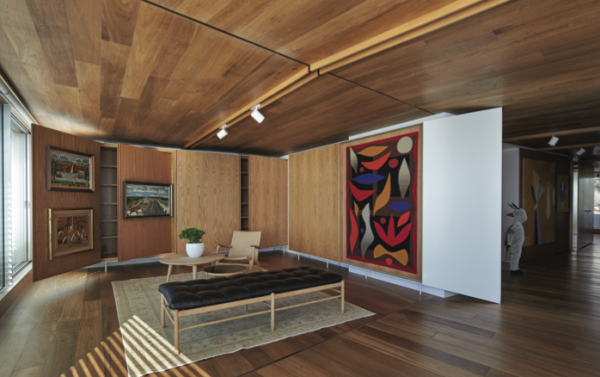 While the main living area is somewhat restrained, providing a space to display art, the hint of the unexpected is provided right from the outset as you step from the elevator directly into the apartment. Here a mural by Daylesford artist, Esther Stewart, covers the walls and ceiling in a burst of geometric pattern carefully executed in her distinctive colour palette. These colours are echoed and highlighted throughout the apartment – particularly in the two extraordinary Corian bathrooms – one a soft dusty pink and the other pale blue. "The colours were hard to source as they seem to have fallen off the spec list and we had to source them from Japan," says Little.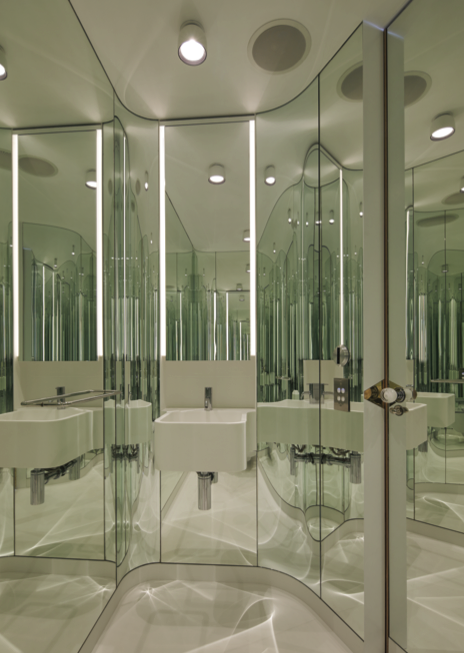 The powder room is playful, rather like a hall of mirrors in an amusement park, with the curved, green-tinged glass presenting a facetted reflection. "The clients love the idea that guests will experience something unexpected – although best to look in the slimming mirror," advises Little.
An office, come second bedroom for guests, and the master bedroom with adjacent dressing room forms the third area. Given there is just one apartment per floor in this block the orientation means it is possible to lie in bed and see the Sydney Opera House. A sliding mirrored door closes off the bedroom, reflects the view and provides the basic function of revealing how your clothes have been put together.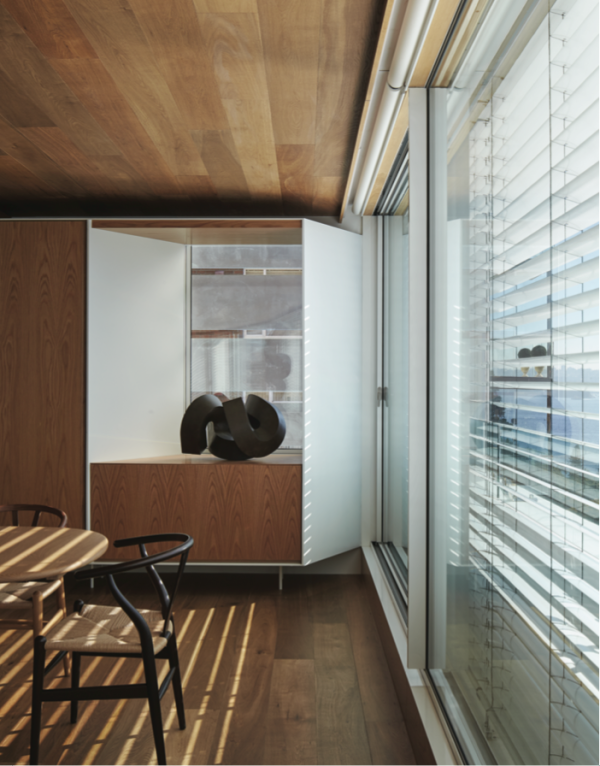 Chenchow Little have taken an unrenovated warren of rooms with eye-blinkingly white surfaces and created a jewel box of crafted timber with joinery, which inserts into the space rather than dominates it, and a series of bathroom experiences to excite or soothe. The clients are downsizing after 40 years in their family home to a fifth of the floor space, so the rigour of the fitout, combined with the joy of its expression, should go some way in easing the transition.
AR142 is on newsstands now, and available through Zinio.