Russell & George has been five years in the making and not a second has been lost in its meteoric rise to the top of the architecture and design profession. The practice is Ryan Russell and Byron George, two men who commenced their designing lives as competitors, then joined forces in 2010 to realise their similar visions. Each was successful as an individual practitioner. Together, however, they are forging a presence, not only in Australia but on the world stage, and doing it their way. That is to say, they are breaking the mould of both practice and process and replacing it with a made-to-measure Russell & George alternative.
The work of the duo is well-known and their projects both as individuals and together have been widely published. Both Russell and George are frequently invited to sit on architecture and design juries, and they are in demand to speak at lectures and seminars. The practice as it is today was established in 2010 and over the short span of five years has won countless awards for its hospitality, retail, residential and commercial projects – so many, in fact, that its previous office's wall space limited the amount of framed certificates that were displayed. Projects such as Left, St Jude's Cellars and Aesop stores have become landmark designs and milestones in their careers.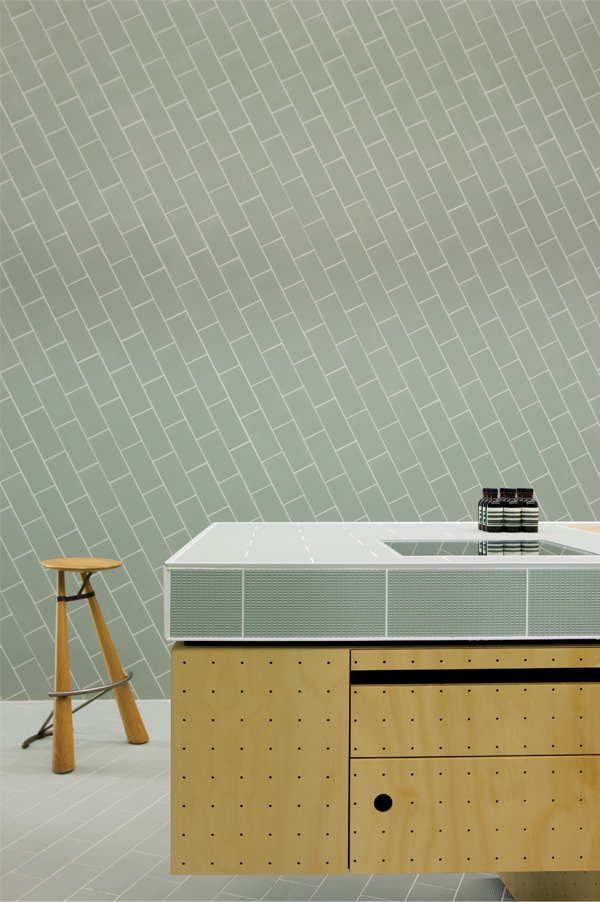 Accolades come thick and fast when completed projects are published and the practice is riding high through inventive design ideas that are seamlessly translated into outstanding results. It has a dedicated client following and there are more than 50 projects in progress at any given time.
The design signature is always to interpret a brief with originality, flair and ingenuity, and deliver more than the client expects. Although the practice's main office is in Australia, local projects make up only one half of its commissions. Fifty percent of its work is conducted overseas in countries that include Italy, Japan, Malaysia, Singapore, China, Bulgaria and the US. To facilitate these works, the duo established a studio in Rome, Italy in 2011 as a midpoint base.
So with a burgeoning practice, a portfolio of continuing projects and the world at their feet, surely this would be enough for most architects and designers? But, no, this is not the case for Ryan Russell and Byron George. From the practice's inception, there was a grand creative vision to take all aspects of design to another level and, with a move in August to a large warehouse in North Melbourne, the metamorphosis began in earnest.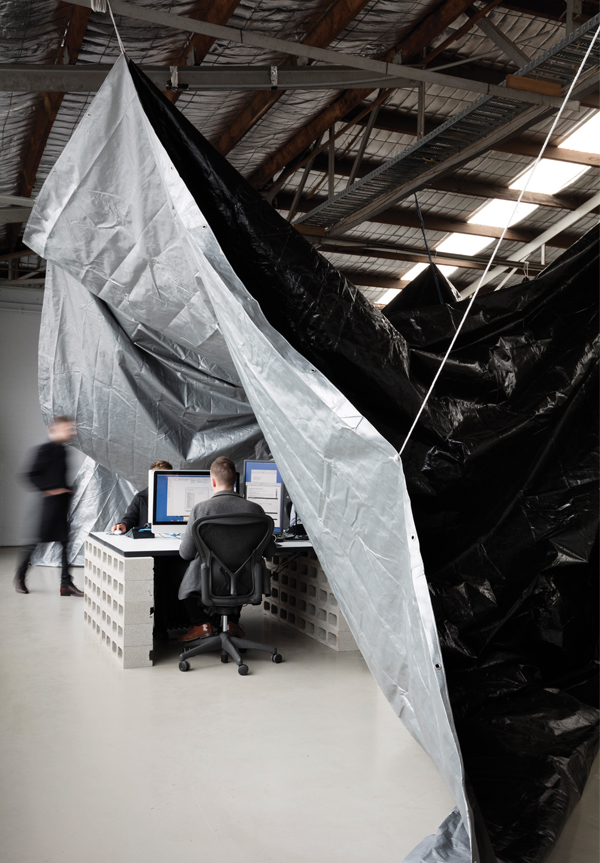 The space is home to the practice but also brings together like-minded collaborators who work separately and together to help realise the greater Russell & George ambitions – to reinvent the idea of what an architecture and design practice is and where and how it lives.
The practice's 'office' is enclosed by a large installation-style draping that houses computers and desks in the middle of the front section of the premises. As every area of the warehouse is intended for multiple uses, this office can be moved, packed away at a moment's notice to become an event space. The back area of the warehouse includes a commercial kitchen and a café, as well as a section for model making. In real terms, this means that the studio can design a chair or a project, and then a model can be made on the premises. An event can occur in the evening – perhaps a cocktail party for 200 – and catering is available in-house. Also the café can service local residents and the commercial kitchen is utilised once again. Everything in the space is designed by Russell & George, from furniture, cups and plates through to fittings and installations. The Russell & George studio is the ultimate in multitasking space, people and business.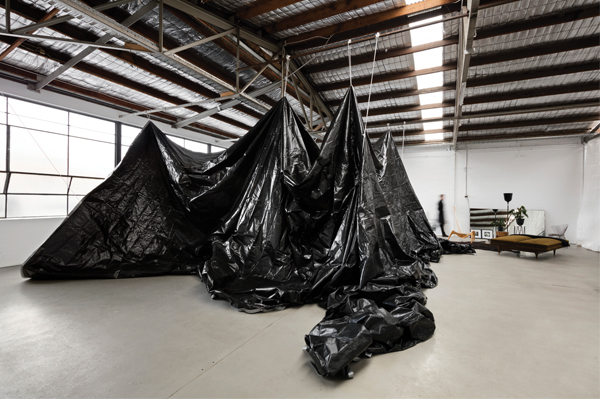 Of course, the central core is the design practice and again there is a change of process and direction. Now the designers have the opportunity to rework a process or design an object that can be prototyped in-house, multiple times if necessary. This gives the freedom to actually reinvent the wheel and make sure it works before presenting it to clients. The vision for the future involves everything – objects, space and time. The intention is to invent and refine, to develop projects, design buildings and ranges of furniture, create new materials and different ways of building, while simultaneously discovering new ways of working. The practice is willing to take the necessary risks to push the boundaries of what is possible in design.
So there is change in the air and, for Russell & George, the world is its oyster. It's all about not being safe, of experimenting and taking risks, but always taking design to another level. It's a brave new world out there and Russell & George is embracing it with gusto.
russellandgeorge.com
Inside 89 is on newsstands now, and available through Zinio.