Written by: Sharnie Shield. Photography by: Melissa Henry, 
As we sweep into summer, as the seams of our sun-bleached cottons come undone and we enter the fray, the sea spray, the paddock dam or the river, we watch the materials around us throw light. The reflected heat of the sun shines upon all that is woven around us. The sophistication of the woven objects that fill our summer days, from basketry to day beds, has taken on a vibrant new twist, with contemporary artists creating textile tectonics that raise traditional techniques to a new visual platform.
Floating through the Boston skyline, Janet Echelman's As If It Were Already Here (2015) breathed new life into the city's former transport thoroughfare this year, as part of the Greenway Conservancy's Public Art Program. Braided with high-tenacity polyester fibres, the net illuminates the night sky through coloured LEDs, whispering between skyscrapers as its form shifts in the breeze. There is an uplifting feeling to Echelman's work, a near invisible visual phenomenon gliding above the crowds.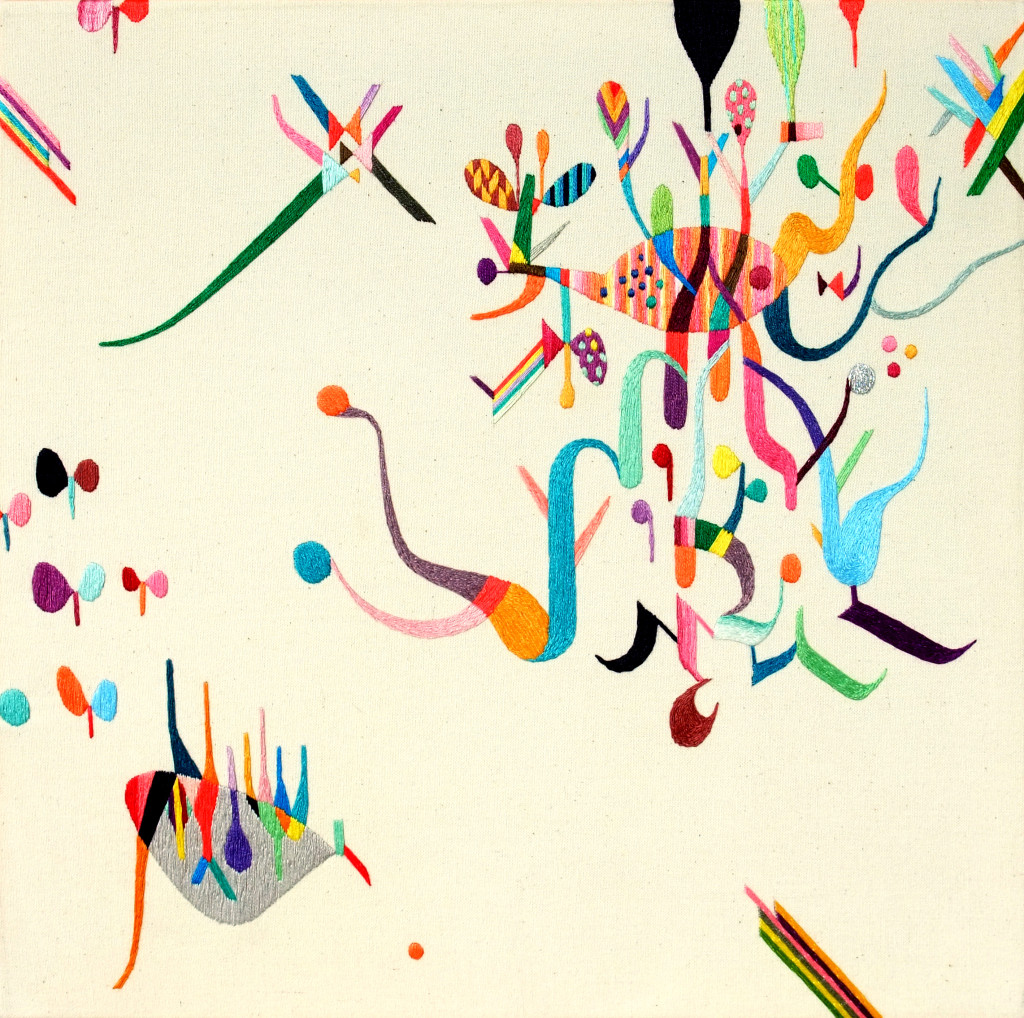 A thread of architectural exploration of space also runs through the work of Korean artist, Do Ho Suh, whose woven homes reimagine the permanence of urban life. His delicate representations of the spaces we inhabit have enchanted visitors to the Tate Modern in London and the National Museum of Modern and Contemporary Art in Seoul, where his multilayered Home Within Home Within Home Within Home Within Home showed in 2014. Using woven silk fabric, Suh layered a replica of his Rhode Island student house over a traditional dwelling from his Korean childhood, inviting viewers to explore comparisons and transitions of space.
Both artists combine technology and craft in creating complex woven structures, drawing us into surreal weightless worlds. They bring a sense of the un- known, a dynamic colourful intertwining of play and possibility that also resonates in the meticulously hand-embroidered works of Japanese artist, Toshiko Iwasaki. Threading his imaginary worlds together with a multicoloured composition, his aerial landscapes bring to life the every- day, what Piet Mondrian referred to as "dynamic equilibrium". Iwasaki's organic forms play with the duality of horizontal and vertical composition, though in a more fluid nature than the Dutch modern- ist before him.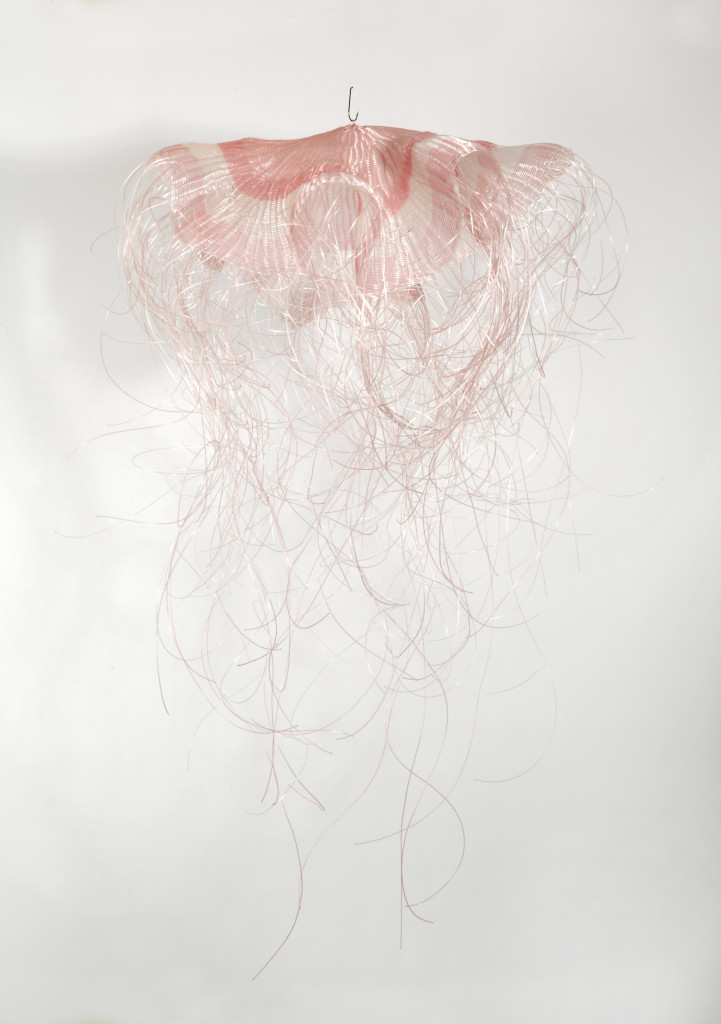 Imaginative play takes many forms for contemporary weavers and, at Japan's Hakone Open-Air Museum, children are given the opportunity to delve into a woven world of colour through the work of Toshiko Horiuchi MacAdam. The Japanese-born, Canadian creator of this massive textile playground uses crocheted nylon to create a space where children can engage with a world that is usually untouchable.
There is a sense of discovery in the mesh of modern weaving, tying worlds and ideas together with reference to the traditions of the utilitarian craft. In her own way Australian artist, Jenni Kemarre Martiniello, is reinventing these traditions through finely woven glass blended with the memories of upbringing. Ancient cultural practices are captured in her work with an evocative translucency that belies their rigidity. The forms, reminiscent of the baskets and fish traps she observed be- ing made in her youth, are also a reference point for Darwin's Aly de Groot. Using marine debris, de Groot explores the impact of climate change on our oceans through her Underwater Basket Weaving series. Exhibited in the Northern Territory Wildlife Park's underwater aquarium, the ethereal works remind us of the weightless and translucent creatures that inhabit our oceans and the impact we have on marine life.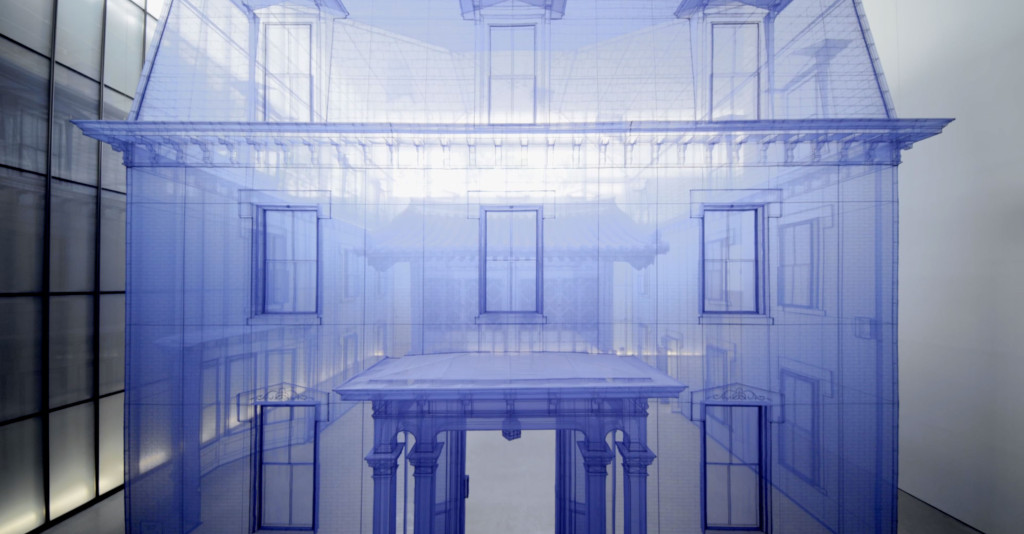 For all the high-tech materials the modern weaver has at their fingertips, the use of fishing line, or even cable ties, can be the starting point of a journey to some- thing beautiful. Lucy Irvine, a Scottish- born sculptor now based in Australia, finds her starting point at the average hardware store. Her work, Before the After, commissioned by the National Gallery of Victoria for the Melbourne Now exhibition, is an intricate matrix of cable ties and irrigation piping over a steel frame. These contemporary art objects remind us, like the new tectonics skilfully employed by these modern weavers, to look again at the colours and textures of everyday objects, as we weave our way through the sunshine this summer.
MEZZANINE Summer is on newsstands now, and available through Zinio.