After 125 years, Christ Church Grammar School (CCGS) was in a moment of change when it appointed Sally Draper Architects in association with McIldowie Partners to undertake a masterplan for the school's main campus and design the initial major project from that plan.
Architect's statement
It is easy to miss Christ Church Grammar School, hidden on the edge of Fawkner Park behind the elegant bluestone of Christ Church with its curiously spotty spire.
The predominantly South Yarra parent body and board had ambitious aims for the school and the masterplan reflected this.
The new development houses six new learning areas and associated breakout spaces, a new library, art studio, sculpture court, science laboratory, as well as a full-sized basketball court, underground carpark and a maintenance department. Accommodating this extensive program on a tiny heritage site was a formidable challenge.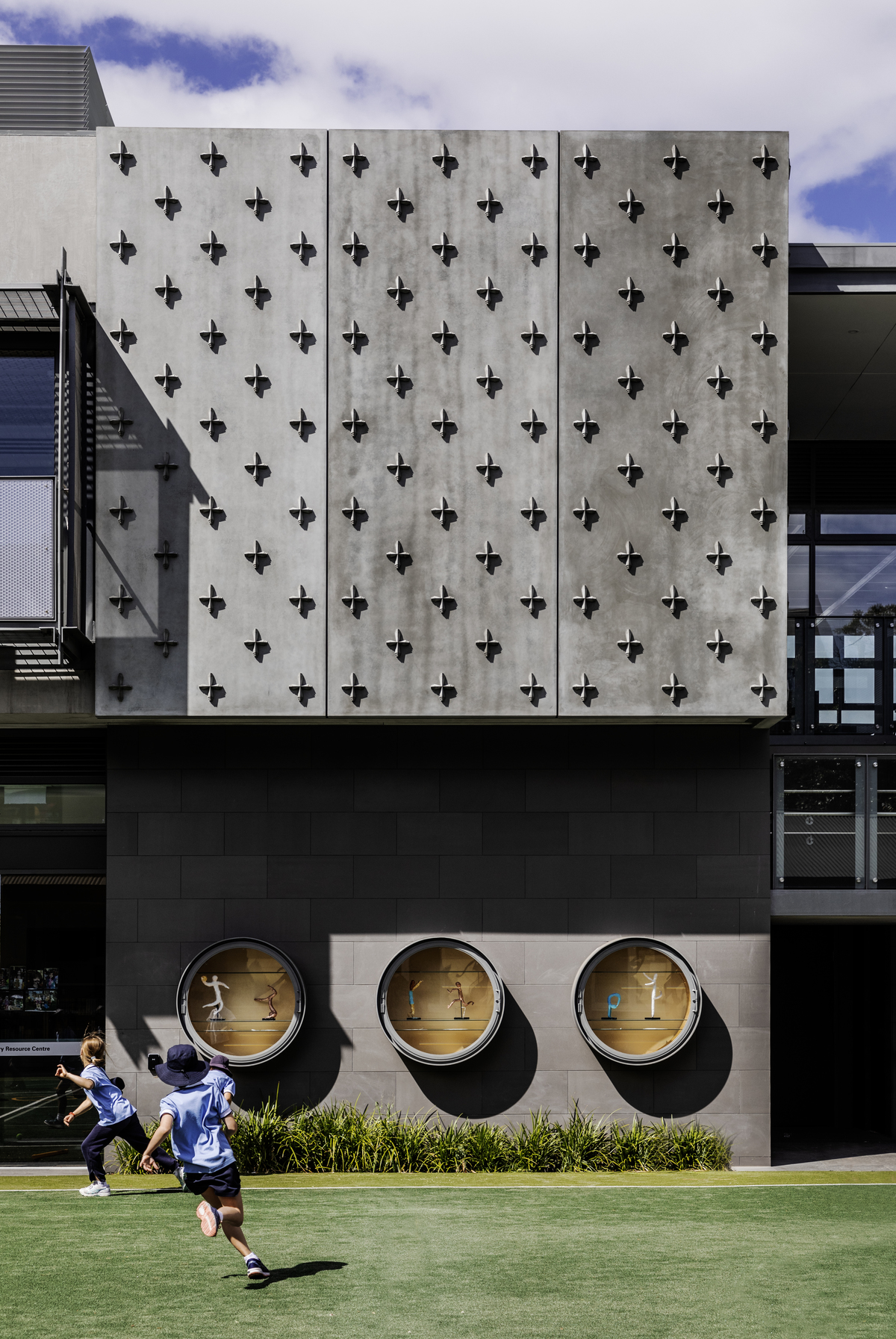 Constrained by a 9-metre height limit protecting Fawkner Park and the adjoining residential properties, our strategy was to go down as well as up. Partially submerged, the new development houses the complete wish list of the board.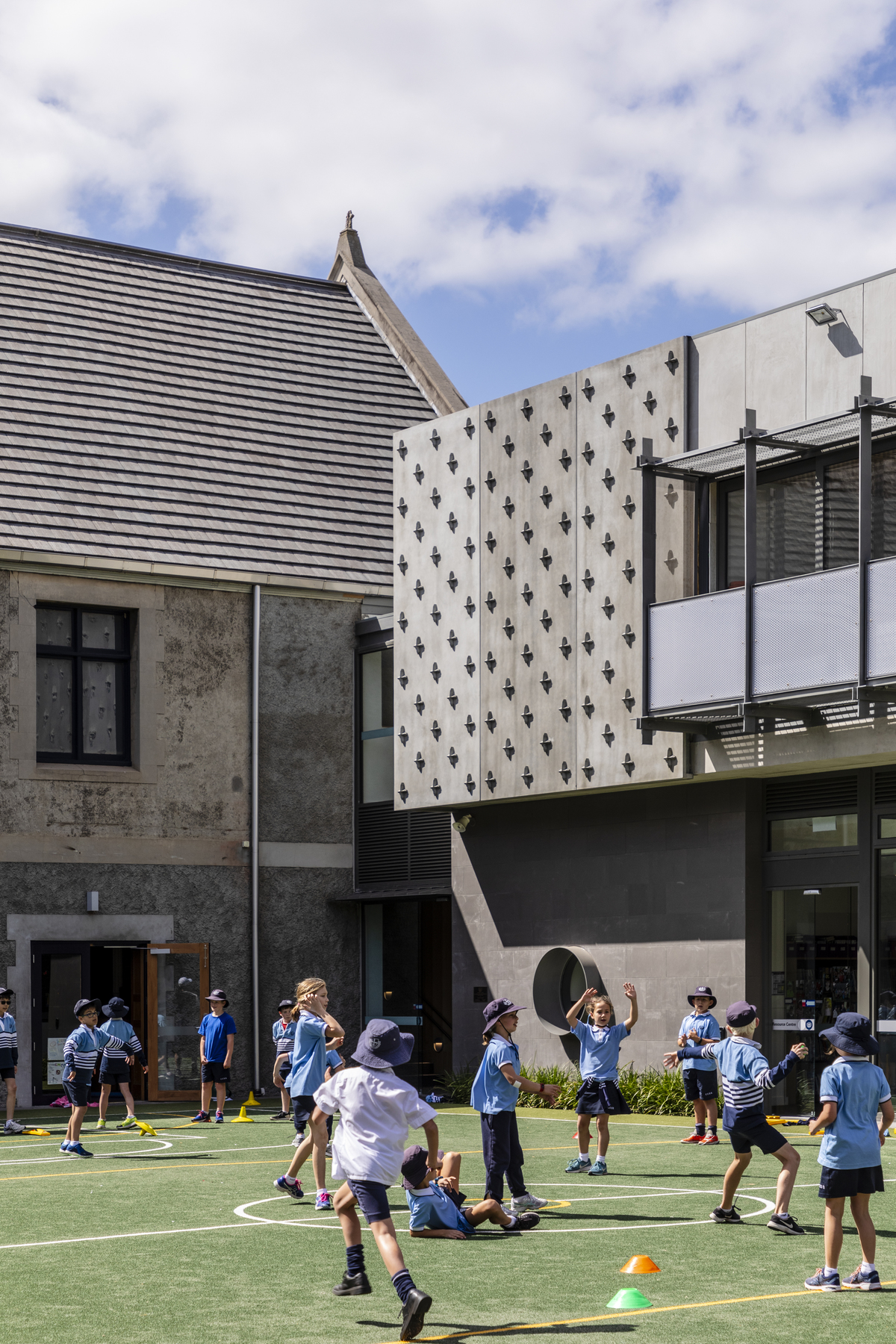 Positioning primary learning areas below ground level is an unconventional move, but by introducing a series of sunken courtyards and glazed voids running up through the building, daylight, natural ventilation, and direct access to external space from all learning areas is achieved, creating ideal learning environments.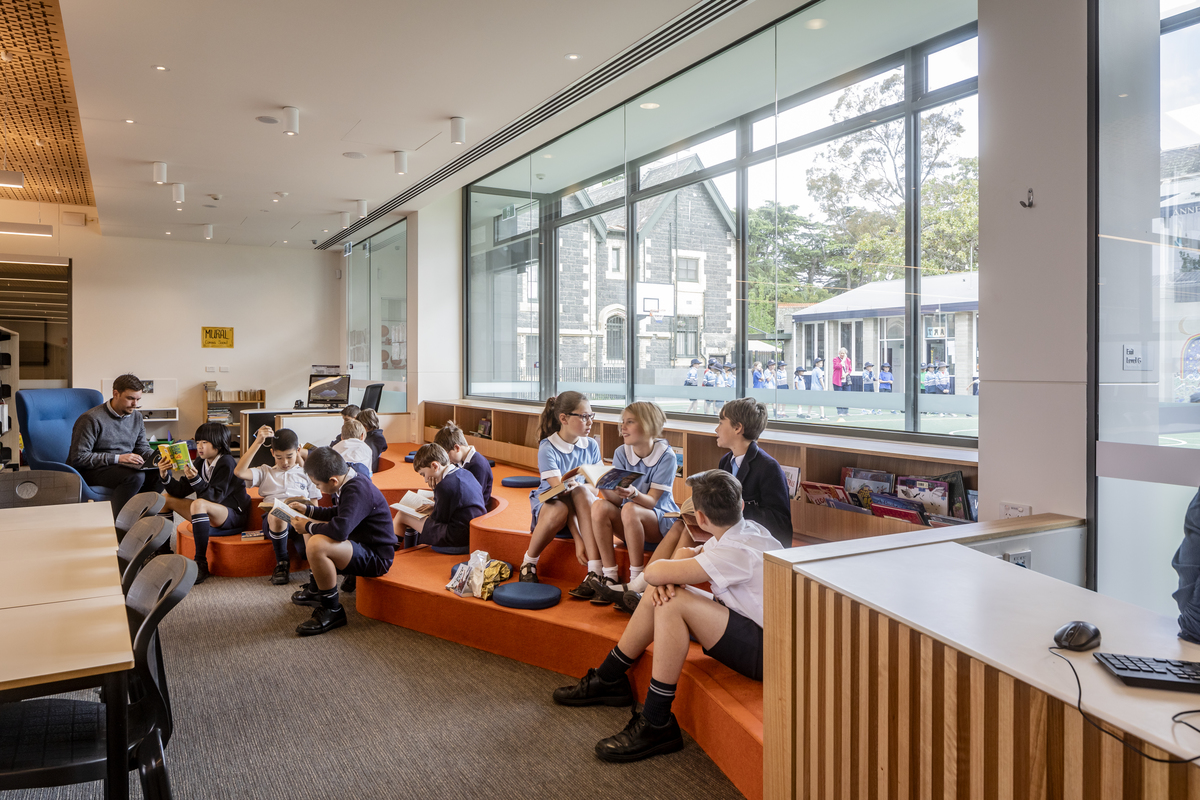 CCGS is deliberately traditional in its approach to education and the learning studios allow it to play to its strengths whilst also offering the chance to embrace more contemporary pedagogies. Seat steps for group discussions and presentations and intimate timber reading and study nooks offer a range of spaces suited to different activities and importantly to the individual needs and personalities of the children.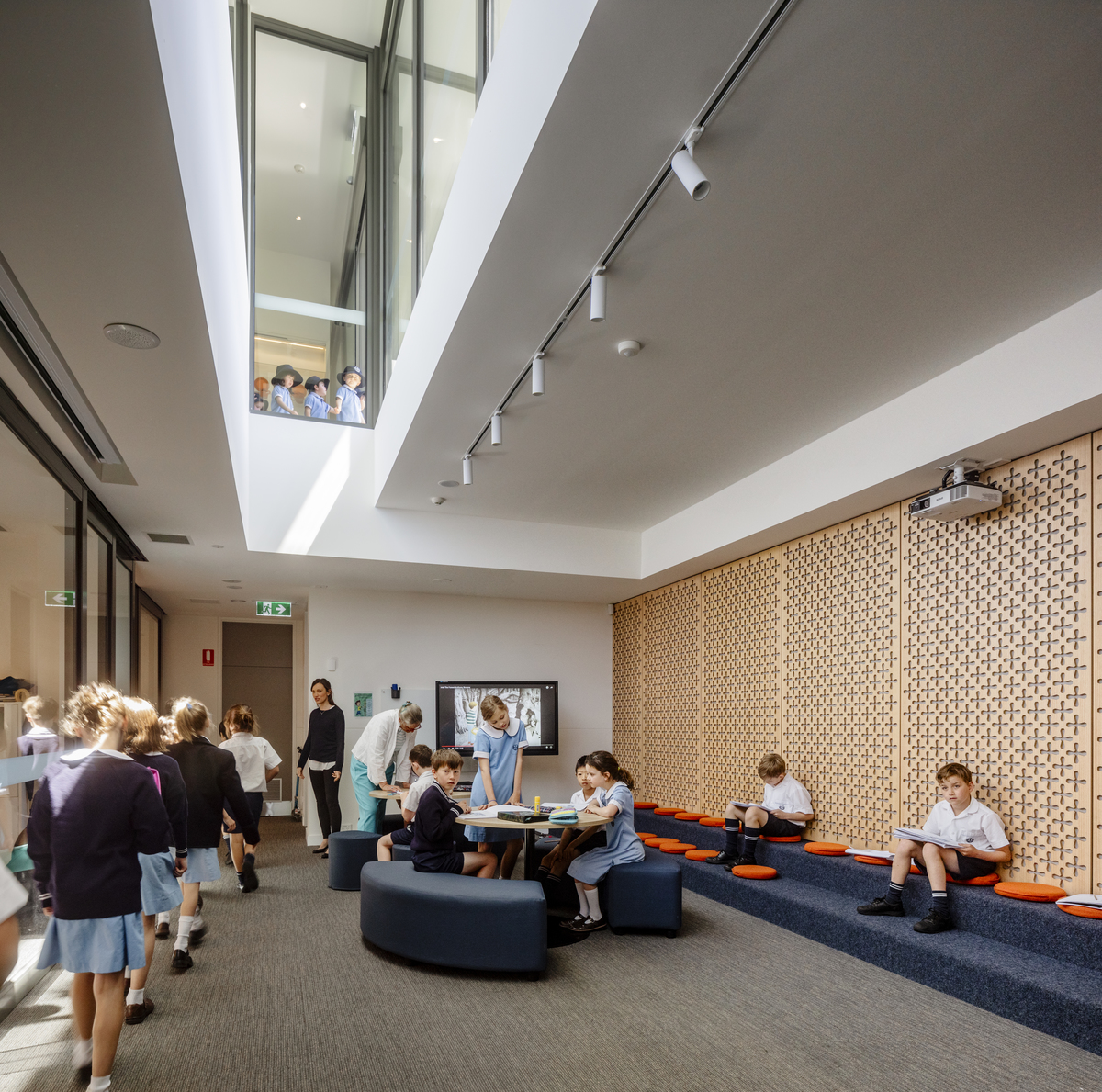 The weighty presence of the original bluestone vicarage and the roughcast school hall have been restored to their historic axial relationship through this project. Respectful of their palette and orthogonal form, the new buildings reinforce the strength and robustness of the formal quadrangle but lighten the mood through moments of delight including illuminated circular display boxes, a fort-like upper balcony and gangway bridges into the library.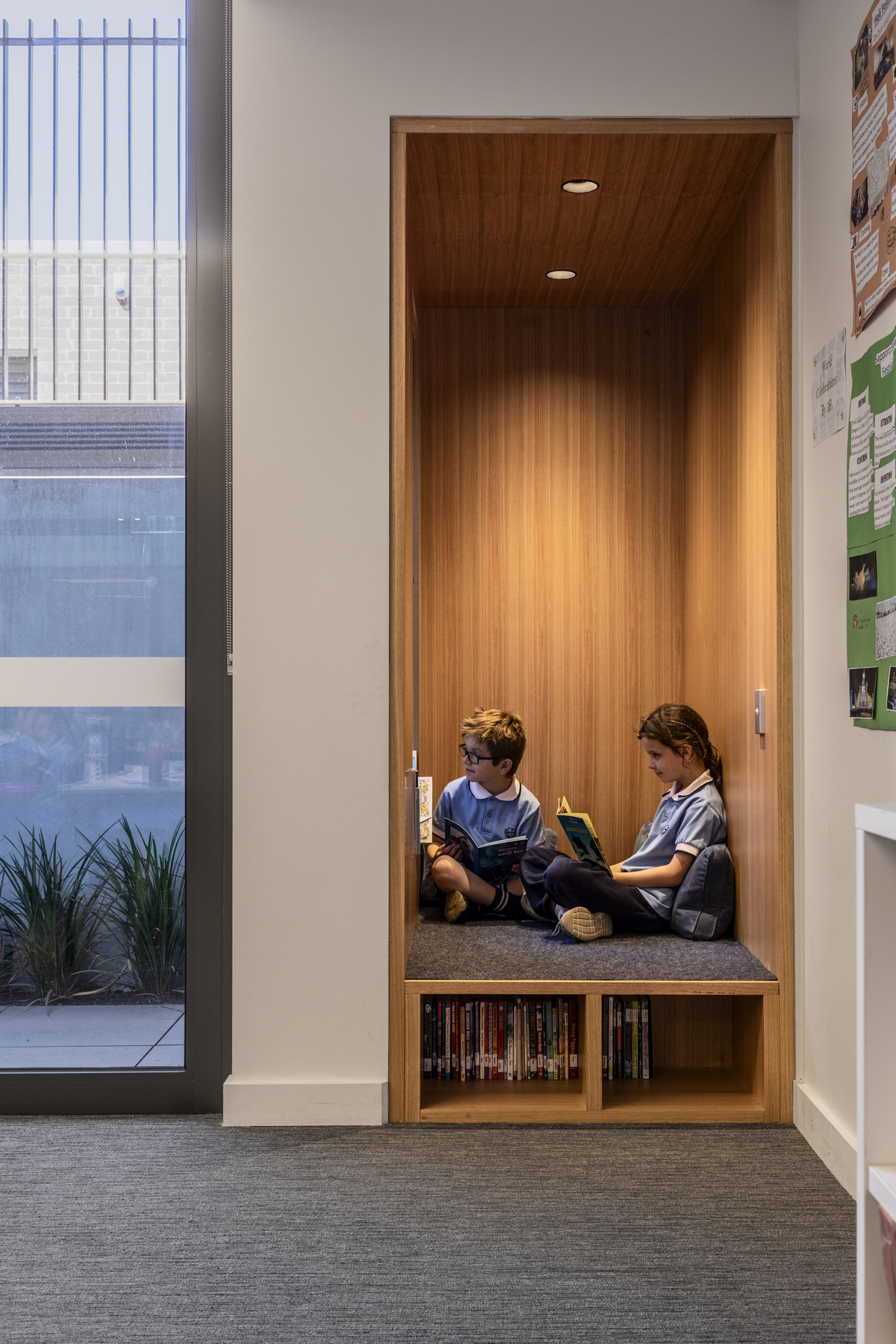 As the only Anglican Parish primary school in Victoria, religion is key to the school's identity. The crafting of bespoke GRC panels incorporating the cross from the school's crest and internal timber ceilings cut with the same motif create an important symbolism for the school. The warmth and richness of the interior spaces within the context of a cool grey exterior palette is a direct reference to the Church itself and suggests notions of welcome, protection, comfort and belonging.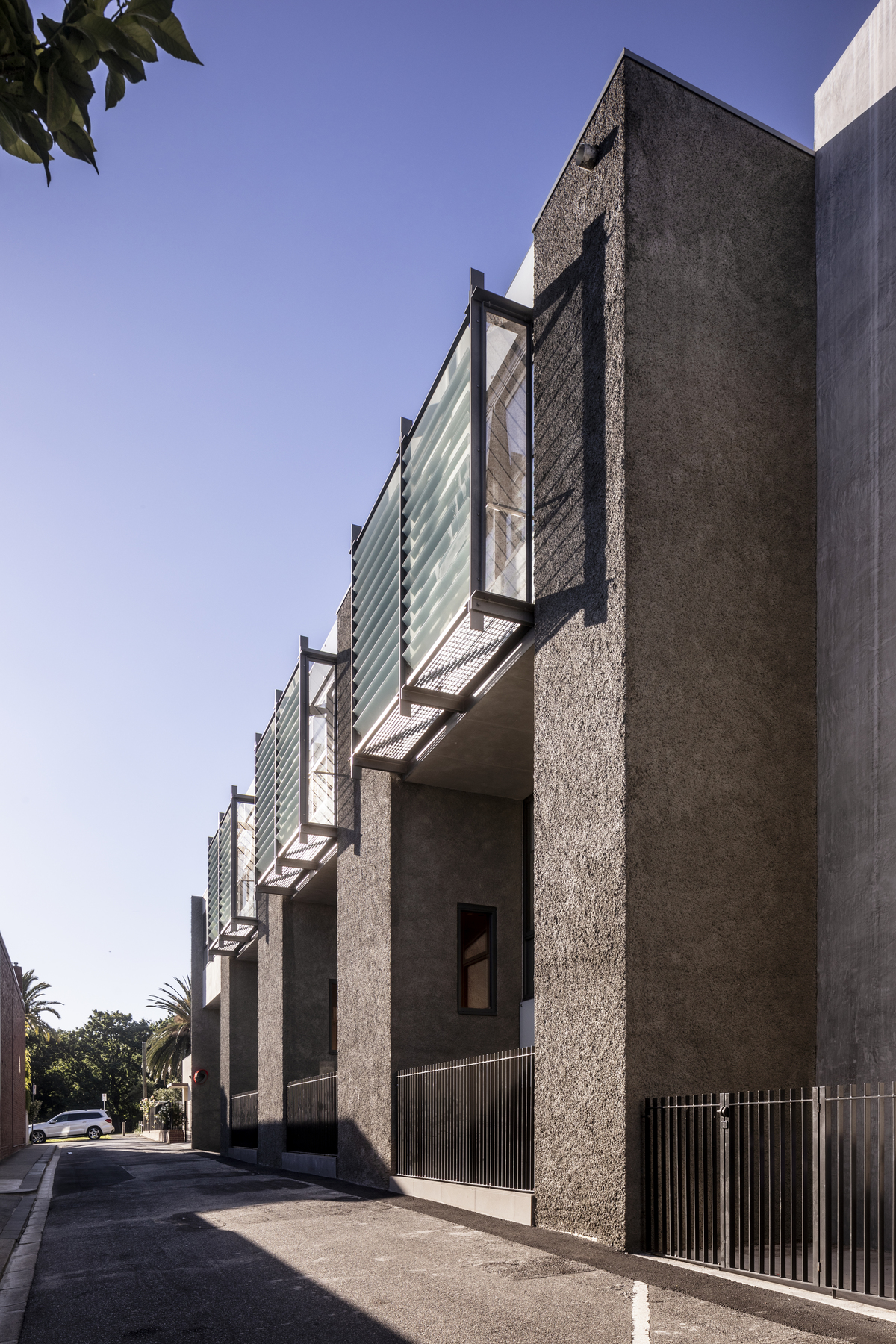 The Christ Church Grammar School redevelopment is an inner-city school on a very constrained Heritage site. Within this challenging context, it achieves a delightful and enriching environment for its community and provides a valuable and timely model for schools in dense urban and historic contexts.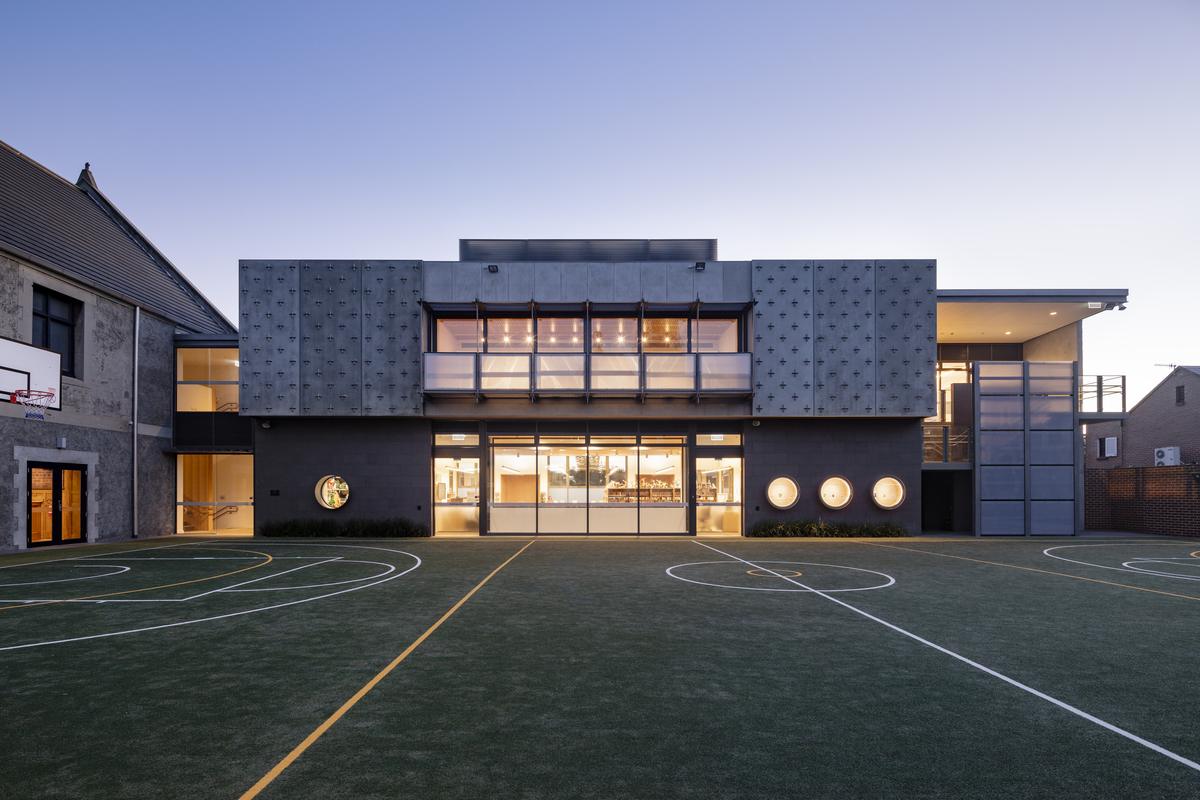 Photography by Trevor Mein