Bookings for Open House Brisbane's ticketed tours open this Thursday 21 September at 9am, so ADR has compiled a list of some of the must-see homes and buildings from this year's ticketed selection.
Residential
D house, 2000
Architect: Timothy Hill
Achieving urban consolidation through subdivision of existing Brisbane suburbs into similar lots is a contentious issue. It is an attractive concept but there are few historic precedents.
A strategy was developed with generic features and proportions that could be used in several small lot configurations or stacked vertically to increase density.
The tactic of the plan was to enclose a large proportion of the site as a 'public' room: a realm containing both inside and outside space. There is a generous window between the public zone of the house and the street.
In this way, occupation and experiences contribute to the streetscape rather than the mute presentation of vernacular forms, that is, a 'walled garden' is as useful a metaphor as a 'Queenslander'.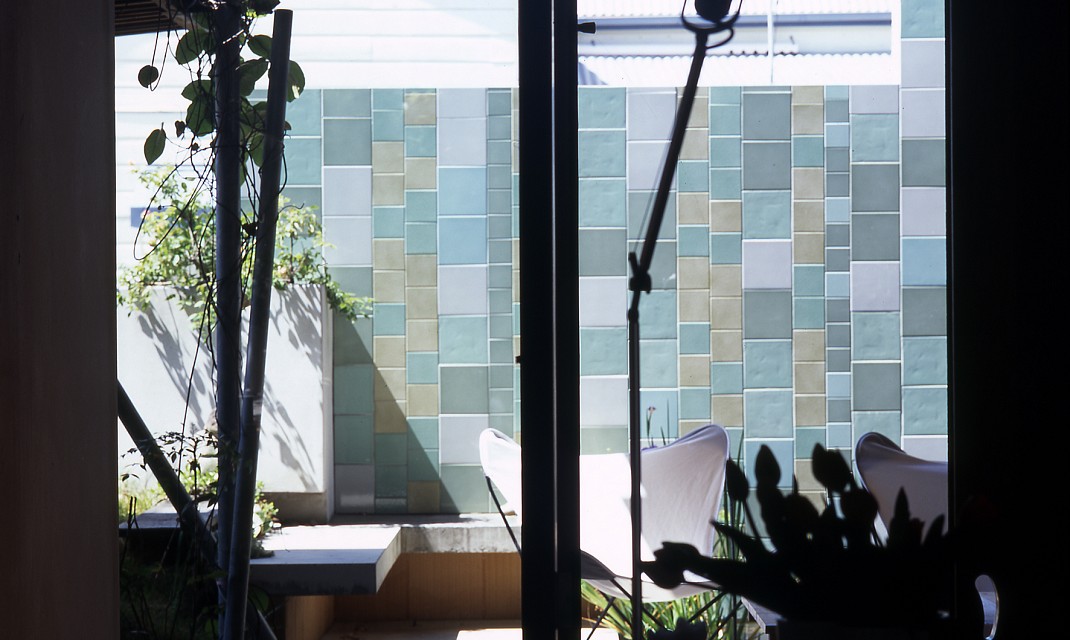 —
Monaise house, 1922 (original), 2015 (refurbishment)
Architect: Shaun Lockyer Architects
Monaise involves the refurbishment and alteration of a house built in 1922 and designed in a blend of Queensland and Tudor vernacular styles. The original home, while splendid in its adorned detail, was sadly dysfunctional in its planning and acknowledgement of contemporary lifestyle.  The project involved the careful removal of post-war aberrations and the reinstatement of traditional detail to the extent that one could be authentic and honest about it.
Complimenting this refurbishment was the contemporary insertions and additions.  New accommodation on the ground plane pays homage to the '60s brick piers in a series of brick follies and details.  The old (and dark) is heavily juxtaposed with a light and new, articulated by a series of skylights that not only liberate the spaces but redefine Tudor theme in the original living spaces. A palette of rich and textured materials redefines the house's position in regard to history and in so doing, offers a reinvigorated idea of how nearly 100 years of history can endure and thrive in a culture where the temptation is still to demolish and start new.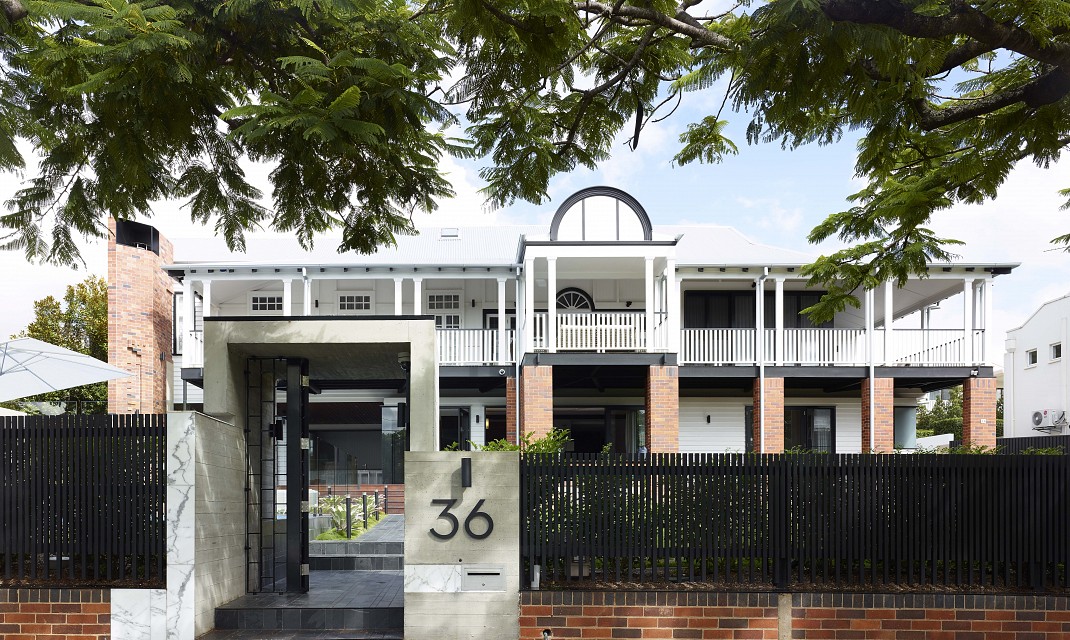 —
Public
Queensland Ballet, 1908
Architect: Richard Gailey
Originally commissioned by Mr Dixon in 1908 to house a shoe and boot factory, this Georgian Revival-style building now thrives as home to Queensland Ballet. Listed on the Queensland Heritage Register in 1998, the Thomas Dixon Centre is a rare surviving example of an early twentieth century industrial factory in West End.
The significance of the building is enhanced by the incorporation of unusually decorative features for a building of its type, including the use of dark blue salt-glazed bricks. When leading architect Richard Gailey designed the building, he incorporated king trusses, spanning the width of the space, producing open areas, unobstructed by pillars.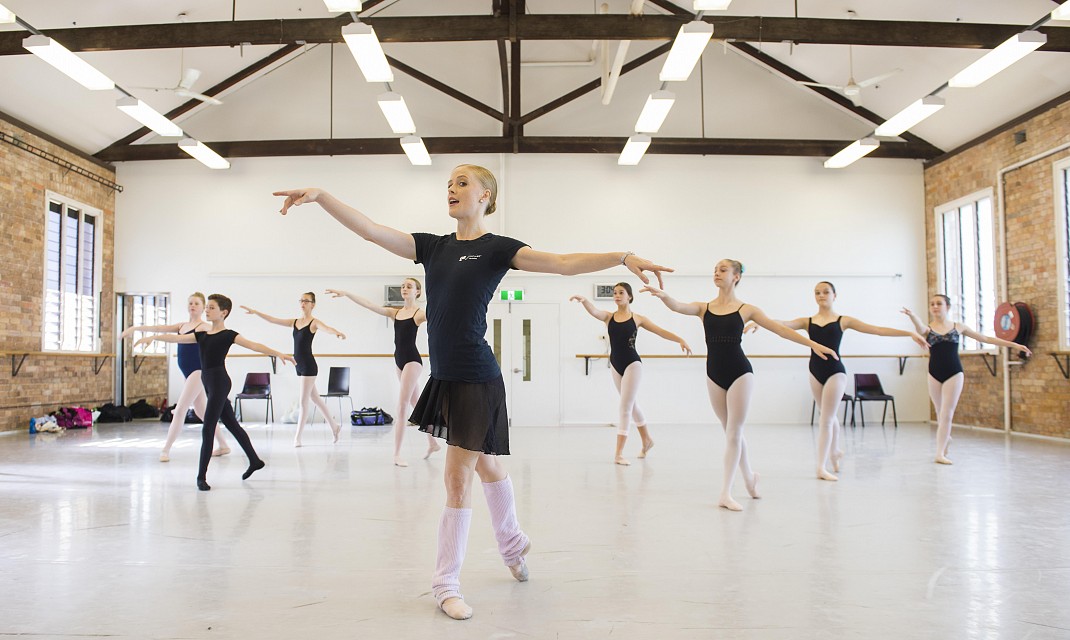 —
Walter Taylor Bridge, 1936
Built by Walter Taylor, engineers WJ Doak and RJ McWilliam
Walk around and across the Walter Taylor Bridge, a bridge of national significance, and take a special peek inside the bridge pylon.
The Walter Taylor Bridge spans the Brisbane River from Indooroopilly to Chelmer and remains the longest span suspension bridge in Australia.
The design is of a rare type developed by American engineer D. B. Steinman and first used at Florianopolis, Brazil in 1926. The deck is suspended from two sets of steel cables, each comprising twelve wire ropes, saddled on concrete towers at either end and anchored in rock and concrete. Each of the mild steel saddles is positioned 35.6m above the high-water mark, and the span between the towers is 183m. The total weight of cable suspended across the river is 145.5 tonnes. Both towers contain residential accommodation, with walls up to 1.7m thick.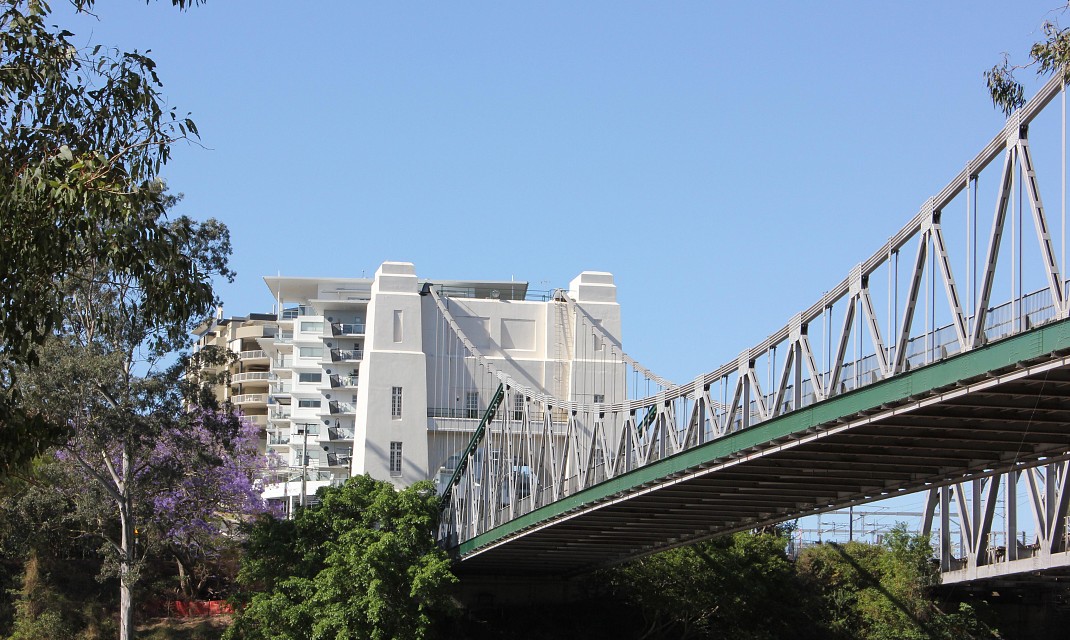 —
Brisbane Common Ground, 2012
Architect: Nettleton Tribe
Brisbane Common Ground is Queensland's first supportive housing initiative, offering permanent rental accommodation to people who have experienced long-term homelessness and people who require access to affordable housing.
This landmark project was delivered through a partnership between Federal and State Governments, private enterprise and non-profit organisations. The building was constructed at cost by project partner Grocon. The design was informed by research undertaken in Australia and the United States regarding the impact environment can have on ending homelessness.
The innovative concept developed through this partnership delivered a 14-storey apartment building offering 146 rental units, commercial tenancies and community spaces. The tenants of are offered safety and security, support, community, and hope for a better future that includes stable housing.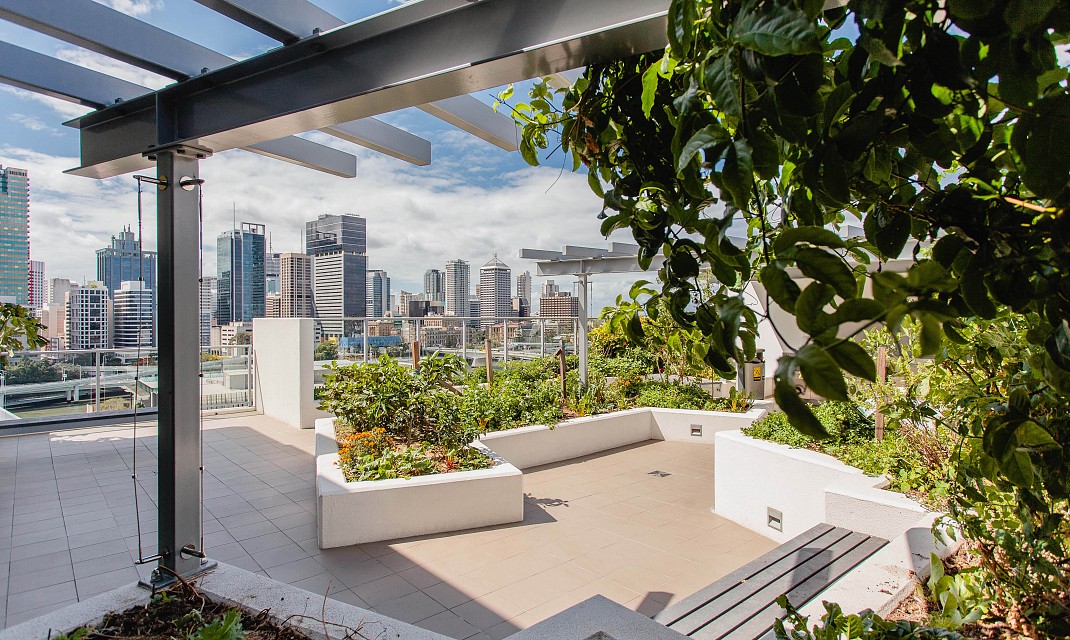 —
Brisbane Airport, (current location) and 1988 domestic terminal
Architect: domestic terminal: Dept of Housing and Construction, international terminal: Bligh Voller (architectural consultant) with Lendlease Design Group
Brisbane Airport (BNE) is the largest capital city airport in Australia and the third busiest by passenger numbers (nearly 23 million last year).
Recent refurbishment of the domestic terminal has exposed the original internal domed roofline, restoring the building's architectural integrity and flooding the terminal with natural light. From the tarmac at the international terminal, passengers can glimpse the 750m Sensory Hug artwork by the late Mirdidingkingathi Juwarnda Sally Gabori.
Voted 'Best Airport in the World (Australia/Pacific)' 2017 Skytrax World Airport Awards.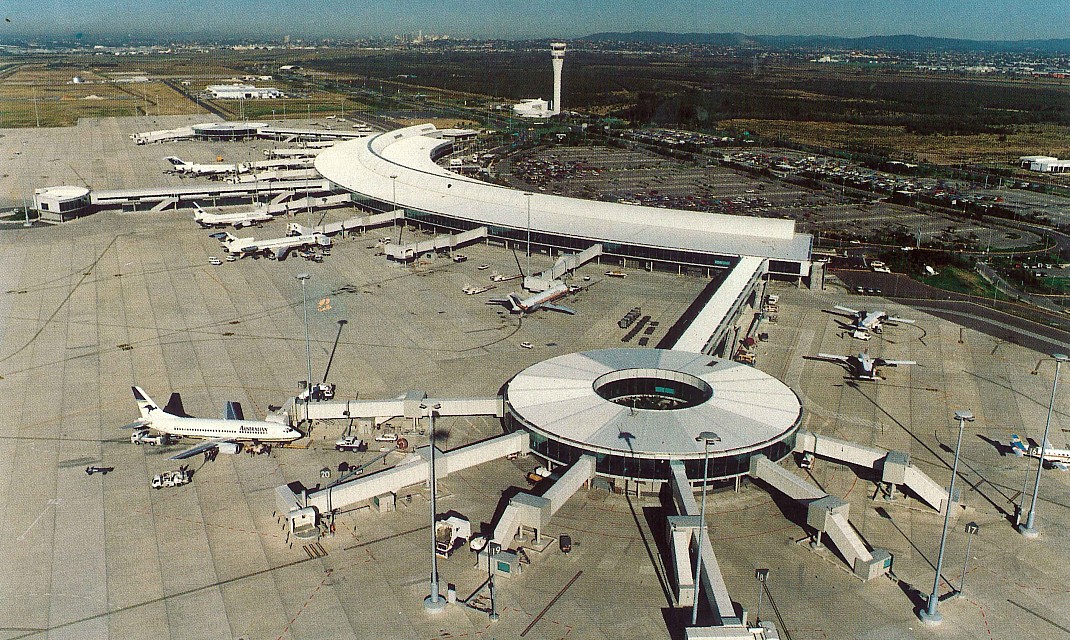 For more information about Open House Brisbane, click here.
Lead image, D House by Timothy Hill.
–
See the office of Shaun Lockyer Architects, the architects behind Monaise house, here