Located amid the bustle of High Street, Armadale, the 835 by Carr speaks volumes in creating a benchmark for medium-density housing by incorporating core design principles, considered apartment planning and high-end materials.
It was designed by Carr, a Melbourne-based architecture and interior design studio with over 50 years of experience. Originally founded by Sue Carr, the studio has built a reputation for design rigour and timelessness.
The building features an architectural language of its own as it is shaped by a distinctive grid pattern. Across five levels, every horizontal and vertical frame is aligned perfectly from the outside – showcasing a linear pattern. These elements are repeated throughout its design, similar to music and art, where shape, space, colour and texture are used to induce rhythm.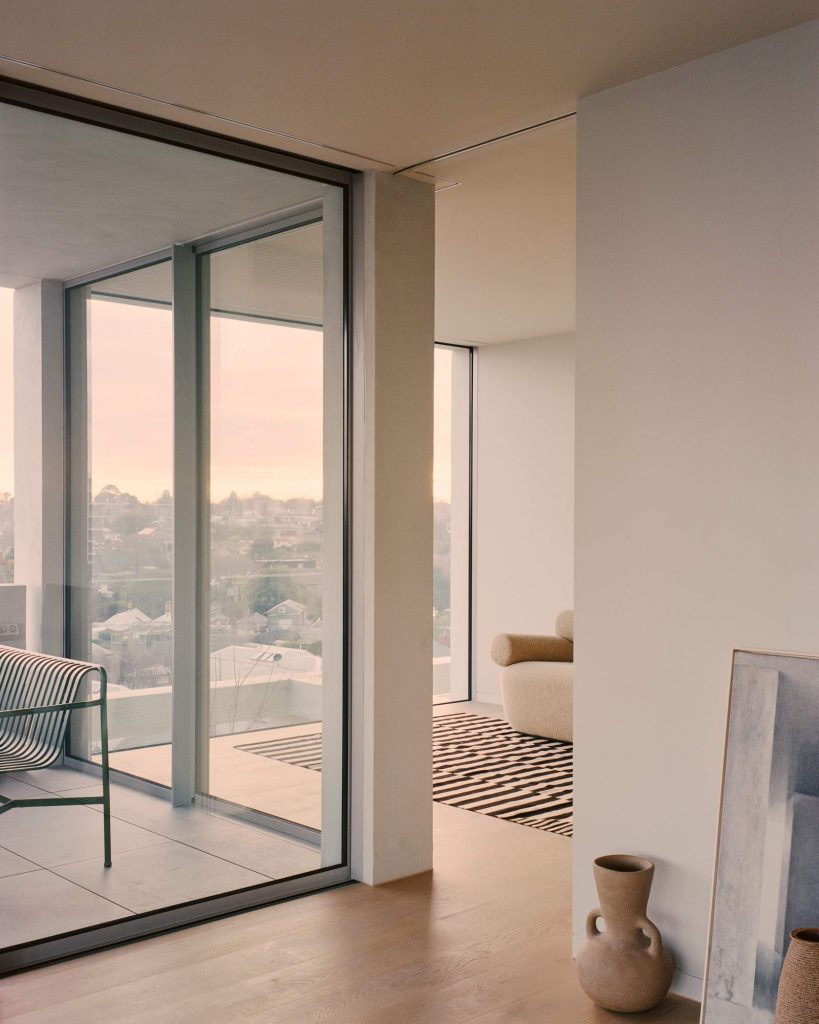 This gives a sense of movement on the façade, which is created by using a well-defined and ordered street wall. As a result, the building's identity is shaped by these elements, making it the star of the street. Carr associate director Stephen McGarry says "the building's architecture presents a rhythm in the streetscape, creating a sense of place and social awareness of good architecture and design".
The façades from the east of the building to the south are highly refined and detailed, while those to the north and west gradually step back, which wraps around and dissolves the form with the use of framing. Noticeably, the lush planting featured around the building offers an aspect of green across each apartment.
Carr says that Acre reached this by designing climbing structures that over time will see greenery climbing and draping from the large-gridded façade.
"Each construction detail is highly considered," says Figurehead Group's managing director Joe Grasso.
"We're immensely proud that Carr's intention for High Street has been executed with precision and care. Deep thought and respect have been applied to every shape, junction, shadowline, and from every angle. Walking past the building, you can't tell how the forms were constructed – and this is a success."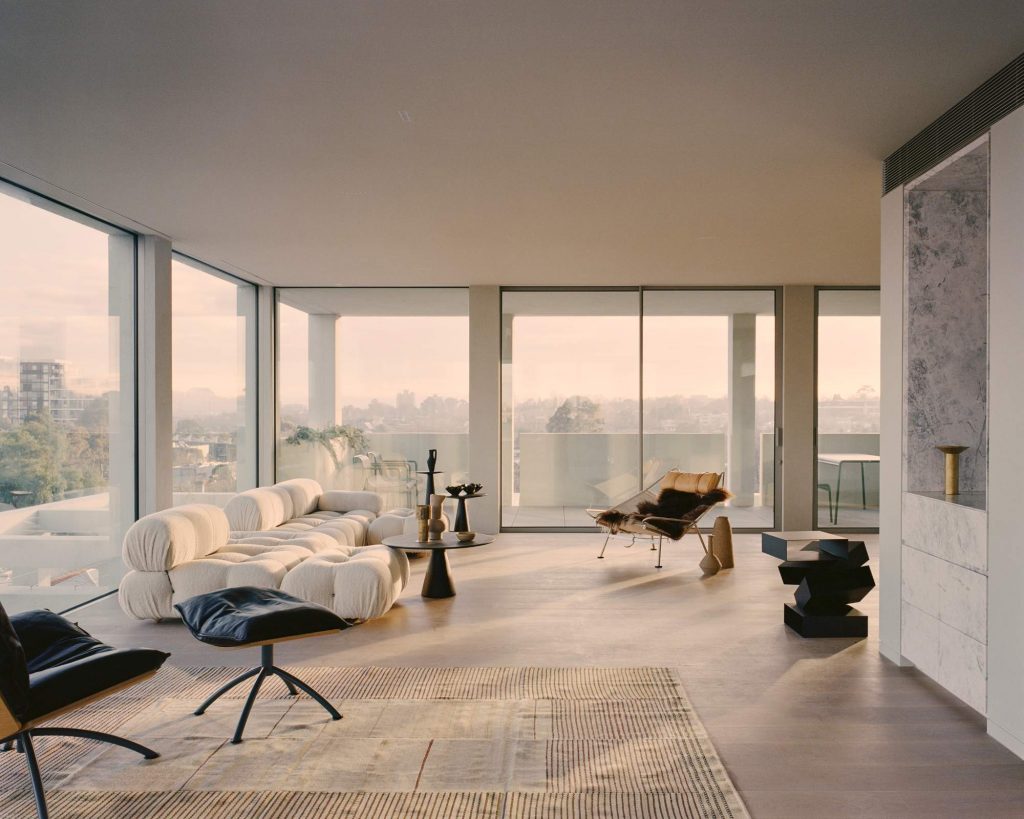 The interior of the building shapes the continuity from the exterior to the interior. A sense of coherence and equilibrium is brought in between the architecture and interiors – signifying a constant conversation with the internal space and providing a simple principle of composition.
A sense of order and symmetry follows the design of its palette of interior materials and finishes. It features texture and follows its exterior by embedding soft greys and muted tones, which helps extenuate the view beyond, painting its picture through the change of seasons. Carr's managing director Chris McCue says, "The palette is achromic with natural cement renders and stone, paired with soft grey window frames – bringing gentleness to the project. And critically that palette carries through to the interior."
The planning process for the 835 was underpinned by its desire to provide each home with an axis for external views and ventilation. As you make your way through each apartment and into each room, the omnipresent natural lights offer a sense of calm.
Integrating the exterior with the interior has landed an artistic creation that some can call home. It takes centre stage with space and design – and of course with spectacular views. Acre Studio creative director Brett Robinson expressed his views of the 835: "This is not your average multi-residential building. With time the landscape will merge with the built form, giving a wonderful character and softness to the streetscape."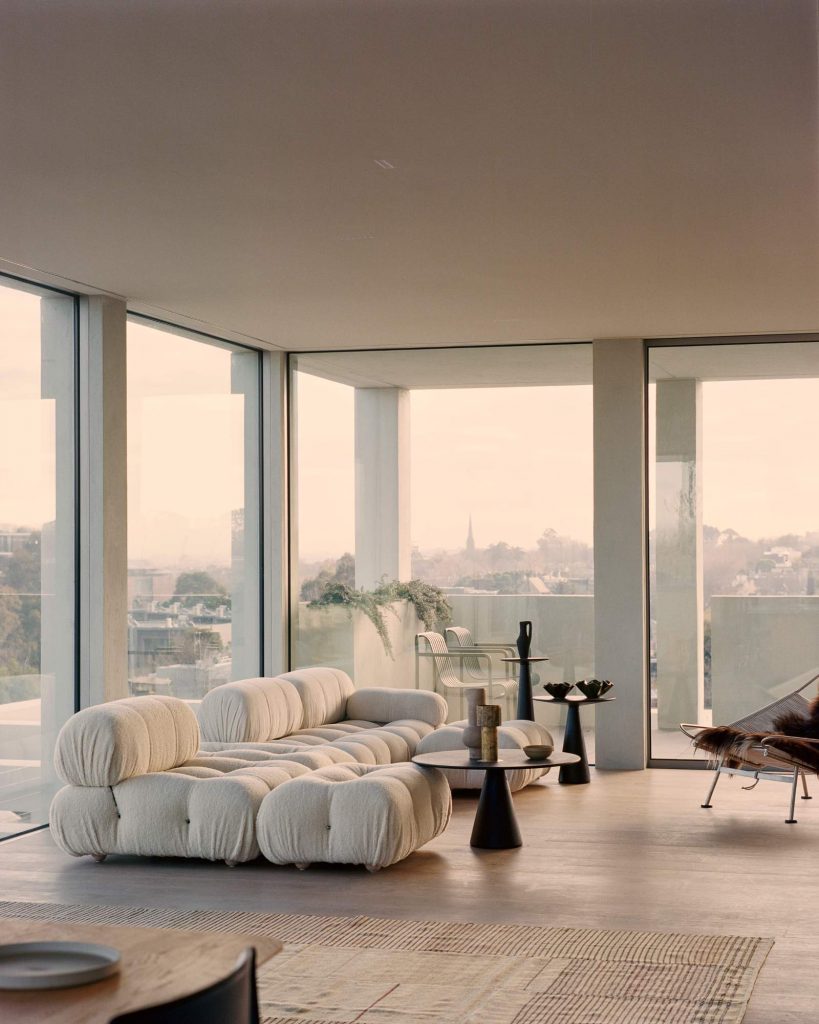 Acre's main objective with the landscape of this project was without a doubt to connect the residents to nature. Collaborating with Carr, the balconies were pushed and pulled to accommodate the picturesque garden outlook from the bedrooms, bathrooms and living spaces. Robin describes this as wanting "to be smart and creative with our outcomes and feel this project will improve dramatically with age."
The gorgeous rooftop designed by Acre features a penthouse pool and arbours to feel as much like a ground-floor garden space as possible. The result is like a mini forest featuring a variety of textured plants that spill from planters, combined with overhead greenery that casts shade onto the sun-exposed site.
Acre wanted to achieve a timeless landscape. Over a period of time, the landscape will merge with the built form, giving a wonderful character and softness to the streetscape. Acre's objective was to be smart and creative with its outcomes – providing a project that will get even better over time.
The beautiful art installation by internationally-renowned artist and sculptor Anna-Wili High eld created a four-metre-high welcome swallow, which is perched high in the sky on the façade. Following this, a 12-metre-high feature piece 'Bird' is placed upon the walls of the lobby where tens of small birds are dotted across. This dynamic, animated void plays with elements of light and shadow, welcoming the residents and visitors.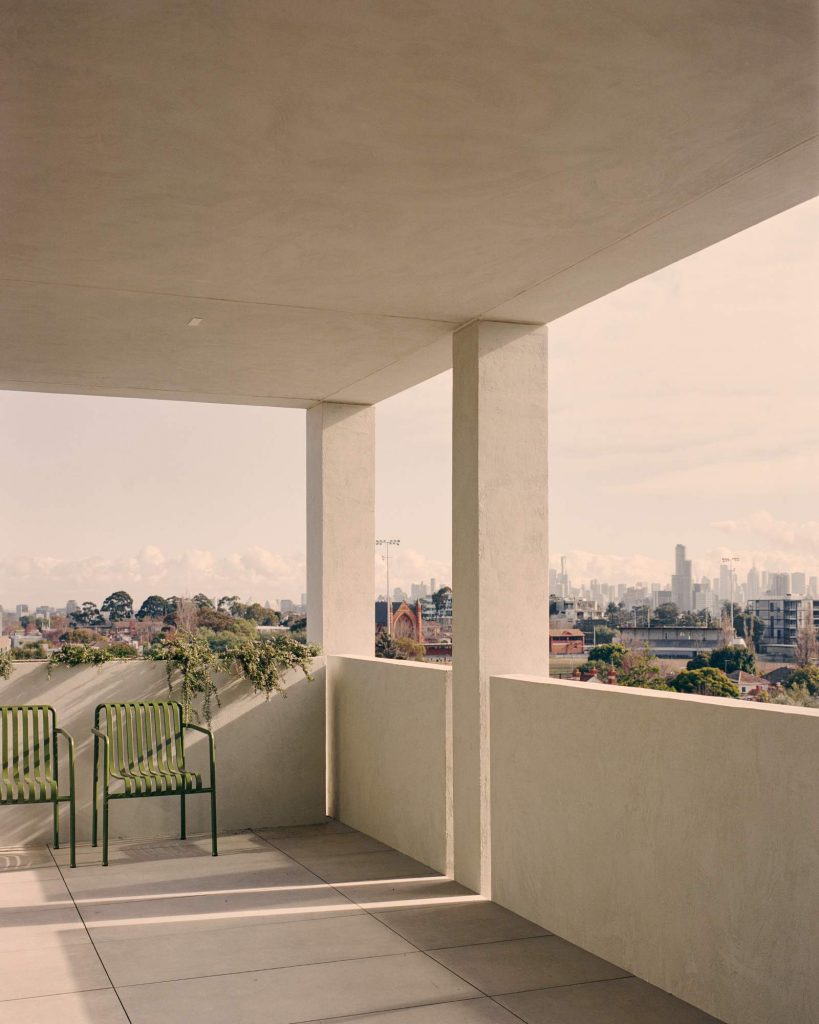 One of Melbourne's most innovative developers, Moda managing director Ed Farquharson says, "there's no doubt this building has made a positive contribution to the eclectic streetscape of High Street Armadale and has set a new benchmark for mid-scale multi-residential design. We believe the building will raise the bar and be the catalyst for further high-quality design-driven development in the area and in turn improve the desirability of the suburb as a whole."
Farquharson highlights his pride in working with Carr and Flux by saying, "this is our second collaboration with both Carr and Flux, the first being award-winning 97 Mathoura Road Toorak. Having worked together previously, it enabled our purchasers to see for themselves another high-quality project by the same team. We want our buyers to have confidence in what we deliver and seeing 97 Mathoura Road themselves resulted in a level of trust we could only hope for."
This article is from AR172. To subscribe to Architectural Review click here.
Photography by Rory Gardiner with styling by Jess Kneebone.
Also from Carr, RMIT Sue Carr Award winner Natasha Veri chats to ADR about her award and future career endeavours.