Architect: Pattersons Associates
Project: Seascape Retreat
Location: Banks Peninsula, NZ
Photography: Simon Devitt
As the first studies for Seascape were for "a bed and a fire and a cave to fit them in", New Zealand architect Andrew Patterson must surely have contemplated Henry David Thoreau's maxim: "Consider first how slight a shelter is absolutely necessary." For this structure is more retreat than home and in paring it back to its key functions and materials there is a sense of the elemental and the beauty of restraint.
The location on a volcanic peninsula south-east of Christchurch, New Zealand, has a spectacular rugged beauty and the positioning of the retreat, nestled into the land, is enhanced by the turfed roof blending into its natural surrounds.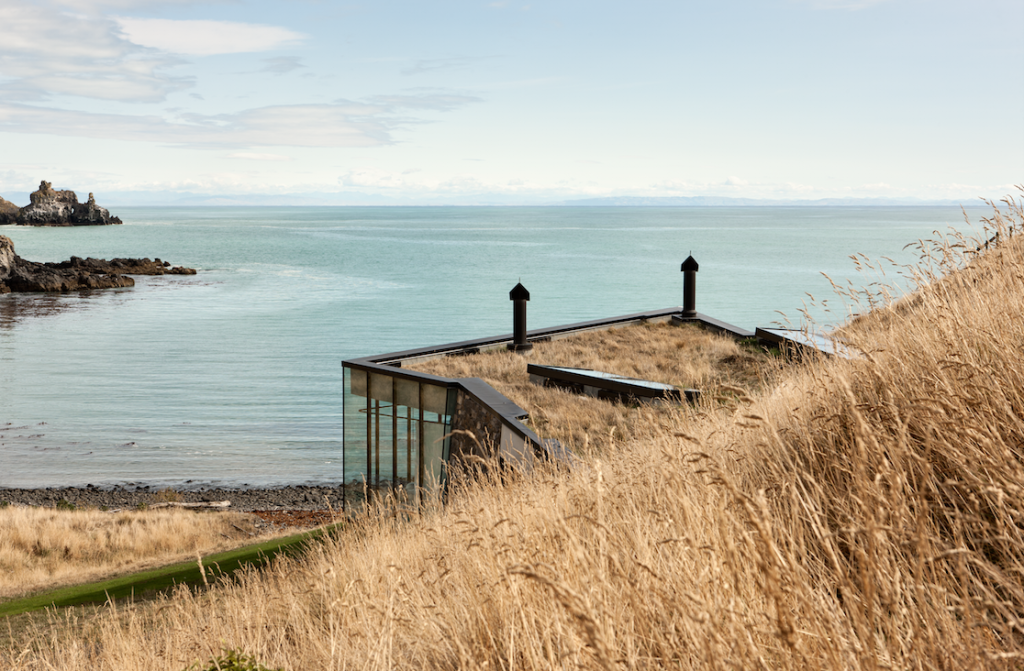 "The retreat disappears into the land for a variety of reasons, mainly its roof is intended as a shield in earthquakes as this area is a very high-risk seismic zone," says Patterson.
Internally it does not have Thoreau's paucity but rather a quiet luxury – a generous bath and comfortable bed are framed by rock walls. "From the outset we took a holistic approach to the overall design. We wanted both the bed and the bath to look directly onto the rocky outcrop in the ocean, sheltered in the cave," says Patterson.
There is a sense of protection afforded by the choice of materials, the site and the powerful connection to the environment and its views. It has, in essence, all we desire, when true luxury is denoted by the absence of the extraneous and the inclusion of the necessary. Karen McCartney
Seascape is a small beachside cottage designed to align with a view to double rock arch, The Comb, which is situated just offshore. During construction the devastating 2011 Christchurch earthquake caused it to collapse, forming a simple rock spire. Thankfully the building, which was under construction, was undamaged.
It is a shelter designed as a honeymoon retreat for paying guests and the owner's family and consists of a lobby, a living/ sleeping area and a bathroom.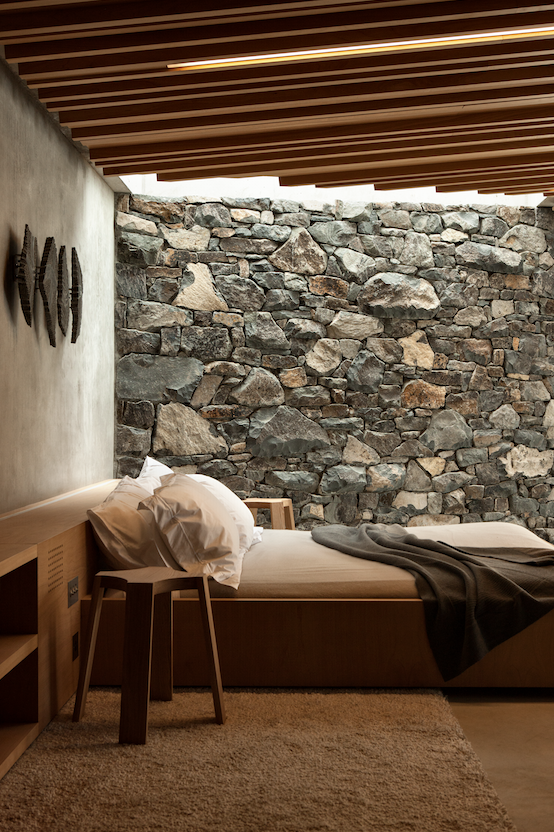 The cottage, set into a steep escarpment, on a tiny boulder-strewn South Pacific cove, is constructed largely from locally quarried rock and sustainably harvested timber from the trees on the farmland on which the retreat is built.
Insitu poured concrete forms floors and ceilings and the roof is turfed to integrate the structure into the escarpment above and to protect its occupants from falling rock debris.
We strive to make our buildings connected to their local environment, and economy, by using as many locally sourced products and craftspeople as possible. The stone requires a lot of effort to be laid but its beauty and richness of texture combined with the stonemason's pride, make it well worth the effort.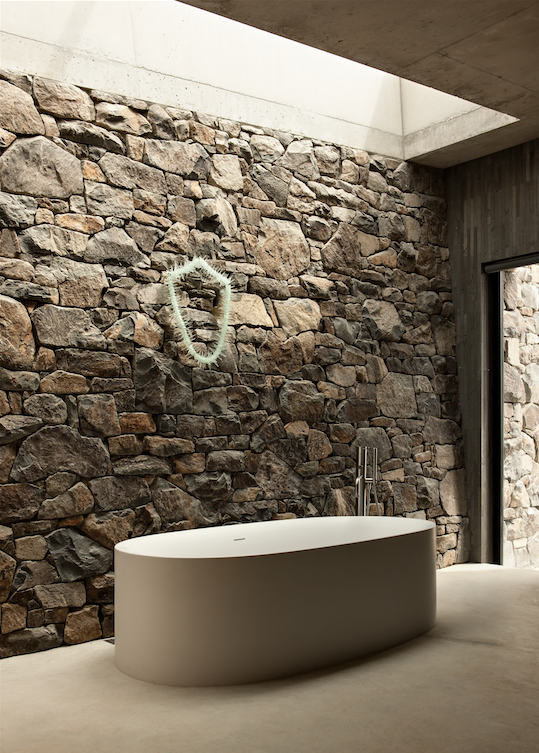 An interlocking plan geometry that responds to both near and far views creates the impression of a much richer built environment.
Its interior is lined with horizontal Macrocarpa timber, which forms integrated joinery, wall and ceiling panels behind double glaze low-e glass in storm and shatter-proof steel mullions. These use earthquake-resistant sliding heads. The project incorporated an extensive reforestation and revegetation sub-project around it.
Seascape is a romantic hideaway, accessible only by farm track or helicopter as an all-weather experience. The retreat is intended as a place where people can reconnect both with themselves and nature. There is something about the oneness and solitude of this little cove that its owner identifies as an almost spiritual dynamic.