Hassell oversaw the Design Wall 2023, an installation which celebrates innovative local product design as part of the NGV's cherished Melbourne Now exhibition.
Melbourne Now has grown to be a patron favourite ever since its inaugural exhibition 10 years ago.
The exhibition showcases the work of more than 200 Victorian-based artists, designers, ceramicists and sculptors.
Through four themes – change and stability, localities and markets, process and proximity, and creative currents – the wall examines how the synergy of society, culture, geography and marketplace influence current design trends in Melbourne.
This year's design wall also communicates how everyday goods represent the values and beliefs of the people who occupy a space.
More than 20 design studios have contributed to the display of approximately 35 products from the homewares, healthcare, trade, sporting and furniture sectors.
This year's design wall is a six-metre-high installation of a scaffold framework with raw ply inserts capable of disassembly. The inclusion of the raw ply inserts is a salute to the first Melbourne Now design wall in 2013 designed by architect Edmund Carter.
Simone LeAmon, the curator of the first Design Wall in 2013, adopts the same post for the exhibition's tenth year.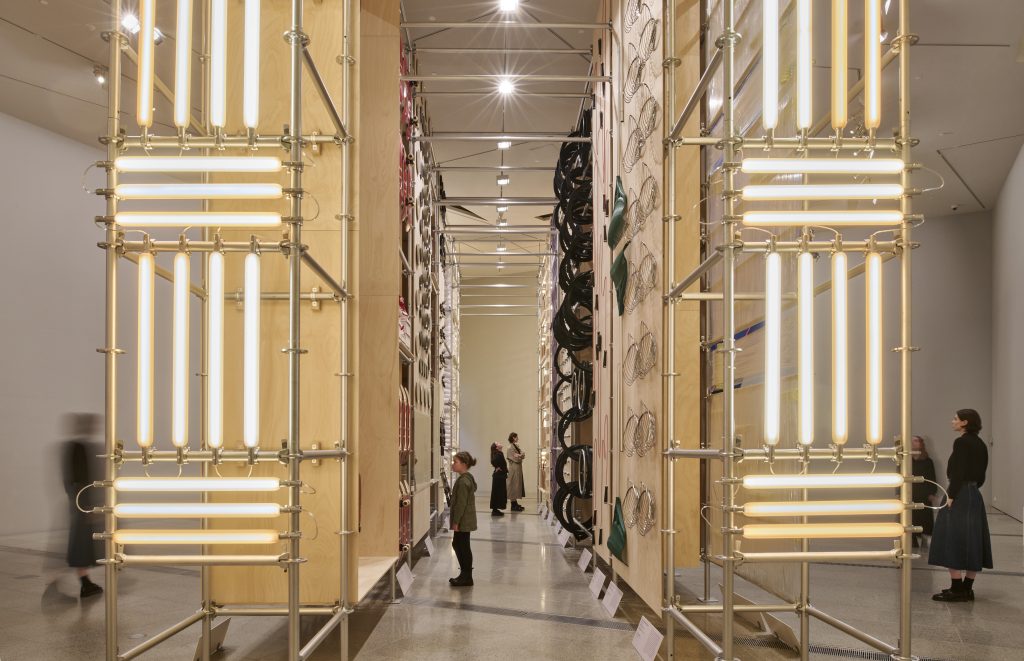 Hassell – an acclaimed global design practice whose recent projects include Riverside Green in Brisbane – mandated the design wall be diagonally placed through the centre of the gallery.
This design choice enables patrons to view products from every angle and relish an immersive installation experience.
Hassell associate Prue Pascoe says the team sought for the installation to celebrate the spectacle of mass production.
"We wanted the wall to speak the same language as the products it would showcase – we looked to systems that were already in production and fixings that could be purchased off-the-shelf," says Pascoe. 
Hassell approached the project with sustainability and adaptive re-use in mind – the scaffolding is rented, fixings are mechanical, and products will be donated or redistributed when the exhibition closes.
The Design Wall 2023 is free to enter and is located at The Ian Potter Centre until 20 August, open 10am-5pm daily.
Photography by Earl Carter.
Check out more winter exhibitions at Melbourne Design Week 2023.