Grimshaw has completed its overhaul of Melbourne's T2 International Arrival Hall, connecting it back to the "vibrant city it serves".
Part of its overarching Melbourne Airport Design Vision guide, the new space has a "cohesive local character", which Grimshaw seeks to carry throughout the entire campus.
"Travellers first impressions of a city are created at the airport," says Grimshaw Melbourne partner Andrew Perez.
"Our objective for the T2 Arrivals was to elicit a joyful, inherently Melbourne experience – where visitors start their adventure and Melburnians feel they are home."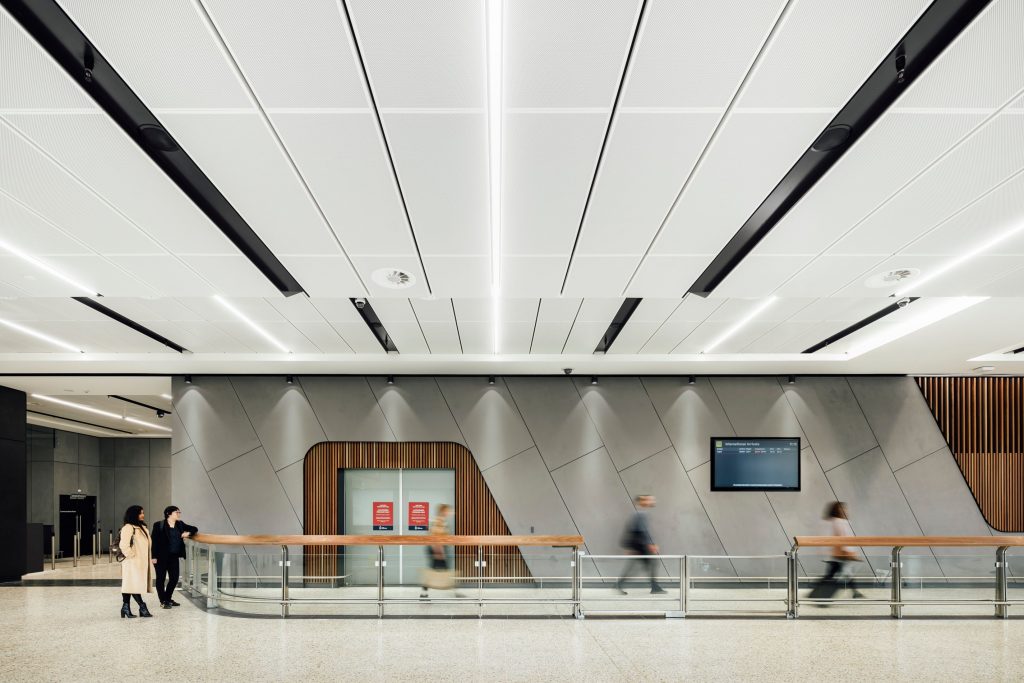 The T2 Arrivals Hall is part of the major front-of-house project redevelopment currently being delivered at Melbourne Airport with Grimshaw as lead architect.
The project incorporates a completely revamped interior architecture with Grimshaw introducing additional capacity for arriving passengers and 'meeters and greeters', and streamed access between the international and domestic terminals.
Retail and amenity offerings were also upgraded and reconfigured to introduce additional daylight and transparency into and out of the hall.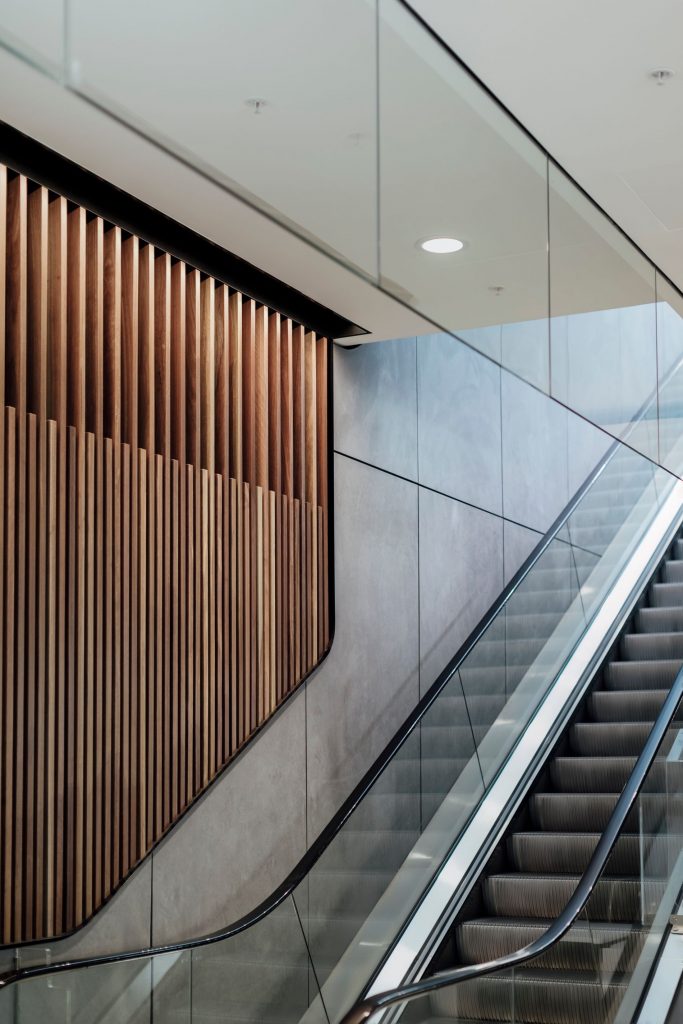 Aesthetically, white metal panelled ceilings transform the "previously dark hall" into a "modern civic hub". A recycled timber batten feature wall "adds warmth" and spells Melbourne in a lighter tone.
More locally sourced timber is used throughout the space on the walls and ceilings in places. Designed with wayfinding in mind, the materials selected also foster "a welcome environment" for travellers.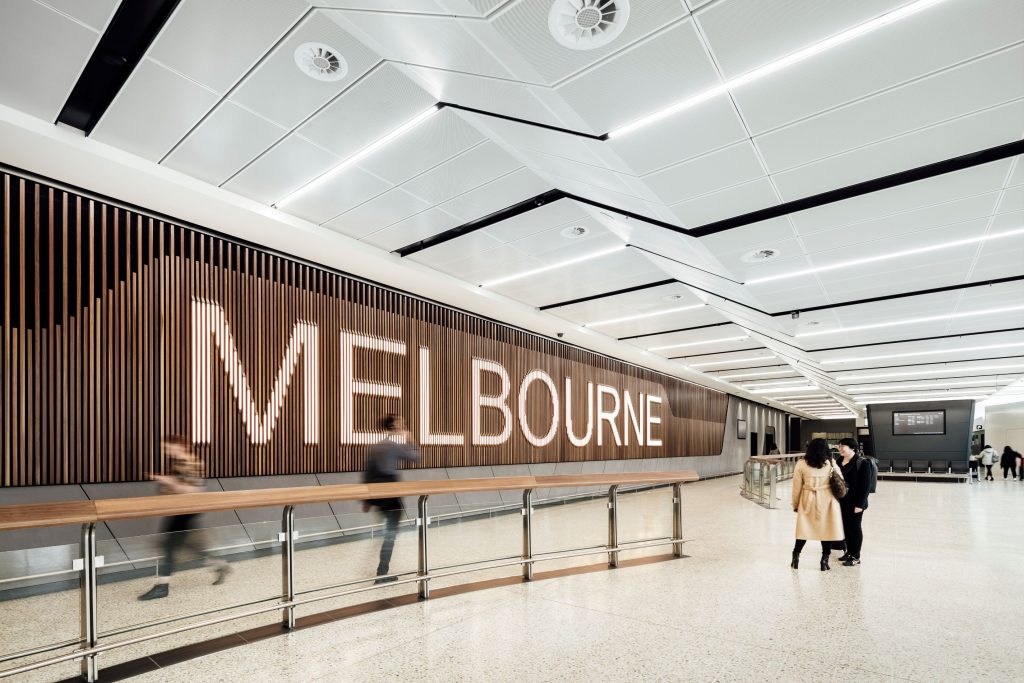 As part of the project, Grimshaw upgraded the furniture, replacing the original terminal seating with 30 Aeris benches.
Designed by the practice for Italian company Techno, the seating system features die-cast aluminium legs and a frame fabricated from aluminium castings, which can be painted or polished.
Up to five seats can be fixed to the beam with options to add cantilevered side tables.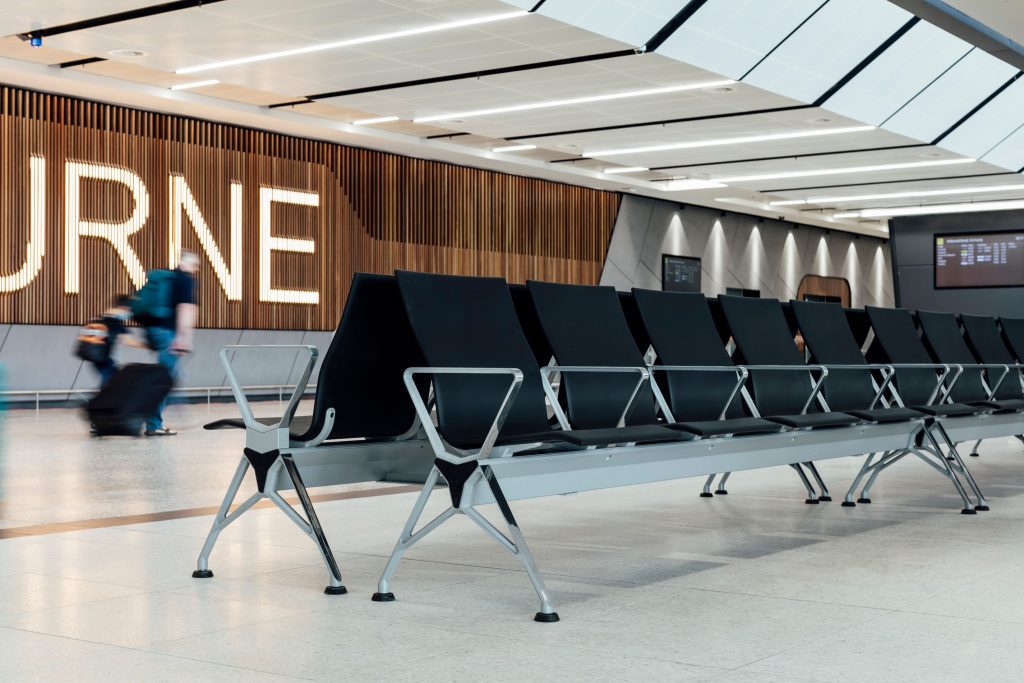 New glazed facades and entrance portals at the interface of Terminal 2 and 3 on both the departures and arrivals level complete the multimillion dollar refurbishment.
Mirroring the airport's "front door", the glass draws "much needed" daylight into the terminal.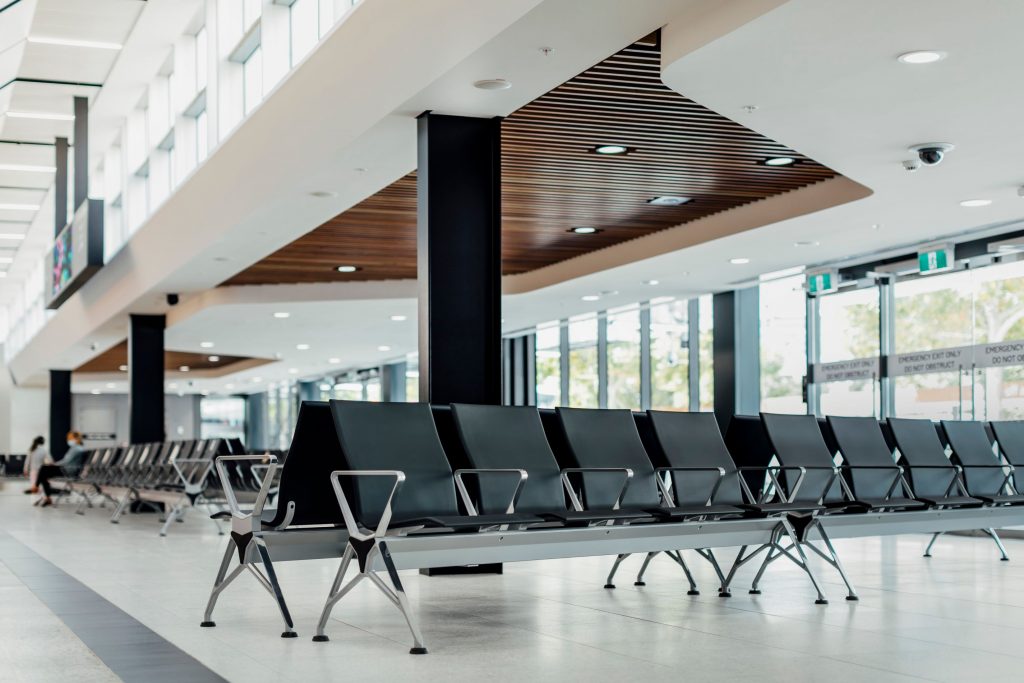 Founded in 1980 by Sir Nicholas Grimshaw, Grimshaw has studios in London, Paris, New York, Los Angeles, Dubai, Melbourne, Sydney and Auckland.
The practice was appointed by Australia Pacific Airports Melbourne (Melbourne Airport) to design a master plan for the State of Victoria's new international terminal and provide a coherent redevelopment plan for the existing key transport hub.
The project, which was begun in 2015 and includes the Elevated Road and Forecourt project, is set be completed this year.
Photography: Michael Kai.
Grimshaw recently partnered with BPI Rating, the construction material data platform, to co-develop a solution to integrate sustainability and responsible sourcing into the practice's material selection.