Situated some 30-storeys high this roof garden on an exposed, yet spectacular site in the heart of Melbourne has been designed to act as a "billboard for rooftop gardens".
"Our clients wanted their rooftop garden to provide functional areas akin to a typical suburban garden, but in a uniquely exposed, overlooked (and lofty) site," explains Paul Porjazoski, director of BENT Architecture.
To achieve this, the site is divided into three distinct, yet connected zones: one for standing, another for sitting and one for outdoor eating. Raised garden beds define each zone while acting as both balustrade and windbreak. The coloured tiles in green, white, yellow and blue, serve as an abstraction of the garden itself. A sculptural steel arbour sits overhead, which supports the canopy of a creeper, shields and protects the garden and its occupants and responds to each zone's relative need for privacy, sunlight, and protection from the wind and rain.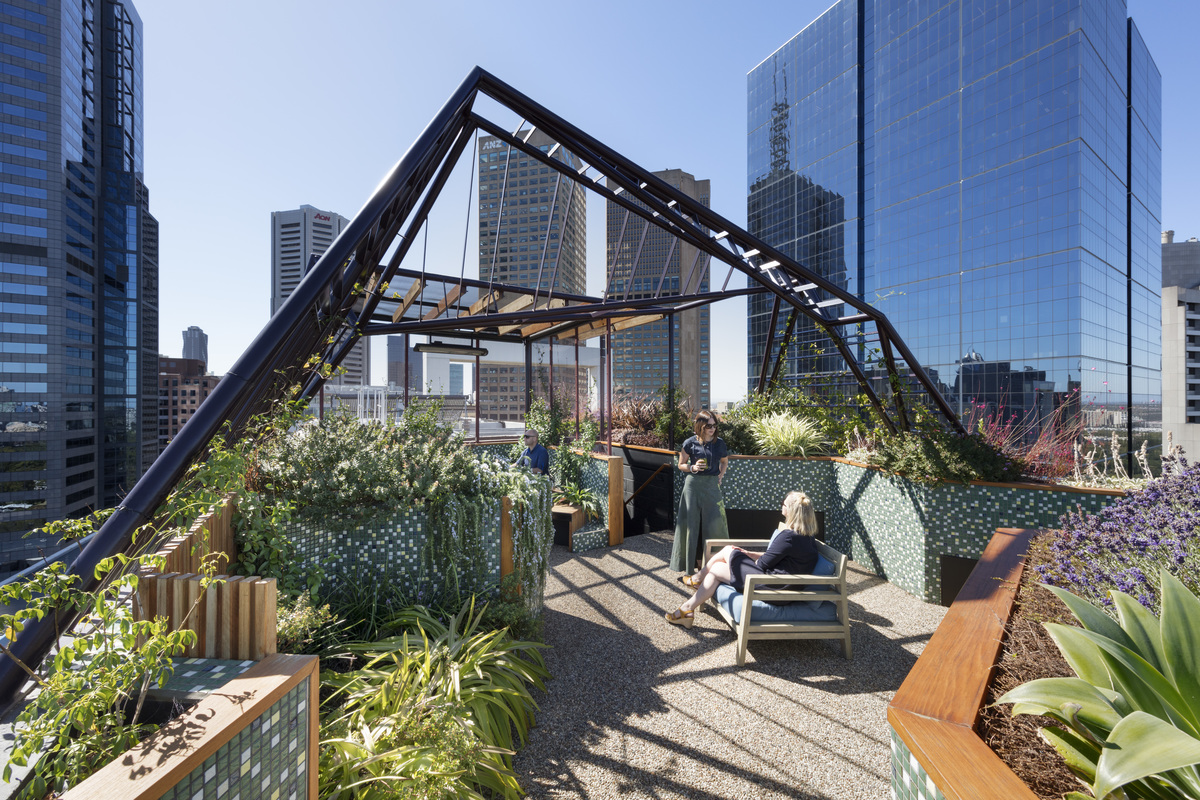 "To our knowledge, this is the highest rooftop garden attempted in Melbourne and is an innovative example of the ongoing and important investigation into the potential of green roofs in our cities," says Porjazoski.
"This project embodies our philosophy that green roofs should be designed to be enjoyed and experienced by people. To us, creating functional, beautiful and liveable rooftop gardens adds a layer of social sustainability to the environmental outcomes green roofs alone can provide. Visible to thousands of office-workers every day, this project is a billboard for rooftop gardens. The message reads, 'our buildings can be greener, both literally and figuratively'".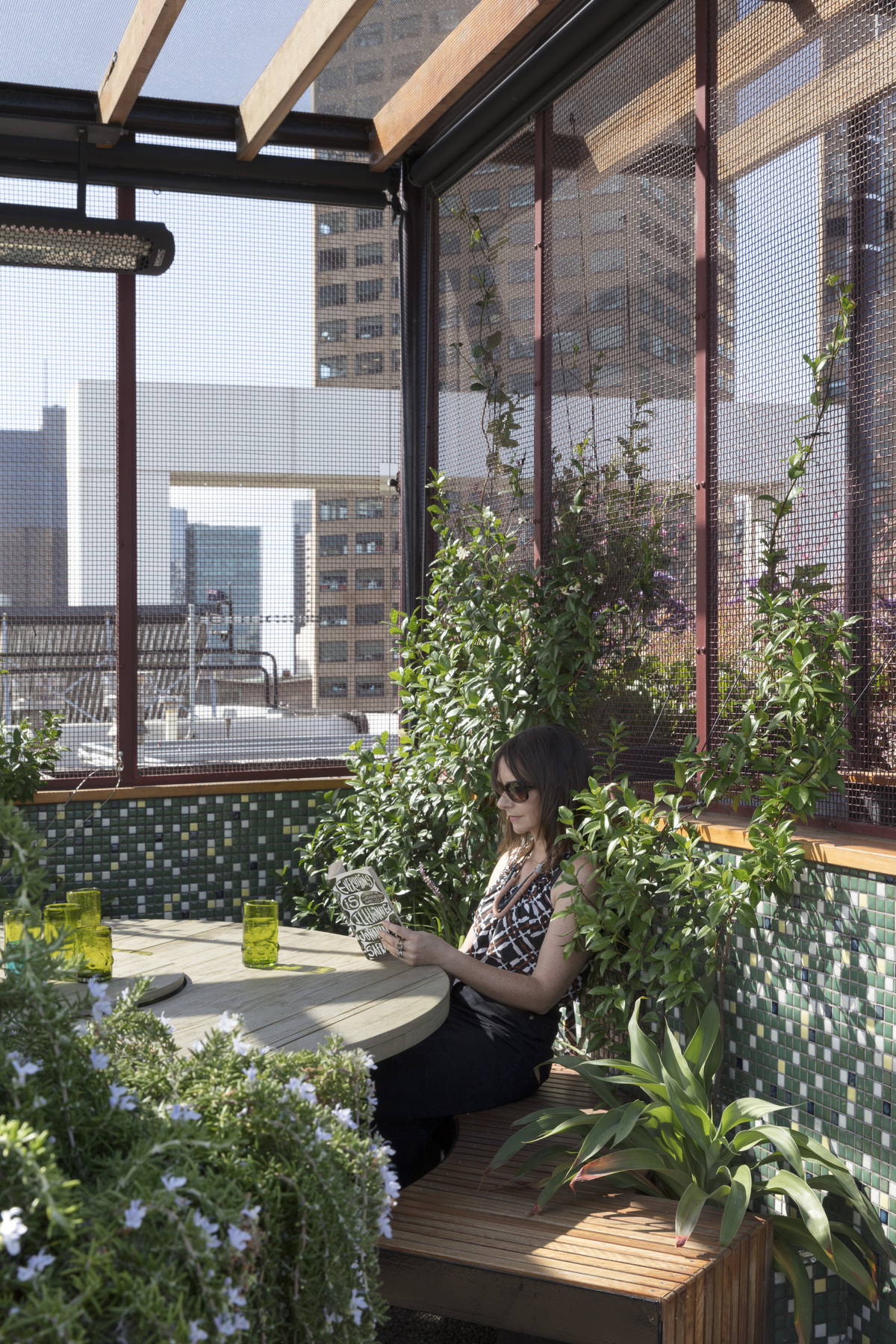 Phoenix Rooftop achieves a number of other environmental sustainability outcomes. Raised garden beds improve air quality through absorption of carbon dioxide and release of oxygen and, in association with permeable paving (recycled river pebbles), help to absorb, slow and filter stormwater runoff. The planting encourages biodiversity in this densely urban environment, including creating a valuable habitat for birds and bees, while recycled tallowwood and blackbutt are utilised in the material palette.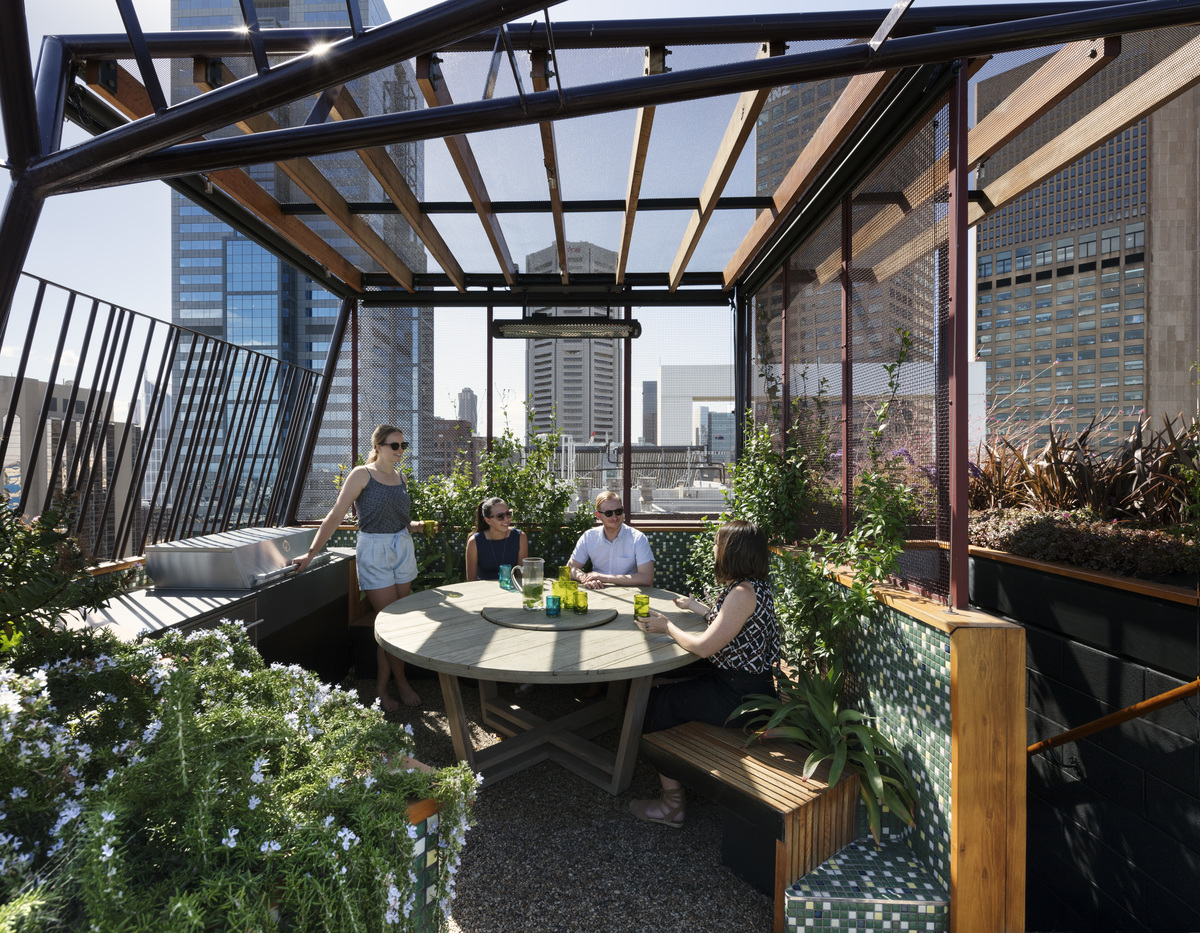 "Our clients are even experimenting by trying to create a productive garden – an urban farm – by tending to numerous herbs and a crop of tomatoes in the sky," adds Porjazoski.
BENT Architecture worked in collaboration with a number of specialists on the project including a horticulturist, a structural engineer and a steel fabricator.
Photography by Dianna Snape