On until 18 April 2021 in Melbourne, the NGV Triennial features the work of more than 100 artists and designers from 32 countries, including two young artists using waste materials to explore more sustainable forms of architecture and design.
Syrian born artist Talin Hazbar brings Accretions 2020 – five calcium carbonate structures literally grown in the waters off the coast of Dubai, where Hazbar now lives.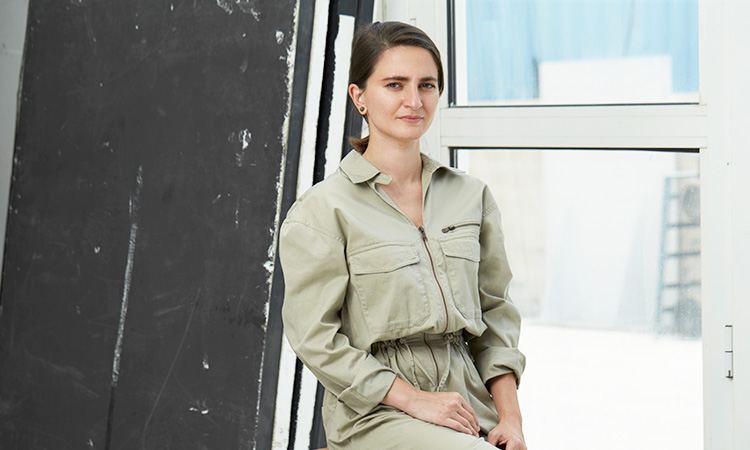 "I was also fascinated by the impermanence of materials," Hazbar tells ADR.
"I wondered whether they, materials and memories, like us, metaphorically and physically evolve at a certain stage and then kind of disappear, and how that plays into time, memory and context."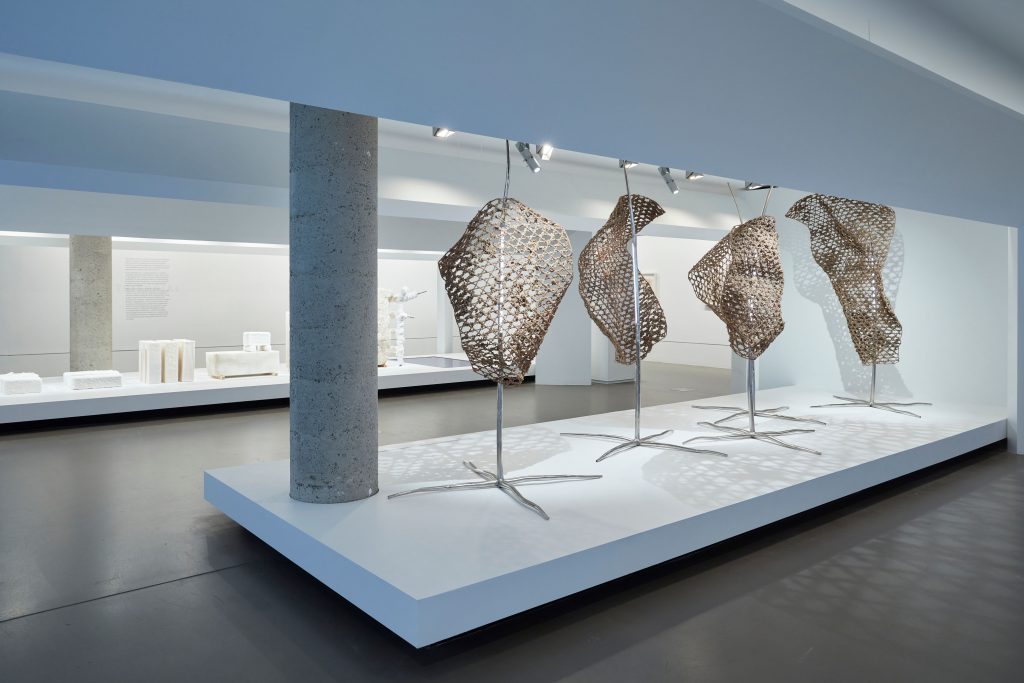 Hazbar drew inspiration for the pieces from the fishing baskets traditionally used in Sharjah – third largest and third most populous city in the United Arab Emirates – approaching her local fishermen with an idea to immerse the baskets into the Persian Gulf.
She says many of the local fishermen were wary, but she soon found one who was willing to help her.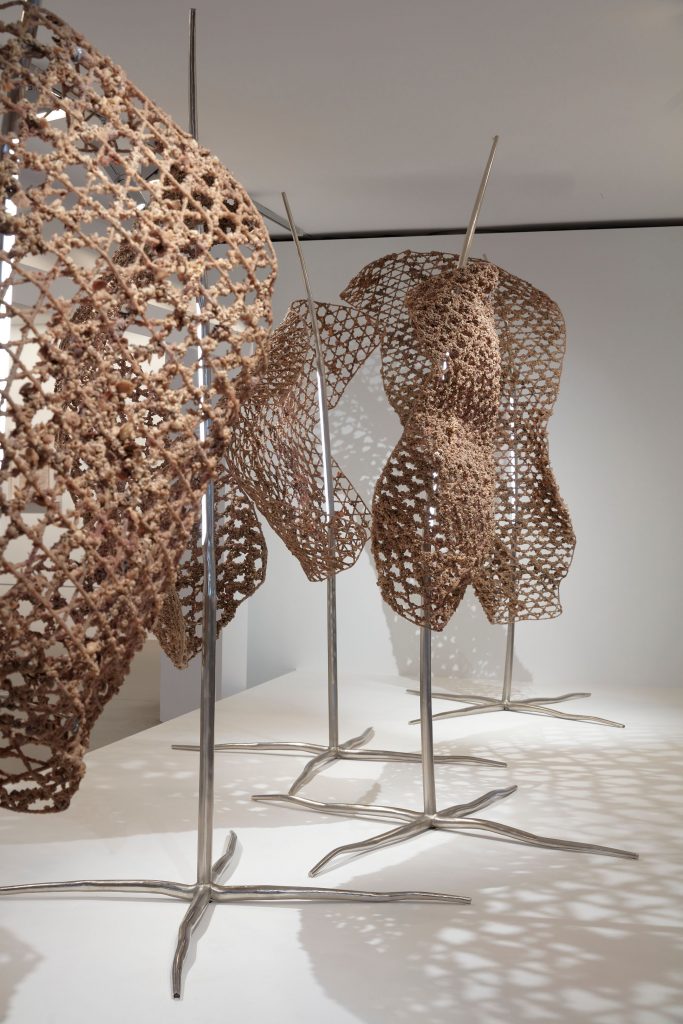 "His name is Rashid and he didn't just help me with the baskets. He developed his own relationship with the pieces and the places where we immersed them," Hazbar explains.
"He was constantly trying new techniques, different depths and weather conditions, to see what results they would have."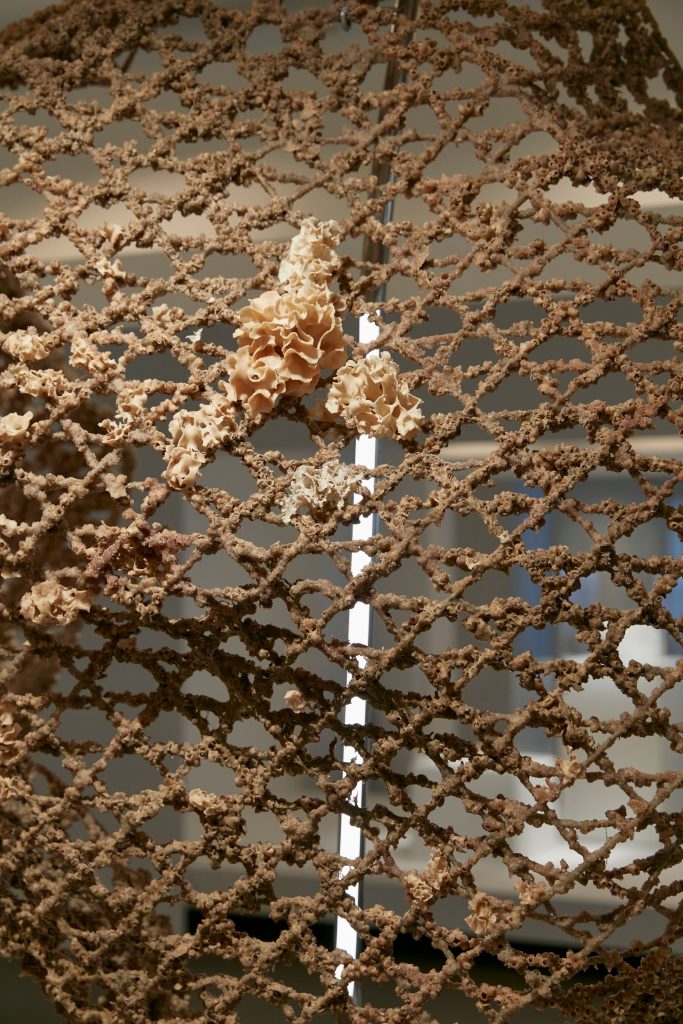 Together with Rashid, Hazbar repeatedly submerged hand forged steel armatures to encourage the growth of molluscs, crustaceans and corals.
The calcium carbonate structures these life-forms on the surface of the armature. Through this process, each piece has become a specimen of the specific ecologies, conditions and life-forms that inhabit the area of its submersion.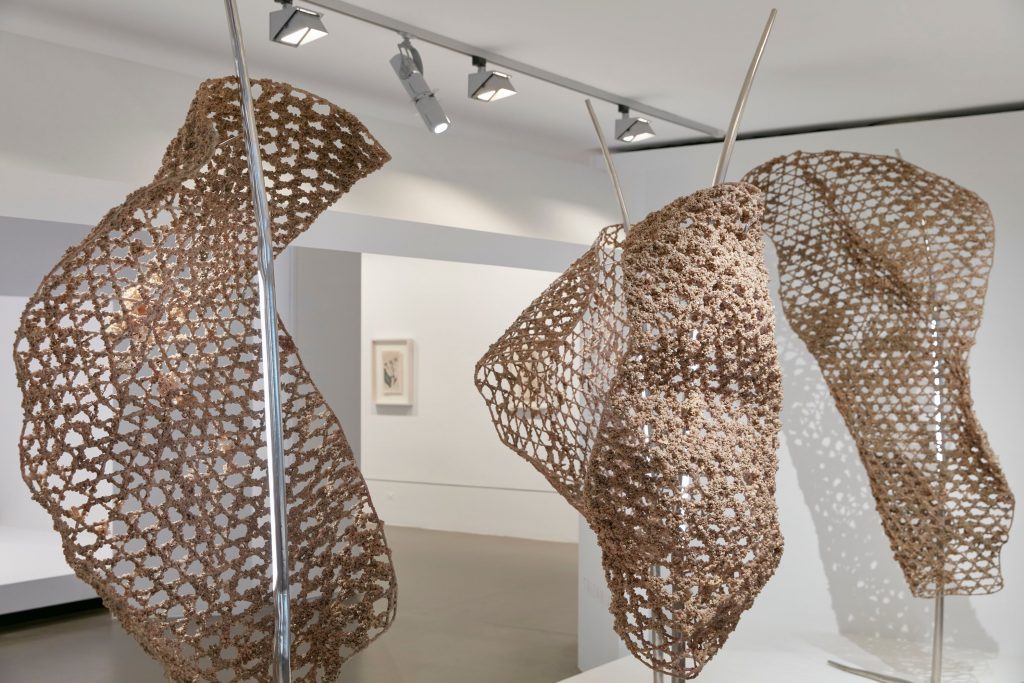 "The calcium carbonate that grows on these baskets is usually a waste material," says Hazbar.
"The fishermen have to get rid of it or it impedes their ability to catch anything and affects their income and their ability to provide for their families."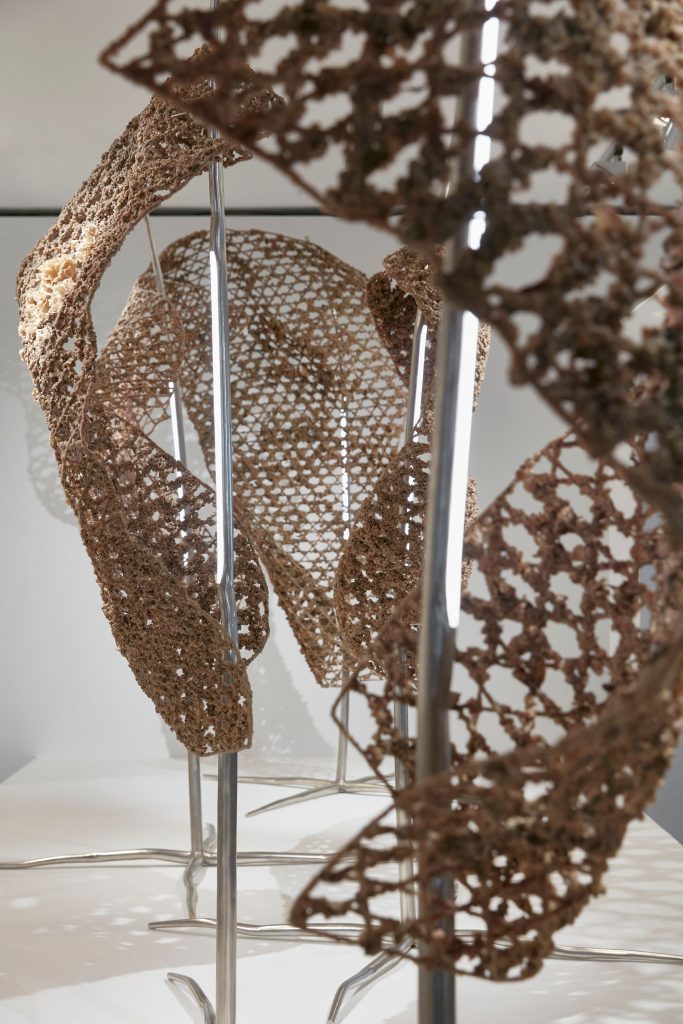 For Hazbar, Accretions 2020 is a way to explore the capacity of the earth's ocean to nurture life and art.
In relinquishing control of production to natural processes, Hazbar explores one way in which designers can work collaboratively with nature to produce materials of great functionality – in her case, the calcium carbonate pieces are fitted with lights.
"It's a ongoing study of how we can collaborate, rather than work against nature. Almost inviting nature in be an equal partner in the things we create," she says.
"This growth that takes over the steel mesh and adapts to whatever form it has is beautiful and spontaneous."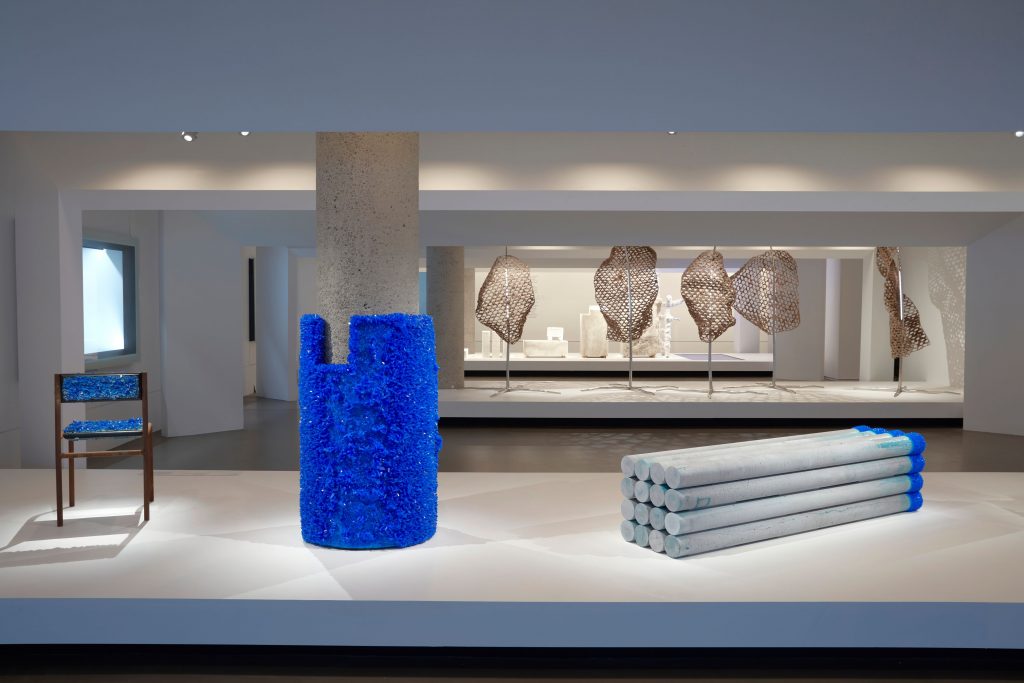 Mere metres from Hazbar's Accretions 2020 within the Triennial is another installation that explores functionality in harmony with nature.
Israeli-born designer Erez Nevi Pana has produced the world's first commissioned works of salt-based architecture.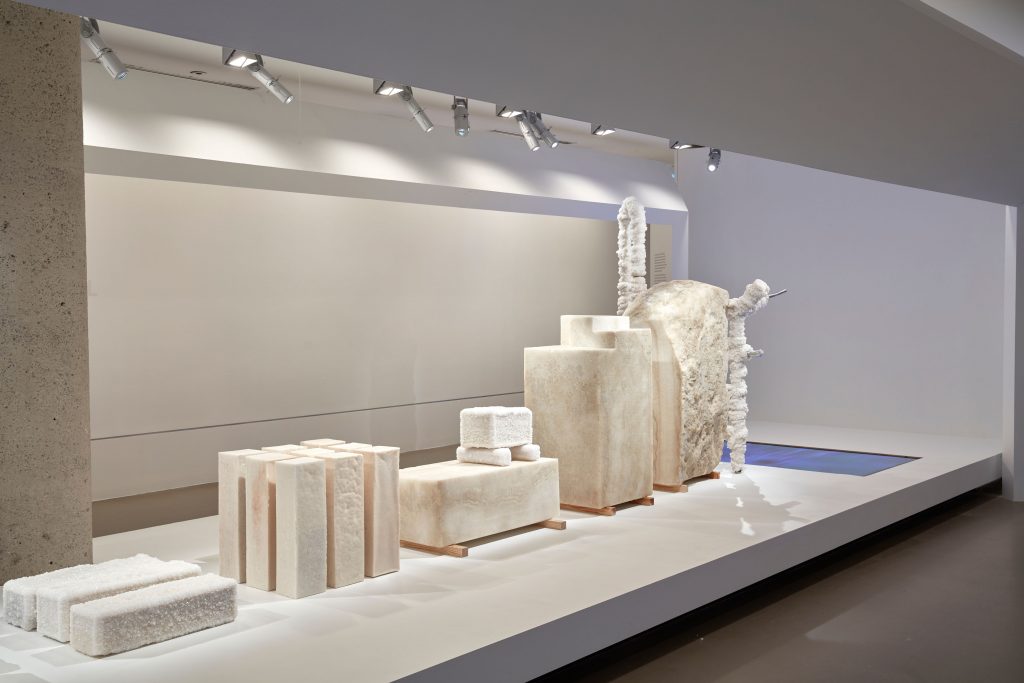 Crystalline 2020 examines a metamorphosis of basic raw material into a deliberate refined composition that interprets crystal growth and natural processes as an architectural practice.
Four distinct structural elements – a ladder, boulder, steps and walkway – assembled into one exploratory architectural work that aims to represent a journey from water to land.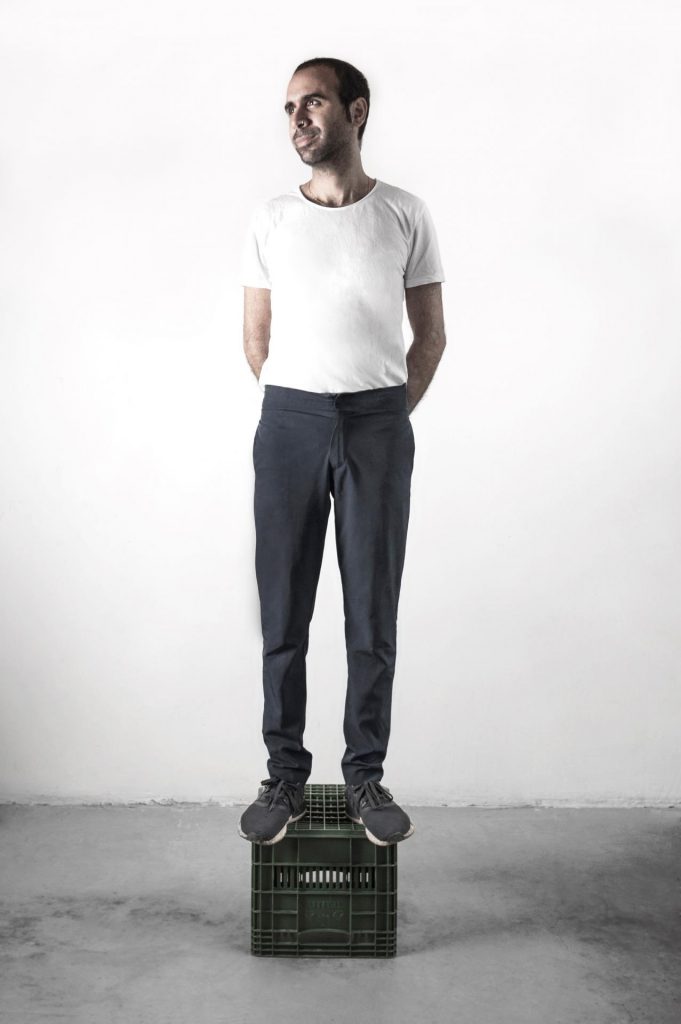 The vegan designer and passionate animal rights activist tells ADR he wanted to create something that "heals rather than hurts" and was instinctively drawn to the Dead Sea, where large industrialization and mineral extraction of the region has caused an over-abundance of salt.
"The dead sea is getting saltier. Millions of tons of salt are being discarded every year and going back into the environment," says Nevi Pana.
"So my research and the subject of my PhD was to solve this by using the salt as a construction material."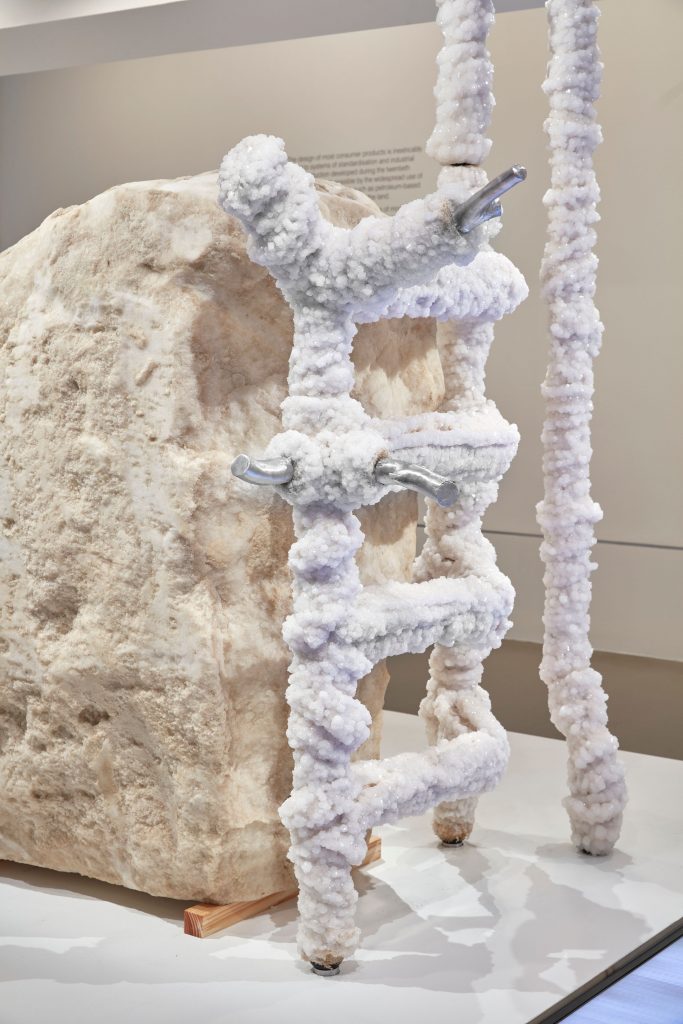 Nevi Pana's journey starts with the ladder as a metaphor for ascension from the Dead Sea – the lowest point on the earth's surface – and concludes with the walkway, which demonstrates a symbolic transition to a new physical reality
Each element is encrusted or grown with salt, demonstrating a repertoire of techniques including subaqueous crystal growth, melting and merging salt with clay – techniques Nevi Pana has been working on for years.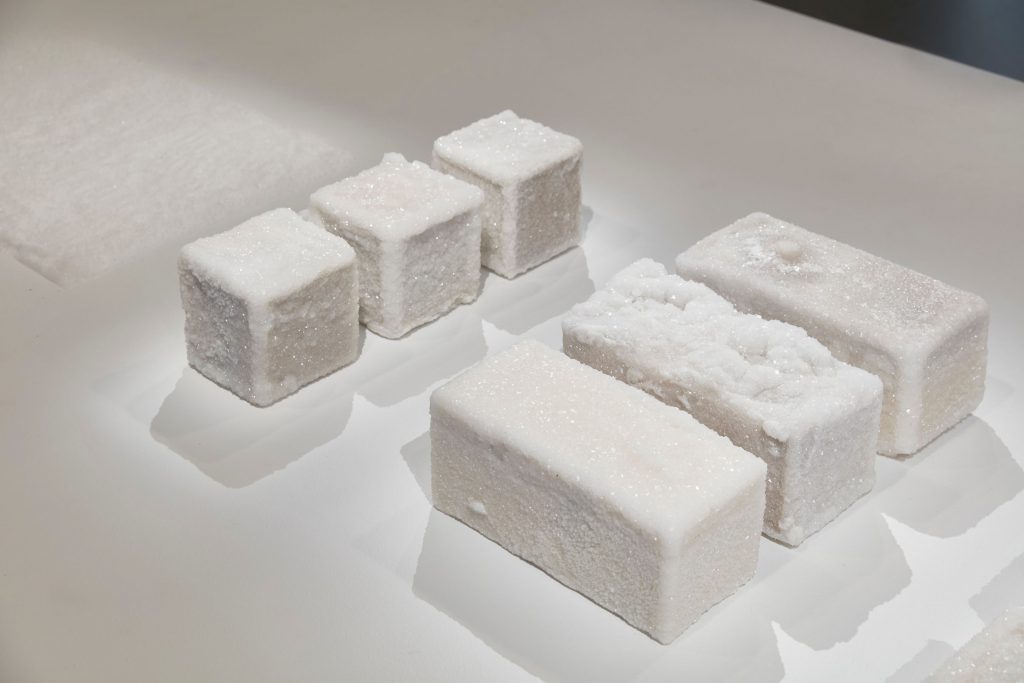 In fact, Crystalline 2020 draws on Nevi Pana's 2018 installation Salts, in which he constructed stools from recycled wood finished with a vegan glue.
The stools were then immersed in water and fixed to the bottom of the sea where salt begins to crystallize on its surface.
Building from that, the NGV installation references "concepts of motion and flow, of evolution and growth" by transitioning the technique from furniture to building blocks.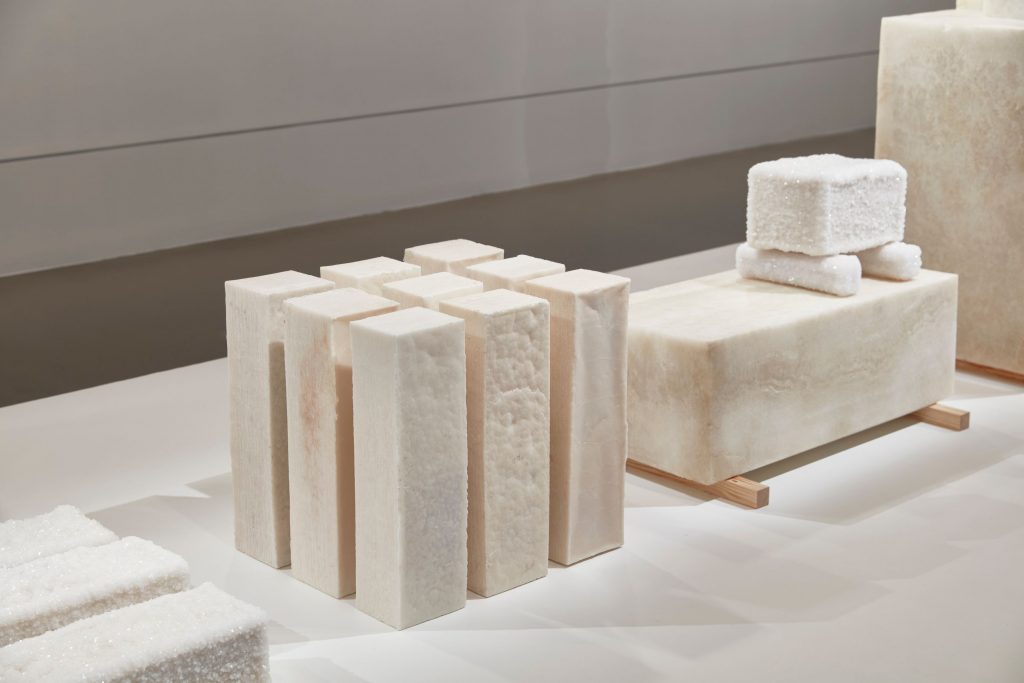 But it also a practical experiment, encouraging designers to consider blocks of salt as architectural elements.
"Think about concrete or other materials. Unlike them, salt would be solving an environmental problem rather than creating one," explains Nevi Pani.
"Could we make elements at large scale and drop them into the ocean and allow the ocean to naturally complete things over time. And therefore start to figure out a way that architecture could be less standardized, less reliant on extraction and mining and energy consumption?
"And, at the same time, we're reminded that nature produces material all the time and with no negative consequences. We shouldn't be force things into nature. We should work with nature."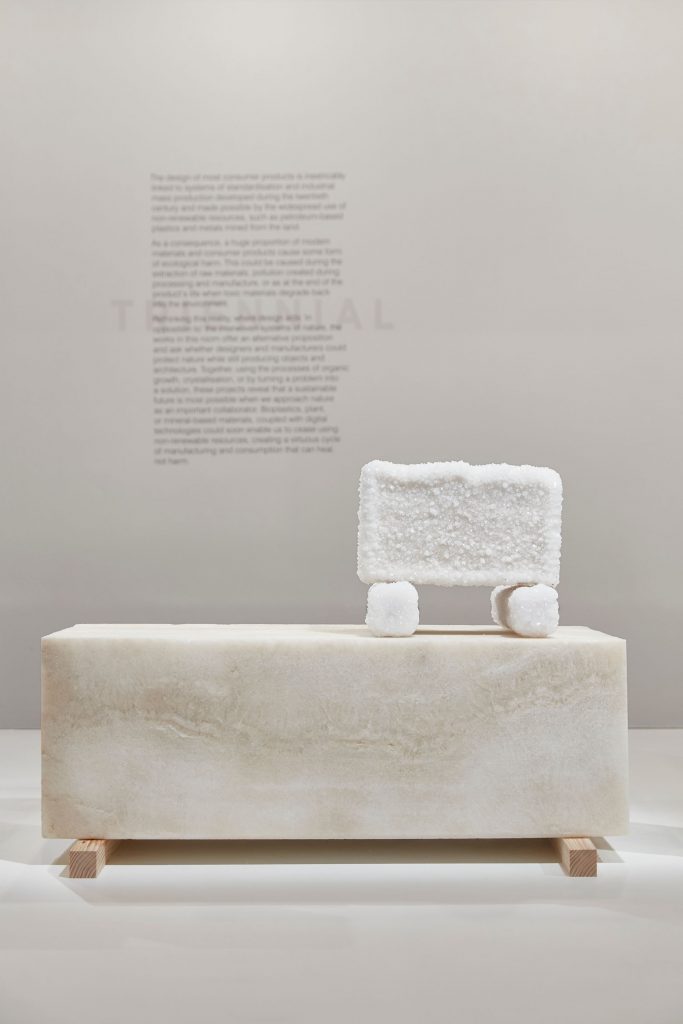 You can catch both Nevi Pana's and Hazbar's installations at the NGV Triennial in Melbourne until 18 April 2021. Tickets are free and available to book online.