Concrete Blonde by award-winning Sydney design studio Carter Williamson is described as an 'architectural jewellery box'. The light-filled, gem-toned extension has been shortlisted for the Residential Single 2020 IDEA award.
In the lead up to the IDEA gala on the 19 February 2021, we're introducing you to some of our favourite projects in the running to take home one of 14 IDEA awards. 
Join us at The Timber Yard in Melbourne to celebrate the best of Australia's architecture and design.
Concrete Blonde stretches back and unfolds from a tight 5-metre-wide heritage façade, the likes of which can be seen across the picturesque streets of the Sydney's Inner West suburb of Annandale.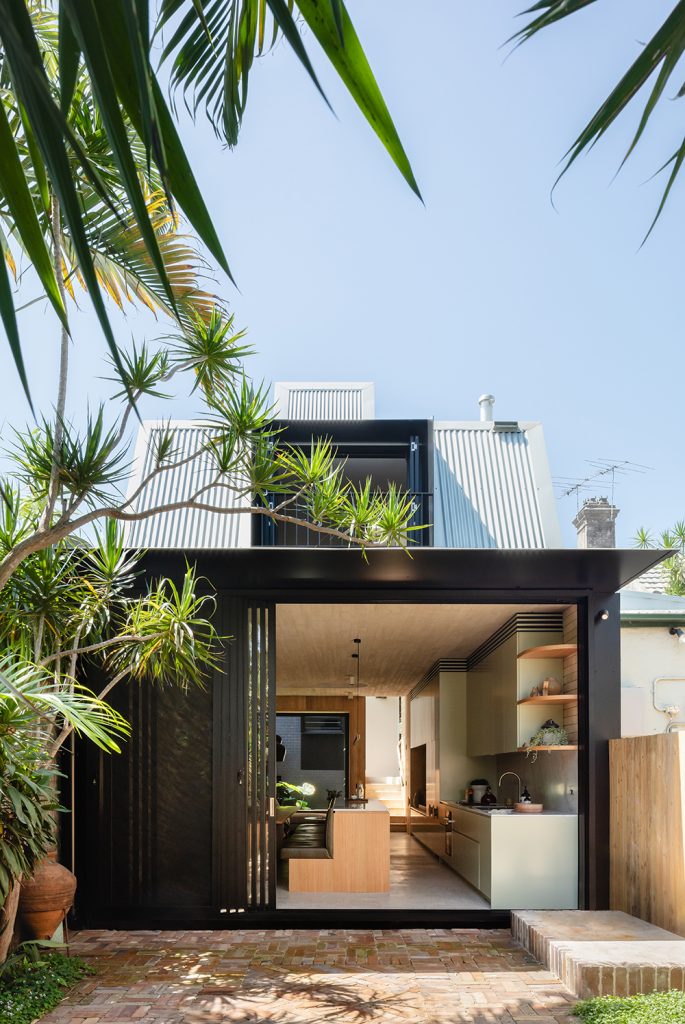 It's because of this small footprint, that the sequencing of spaces was at the core of Carter Williamson's design scheme. Creating a circulation flow between living, kitchen and courtyard was vital to pull people along the narrow plot. 
This ambition was made more complex by a tension in the client brief, for both intimate and private spaces for domesticity and as well a gathering space for friends.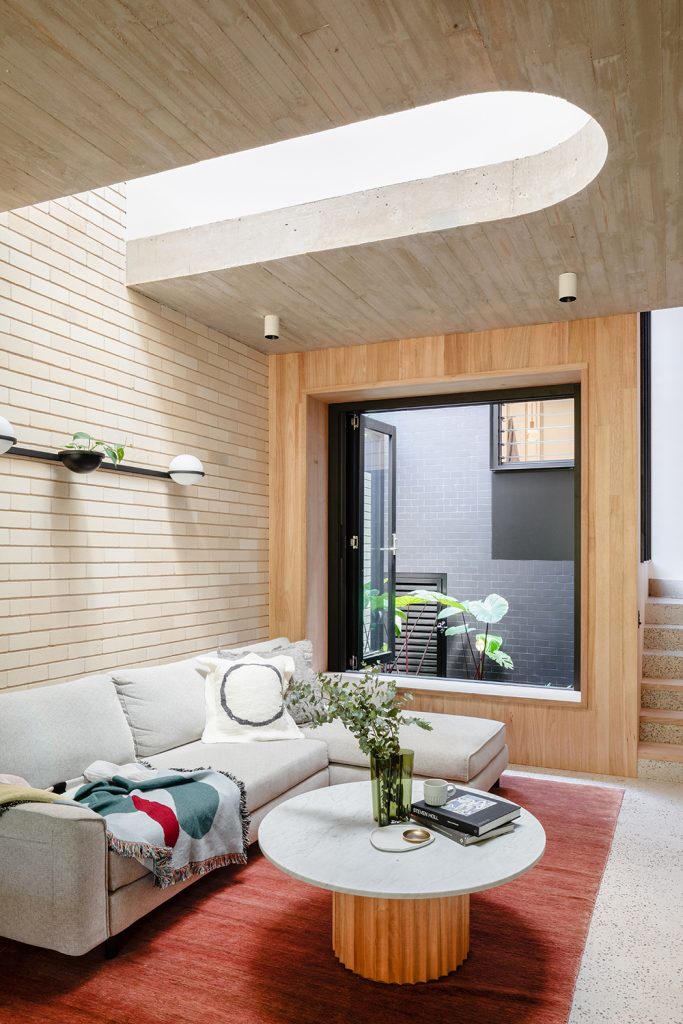 "They are big believers that the kitchen is the heartbeat of the home, a place for deep conversations and making connections, but to counter this they also highlighted a need for private spaces that suit each individual," says Carter Williamson associate and the project's lead architect Ben Peake.  
A tile-lined and plant-filled courtyard is the mediator between the home's living and private spaces, bringing in natural light and providing bench seating facing the kitchen and living room.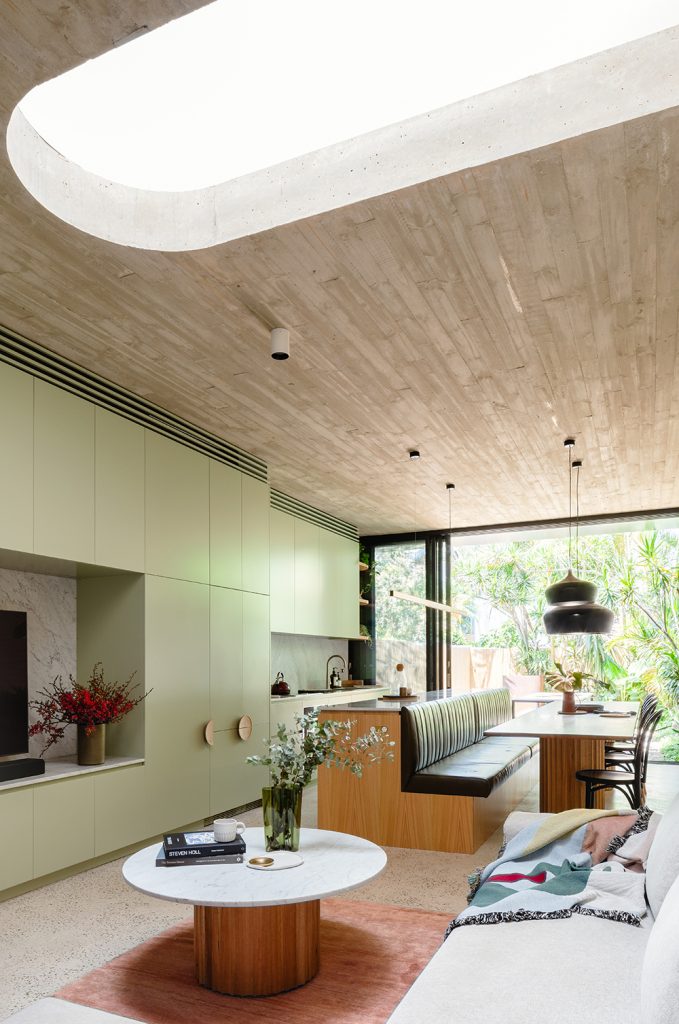 The integrated long dark green leather banquette schisms the kitchen space, with custom joinery by Crafty Kabinets pivoting around this central piece.
A curved linear void sits above this living area, it beams the northern light from a high window deep into the interior space. 
"The clients expressed their love of a robust palette," explains Peake. "They wanted polished concrete, exposed brick, natural timber and stainless steel to feature but wanted to keep a feeling of elegance and clever detailing."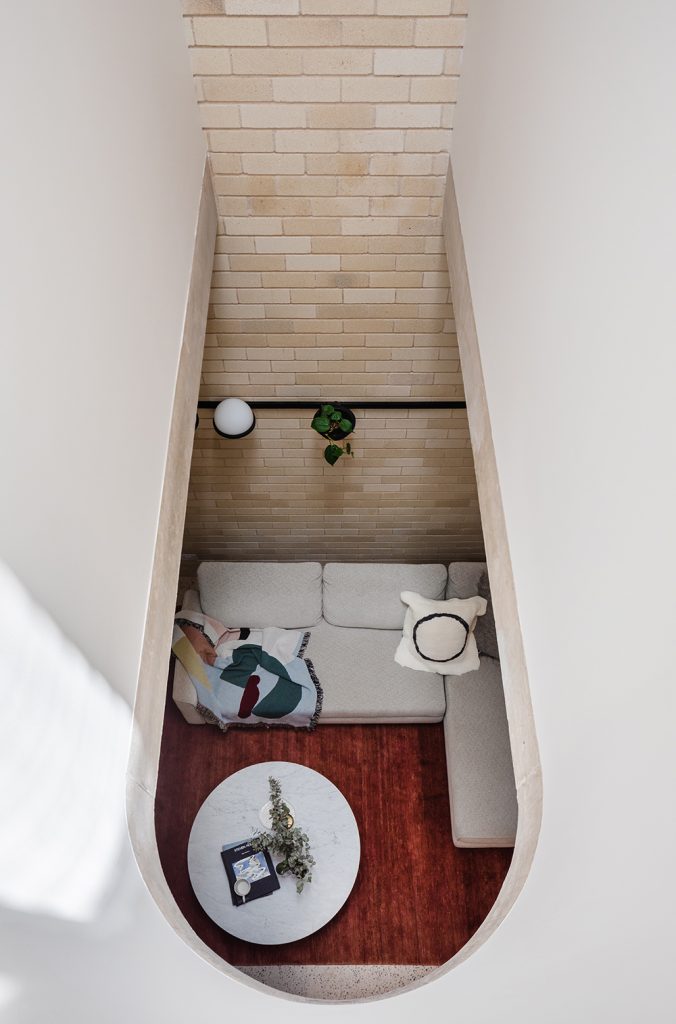 Concrete and Bowral Chillingham White bricks are the extension's core texture, lining the walls and ceiling and nestled around the custom timber furniture. 
The earth-toned palette is offset by muted mint green kitchen cabinetry that is a nod to both the gumtrees in the backyard and the client's memories of extended family homes in Greece.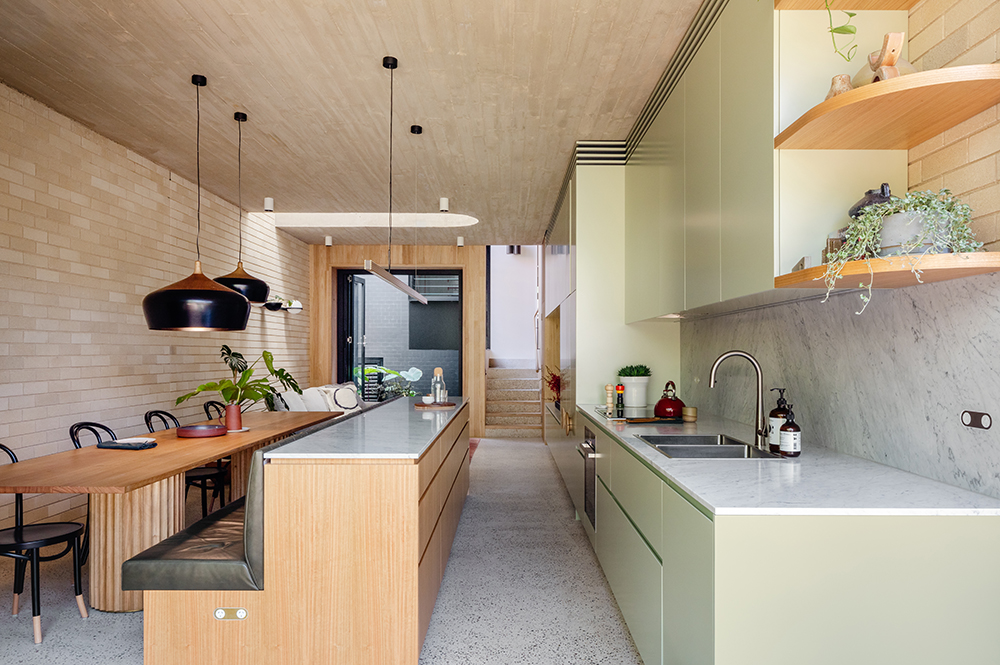 "Good architecture comes from a collaboration between architect, builder and client, honouring everyone's ideas," says Peake. 
"This project is special for the variation moments and stories that our client brought to the home".
Carter Williamson has also been shortlisted for the IDEA 2020 top prize – Designer of the Year. Explore the studio's vying for the prize here.
The winner will be announced at the IDEA gala in Melbourne on 19 February 2021.
Photography by Katherine Lu.