London-based designer Adam Nathaniel Furman and Melbourne's Sibling Architecture have designed Boudoir Babylon, transforming the NGV's café into "super-camp" aesthetic abundance. 
The task was to "queer" the NGV's 400 square-metre café and surrounding spaces for the gallery's 2020-21 Triennial program.  
NGV curator Ewan McEoin played matchmaker for the commission, coupling Adam Nathaniel Furman and Sibling Architecture because of a shared challenge of architectural conventions.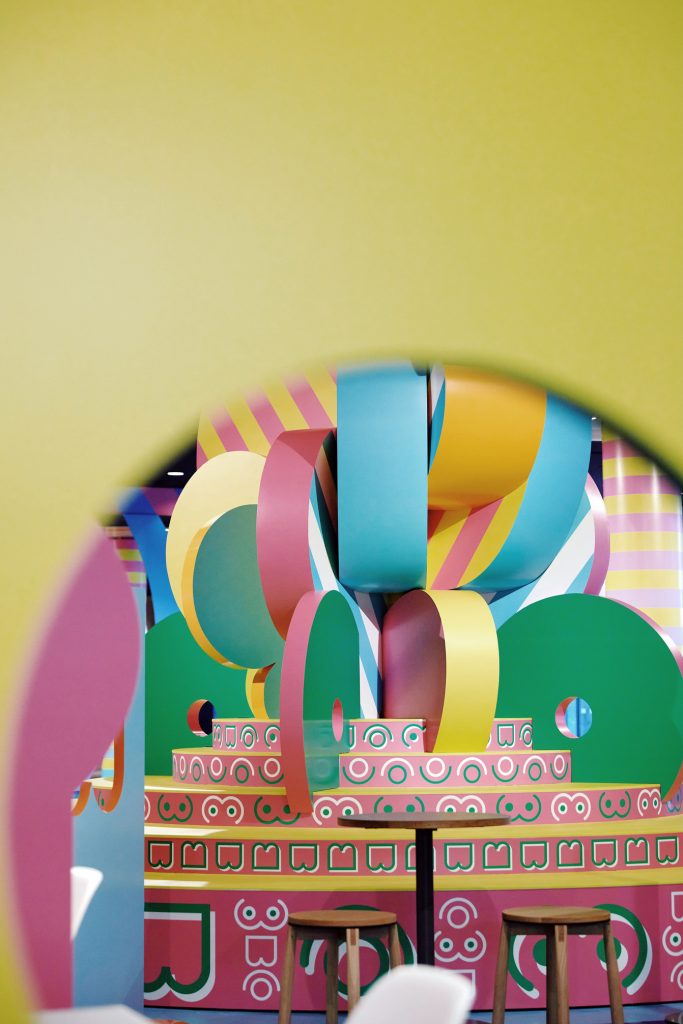 Furman is renowned for a critical rejection of the idea of "good taste" in architecture and design, writing extensively on the trivialising of ornamentation and colour in the history of modernism. Furman's designs, across the spectrum of object, interior and public installation, offer vivid, geometric and cheeky critiques of architecture's decorum. 
Sibling Architecture's own objection is of architecture's limiting modes of practice, with the studio routinely working outside of the established client/architect program, forming novel solidarities between designers, architects and collaborators beyond the industry's scope.
Sibling Architecture's special interest in how kinship can be catalysed by interior spaces that don't dictate their use is on vibrant display in Boudoir Babylon. 
The café space draws upon the design vocabulary of three "indeterminate" interior spaces – the boudoir, the salon and the night club.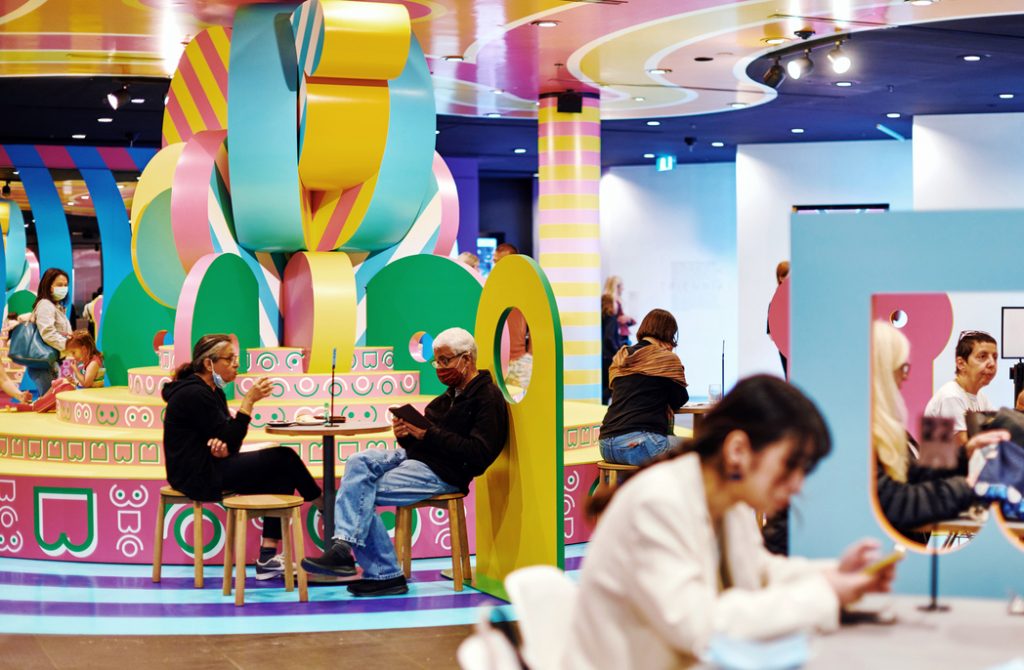 Unifying these interiors is an ancestry as rare safe spaces for marginalised people to externalise their identities, create an iconography and establish communities. 
"For those whose identities are outside of predominant majority norms, it is and always has been discouraged and even disallowed to externalise one's values and existence as a prominent and identifiable, visually noticeable presence in the public sphere," Adam Nathaniel Furman tells ADR.
"Interior spaces have always been the realm in which these rules do not apply."
"There is an incredible history, going back hundreds of years, of these types of environments, amazing spaces of sensuality, love, difference and exuberant, defiant celebration of alternative existences," adds Furman.
"We started off discussing the importance of these spatial types through history to the fostering and expression of queer identity, and very much wanted to incorporate their spirit, the modes of interaction they encouraged, into the design."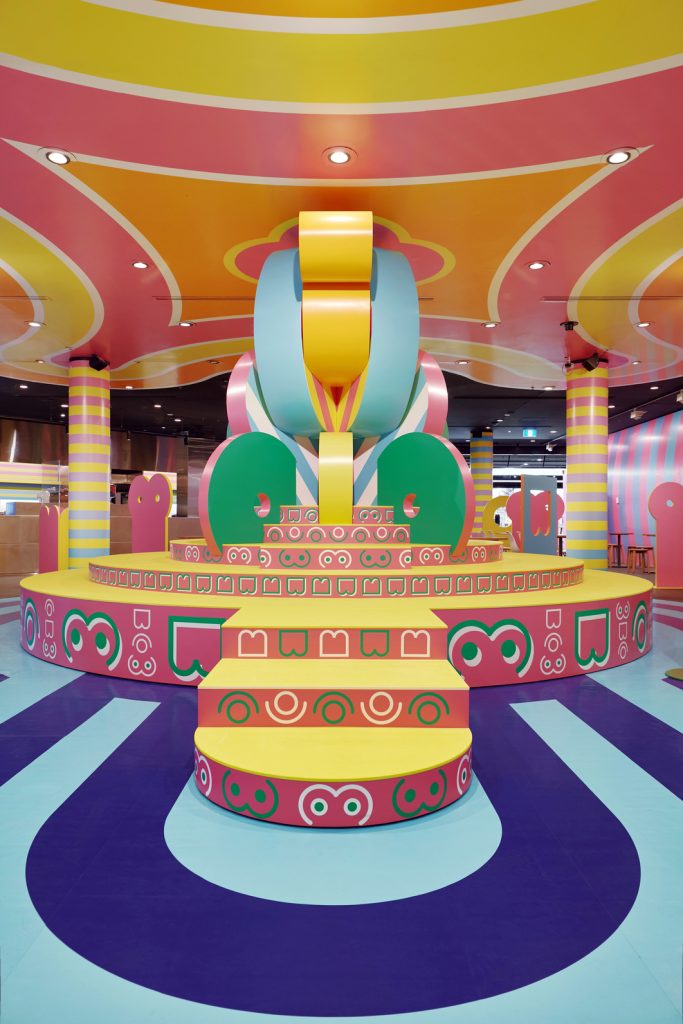 At first, Furman and Sibling Architecture envisioned the three spatial types as discrete sections of the café, but as the conversation deepened the emblems of the boudoir, salon and nightclub blended into a synthesised installation. 
"The three typologies guided us in our design process, but cumulatively in the final installation they mix together like a chocolate vanilla swirl of delight for anyone and everyone within the gallery," says Furman.
The space is a swirling cacophony of enclaves of intentional indeterminacy.
Anchoring the space is the efflorescent stage of stacked geometric forms that is primed for what Furman calls "Busby Berkeley group photos". 
Surrounding this is the raised catwalk runway that offers a not-so-subtle invitation for Triennial visitors to dance and preen.
The catwalk has a captive audience with an array of grouped salon seating that is semi-public, partially concealed through the use of perforated screens, this creates a tableaux of communal groups or mini-salons.
These are then surrounded by small private spaces, created using the screens, for those preferring to watch but not be actively involved. These are "the protected boudoirs of the voyeurs" as Furman describes.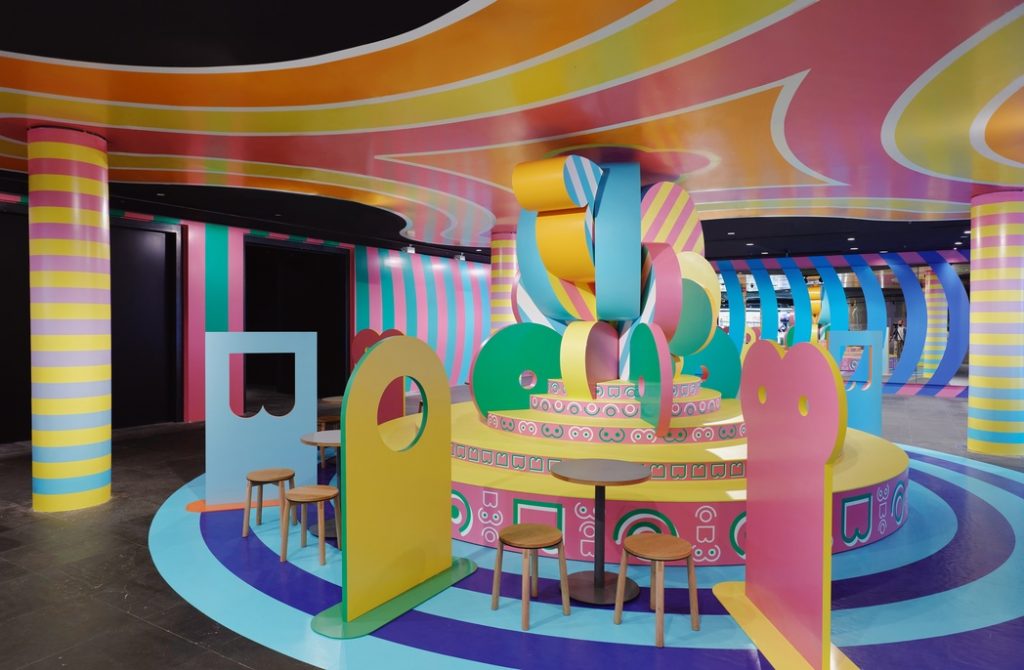 The adjustable screens and colourful dividers make the space social distancing compliant as well as allow visitors the experience of choosing between coyness and exposure, the dichotomy that unifies the three spacial typologies.
These dividers are coloured with "oculi" that further plays into the 'looked-at-ness' of the environment. 
"One source of inspiration was Eileen Grey's Boudoir de Monte Carlo, which builds upon the boudoir as a space to retreat between the dining room and bedroom to a multidimensional space for rest, parties and pleasure," explains Sibling Architecture director Timothy Moore.  
"We also took cues from the Italian invention of the salon, which became theatres of conversation and exchange – particularly for women, and for those with non-normative religious and ideological beliefs – where there is an absence of social hierarchy within the private interior," adds Moore.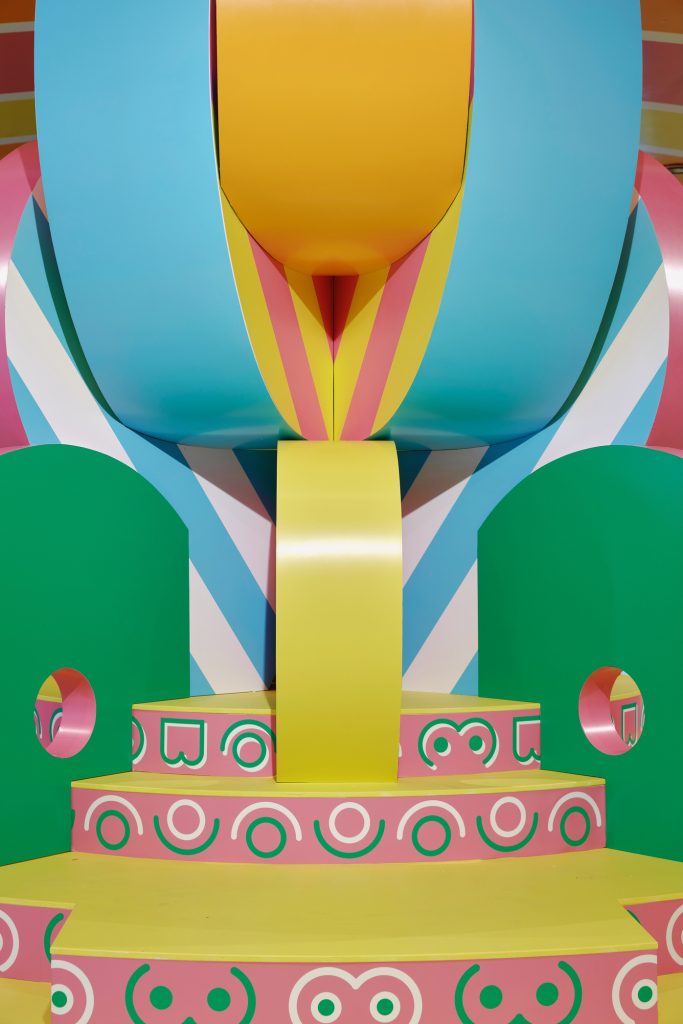 The use of baby shower pastel blues and pinks is, in fact, a subversion of traditional gender baggage. The mixing and swirling of the colours around Boudoir Babylon's structures upends the hierarchies and assumptions that accompany male and female designations.
The tiers of the central stage are decorated with icons that play with gender and body part symbolism, what Furman and Sibling Architecture call "queer-oglyphs".
The collaboration took place entirely on Zoom and WhatsApp, with the time difference creating a type of "design ping-pong match" between Melbourne and London.
"There was a sense of familiarity: It felt like talking to another sibling, or long-distance to an English cousin," says Moore
Furman emphasises how fun the collaboration was, "serious, adult, intellectual fun".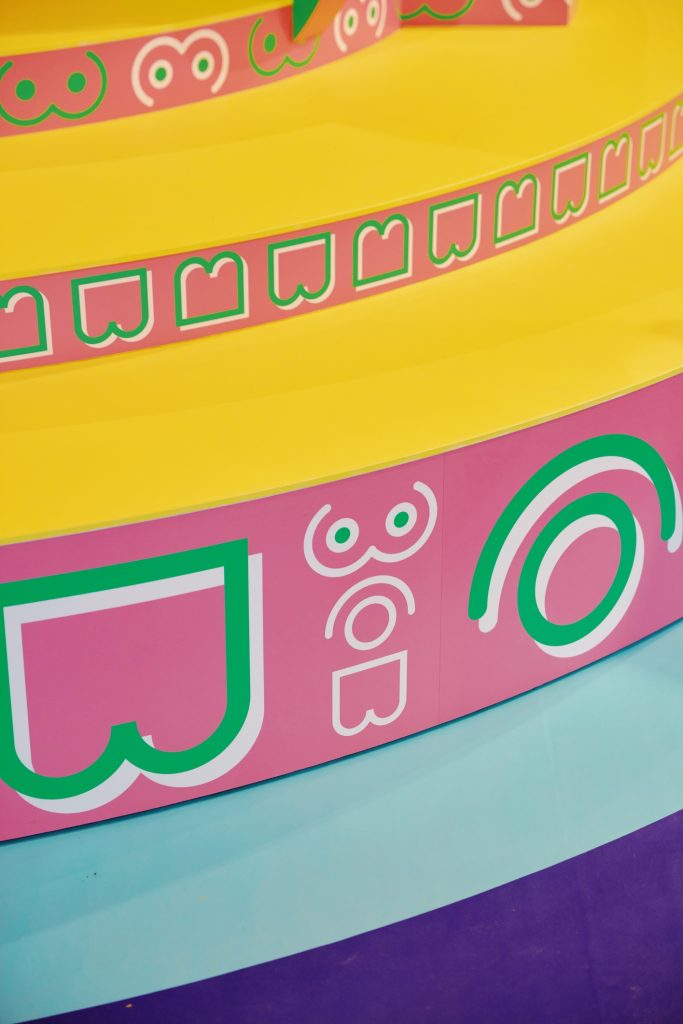 Boudoir Babylon finds this same balance. At first, pupil-dilating, glance it is a light-hearted space to be embraced by everyone who passes. Yet it is also a serious tribute to the interior spaces that have allowed those outside of the majority norm to find exaltation and exhalation away from a harsh public gaze. 
"We're hoping those who might feel in any way watched, judged, or unsafe in their alterity outside in the city, and whom in the Boudoir Babylon, can find a stage, or a booth, or a screen, in which to be fabulous with a captive audience," explains Furman. 
"Hopefully you came as a couple, but leave as a throuple, through the opportunities to meet in this space," adds Moore.
Boudoir Babylon is one of 30 new works currently open to the public as part of the NGV's Triennial program. Explore our list of must-see events here.

Photography: Installation view of Adam Nathaniel Furman & Sibling Architecture's Boudoir Babylon 2020 on display in NGV Triennial 2020 from 19 December 2020 – 18 April 2021 at NGV International, Melbourne © Adam Nathaniel Furman & Sibling Architecture
Lead photo: Sean Fennessy