Melbourne Marriott Hotel Docklands features "a beautiful curvaceous form" inspired by the nearby yachts.
Designed by DKO Architecture and opened in mid-2021, the 17-storey dual towers hovers over District Docklands (the new name for the Harbour Town shopping precinct) on what interiors director Michael Drescher describes as a small footprint.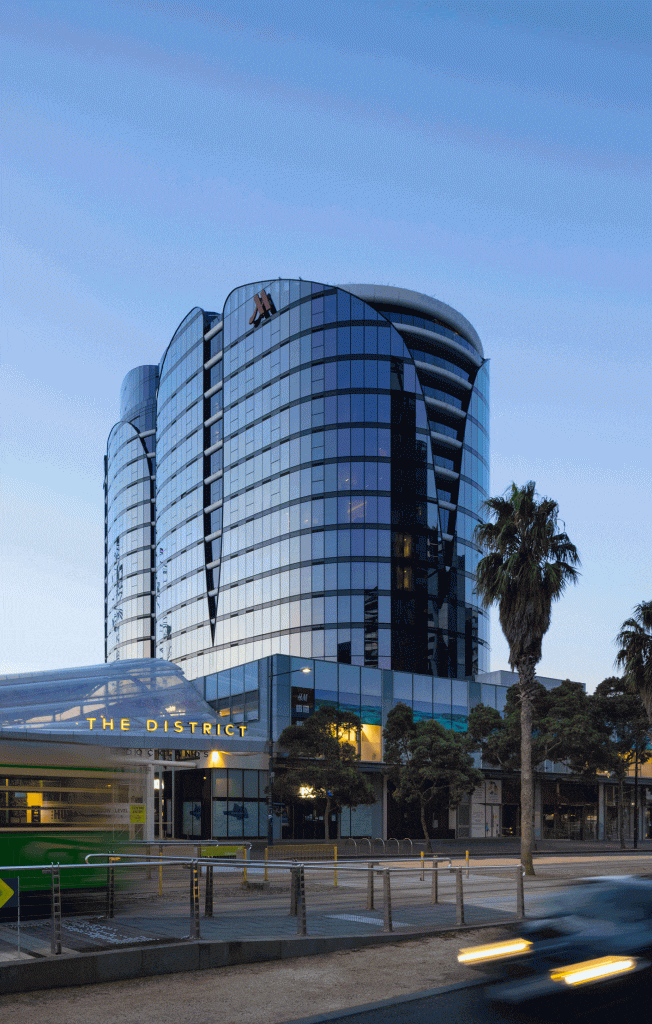 "It's a complex building and I think quite complex architecturally, but we wanted to hide all that within the curved form," he tells ADR.
"Most people think Melbourne is quite urban, but we have a lot of waterfront too and designing the Marriott here meant we could design for the waterfront.
"So we connected yachts with the architecture and landed on an elegant, curved look, while also reducing wind [a key consideration in the Docklands] and overshadowing."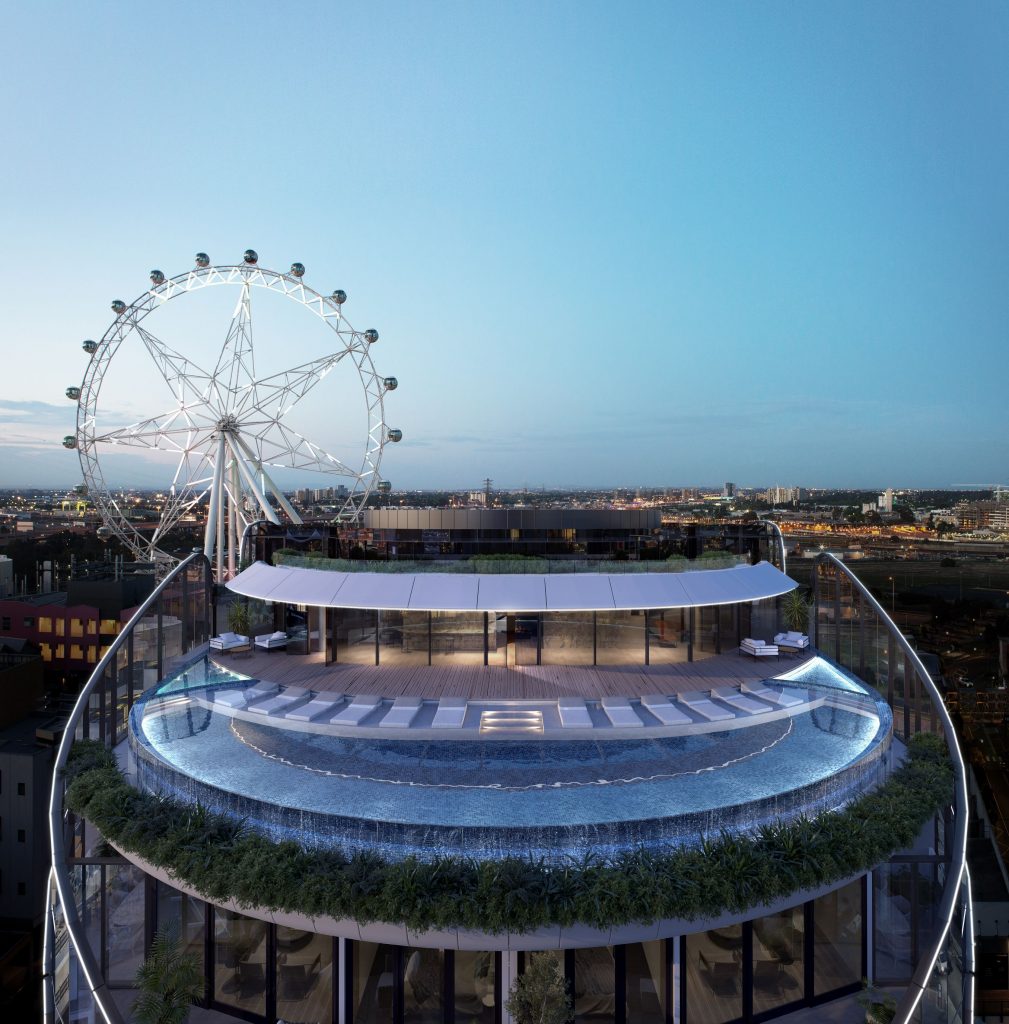 Both interlinked "petal shaped" towers are wrapped in a translucent screen and intersected by a level of vertical greenery that will provide some privacy between them.
"As the green grows, you'll add another layer of interest – another layer of softness – to the building that's not just for the people looking out, but also those looking in."
On the ground floor, scalloped glazing brings a sense of "Old World glamour" to the lobby, where DKO Architecture has carried through its yacht aesthetic.
"When we looked at the interior architecture of yachts, there was this beautiful fluid motion in the joinery; in how the leather connects to the metal detailing in the seats, for example," explains Drescher.
"We combined that with a restrained palette of materials for a sense of luxury, but also a sense of travel – albeit not through yachting, but rather through a hotel."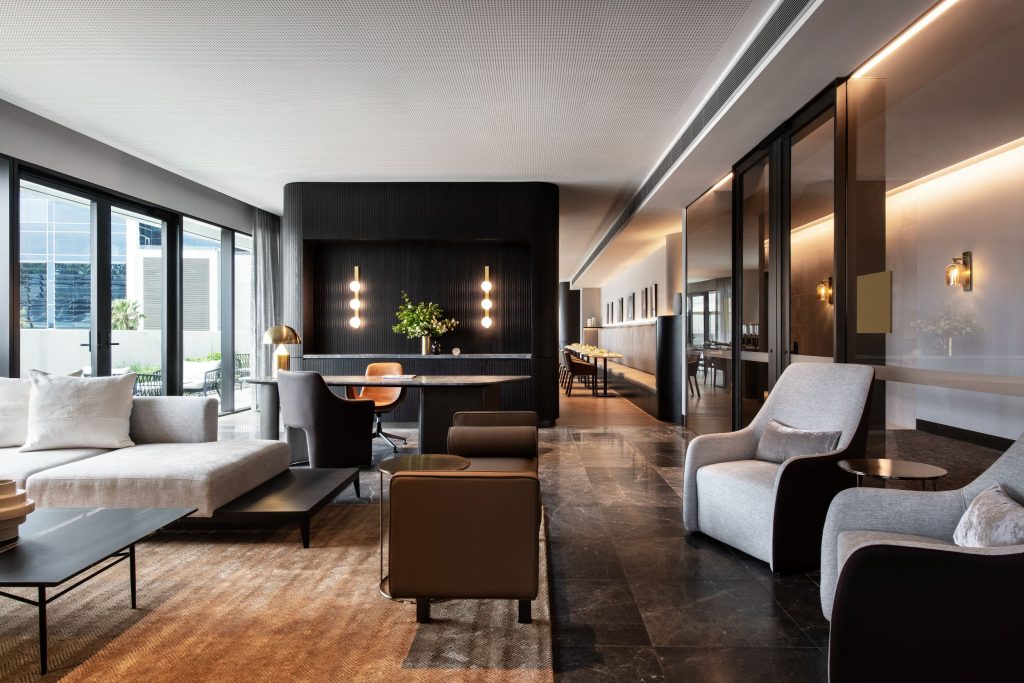 In the reception, polished brass chains by Australian sculptor Alexander Knox are suspended in "sweeping parabolas", echoing the ruched forms of cinched sailcloths.
As in all the public areas, touch points are in travertine with soft leather furnishings and feature pendant lights from Volker Haug.
Dimly lit, carpeted and wallpapered corridors with dark metal accents lead guests to the 189 rooms that occupy the two towers alongside 110 residential units and four restaurants.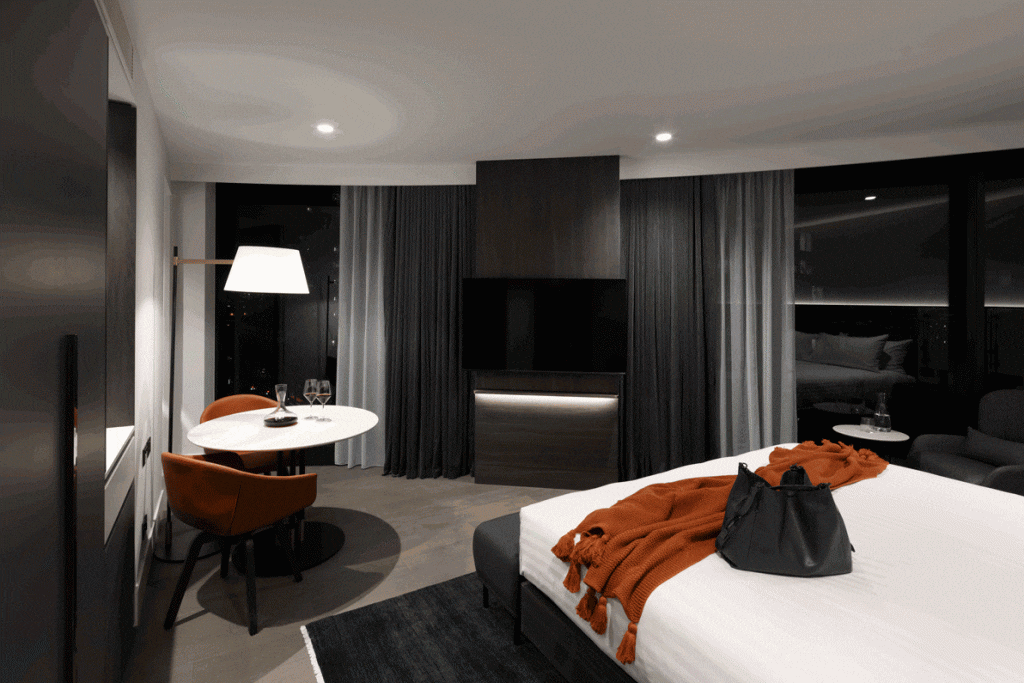 The rooms themselves channel a residential feeling while catering to the wide array of travellers that may book a stay at the Melbourne Marriott Hotel Docklands.
"Post-pandemic, hotel designers want that sense of residential that brings comfort to a room. It can't be too flashy, too trendy or too of its time," says Drescher.
"Like elsewhere in the project, materiality had to be there from the wayfinding through to the art, the furniture, the food and beverage venues. It all had to connect back to materiality, a sense of place, authenticity and luxury."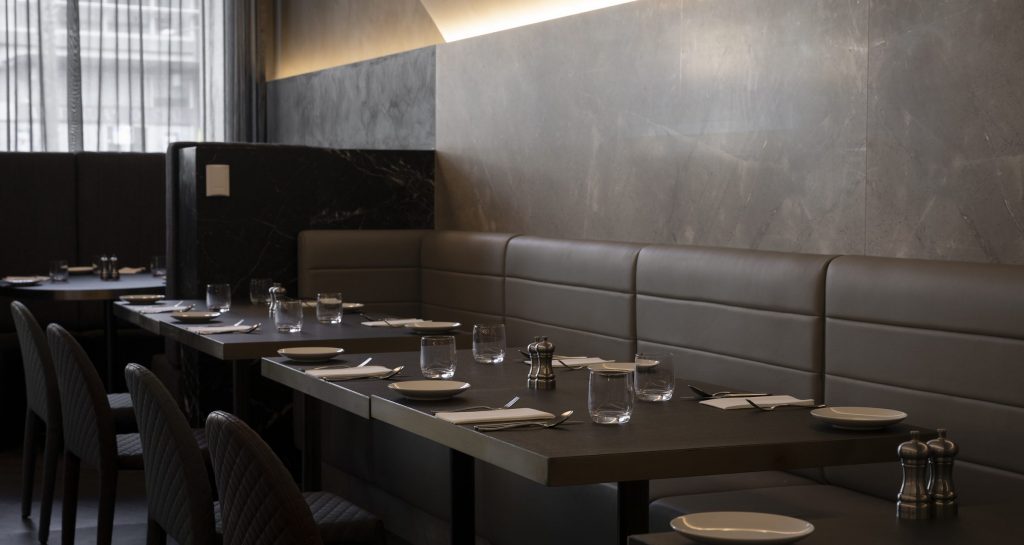 The hotel's four restaurants were a particular challenge with DKO Architecture assigning an individual identity to each with the goal of fashioning spaces that would appeal to outside visitors as well as guests.
Signature venue Archer's (established by Peter Rowland and led by head chef Alex Drobysz) had to feel like an entirely different space separate from the rest of the hotel.
"We were inspired by the 1960s New York scene of socialites and train tunnels," says Drescher.
"The natural stone of the lobby area transitions to more human materiality in timbers, leathers and indirect light. We want you to feel as if you're being hugged.
"Archer's is a space that you walk into happy. It makes you feel surrounded, comfortable and warm."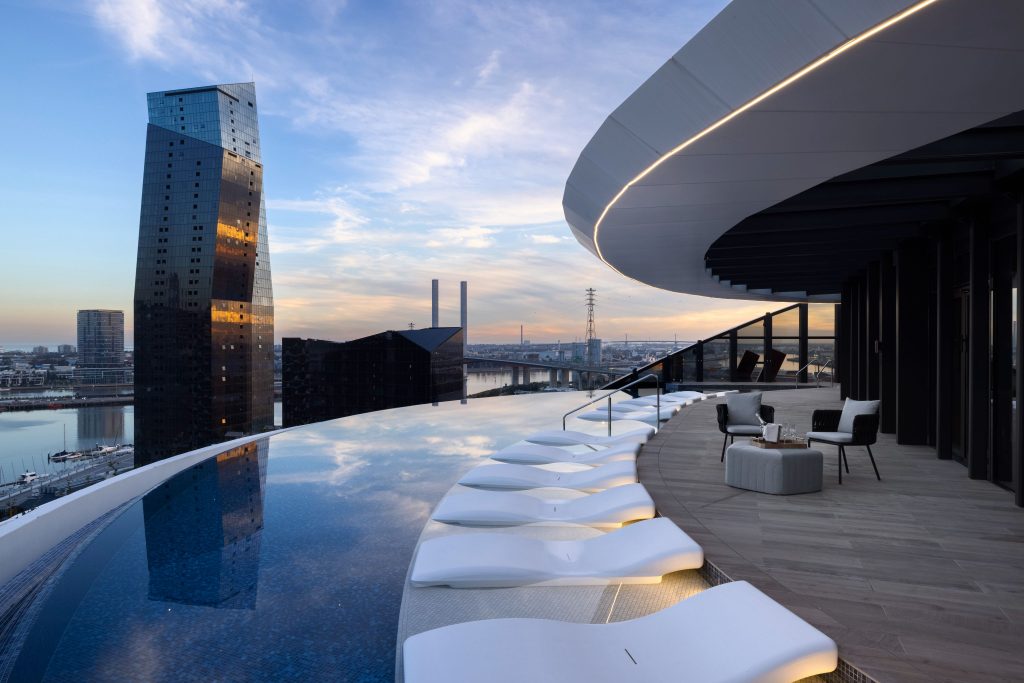 The Melbourne Marriott Hotel Docklands' other showstopper space is its 28-metre rooftop infinity pool – a direct challenge, says Drescher, to all the indoor pools in the city.
"We do have incredible weather [in Melbourne], so why don't we make the most of it with a rich, beautiful pool in a beautiful position?
"And just looking at the architecture of the building, there was pool-thinking from the outset. We just sort of designed around it."
With studios in Australia, New Zealand and Vietnam, DKO Architecture is led by founder and principal Koos de Keijzer and spans urban planning, interior design, architecture and master planning.
Photography: Dianna Snape unless otherwise specified.
Last year, the practice brought a sense of comfort, sensibility and familiarity into this Sydney youth accomodation, which is shortlisted for the IDEA 2021 Community Services category.
The winners of IDEA 2021 will be announced at our annual gala in Sydney on 24 February 2022. Buy your tickets now.