Plans for South Australia's first high-tech vertical high school, designed by Cox Architecture, have been released.
The Adelaide CBD High School will cater for years 8 – 12 and will be completed as a redevelopment of the University of South Australia's Reid building, located on Frome Road in Adelaide Parklands. An 'active atrium' space will provide passive learning opportunities and stair access, while 'maker spaces' located on all levels will promote innovative and collaborative learning opportunities.
An exhibition/gallery space on the plaza level will be available for use for community events and to display student works. Extensive external learning and recreation spaces are planned on the ground plane as well as on upper building roof terraces.
The multi-disciplinary learning environment will feature science, design and technology laboratories, a library and research centre, art studios, music and drama practice spaces and food technology kitchens.
Sustainability has been placed at the forefront of the school's design. The building will achieve a 5 Star Greenstar rating, with the inclusion of a 60KW solar collection roof farm, natural day lighting and ventilation, water capture and reuse and sustainable material selections.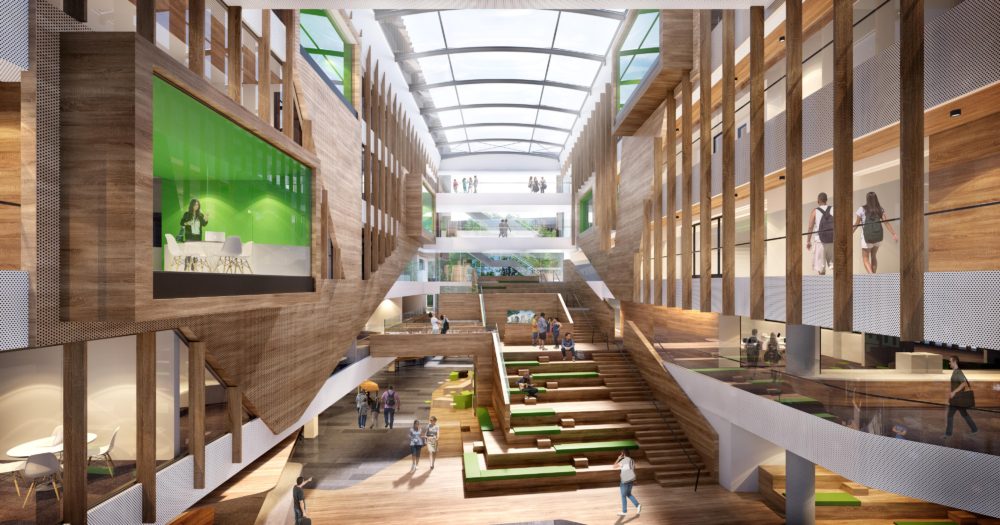 "In creating the concept for the new city high school, our desire was to create a contemporary and innovative learning environment that has a strong connection to the surrounding landscape," project director Adam Hannon says.
"The internal space is conceived as a continuation of the external landscape and parkland setting, creating vital indoor and outdoor connectivity to enhance the student learning experience.
"Once completed, this school will become a vital part of an established education precinct consisting of major Universities, the Adelaide Zoo and Botanic Gardens," Hannon says.
Cox Architecture is working in collaboration with DesignInc, TCL, AECOM and KBR to design the school, which is scheduled to be in use by term one in 2019.