In recent years we have all become increasingly aware of the complexity of 'multicultural Australia' as a greater diversity of migrants from different countries and faiths strive to make our big island their home. As pre-war Chinese, Italian and Greek migrants were joined by Vietnamese, who in turn were followed by Lebanese and Indian migrants and, most recently, refugees from conflicts in Iraq, Afghanistan, North Africa and of course now Syria, the breadth of our population continues to swell. Alongside welcoming our new citizens, the trajectory into the 'Asian century' further cements Australia's prosperity through dependence in trade on our neighbours to the near north. Both these facts require an increased awareness of language, custom and culture of our friends who do not share our 69 percent and declining Anglo-Celtic population. This thing we used to call empathy is now a business called cultural competency.
The architect's sensitivity to cultural complexity is particular to their profession. For us as a practice, having worked for many years with Aboriginal Australians in regional centres and remote communities in the far north-west of Australia, it has been difficult to find 'textbook' solutions to the extreme climatic and cultural challenges that surround producing architecture in this context. Our projects span community centres and housing in remote communities, transitional housing in regional towns, health facilities, childcare centres, kindergartens and school buildings, Elders' housing and, most recently, the Kununurra Courthouse and West Kimberley Regional Prison (both in association with TAG Architects). Time and experience has been our only guide … and lots of listening.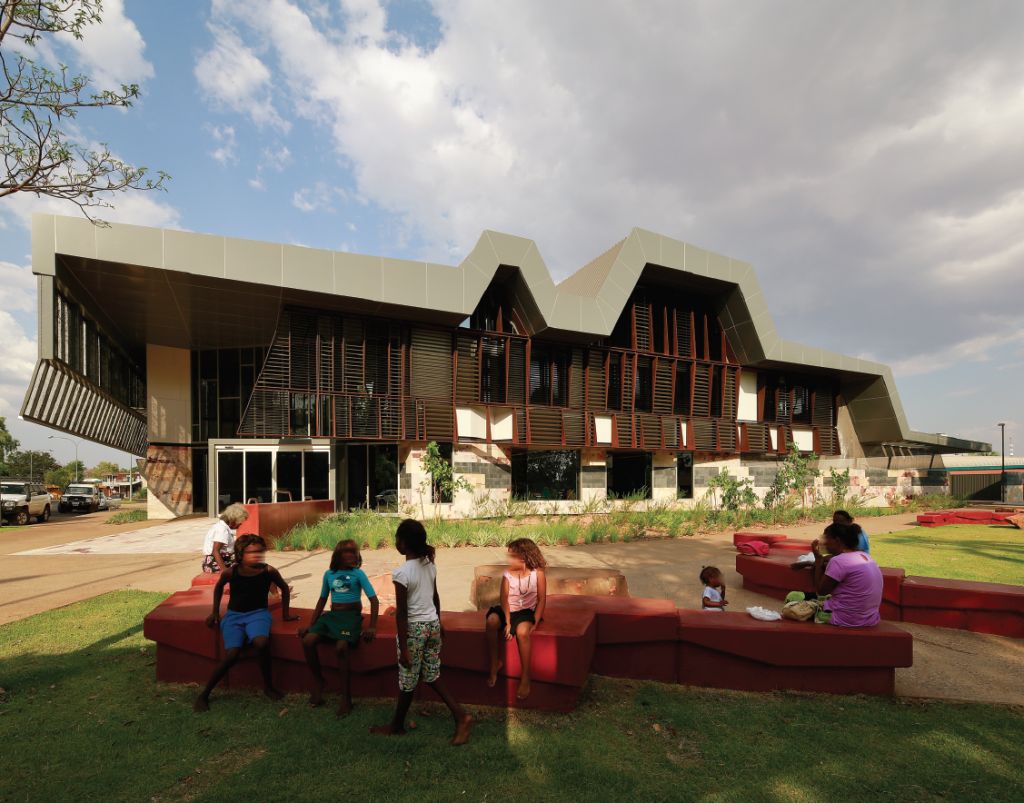 The first thing to realise is that we come from a certain background with a particular value set that may be very different from our community client. We continually remind ourselves that we cannot make stereotypical assumptions as to how people want to live, so what we tend to do is follow the varying protocols of Aboriginal communities in the Kimberley, Pilbara, Goldfields and the South West. Essentially we do very clear introductions – who we are, where we are from, what we're here to do – and that forms the core part of developing trust and communicating the task.
We understand that most community members that we deal with have not previously worked with an architect and they may not be aware of what our role involves. We are just another "white fella" coming into a community, maybe to promise things or deliver stuff or not deliver at all. Obviously a building is different from a health check and the notion of how long it takes to build a building or a facility or a series of houses is a difficult thing to grasp and, in these remote, harsh environments, particularly hard to make firm commitments to a schedule. Often people come into communities to 'help', attend a couple of meetings then disappear and someone else takes over. This pattern is difficult for community members, so we endeavour to provide a consistency to our community engagement.
One of the fundamental things that we have developed is our process of community consultation. The most important, and least compromised, learning experience consultancy that we completed was for some houses at Tjuntjuntjara community in the north-eastern Goldfields of Western Australia for the Spinifex people, who are direct descendants of the people affected by the Maralinga nuclear testing. Through that project we met with all of the members of the community (with a female anthropologist on our team) over three very detailed workshops. We met with the community collectively, but also as individual families, and took very detailed notes about how each family currently lived and wanted to live.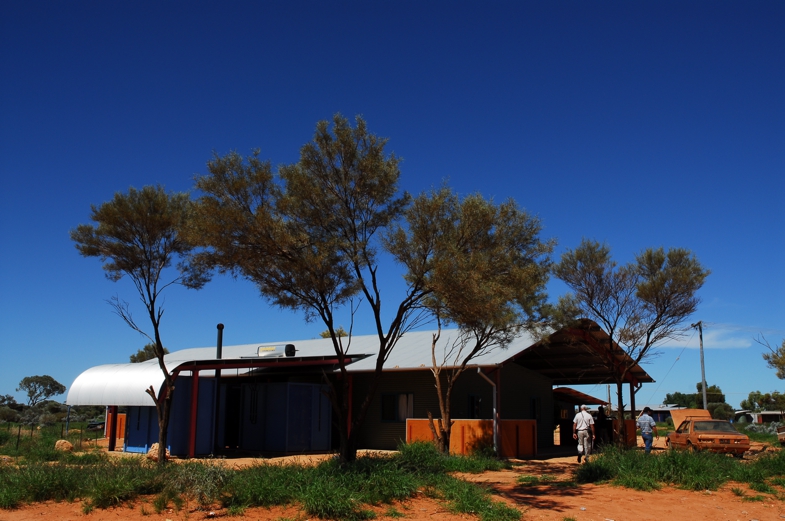 Tjuntjuntjara are very strong people and have in fact paid for their community to be where it is today through their trust fund given as compensation from the British Government for the consequences of the nuclear tests. A typical household is a mixed, multi-generational family living in one house, so you'll have a familiar 'conventional' use of space, where bedrooms are used as bedrooms and the kitchen is used as a kitchen, a recognisable European model, but then older family members camp around the outside of the house. The Elders living more traditionally might be in residence for a short period or a longer period. We coined the phrase the Windsock House to describe how these camps swung around the verandah off the house, located depending on where they wanted to be in relation to the wind and the sun.
What emerged from Tjuntjuntjara was the fact that every house had to be two houses in one. An inside house that could operate for the family members who wanted to live in a fairly 'conventional' way and a house that could function as a support base or infrastructure for people who wanted to live outside under the stars or on the verandah. The dwelling worked for both the long-term residents and the temporal residents, who would live a traditional life in the outstation in the bush, then come into town, depending on the seasons, and the houses could support this cycle. The core feedback we received from the community was that the dwellings we designed supported this way of living well.
A critical part of the overall planning of the community was to embrace the idea of passive surveillance or what we now call 'cultural surveillance', as it allowed the community to watch people coming and going throughout the community, assembling the plan to accept this context but also understanding the impact that cultural practices have on a range of scales and relationships. We spent time carefully documenting how our buildings were adapted and used, but also how the architecture could accept current ways of living and occupation of space.
The idea of cultural surveillance can explain a lot of things. For example, one of the observations is that it's hard to grow things in gardens around houses, as older people rake the ground and keep it clear to record the coming and goings of people around their dwelling, as well as the comings and goings of animals, particularly snakes that may be dangerous.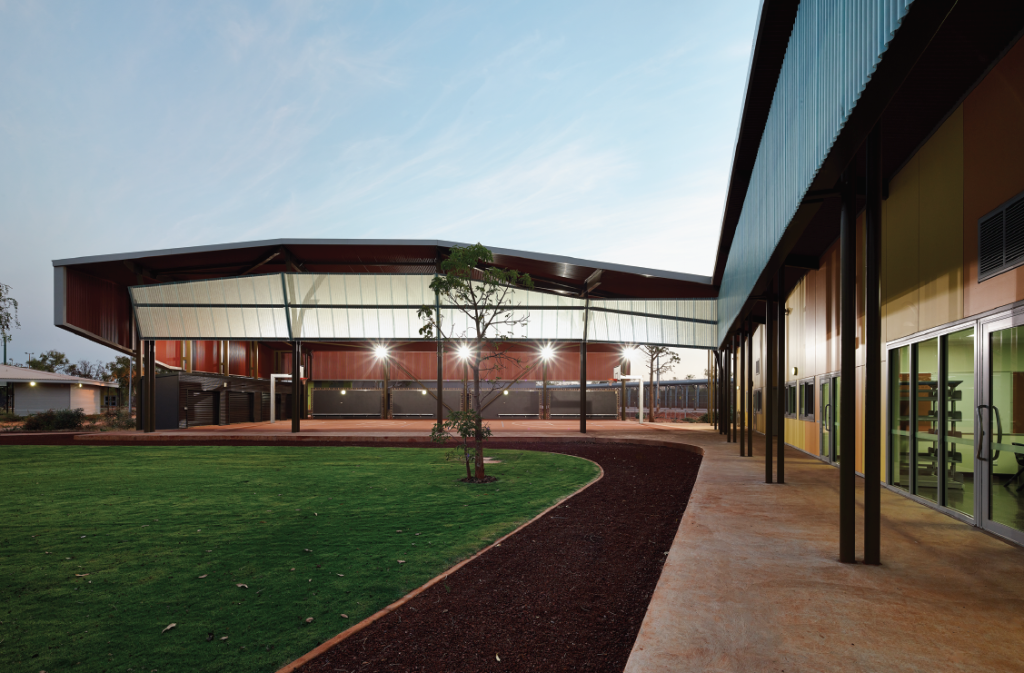 The notion of immediate cultural surveillance across the community, where your relatives, or the people you need to avoid, are coming and going, can be translated into public buildings, such as the courthouse we designed in association with TAG Architects in Kununurra. Here, the cultural surveillance shifts to another scale, where it's likely that people who are in conflict will encounter one another, with the foyer design allowing people to navigate the space to avoid confrontation or to seek respite from those tensions and be with people who can offer support.
Many of our projects adopt strategies that frame views into country, picking out culturally significant markers in the landscape and using the architecture to present vistas in a particular manner. Our Walmajarri Community and Language Centre at Djugerari on the edge of the Great Sandy Desert, sits on a hill and is a beachfront for the Walmajarri people. The community wanted to use the building to frame a massacre site at the foot of a hill to the southeast of the site, so the two pavilions of the building pulled apart and the roof lifted as a device for framing various elements in the landscape that hold stories and particular roles within Walmajarri culture.
So the building was seen by the younger members of the community as a way to allow visitors to learn about Walmajarri culture through these immediate tangible things and to use the building to support an infant ethno-tourism business. Similarly, the recent Walumba Elders Centre in Warmun sits on the floodway looking down Turkey Creek; the two wings of the building divide into male and female wings. One of the wings aligns with a view to a refrigerator that was lifted high into a tree, making a monument to the great fl ood of 2011 that devastated the community. This short-term event, while not a deep cultural creation story, was nevertheless meaningful, and the fridge was left as a marker to a moment in time. The community liked the fact that the end of this wing was aligned with a fridge in a tree. So it's not always about a cultural practice, it's about how the architecture might help to capture an essence of the place.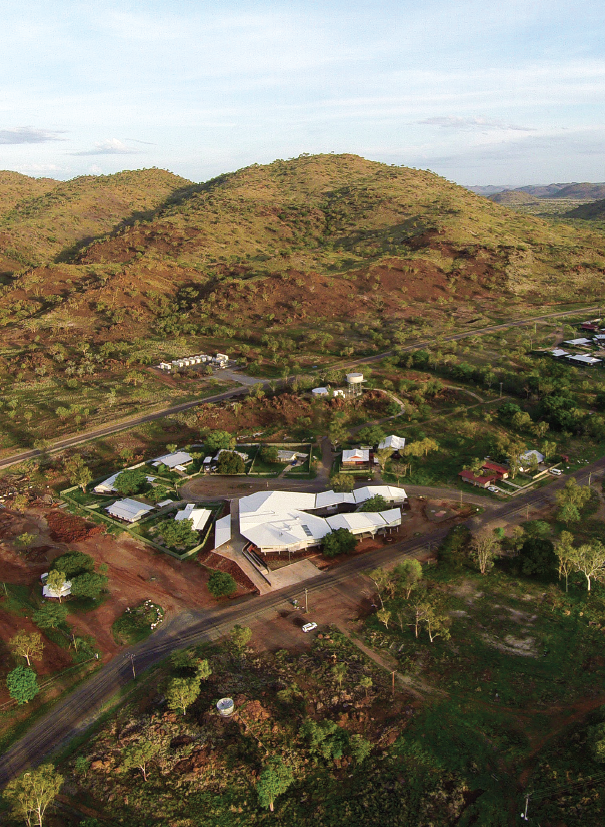 Sometimes we'll bring our own preconceptions to site from a spatial point of view and we always talk about the manner in which the architecture responds to landscape. At Walumba there was a real need for the architecture to be resilient to the potential of future flooding lifting it up off the flat plain, but it was also important for us to express how the regular heavy rain could be literally channelled across a big roof through open gutters and spouts to tell a story of its power. Here the cladding of the building dips and rolls to reveal (and hide, depending on gender) culturally important elements of landscape. The architecture acts as a beacon to the future of the community and projects its future through its Elders.
As architects, our role isn't to interpret Aboriginal culture in any way, but to respond to the brief from the client and, in turn, respond to those conversations. The fundamental process of design should realise good functional spaces, but do so within beautiful buildings that respond to people's needs in a way that people can feel ownership and attachment and our best projects do that. Culture is an all-encompassing term and Aboriginal cultural practices vary dramatically, even within one language group there might be 'more' traditional practices or 'less' traditional practices. It's really hard to talk generally about Aboriginal culture and we try to avoid making statements about what we think Aboriginal culture might be. It's not our culture.
The diverse nature of Aboriginal communities is perhaps united across language barriers by a collective post-Colonial history of the stolen generation, the movement of Aboriginal people across the state by the state through taking kids away from parents and putting them in orphanages. This terrible historic fact is shared between descendants of the European settlers, Aboriginal traditional owners of this country and all of our citizens. The great thing about the reconciliation movement, and one of the things we really enjoy about this work, is working with Aboriginal people to walk together to try and solve some of their daily problems and to live positively together, acknowledging those wrongs and to try to do some good.
This is an abridged version of an original article by Iredale Pedersen Hook Architects, which appeared in AR143 – Culture.