This article is an extract from the Architecture and Design Forecast 2016. To find out more on the Forecast, visit future.australiandesignreview.com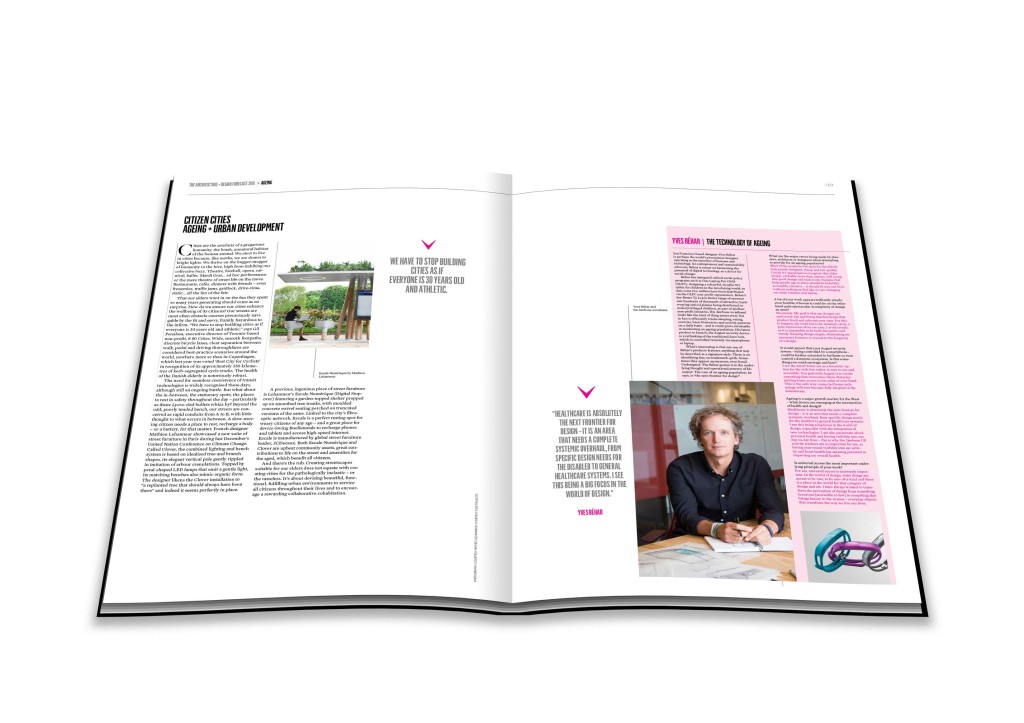 San Francisco-based designer Yves Béhar is perhaps the world's preeminent designer operating at the interface of humans and technology. An entrepreneur and sustainability advocate, Béhar is intent on harnessing the potential of digital technology as a driver for social change.
Béhar has instigated radical social policy programs such as One Laptop Per Child (OLPC), designing a colourful, durable XO tablet for children in the developing world; to date some two million have been distributed via the OLPC non-profit organisation. Béhar's See Better To Learn Better range of eyewear saw hundreds of thousands of attractive, hardwearing optical glasses being distributed to underprivileged children, as part of another non-profit initiative. His Jawbone wristband looks like the kind of thing ravers wear, but in fact it efficiently tracks sleeping, eating, exercise, basic biometrics and activity patterns on a daily basis – and it could prove invaluable in monitoring an ageing population. His latest product to launch, the August security device is a rethinking of the traditional door lock, which is controlled remotely via smartphone or laptop.
What's interesting is that not one of Béhar's products features anything that may be described as a signature style. There is no identifying line, no trademark quirk. Sometimes they appear anonymous, even banal. Undesigned. The Béhar genius is in the underlying thought and operational potency of his output. The care of an ageing population, he says, is "the next frontier for design".
What are the major errors being made by planners, architects or designers when attempting to provide for an ageing population?
Yves Béhar: Most of the products I've seen for the elderly look poorly designed, cheap and low quality. I think it's important to recognise that older people, probably more than anyone, will recognise good design and seek it out. Designs that help people age in place should be beautiful, accessible, intuitive – it should fit into our lives without making us feel like we are changing our daily routines and habits.
A lot of your work appears brilliantly simple, even humble; whereas it could be on the other hand quite spectacular. Is simplicity of design an asset?
YB: Absolutely. My goal is that my designs are used every day and being timeless keeps that product fresh and relevant over time. For this to happen, the work has to be minimal, clean, a pure expression of its use case. I avoid trends, as it is impossible to be both disruptive and trendy. Keeping things simple, eliminating unnecessary features, is crucial to the longevity of a design.
It would appear that your August security system – being controlled by a smartphone – could be further extended to facilitate or even control a domestic ecosystem. Is this something you could envisage and how?
I see the smart home not as a futuristic option for the rich, but rather as easy to use and accessible. Our goal with August is to create something that overcomes these obstacles, putting home access in the palm of your hand. This is the only way connected home technology will ever become fully adopted in the mainstream.
Ageing is a major growth market for the West – what do you see emerging at the intersection of health and design?
Healthcare is absolutely the next frontier for design – it is an area that needs a complete systemic overhaul, from specific design needs for the disabled to general healthcare systems. I see this being a big focus in the world of design, especially with the integration of new technologies. I am also passionate about personal health and having visibility into our day-to-day lives – this is why the Jawbone UP activity trackers are so important for me, as having year-round visibility into my activity and heart health has amazing potential in improving my overall health.
Is universal access the most important underlying principle of your work?
For me, universal access is extremely important. In the world of design, some things are meant to be rare, to be one-of-a-kind and there is a place in the world for that category of design and art. I have always wanted to transform the perception of design from something luxurious accessable to few to something that brings luxury to the masses – everyday objects that transform the way we live our lives.