Photography by Fraser Marsden
The project involved a small, inter-war semi-detached house which, despite the local council's Heritage B grading, appeared to have very few significant features or attributes. From the outset, this posed challenges to achieving the client's enthusiastic brief.
The planning restraints meant that the option of a two level rear extension was not achievable. The client's brief had to be slightly condensed and adapted yet still attain the functional necessities they required – master bedroom with ensuite and walk in robe, second bedroom, office, bathroom, separate laundry, kitchen with walk in pantry and a spacious open plan living and dining area.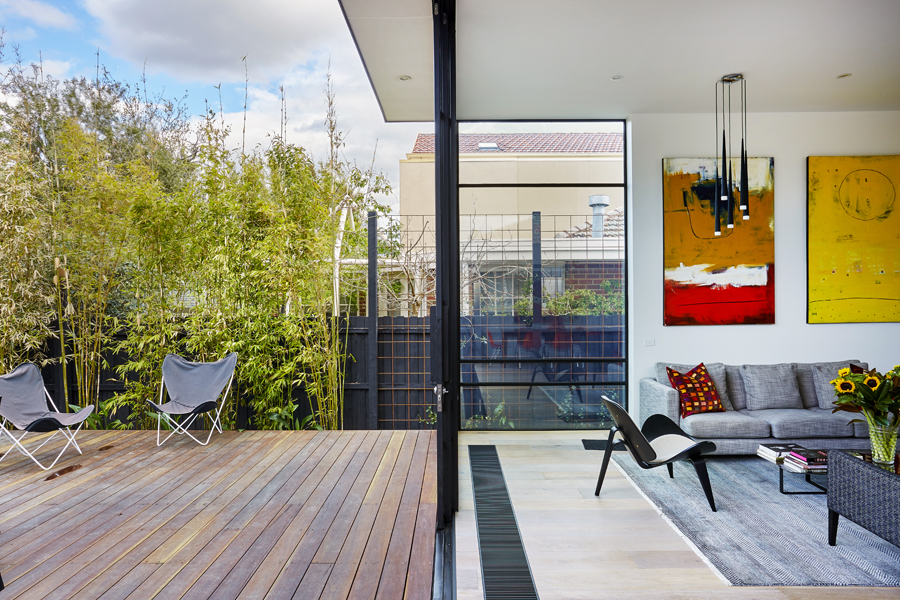 The 1980s alteration and addition, undertaken many years ago, were removed and the new 2015 version was introduced. One item which was imperative to the client's brief was the view to the back garden. With a higher than usual ceiling and double stacking, glazed steel framed sliding doors, an unimpeded view was achieved. It looks like there is nothing beyond the hallway when looking from the entry with these doors open. An internal courtyard provides a peaceful point of interest to the kitchen area as well as enabling cross ventilation to a room which commonly suffers from an inability to accomplish this.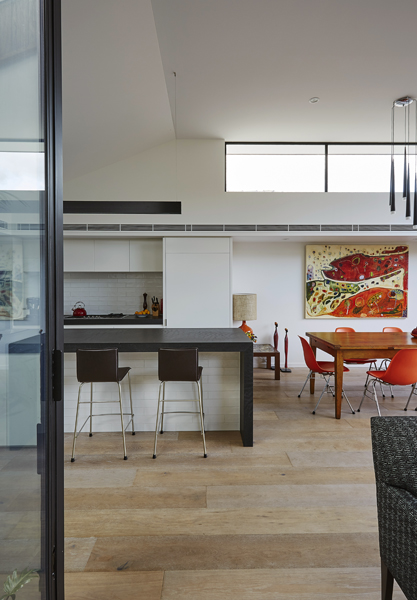 The entry and beginning of the new area of the dwelling is unassuming, satisfying the heritage requirements through being recessed from the front facade yet clearly defining the location of the entrance with a new dark burnt ash timber wall. This contrasts the continuation of the existing white cement bagged brickwork finish to the front façade.
The plan is traditional with rooms accessible from a central corridor leading into the rear dining and living area where the ceiling rakes up to a substantial height. This creates an impressive space in an otherwise modestly sized area complimented by highlight windows providing controlled northern sunlight. The double stacking, full-height doors connect the space to the spotted gum deck and dense, established perimeter landscaping.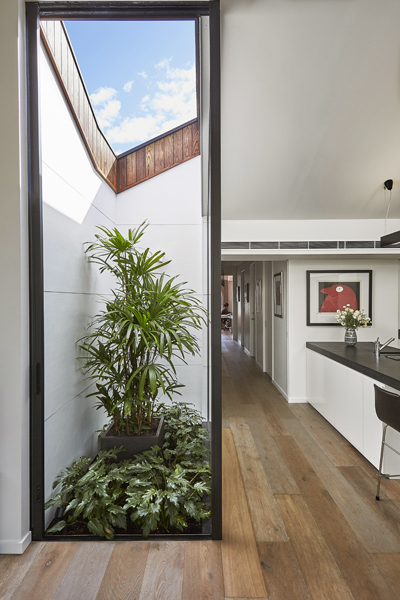 The interior finishes draw on the individual textures of the materials employed. The detail is careful and clean but controlled to sit within the budget. The detailing was also very important to the clients, but one of them in particular was very precise and thorough in reviewing and understanding every aspect of the project, an attribute he had acquired from a previous career that required enormous attention to detail. This kept everyone involved on their toes.
Sustainable applications included long-lasting and durable materials such as engineered timber flooring, thermally modified timber cladding, the use of zoned hydronic heating and double glazed steel windows and sliding doors. In terms of sustainability, the sensible application of good thermally passive design provides the inhabitants with comfortable living year round.