Above image: Inter-disciplinary artist Rekko Rennie. Images courtesy White Night.
Once again White Night, the 24-hour entertainment extravaganza, will burst on to the Melbourne city landscape tomorrow evening. Part of the artistic vision of the event this year is a celebration of our indigenous Heritage with major commissions that will highlight the experience of the various artists. For the designer within all of us it will be a feast of luminosity with the juxtaposition of light projections and the built form featuring prominently throughout the event.
Our major architectural icons will morph into other forms that embrace vivid displays of colour and tell a story of people and place. Andrew Walsh, White Night artistic director says, "I have brought together, in each case, diverse groups to tell a very Melbourne story – for me it's always about narrative" and there is a fine story to be told. Many of the cities architectural gems will again be in the spotlight and, following, is a small sample of what is on offer.
The façade of the National Gallery will come alive with the graphics of Josh Muir, who began his artistic career as a contemporary street artist. While you are there venture inside the Gallery and experience the John Wardle Architects' outstanding steel, timber and textile pavilion that is the inaugural Summer Architecture Commission.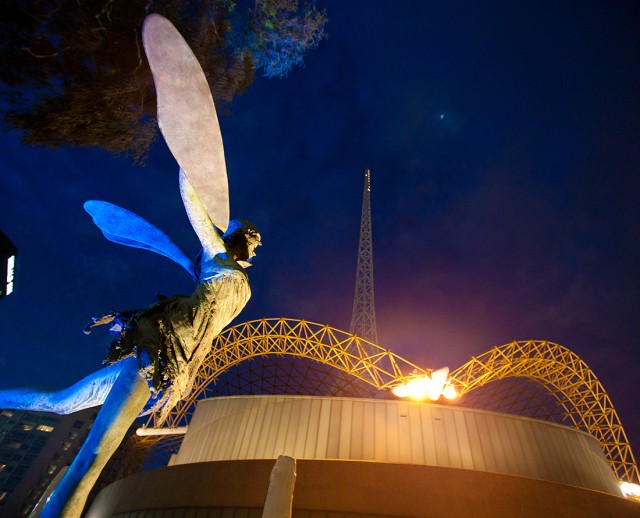 The Royal Exhibition Building's exterior will showcase a new way of storytelling through the collaboration of acclaimed Portuguese lighting and projection artists OCUBO and Pitcher Makin Fellas, a group of Ballarat indigenous artists.
While at Federation Square a cornucopia of projected images by the inter-disciplinary artist Rekko Rennie and the Electric Canvas will light up the sandstone, zinc and glass surfaces, the shards absorbing and reflecting the creative inspiration.
At the State Library Victoria Forecourt, Amanda Morgan with collaborators James HH Morgan and DJ JNett, will present an immersive video installation in William Guilfoyle's garden. This will be the perfect place to relax and enjoy the vibes and the visuals during the busy evening.
White Night 2016 will display the architecture of the city as it has never been seen before but there are so many interactive events, music and performance, film and art to compliment the lighting and projections. White Night 2016 will be a veritable feast for all the senses and an occasion not to be missed for those in Melbourne on 20 February.