Architecture architecture, the innovative, award-winning Melbourne-based practice and helmed by design directors Michael Roper and Nick James, was engaged by a good friend from architecture school to design their residential extension and renovation.
Located in Melbourne's leafy suburb of Fitzroy North, Norwood by Architecture architecture takes its name from the original site.
The design brief was also, according to Roper, "fairly typical".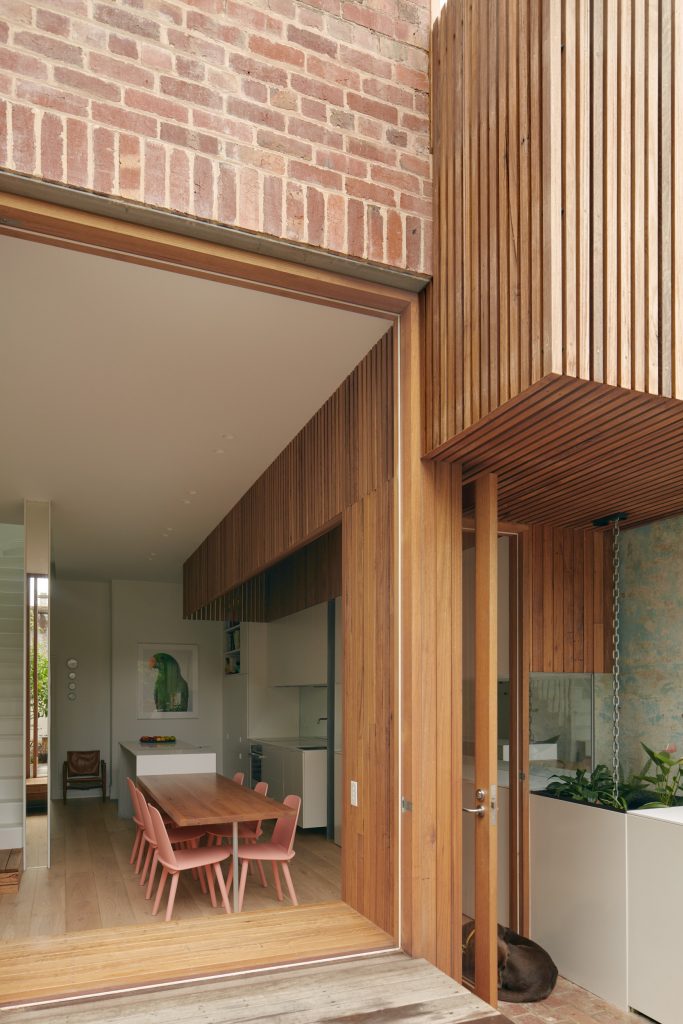 "Mainly they wanted to open up the living spaces to the backyard, increase the amount of natural light coming into the house, and create a welcoming space to entertain and cook for family and friends," he tells ADR.
With construction beginning in mid-2018, Norwood presented the design team with a series of challenges that required clever spatial choices to remedy its lack of wriggle room.
"The original house is a Victorian terrace, which was in pretty poor condition when we came to it. The site is tiny and the area is very built-up, so it had all the usual problems with poor natural light, poor passive solar performance, and little connection with the outdoors."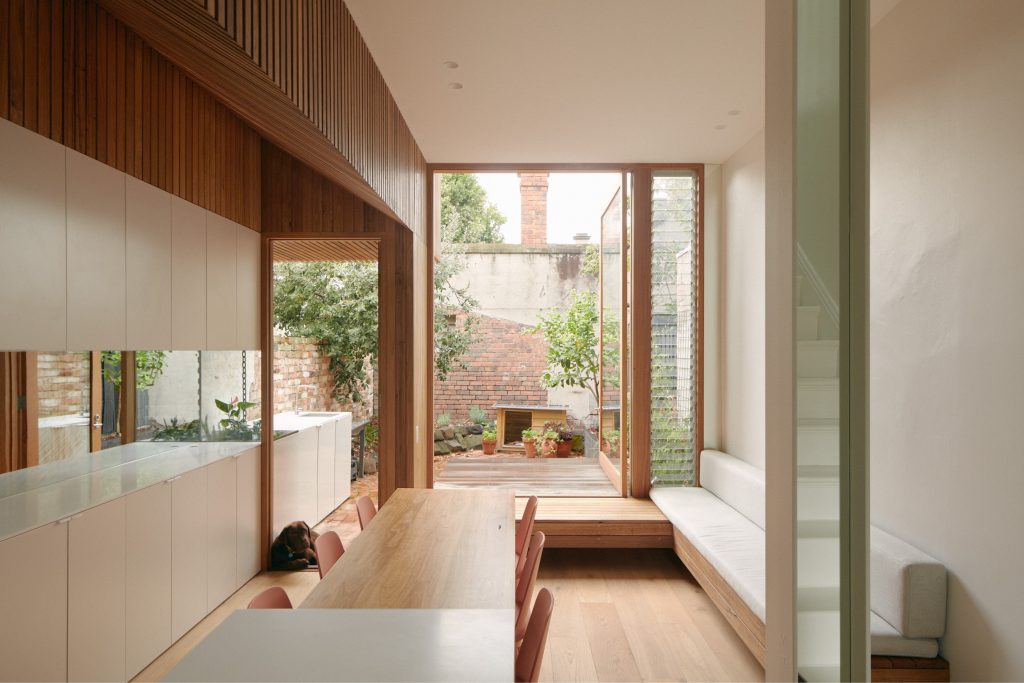 To foster connection between the interior and exterior, and also simultaneously increase the sense of space, Architecture architecture 'stitched' together specific elements of the inside to extend to the backyard.
"A deep threshold establishes a tidal zone of indoor and outdoor activity. The kitchen bench extends into the yard for outdoor cooking and food preparation. Also, a timbered awning draws back into the house, filtering light from a skylight above.
"We also designed an indoor seat that extends into the backyard, providing an outdoor platform for perching and sunbathing."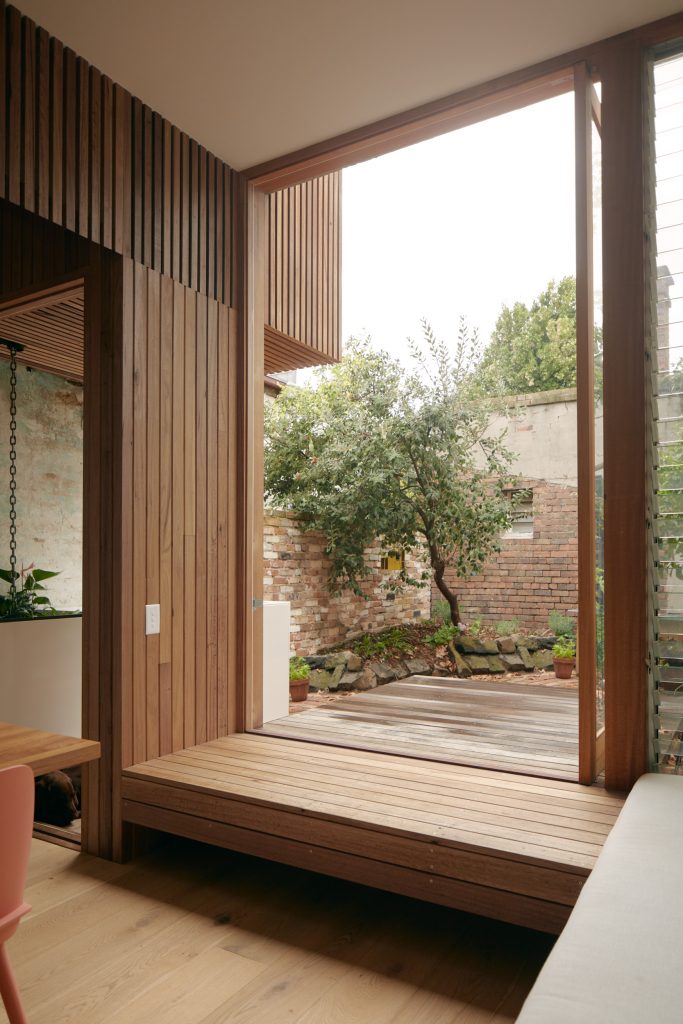 Although the building footprint has barely changed, the design configurations of Architecture architecture ensure the house now feels substantially larger.
This goal was further developed by flooding the communal space with natural light and opening the living areas to the full width of the backyard with floor-to-ceiling glasses.
Roper says the incorporation of skylights over the kitchen and staircase, and the usage of a pale material palette also brighten the ambient light.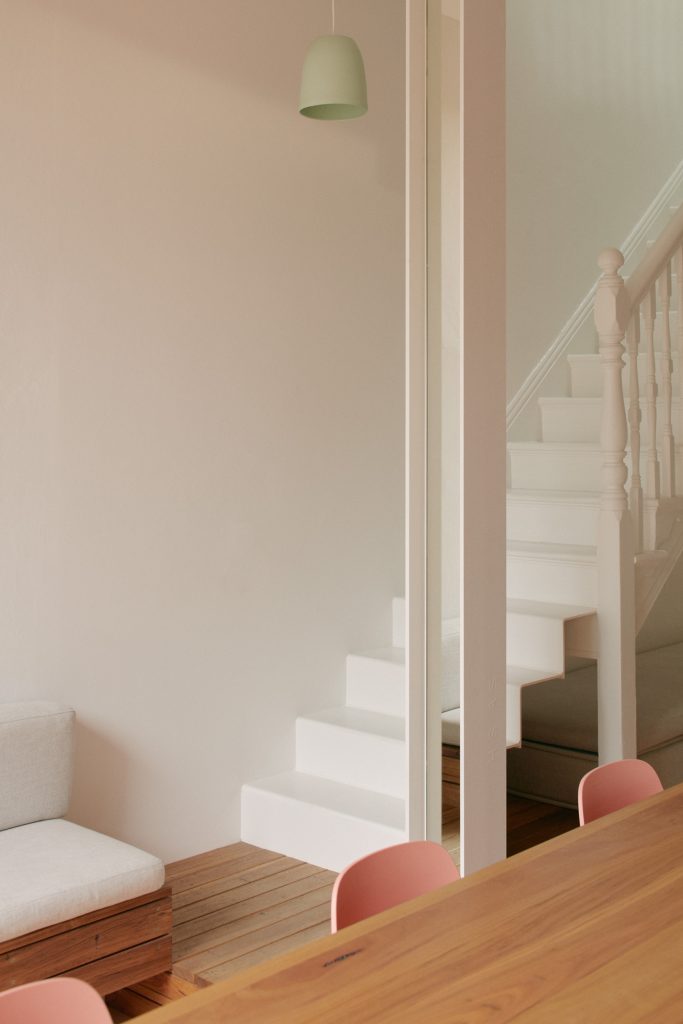 Moving through the space, Norwood includes an inquisitive staircase sitting alongside a mirrored beam, which Roper says provides both function and style.
"Opening up the ground floor required demolition of a load-bearing wall. Normally this would mean integrating new structural members into the existing boundary walls, however, this was not possible on such a narrow site.
"Instead, this column maintains the structural integrity of the existing house and allows us to open the house to the backyard. the mirror was incorporated to 'lighten the load', lending spatial and visual depth to the overall composition," explains Roper.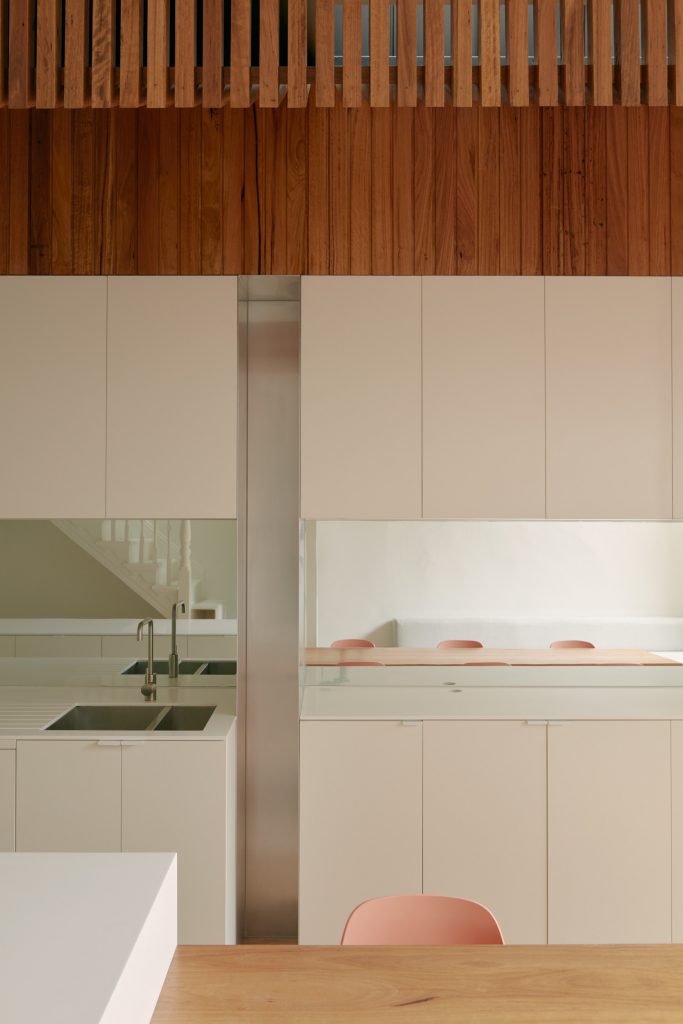 In terms of colour, Norwood is softly spoken and discrete. Featuring little pops of colour in the pink chairs and green pendant shades, Norwood is all about gentle expression.
"With a calm light material palette such as this, sparing use of colour still has a surprising impact on the overall feel of the space. Like all elements of a design, colour requires care and attention."
Admitting it's difficult to describe the process of picking this decor, Roper says he "loves the result."
When asked how he would like people to feel when they enter an Architecture architecture space, Roper says it depends on its context.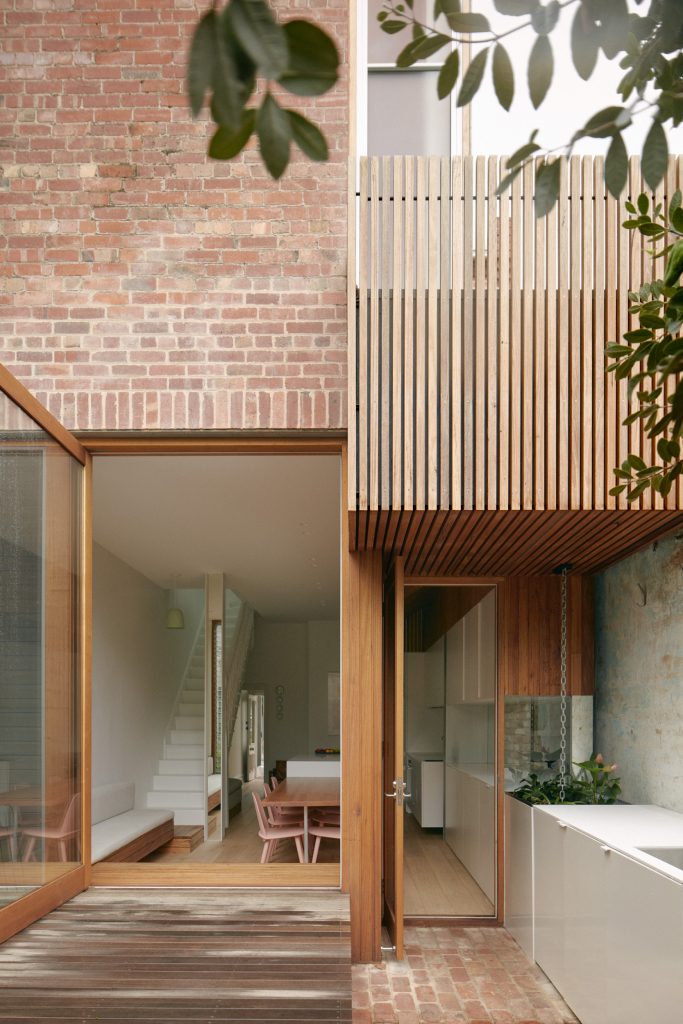 "It really varies from project to project, depending on who our clients are and how they live. Overall, we want people to feel comfortable, happy and in harmony with the people around them.
"We strive to create homes that feel light, open and connected while providing a sense of enclosure and protection. There is a balance to be struck. A well-designed house provides opportunities to gather together, and retreat when desired. With all of this in mind, we strive to design houses that delight."
Photography by Tom Ross.
Architecture architecture is an award-winning Melbourne-based practice recognised for its commitment to contemporary architecture. As leaders in next-generation design, the practice strives to foster an awareness of the built environment and its social effects.
Whether it's a backyard shed or a city skyline, Architecture architecture's design philosophy is underpinned by a firm belief in the potential of architecture to foster positive environments at all scales of building.
Also in residential architecture, Wheatland Road by Melbourne-based architecture practice Foomann is an independently social family home.