Architectural practice Fieldwork has designed a community of 49 apartments and 18 townhouses in Clifton Hill, Melbourne, which demonstrates how a thoughtful, community-led approach can achieve strong social, cultural and commercial outcomes.
One of 122 Roseneath St.'s newest residents, Briony Massie, is uniquely qualified to talk about it, having been part of the design team herself. Project architect for Fieldwork, Massie is now also a resident and has recently moved into a one-bedroom apartment in the community.
How did community-led design inform the 122 Roseneath St. project?
Initially we presented the design concepts and ideas to the local Clifton Hill resident group prior to submitting the project for town planning. We were eager to meet the local residents, listen to their feedback and insights and talk them through the high-level design principals that were driving our design response. During the planning process the joint development partners, ICON Developments, Assemble and Wullf Projects, and I worked with the council and individual residents closely to tweak the built envelope. We were able to avoid the typical mode of confrontational development – we received development approval without going to VCAT. We also held a series of community design presentations to walk everyone through the design, artist impressions and floor plans. This was a chance to consult with potential purchasers. There was also a series of design surveys that went out to potential purchasers. It was a great chance to meet the people who would be living in this community while we were working on the design and then use the information gathered to inform the design process.
Was this project any more challenging as an architect because of the community aspect?
No, it wasn't more challenging, it was just different. Community consultation and survey results directly shaped the communal design and allowed for a wide range of options and extras in terms of apartment upgrades that purchasers were offered. It's always more complex to manage those types of options but it's also quite special for people to have that level of customisation in an off-the-plan development. For me, I could often associate the apartments and townhouses during documentation with people I met at the presentations and sales day. It's nice to see what different people selected and how they individually customised their homes.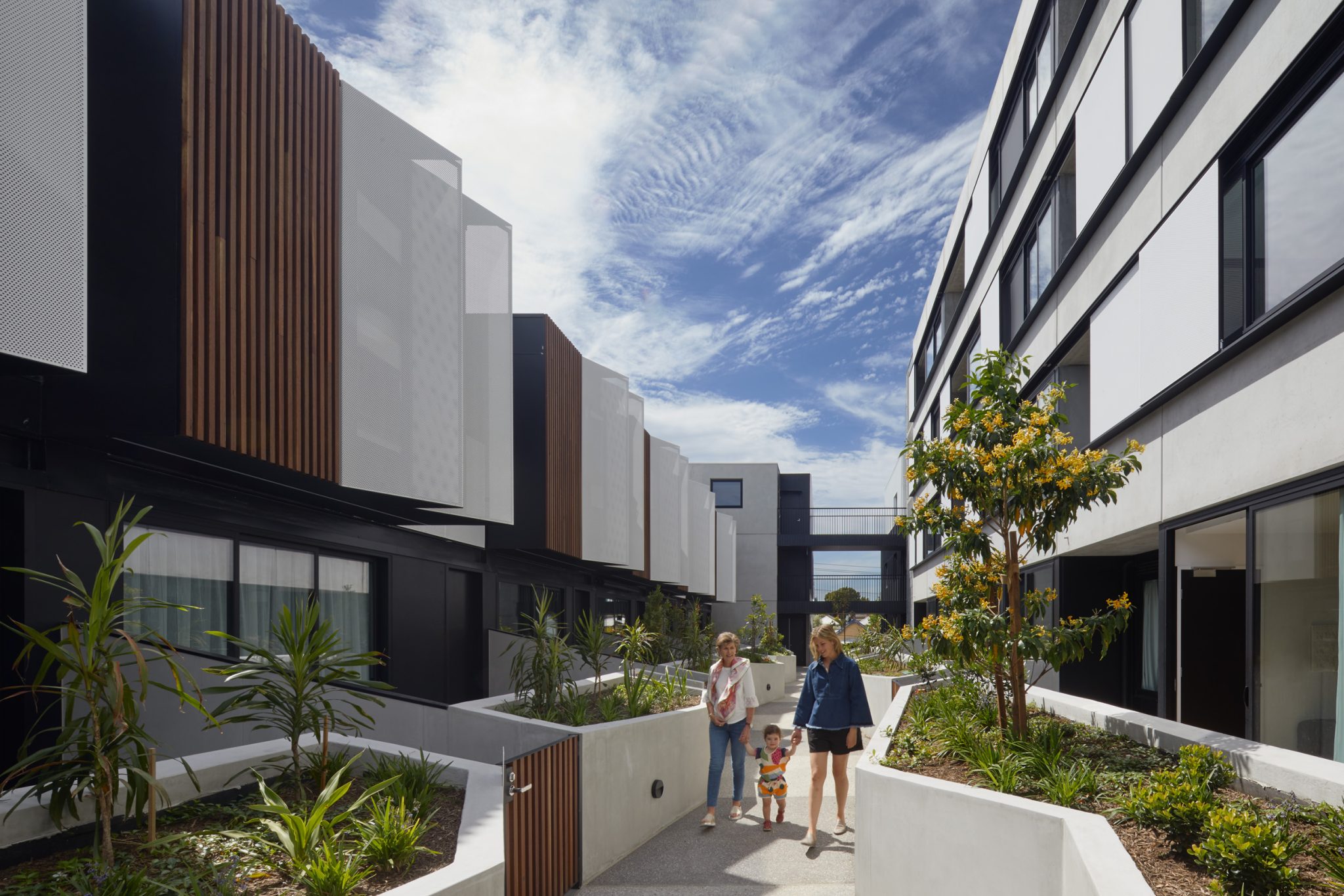 What were the biggest surprises that came out of the community-led design process?
I'm not sure it was a surprise but people were really well informed about apartment buildings and design, so it was nice to hear a lot of questions about ESD, for example. It was great to talk to people about their apartment plans and the different orientations and what the daylighting would be like, for example. Everyone had a wide variety of ideas about their perfect design and layout. It can be daunting to purchase off the plan so it was really helpful to talk with apartment buyers, which I hadn't had the opportunity to do on previous multi-residential projects.
Was there anything in the final design that you didn't expect?
There have been some lovely design elements that went into the project but we didn't really know how significantly they would be used by the residents until they moved in. One of these is the communal room. It was planned to be a multi-purpose space and it has big tables that can fold away, and stackable chairs, so you can clear it out for a yoga class, or you can set it up for dinner parties. So far it's been used for a book clubs, yoga, pilates, art classes, writing groups, pot luck dinners and kids' welcome parties, giving families in the development the chance to meet. You never really know whether those spaces are going to be successful – it depends on the community to customise these spaces and make those events happen. Also, downstairs we have a communal workshop with communal washers and dryers, and an area where you can repair your bike or work on other messy or dirty projects. It's open and visible to the street and it's lovely when you walk home to see people doing that, to just wave and say hello. Everyone is going about their daily lives but having small moments when you connect with people who you live with is really nice.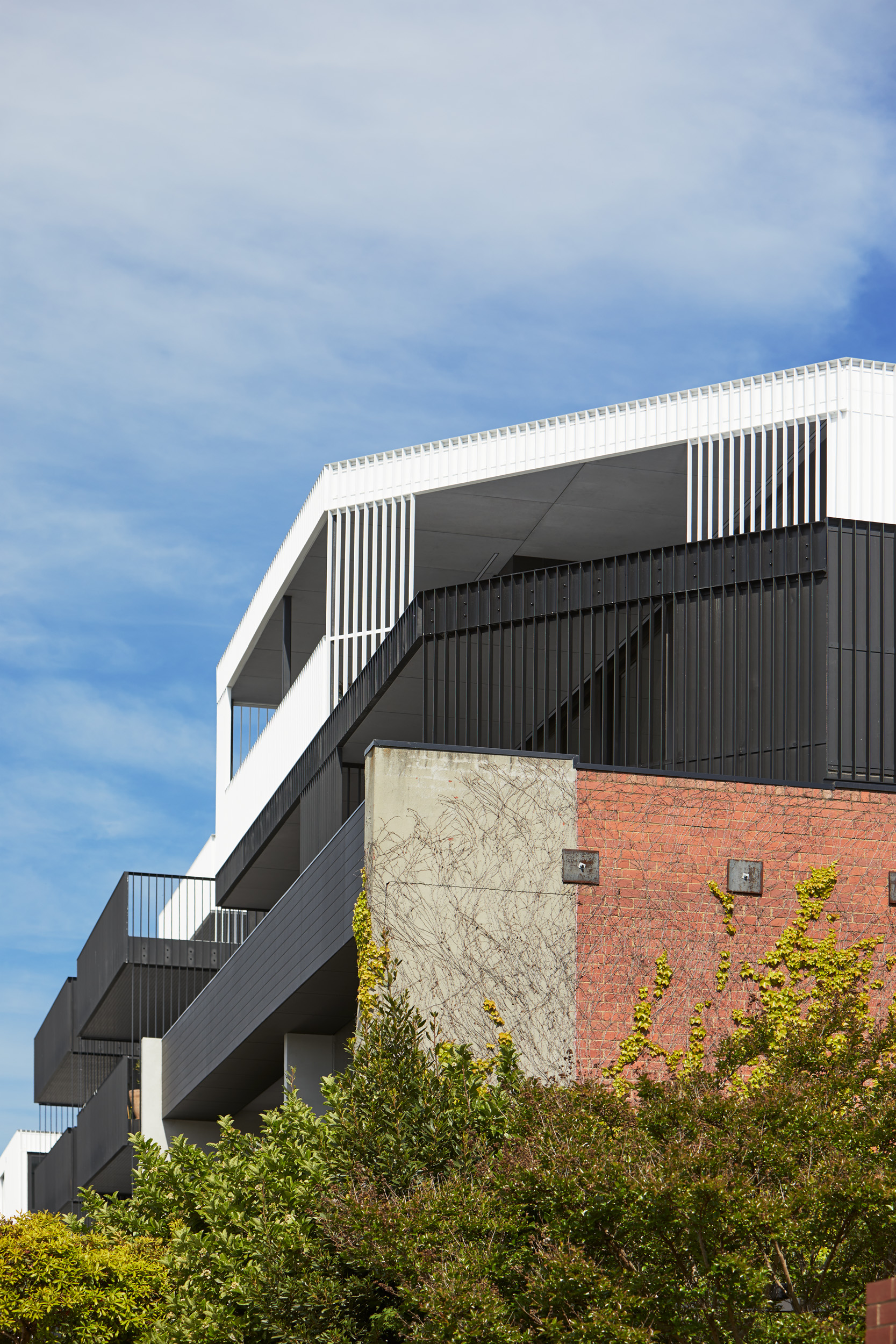 Turning to you personally, what were your motivations for buying into the development? What made you want to live there and what's it like to live there now?
My partner and I bought a one-bedroom apartment with a study. For us, it was a combination of things. I was attending all the design presentations and answering a lot of questions and working on the project. At that stage, our office was onsite at Roseneath St. in the existing brutalist warehouse there, so I already had this connection of going every day to Clifton Hill. I fell in love with the area and I knew that it was going to be a really special development and I wanted to be a part of the community. It's been really great– we've settled in pretty quickly.
What are some of the key design features of your apartment? Was there anything particularly important to you that you wanted to incorporate?
I mentioned previously that purchasers were given the option of a large, flexible sliding door – that was one of the upgrades that we chose and it has been wonderful in opening up the space. It's just my partner and me, so most of the time we open the bedroom up to see the full length of the balcony in front of the living area; it invites a lot of light into the space and we can see all the greenery on the deck, which gradually filling with pot plants. I think our balcony is where we spend most of our time since moving in – even as it starts to get cooler we are hanging out there in the sun, which has been great. Also, the kitchen has been really wonderful to cook in; it's a generous size with a good depth and a very simple open-plan layout that works really well for us.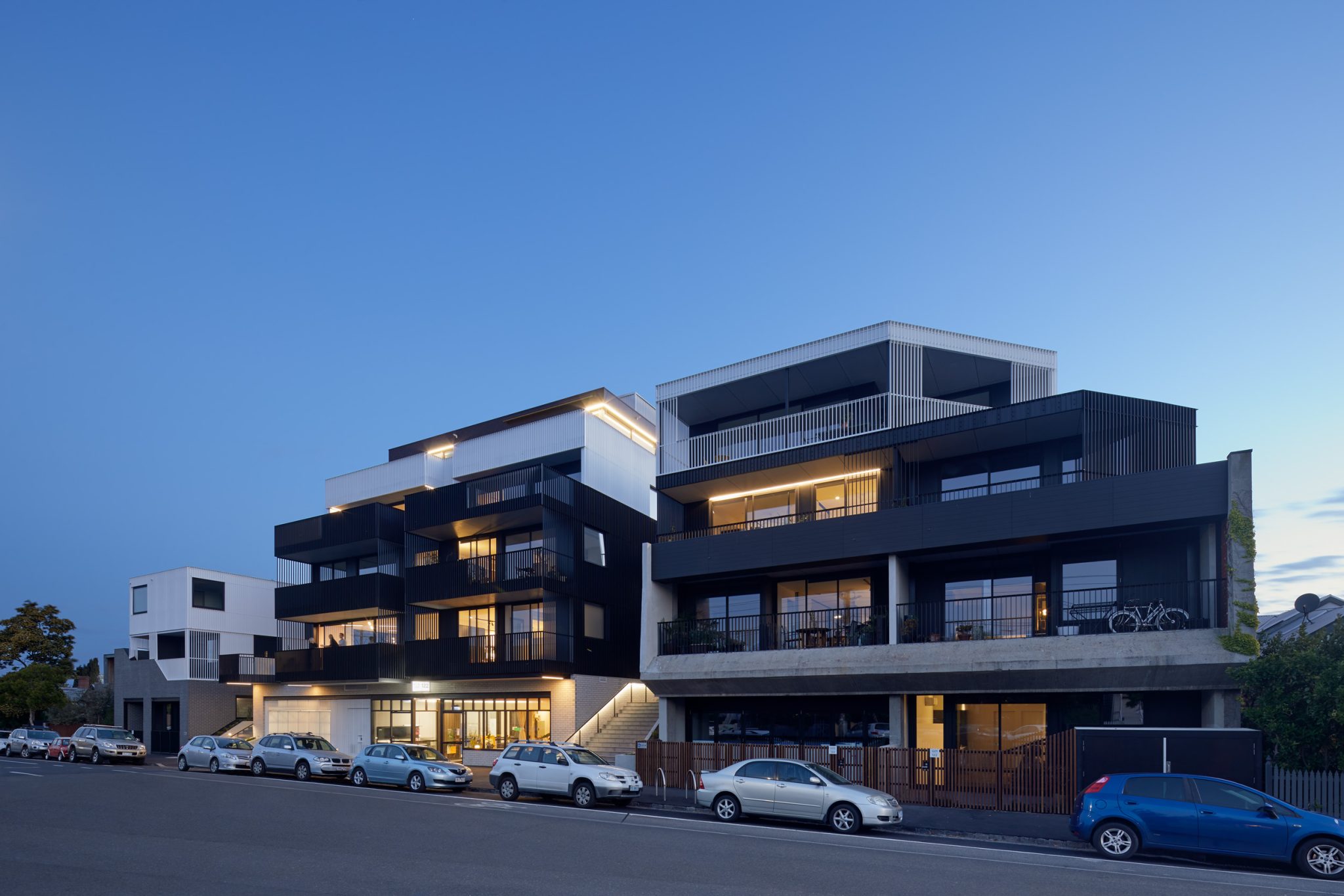 Is there anything about the apartment that has changed your lifestyle or the way you live?
We downsized from a large apartment in St Kilda East and living in a smaller apartment has been interesting for us. We went through and purged a lot of our belongings and it turns out we were probably just filling spaces we didn't need to. It's really comfortable living in a smaller space, though at 59 square metres it's quite a generous apartment. It's nice to be so central to everything, too.
Downsizing has been really positive – I don't think our lifestyle has been compromised in any way by having less floor space. Being able to live close to the city and to the Yarra, it becomes an extension of your living space. We'll now go for a walk down to the end of the street to the Yarra or connect to the bike trail and leave the car at home because you get that amenity when you get to live a little bit closer. Living in developments that have warm finishes, is robust and is going to last you a long time shouldn't be a luxury.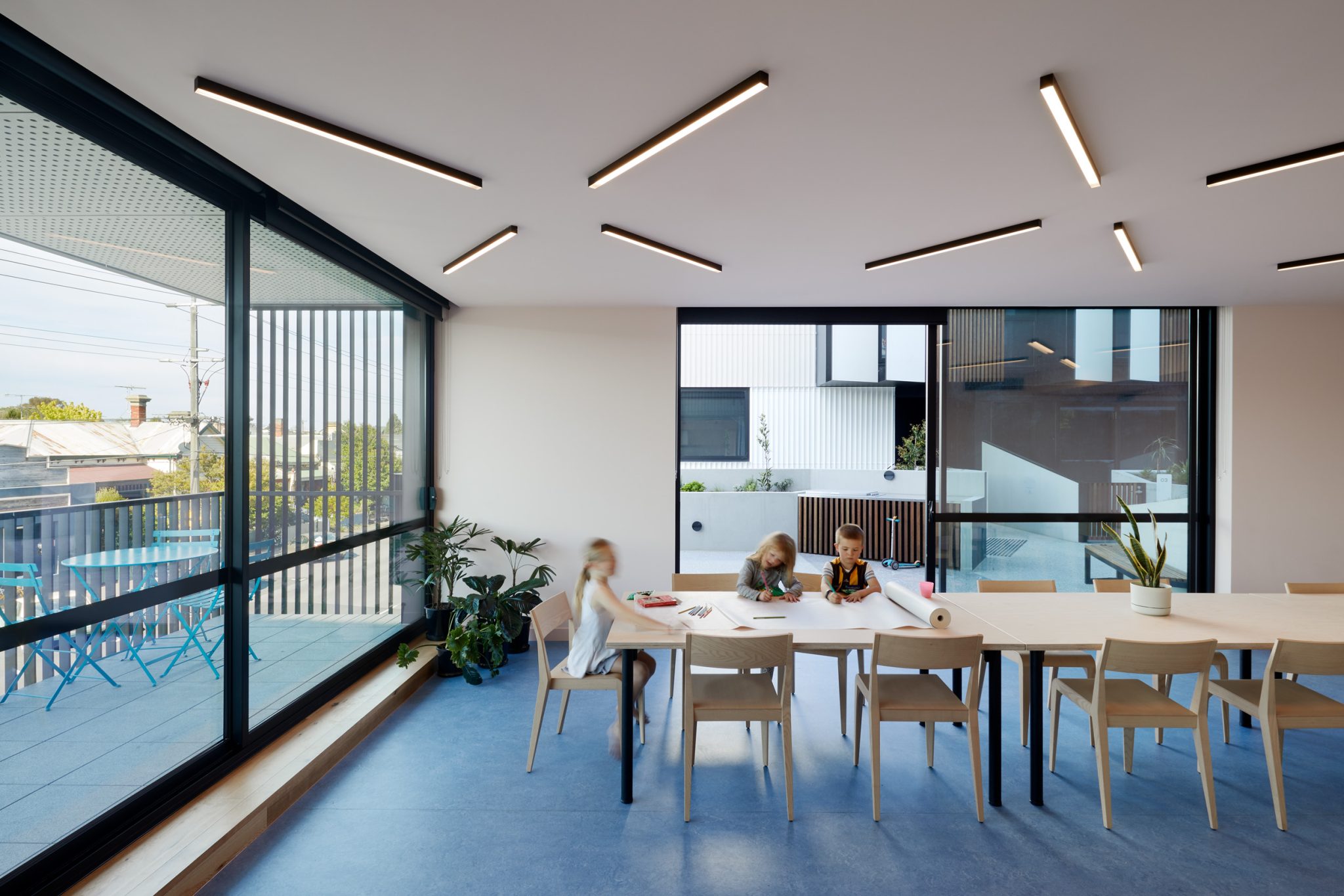 Are there any key learnings that you'll take away, both as an architect and a purchaser?
Where you live forms a big part of your life and probably affects you in ways that you're not always aware of. For any home, having abundant natural light and good ventilation, and a layout that works for you, are really great structural elements of a home that contribute to comfortable living. Outside of your own home, having that connection to others, for instance a friendly atmosphere and an interaction with the community, is an important component of architecture to seek out. Architecture creates spaces and invite different connections, it shapes the way that you move through buildings and interact with people.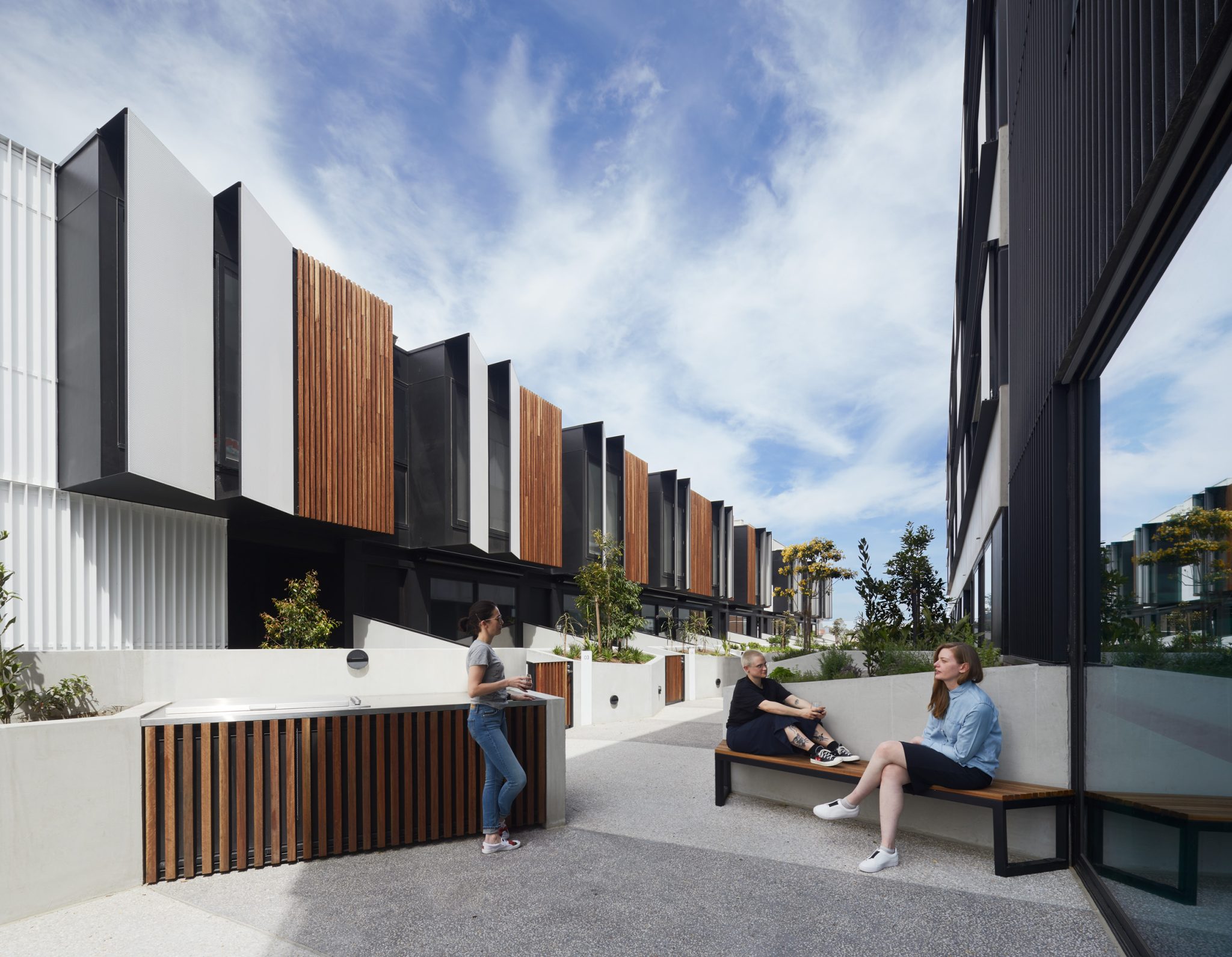 Are you seeing more community-led development in your industry?
Generally, as an industry, there is a new focus on delivering quality. There's a bit of a move away from offering superficial choices between two or three different colour schemes. Providing more information about the bones of a good apartment building can be just as important as being able to make colour choices – informing people of good design principles, sustainability principles, what features are going to make a difference, whether it be crossway ventilation, ceiling fans, certain types of flooring or kitchen finishes. I feel there's a shift towards educating people about why you've made the choices that you have rather than just putting out two or three options for people to choose from.
Images by Tatjana Plitt