The pandemic has accelerated workplace trends like never before and, as a result, created unique opportunities in how we design the environment in which we collaborate, study, and evolve. Herman Miller is ready to navigate this with insights, products and services designed to help architects and interior designers adapt with the changing workplace environment.
Aligning the needs of people to the potential of desirable and productive workspaces has always been a cornerstone of the furniture company's design perspective. This is addressed through Herman Miller's highly configurable workstation Byne System, along with Ratio and Atlas Office Landscape.
And with the future of the workplace still very much a moving target, ADR speaks with MillerKnoll market manager Liam Nicholls to explore how Herman Miller's flexible workstations support the ever-changing ways in which we work.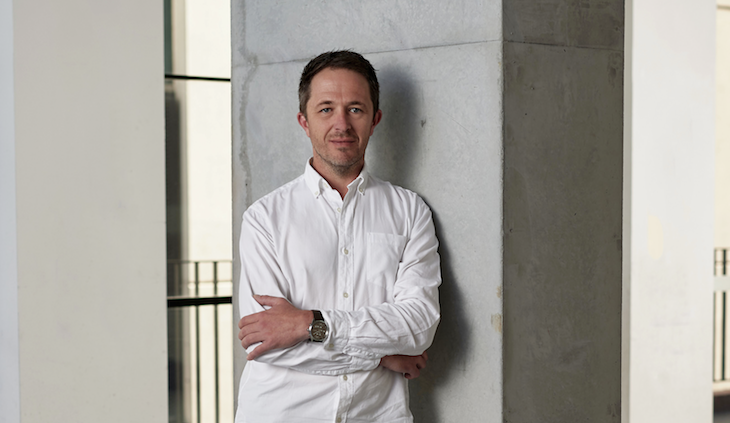 ADR: To begin with, can you share how the all-in-one office Byne System came about?
Liam Nicholls: Herman Miller has a very long history of providing systems furniture for workplaces, from as far back as the 1960s with our Action Office system.
And what's happened is, over the years, these systems have evolved to reflect different and changing customer needs, from things like cable management and cable access to different screening needs. Herman Miller recognised that people really do want choice and have differing needs in workplaces.
Byne is an amalgamation of all our tried and tested systems. It's taken all the best elements from those and created this holistic solution.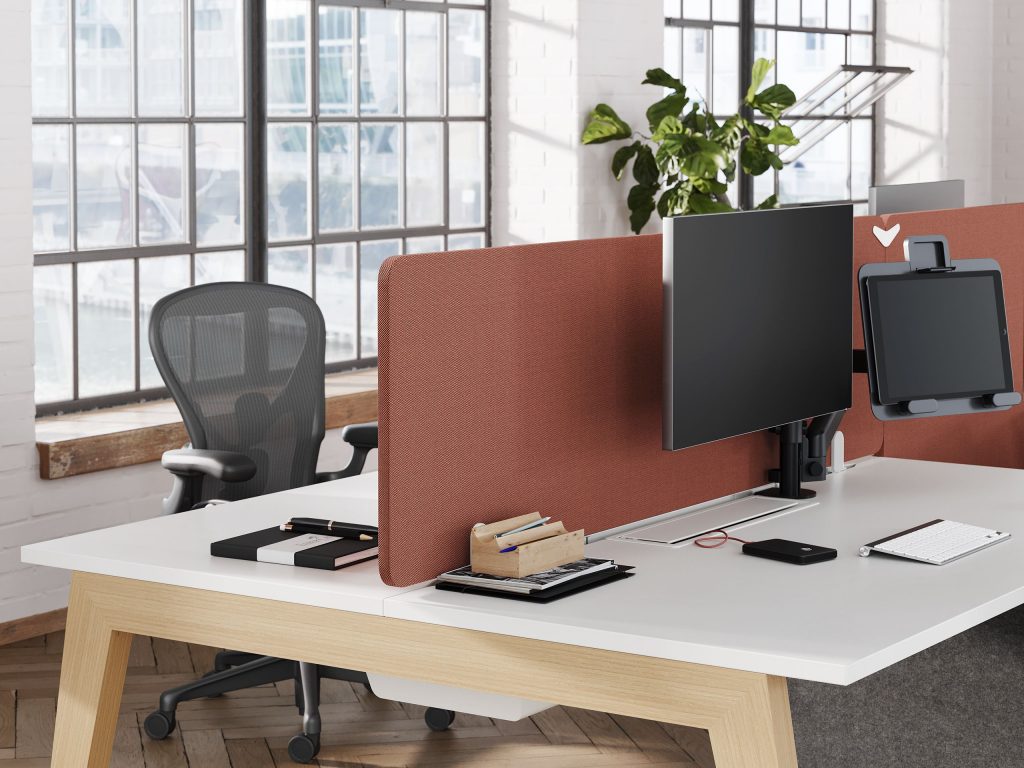 How does the Byne System help designers and architects when specifying workstations?
Whatever the client needs are, designers and architects only need to learn one system!
Byne offers a simplified and consistent understructure. It allows our architects and designers to really choose and fine-tune what they're specifying to meet the needs of their clients.
The fact that it is a simplistic system means that it's smooth and quick to install, which is great from a cost perspective. But then, in addition to the five different aesthetic leg profiles that it offers, it also provides any combination of cable access options and accessories, from planter boxes to different screen types, to monitor arm mounts.
Many companies are looking into investing in premium workstations that offer ergonomic and versatile options. Why is this so important in the post-pandemic workplace?
Much of the talk about the post-pandemic workplace is around providing collaborative and socialisation spaces.
I think progressive companies are realising that the physical environment is a key driver to getting people back into the office. Investing in more premium products reflects the value that these companies place on their employees. In addition, they are also recognising the need to provide an environment that's superior to their home environment.
It's really important to be able to meet changing needs and/or reuse components of workstations as needs evolve, particularly when you've got products that have a very long lifespan. All of our products have an all-inclusive 12-year warranty. Not locking users into a particular configuration is a really important element of Herman Miller's offering.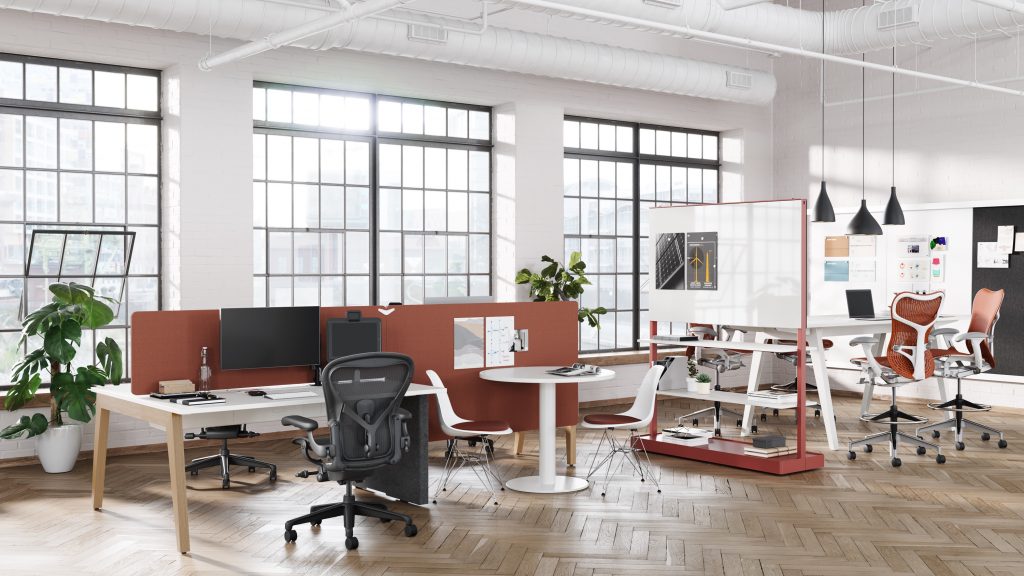 Herman Miller is all about providing flexible user options, such as the Ratio workstation, which is height-adjustable. What can Ratio offer that a fixed height product can't?
In simple terms, it's choice and ergonomics. We refer to Ratio and Atlas as height-adjustable, and not sit-to-stand, and that's a really important distinction.
Height-adjustable desks are more conducive to collaboration, even from things like being able to have impromptu meetings at the same level.
Giving people a choice of whether they'd like to sit or stand to work provides the most healthy outcome, because we're not made to sit in a fixed position all day. Our bodies just aren't built for that!
Another ergonomic feature that is undervalued is the seated height of the desk. We're all different shapes and sizes, and having a fixed height desk at 720 millimetres isn't going to suit everyone.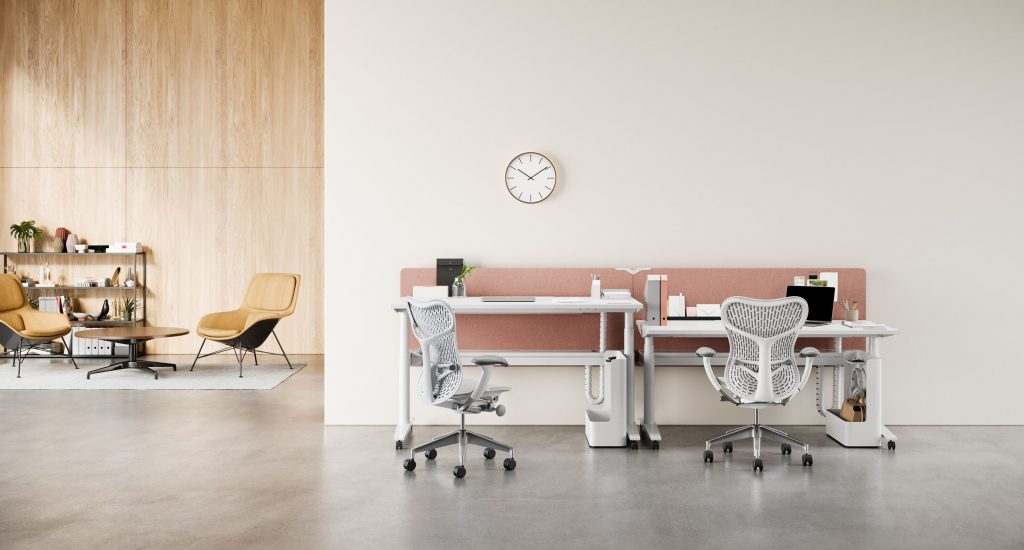 Speaking of configurable user options, the Atlas workstation by Herman Miller is an adaptable and distributed system that allows for dynamic work. Can you share its design process?
Herman Miller engaged a designer by the name of Tim Wallace to design Atlas. For him, the problem wasn't creating a single sit-to-stand desk, because there are lots of examples of these, but what he wanted to do was solve the challenge of when the single desk needs to be multiplied and arranged into a space, and then be rearranged to meet changing needs.
He incorporated organic shapes into all aspects of the design, with rounded corners, beautifully cast feet and leg blocks, and curved screens designed to draw users into them and keep them approachable.
The other key benefit of Atlas, and Ratio as well, is that they're systems that are designed to be reconfigured. When we talk about banks of workstations, most systems are either designed to be banks of joined workstations or single desks, not both.
What Atlas and Ratio are designed to do is to change between those two configurations. That means if you do have a need to meet changing workplace needs, you don't need to throw everything out and start again. If we can avoid having everything end up in landfill whenever needs change, that's obviously the best outcome!
With this sustainable ethos in mind, Herman Miller's Australian Localisation program kicked off last year in August, with the aim of minimising Herman Miller's carbon footprint by investing in Australian manufacturing. Can you explain how this initiative promotes Herman Miller's commitment to sustainability?
Purely and simply, reducing the carbon footprint means that we can have one shipment for multiple orders rather than individual shipments. The fact that we're also producing parts locally means that we are reducing our global carbon footprint and supporting the local Australian manufacturing industry at the same time.
Elements of the Ratio workstation are produced locally in Australia. Logistically speaking, how does this create a faster response time for local companies?
There are two groups of customers that benefit from this program. First, it's those who need products quickly, which we can support by sending products from interstate or within the same state.
The second group are those who have a short-term day two requirement. We're seeing quite a lot of this at the moment, where people complete a fitout, and then, even before it's finished, they realise that their needs have evolved and they need additional desks. As a result, not having to wait an extended period for products to arrive is a useful service that the Australian Localisation program offers.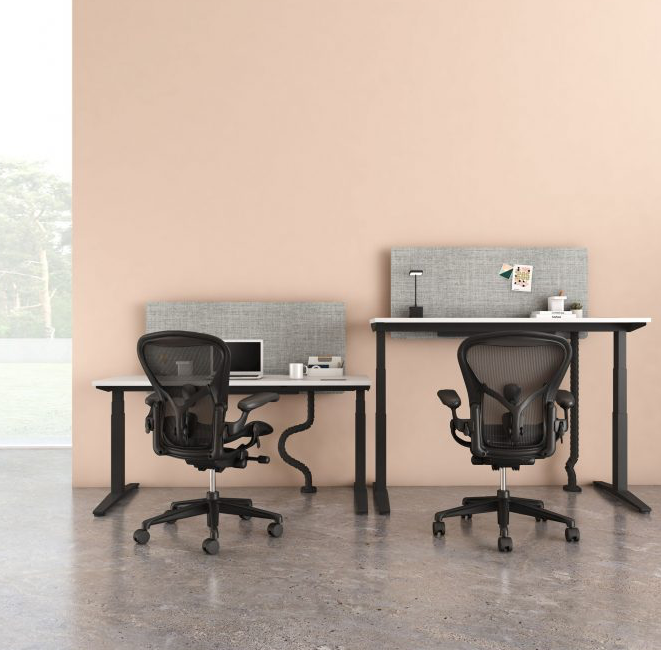 Photography courtesy of Herman Miller.
Want to discover more about Byne System and how it can facilitate change in your workplace? Explore Herman Miller's website to see how Byne System responds to your current and future needs with its customisable design.