Accessibility and ease-of-mobility remain key focus points in the design and construction of today's health and aged care facilities where it is imperative that patients' physical and sensory constraints are factored in throughout the design and construction process.
The onus is therefore borne by architects to not only meet mandated Building Code and strict Department of Health regulations, but to provision for the capacities of all residents: removing access impediments (e.g. stairs and step-down), limiting potential 'trip and slip' hazards (e.g. slippery floor surfaces), and providing suitable mobility aids.
Linear designs conform to the strict accessibility requirements of AS1428 (Access and Mobility) while ensuring superior water conveyance and egression.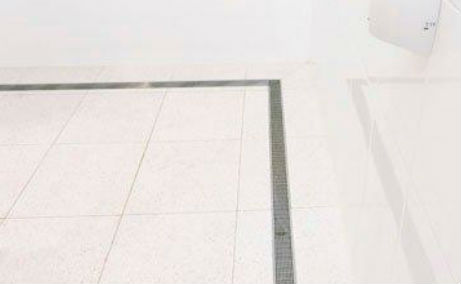 As Australia's leading drainage manufacturer and supplier, Stormtech is committed to delivering expert drainage solutions for most exacting specifications.
As a creator and proud pioneer of the linear drainage system, Stormtech is recognised globally as an industry leader in the design and manufacture of this ingenious and highly practical drainage solution. Stormtech's vinyl clamp (providing a screw down flange to mechanically clamp the vinyl beneath), offers seamless integration into vinyl floor surfaces commonly found in care settings.