The Brisbane-based sculptor was recently shortlisted as a finalist in the inaugural MAKE Award: Biennial Prize for Innovation in Australian Craft and Design and aims to find a balance in design between refinement and throwing "everything in but the kitchen sink."
Early in her career as a maker, someone bestowed upon Sherrie Knipe the term of endearment 'boundary rider'. It's an identification she still holds close to her heart and remembers with each new project she embarks on.
"I still push and test design boundaries – I just throw every little detail at the viewer in a massive amount!" she laughs.
Now a well-respected maker and educator with a practice specialising in woodwork, printmaking and bronze-casting, Knipe's work has been displayed in Queensland Art Gallery, Gold Coast Home of the Arts and the Tweed River Gallery.
MAKE Award
Knipe's work Recliner is one of 30 finalist projects shortlisted in the MAKE Awards, an initiative launched by the Australian Design Centre that recognises innovation in contemporary Australian craft and design.
A total of 187 entries were received from designers and makers across ceramics, glass, furniture and woodwork, metalwork, textiles and fibre, and contemporary jewellery.
With the winner announcement date – 28 September – fast approaching, Knipe is honoured to have been shortlisted for her work Recliner, and for the opportunity MAKE creates to showcase a changing design practice.
"There are so many ways to participate in design at the moment. There are people out there just having a go, enjoying themselves and inspiring other people," says Knipe.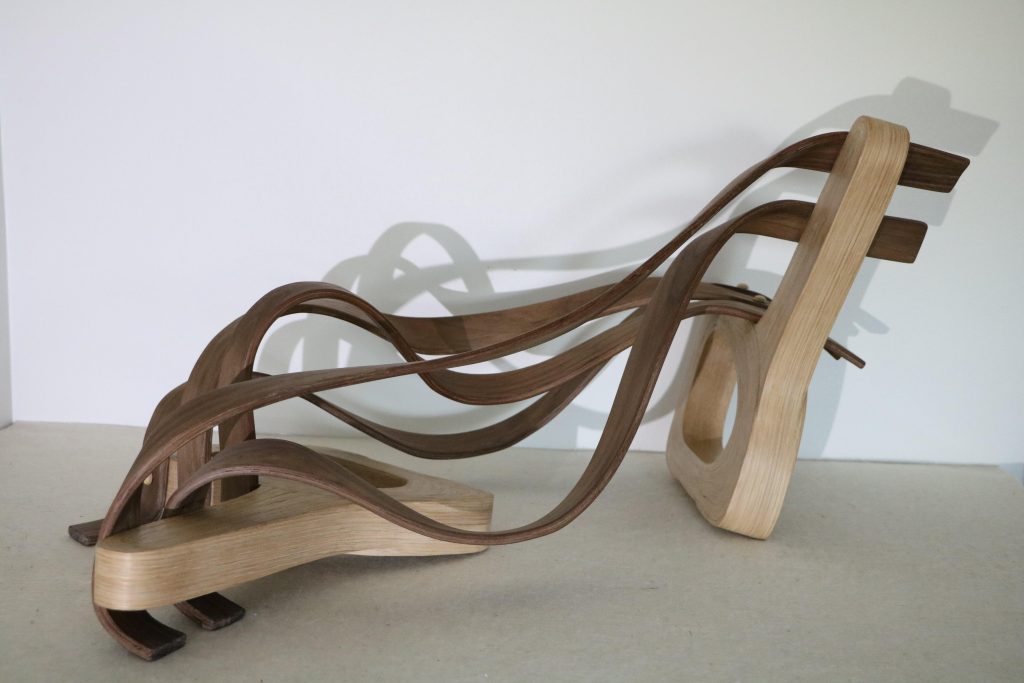 Boundary rider
An unconventional and non-linear creative journey is a trope all-too-familiar to those in the design world and one that Knipe can attest to.
She first encountered woodworking and sculpture when she moved from Queensland to study a Master of Fine Art in sculpture at Monash University, Melbourne.
Throughout her master's, Knipe realised she was instead intrigued by sculpture and woodwork for its durability and longevity.
Pushing boundaries
Her initial experimentation with wood-working saw her dismantle old wooden tea chests and use the off-cuts to make sculptures with a small hand jigsaw gifted to her by a relative. But Knipe's skills were finessed when she applied for an Arts Queensland grant back in her home state and was paired with the late master wood craftsman Robert Dunlop.
"He really gave me my foundations – he taught me how to make a mould, select wood. For a man of his seniority, he was incredibly flexible. He used to say to me, 'Sherrie, I just want you to tell me what you want to make,'" remembers Knipe.
From working with Dunlop in his workshop and the upskilling as owed to her Arts Queensland grant, Knipe continued to push boundaries despite not having a carpentry or even cabinet-making background.
"I still have the skills that Robert gave me, [which] I've just kept on building on from there," says Knipe.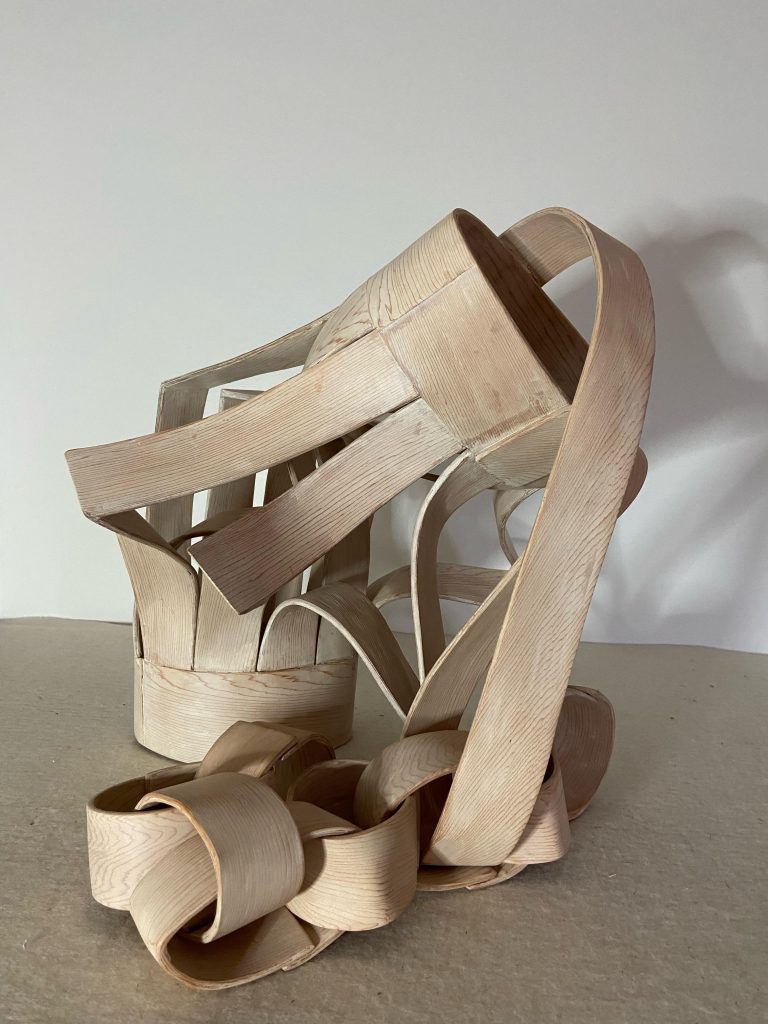 From the generous and abundant to the refined
A few years ago, a combination of factors in Knipe's life, which included clocking over 30 years in woodwork and her mother being diagnosed with a terminal illness, inspired a simplification of her work.
It was a change-up from the usual abundance and generosity of Knipe's work – "throwing everything but the kitchen sink in", as she says.
"It's amazing how the important things in life get boiled down when someone close to you is served the information of being diagnosed with a terminal illness. So I stripped back and reassessed a lot of things, and my practice was one of them," she says.
A stripping back in both the concept and product of her work coincided with a pursuit of elegance and refinement. Knipe believes there is power in craft that is seemingly simple, yet actually possesses richness and depth.
This stripping back process also saw Knipe consider how she could make her work more sustainable, which resulted in her sourcing the off-cuts from a veneer supplier on the Gold Coast.
"Veneer is one of the most economical and sustainable materials practitioners of art and craft can use," she says.
Allowing space to dominate
Knipe is passionate about design that encourages viewers to hypothesise the maker's purposes and intentions.
She cites the revered modernist sculptor Barbara Hepworth as inspiration. Hepworth pioneered how to effectively optimise the use of space and holes in objects as a communication tool.
Knipe builds on this theory and perceives holes in her projects as representing positive and negative space.
"I'm conscious of letting the viewer work harder by not filling the blanks in – what I'm leaving out is as critical as what is filled in," she explains.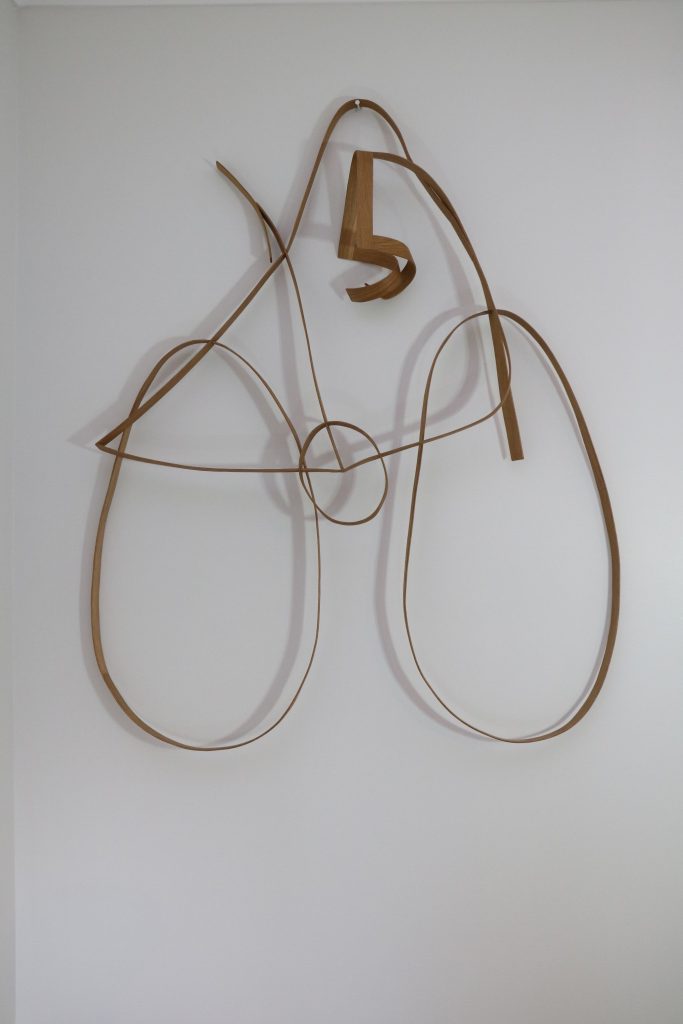 Recliner
Knipe's submission to the MAKE awards is Recliner, a sculpture manufactured from recycled veneers and inspired by a bench from her childhood on the Gold Coast.
Recliner demonstrates Knipe's interest in the deterioration of everyday objects, alongside her complex and unique creative processes.
"I am fascinated by the idea of things becoming simplified over the passing of time and watching such things decline," she says.
Knipe describes being drawn to park benches outside a Presbyterian church near her house.
"The benches were slowly but surely toppling down and I'd drive by every other day thinking, 'I must take a photo of that,' and then one day I drove past and they were gone," she says.
Knipe reflects on how she had a niggling compulsion to craft something from watching these park benches decline in her memory.
Extravagance in decline
She followed her scent and walked around the grounds of the church in hope of finding the benches, and discovered them collapsed and rotting – however, even in this state, the benches exuded an air of extravagance to Knipe.
After recording measurements and snapping photos, Knipe embarked on a Brisbane-wide journey to locate benches in a similar state of disintegration, and Recliner was born.
Knipe reconstructed the bench with cardboard before moving to veneer, which is a process she is very accustomed to. She generally drafts a sculpture with soft paper or cardboard and allows this material to inform how she approaches the end-product.
"I set the cardboard up, knocked it over and kicked it around, walked away for a time and then one day it suddenly looked like a figure reclining, hence, Recliner," concludes Knipe.
Social media driving participation in design
Although a newcomer to Instagram, Knipe is grateful to social media platforms as they provide a sense of community and inclusivity and expose makers and novice makers to programs such as the MAKE awards.
"As much as people criticise social media, I think the online connection is a really nice thing not just for people who are interested in making, but the buying public – it's inspirational being able to see how people work in their studios," finishes Knipe.
Photography supplied by Sherrie Knipe.
Featured Image: Sherrie Knipe with her work Comb Over, 2010.
Read about how creating is a compulsion for ceramicist Nicolette Johnson.