Above image: artist Lloyd Godman envisions a green space at Melbourne's highest rooftop. Source: domain.com.au
The world's tallest rooftop garden will sit atop Melbourne's Eureka Tower.  The garden, featuring hundreds of thousands of flowering Tillandsias, or 'air plants', will be installed on building's 92nd floor, and on the outside landings of the 297-metre building.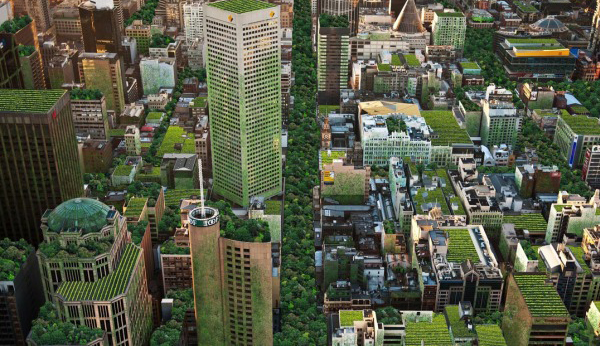 Over the past eight months, ecological artist Lloyd Godman has been experimenting with Tillandsias, to assess whether can survive atop Eureka without soil or water. Lloyd placed several plants on levels 56, 65, 91 and 92, and found that those on the highest floor grew the fastest, because they were getting the most moisture.
"Air plants in particular can go on buildings with little maintenance," said Lloyd, in an interview on green rooves. "They're particularly good for seriously high buildings as they can be installed at the development stage."
Tillandsias, which are a South American native plant, are ideal for harsh rooftop environments because they do not require a growing medium, or irrigation, to survive.  They can withstand the harshest of conditions, and endure winds of up to 200km/h.  Tillandsias are also unique because they continue grow during the night, and can absorb pollution from the city during evening peak hour.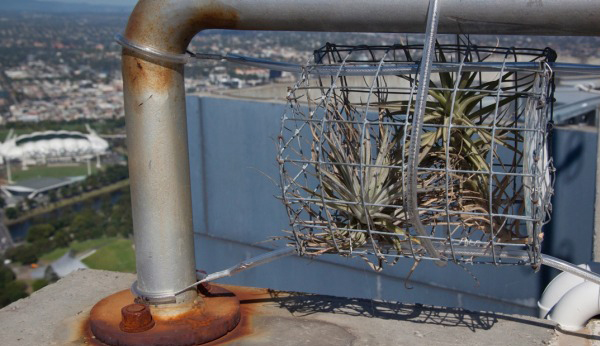 The benefits of installing rooftop gardens include reducing the effects of urban heatwaves, and providing thermal insulation. They can also prevent flooding during rain events by absorbing stormwater runoff.
Lloyd hopes that one day every building in the city centre will install a rooftop garden.  While there are only 50 buildings in the city that currently have roof gardens, Melbourne City Council is pushing for more to be installed as part of their Urban Forest Strategy (2012-2032).
The council expects that green canopy cover in Melbourne will increase from 22 to 40 per cent in twenty years, and will allow Melbourne's plant population to be diverse, robust and resilient in the face of climate change, urban densification and the impacts of urban heat island.