Images courtesy of World Class Land.
The southern hemisphere's tallest building, Australia 108, has been approved for construction and will be launched this Saturday 14th, with one family having already invested nearly $10 million for five apartments on the 88th floor of the planned building.
The design of Australia 108 was led by Nonda Katsalidis of Fender Katsalidis Architects, who drew inspiration from the Australian flag and the Commonwealth Star for the design of the building's 'stardust' exterior on the 70th floor, which will form the Cloud Residences levels of the building.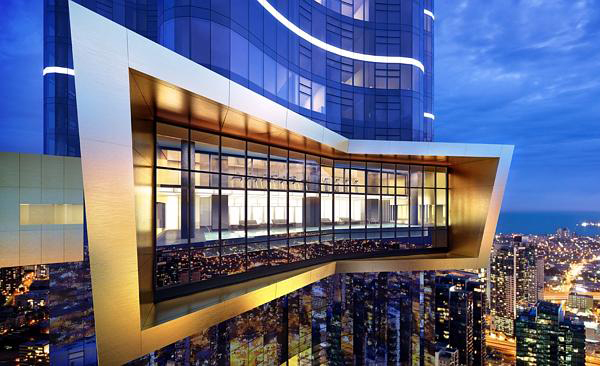 "Australia 108 is a highly sculptural residential tower unlike any other in Australia," says Katsalidis. "The starburst is inspired by the Commonwealth Star on the Australian flag and is an obvious celebration of the sense of community within the building."
The starburst design is sure to create a visual link between the new building and the Eureka Tower, which it will replace as Melbourne's tallest building at 319 metres high. Also designed by Katsalidis, the Eureka Tower's gold facade at its top, as well as its slender rise, are clear inspirations in the design of Australia 108.
This week's grand opening of Australia 108 follows a number of hurdles the project has had to overcome, including a reduction of its initial height of 108 levels to 100 due to air safety regulations, as well as public objection to the building's possible overshadowing of Melbourne's Shrine of Remembrance.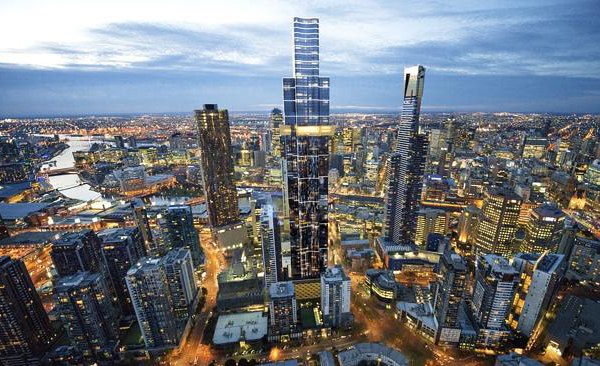 The building will have 1105 apartments, with the most expensive, a 797.4sqm penthouse, set to reach a $20-25 million price tag.
More affordable residences from the 14th to 68th floor will range from $450,000 to $950,000, with all residences coming with timber floors, Miele appliances and ducted air-conditioning as standard.
Construction will start midyear by Singaporean developer, World Class Land.