Location: Fuzhou, China
Architect: OPEN Architecture
Review: Clare Jacobson
Photography: OPEN Architecture
In southern China, in the coastal Changle District of Fuzhou, the Starship Enterprise faces off against traditional tulou – 'earthen structures' of communal housing. It might seem too fantastical to be real. But then again, it might seem perfectly appropriate for the new headquarters of NetDragon Websoft, a company that develops 'massively multiplayer online games' (MMOG).
The Enterprise, the vision of company founder and executive director, Liu Dejian, encloses office space. Across a moat, three dormitories for NetDragon's employees are the work of Beijing-based OPEN Architecture. In an anachronistic twist, the futuristic spaceship might represent China's past, when form dominated contemporary architecture, while the tulou-inspired housing might suggest China's future – one concerned about the social ramifications of design.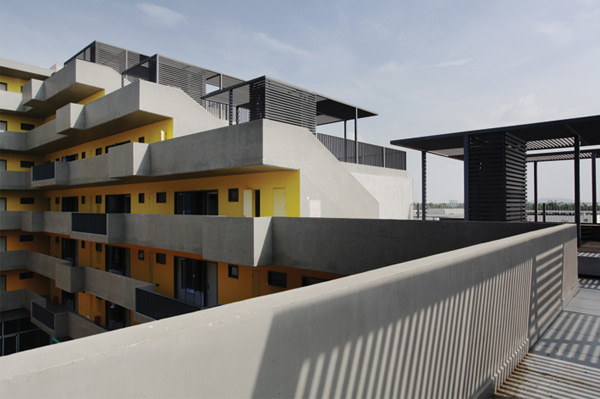 The offices and housing are some of the first buildings to be completed at the NetDragon campus, located forty-eight kilometres east of downtown Fuzhou. The beachfront area had been vacant, save for a military installation. Its sandy soil made it poor for agriculture and its proximity to an airport prohibited the construction of tall buildings. But the property offered possibility for an office park. Liu admits that campuses in California's Silicon Valley were an influence while developing his utopian enclave. His complex contains – in addition to the glass-clad interpretation of the Enterprise – the kind of playful, workerfriendly amenities that Googleplex is known for, such as sports facilities, an IMAX theatre and pyramid-shaped craft studios. Employees can leave their office via a spiralling tubular slide.
OPEN Architecture's 35,887sqm housing, which is partially completed as of press time, is subdued by comparison. The restraint is due in part to budget – no IMAX theatre on this side of the moat. But this does not mean that the buildings are standard-issue Chinese dormitories. 'Our approach is always to try to be creative,' Liu explains. He hired OPEN, a firm the co-founders of which have creative pedigrees: Li Hu is a former partner at Steven Holl Architects, as well as director of Columbia University's Studio-X Beijing; and Huang Wenjing was a senior designer and associate at New York-based practice, Pei Cobb Freed and Partners.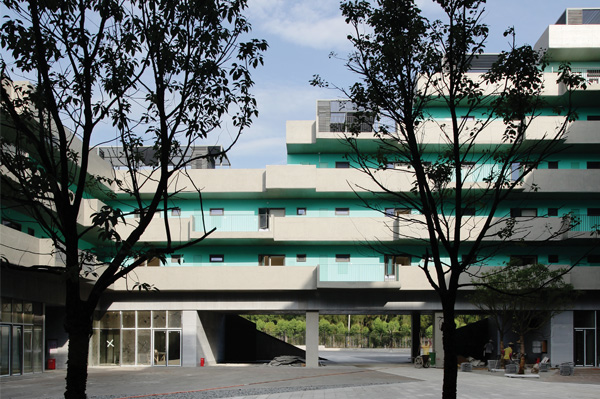 Li says he was glad for the opportunity, which offered more flexibility than most Chinese housing. As the project is dormitories, not for-sale apartments, it is not held to the same strict guidelines that make so many residential designs in China look the same. Li credits Liu for being receptive to OPEN's atypical tulou proposal. The tulou wraps residential units around a central courtyard. Architecture fans may be familiar with the type from Urbanus' 2008 Urban Tulou in Guangzhou, based on a round precedent.
OPEN follows a square model, but it seems the firm was less interested in the form than in its social implications. 'I grew up in social housing,' says Li. The quality of that housing was not good, but the community it developed was. 'I wanted to bring that back in a higher standard.' The design could help MMOG employees share the same interaction in their real lives that their avatars share online. Each courtyard is an open public space and most of the 453 dormitory units have shared living rooms and kitchens. Many of the blocks' corners – the premium spaces of square buildings – are given to public rooms or outdoor terraces. These terraces are the results of slices into each housing cube. Each building receives a different cut to create the variety of steps in OPEN's 'stepped courtyards'.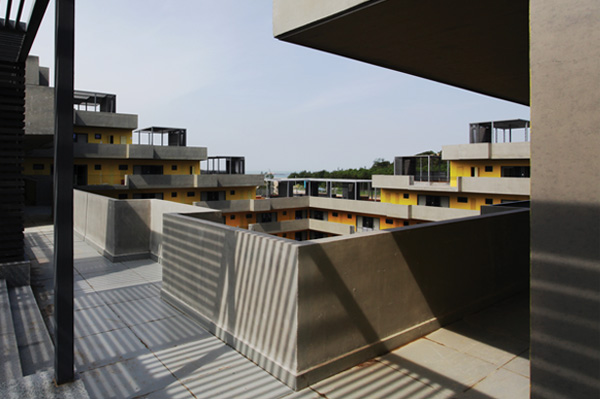 Terraces are antithetical to traditional tulou, which were built as defensive structures with thick, impenetrable walls. Here the terraces open up the interior and exterior walls of the blocks. The squares are also unsealed at their bases. They stand on four-metre pilotis, which provide access through and between buildings. These are not completely porous bases – OPEN closed in sections of the periphery to fend off harsh winter winds. At some points, enclosed shops and restaurants make these breaks. At others, irregular mounds covered in black granite rise up, as if the land was forcing its way into the buildings, says Li. These mounds will hold a bicycle room, a laundry room and other ancillary services.
The housing units are painted in three colours – blue, yellow and green – echoing the colours of sky, sun and trees. (The architects had chosen a more earthy green, but Liu painted this over with his preferred Tiffany blue.) Three shades of each colour bring variety to the repetition, with complementary colours painted on exterior and interior walls. OPEN further enlivens the dormitories with some budget-friendly details. Circular holes punched into walls form floor numbers, custom metal screens shade simple light tubes and a rhythmic layout of balconies and column walls creates an almost musical composition.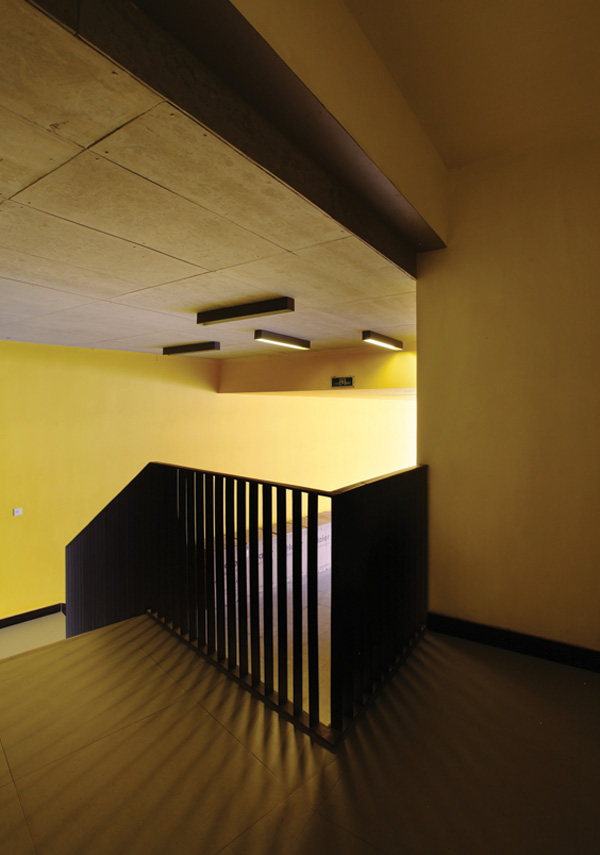 The dormitories are just now filling in; thirty units in the blue building are occupied. Residents have begun to make the housing their homes. Some have decorated their doors. Others have put plants on their balconies, which have grown onto the railings. Li is happy to see the bits of personality in the communal structure. 'When we design buildings, it's not the end,' he says. 'We design the platform – let them play. That's actually more interesting.' The starship across the water may look like the most whimsical building at the NetDragon campus, but it may well be the tulou-inspired housing where its users can really get creative.
Project Details
LOCATION: Changle, Fuzhou, Fujian / DESIGN: 2011-2013
BUILDING AREA: 38,203sqm / LAND AREA: 44,570sqm
CLIENT: Fujian TQ Online Interactive Inc.
PROGRAM: Staff dormitory, ancillary facilities
PRINCIPALS IN CHARGE: Li Hu, Huang Wenjing
PROJECT TEAM: Zhou Tingting, Laurence Chan, Wang Jianling, Qi Zhengdong, Li Qiang, Chen Chen, Yurou Cynthia Cui
LOCAL DESIGN INSTITUTE: Times Architectural Design Institute (Fujian) Co. Ltd.