In this, the penultimate issue of inside for 2017, there is much to enjoy. Indeed, the magazine doubles in size to showcase the shortlisted projects, products and practices for the Interior Design Excellence Awards (IDEA) 2017. And what a stellar group there is. With more entries than any previous year, shortlisting was difficult and, coupled with the outstanding work presented, the task was Herculean. Each year we say that, don't we? That the offerings from designers and architects are the best; however, this year, the calibre of innovative, creative and just plain beautiful work was exceptional.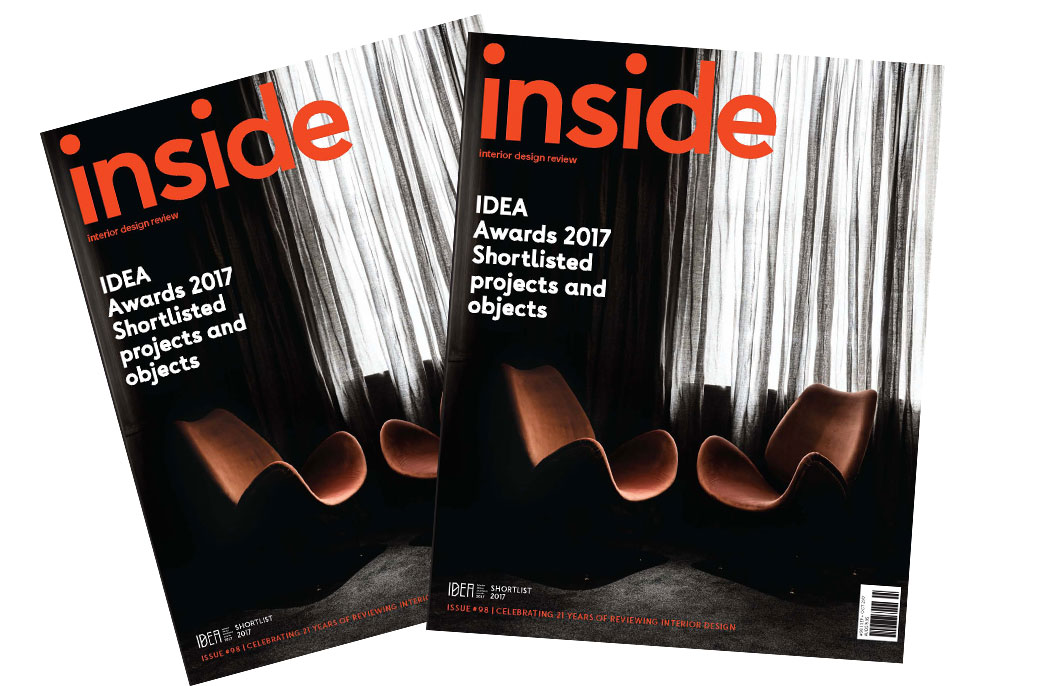 Australia is a force to be reckoned with on the world stage and proof perfect of this is the excellent design work that practices have realised over the 16 months of the competition. This year Hospitality design was particularly strong with a large offering of cafés and restaurants, and oh so many many new destinations for us all to enjoy when it next comes to a quiet drink or a meal with friends! As usual, the Residential Single category was incredibly strong – but then there really wasn't a category that was not inundated with fine work! To all who entered IDEA, thank you for sharing your creativity with us. As if the IDEA 2017 shortlist isn't enough, we have included all the news, profiles and a variety of projects to tempt your design taste buds. We profile David Flack, and Matt Gibson Architecture + Design to see what makes these two very different practices tick, and Dr. Darragh O'Brien discusses his involvement with, and the implications of, evidence-based design in Discourse. At Home, Albert Mo of Architects EAT opens his front door and invites us to wander through his beautiful modernist home.
Projects in this issue are diverse and cover the full range of design genres. We commence the section with the new-look Attica restaurant in Melbourne by IF Architecture and move to Sydney for a special viewing of SJB's sophisticated and beautiful Private Residence, then to Barangaroo and a new workplace design by Futurespace, the PwC Sydney client experience. All work and no play lead us to visit a school with a difference, Umbilico by Dunn & Hillam Architects, where circus performers of the future are limbering up and flying high. Leaving dry land for a moment we set sail on the Robert Bruce, the latest outside-the-box project from Nexus Designs and then we round off the voyage with a trip to Milan for a walk through Issey Miyake's new flagship store by Tokujin Yoshioka.
So much to read and, with winter well and truly here, take a leaf out of our book and light the fire because inside will definitely keep you company as you catch up on all the news.
One last thing before the real reading begins, don't forget to purchase your ticket to join us at the IDEA 2017 gala party in Melbourne on 24 November. The IDEA party is always a very special event and this year it will be bigger and better than ever. Help us to celebrate great design and applaud not just the winners, but every practice that has contributed. What a great IDEA! See you soon.
Jan and Gillian
Lead image, Attica by IF Architecture, shortlisted in the hospitality category at IDEA 2017. Photo by Tom Blachford.