Shaw Contract has announced the winners of its 2019 Design Awards, as the flooring expert continues to champion purposeful, authentic design.
The awards, which have now been running for 14 years, place a spotlight on a diverse range of talents from across the globe, celebrating design in action and purposefully rewarding the innovative and truly inspiring work being done by the architecture and design community.
This year, 10 jurors selected the Final Winners from over 700 submissions in over 32 countries.
Design industry experts also had the opportunity to vote for the People's Choice winner.
As part of their prize, the Final Winners and the People's Choice Winner will be invited to attend Art Basel Miami 2019.
The 2019 awards also mark the sixth year in a row that an Australian project has been selected as one of the Final Winners. In total, nine Australian projects have won since 2014.
Take a look at the winners below.
Final winners
Frankston Primary School Early Learning Centre by Chaulk Studio
Location: Frankston, Australia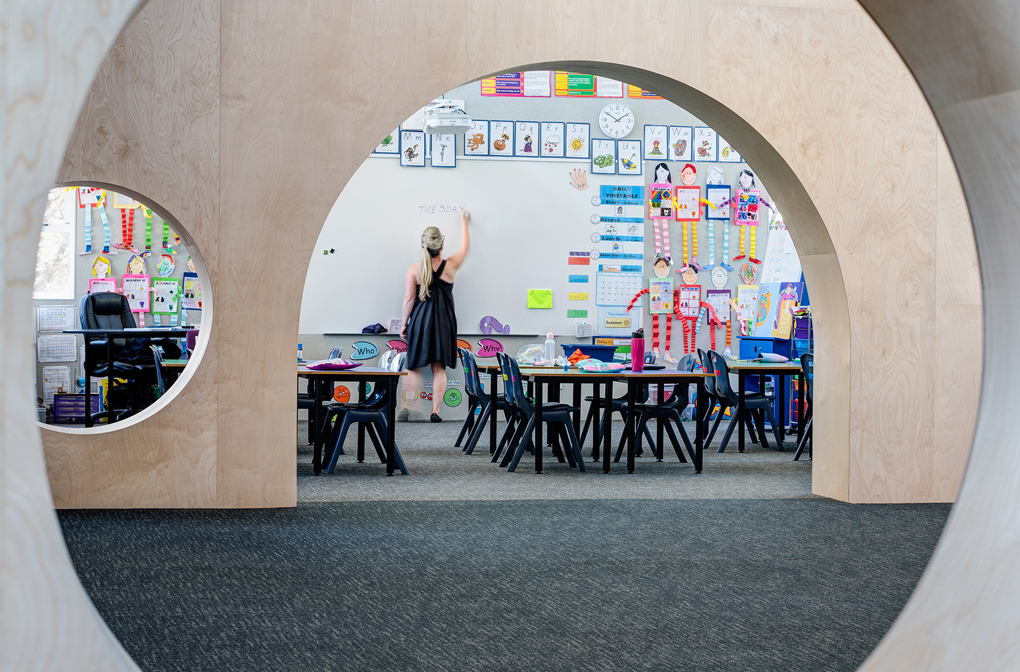 Transforming a space from a two-story Art Deco building into a 21st Century learning facility was the challenge assigned to architecture firm Chaulk Studio.
The school requested three key learning clusters be created, each with a break-out space, sink area and an assortment of smaller rooms.
Prior to the update, Frankston Primary School had a uniform design of box-shaped classrooms, no communal spaces and long, dark corridors with interior finishes of exposed brick.
Chaulk's ambition was to reclaim wasted space and design an environment that would encourage learning and raise the student's level of excitement offering them a place they wanted to be. 

The Lodge at Gulf State Park, A Hilton Hotel by Looney & Associates
Location: Gulf Shores, Alabama, USA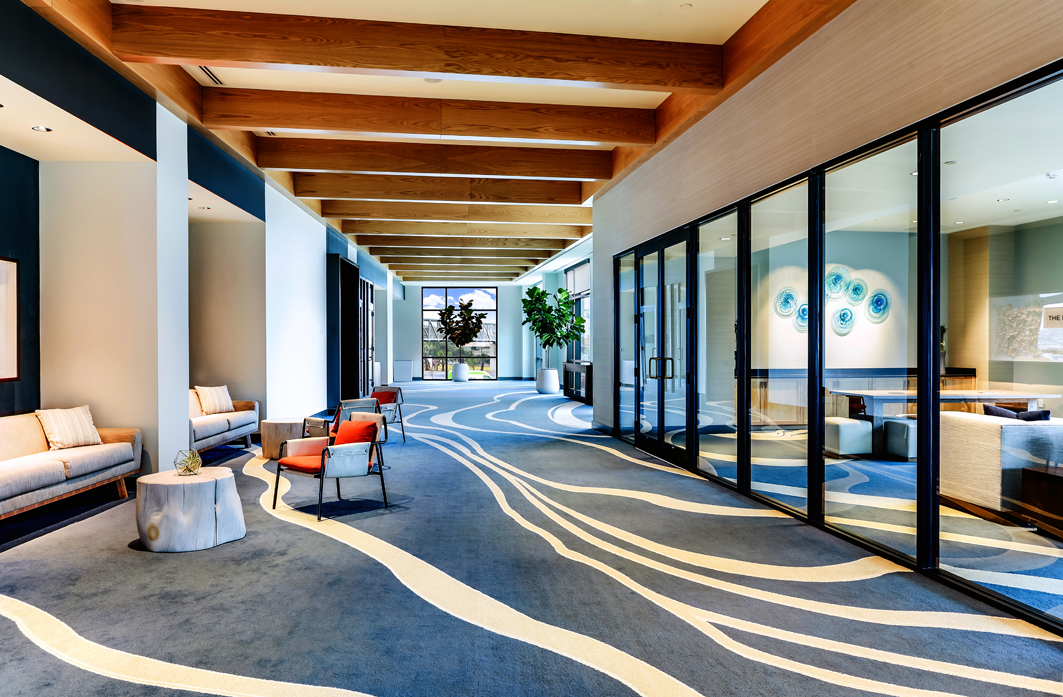 Following the devastation left in the wake of 2004's Hurricane Ivan, The Lodge at Gulf State Park was established. The loss of the property was catastrophic to the state park, economically, environmentally and socially.
Alabama is a state of natural beauty, rich history and strong people — and rebuilding the hotel speaks to the state's resilience, and its commitment to environmental protection.
Rabaun Architects, design architect Lake Flato and interior design team Looney and Associates drew inspiration from the natural surroundings of Alabama. Natural, honest, enduring materials were used throughout, including indoor/outdoor textiles, woven textures, reclaimed wood, and recycled content.

Trend Micro by M Moser Associates
Location: Singapore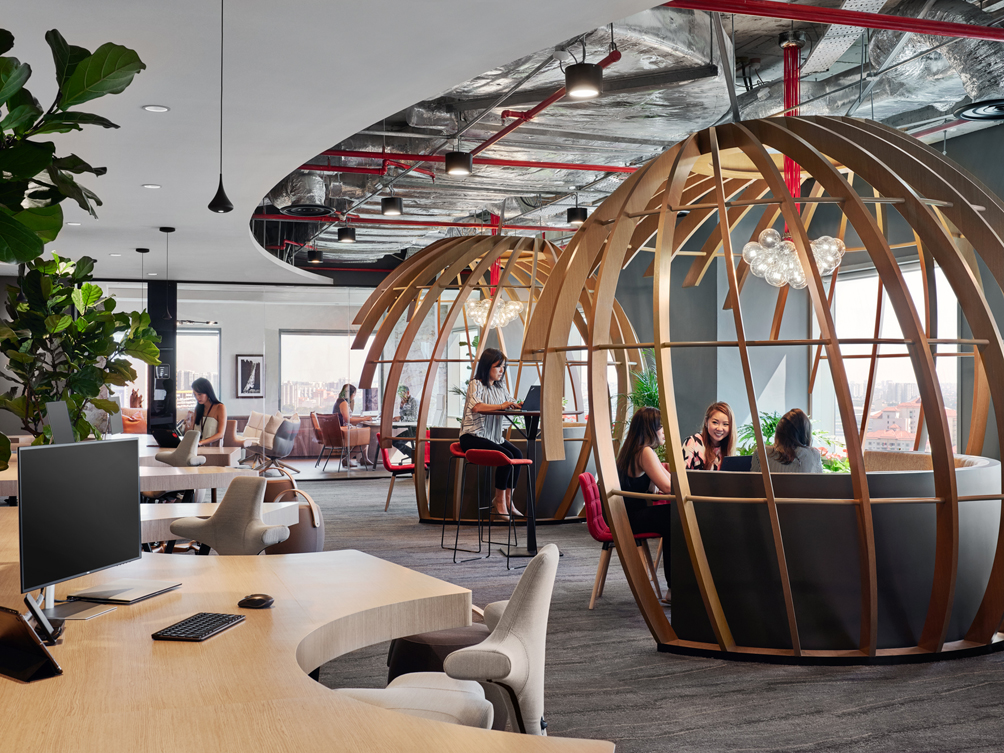 When designing the new regional offices for Trend Micro, a global cybersecurity company, the team at M Moser Associates aimed to create a human-centric workspace focusing on the wellbeing of the staff and guests.
The interior designers integrated different spaces incorporating a feeling of harmony, comfort and stimulation, all through an international lens.
Named after cities, countries, and continents ranging from New York to New Zealand, the conference rooms create a memorable experience for all who enter.
Not only are the rooms named after specific cultures, but the team took careful consideration in sourcing décor to offer greater authenticity.
Calgary Central Library by Snøhetta
Location: Calgary, Canada
As one of the largest library systems in North America, Calgary Public Library is an important part of the community it serves.
The new building provides spaces for all types of people and activities. As such, the space was organised on a spectrum from 'fun' to 'serious.' With lower levels supporting livelier public activities and gradually transitioning to quiet study areas on upper levels as one spirals upwards.
To ensure that visitors feel welcome and that they intuitively understand how to navigate the space, the middle of the library is composed of a five-storey atrium, that allows users to see through the library in all directions, while also allowing sunlight to enter into the heart of this communal place.
BPX Energy Headquarters by Stantec
Location: Denver, Colorado USA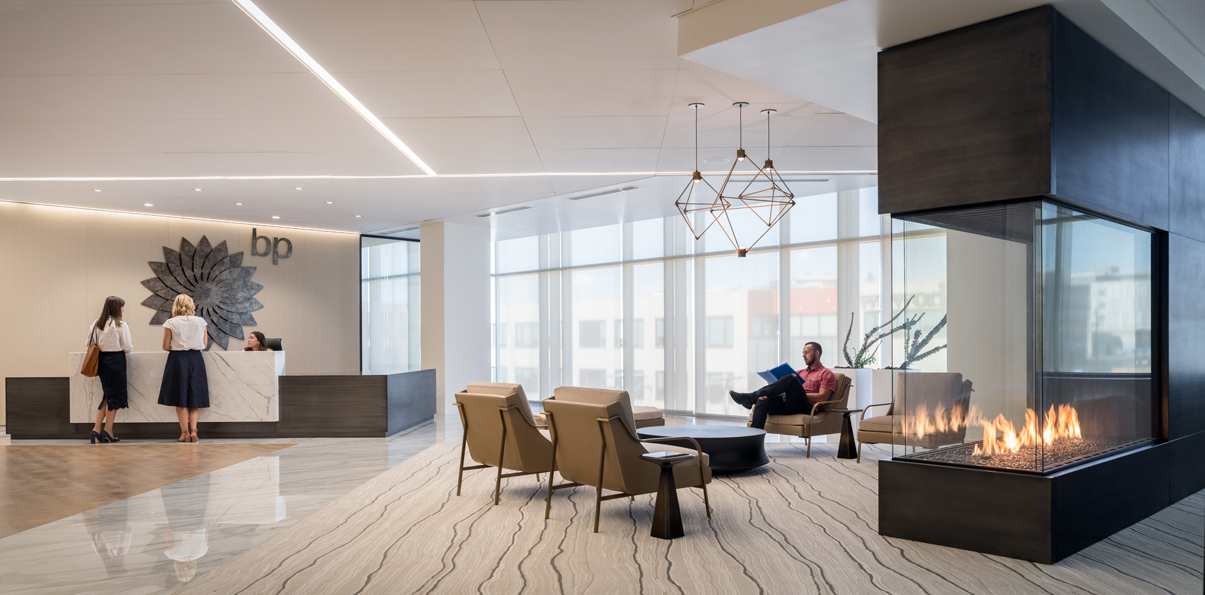 BPX Energy wanted a space with an authentic, warm and welcoming feel that reflected the natural surroundings of Colorado by incorporating the latest in workplace design with a nature-inspired viewpoint.
The 12,000sqm workplace design revolves around a magnificent three-storey X-shaped staircase that not only reflects the company's name but offers up the feel of a drilling rig used in the oil and gas industry.
The project includes floor-to-ceiling windows with views of the Platte River and the downtown skyline.
Other elements of nature can be found within the design such as a 52-foot live edge wood picnic table sourced from a Steamboat Springs, Colorado farm, where it fell victim to a lightning strike.
Collision Lab at Cornell Tech by WRNS Studio
Location: New York, USA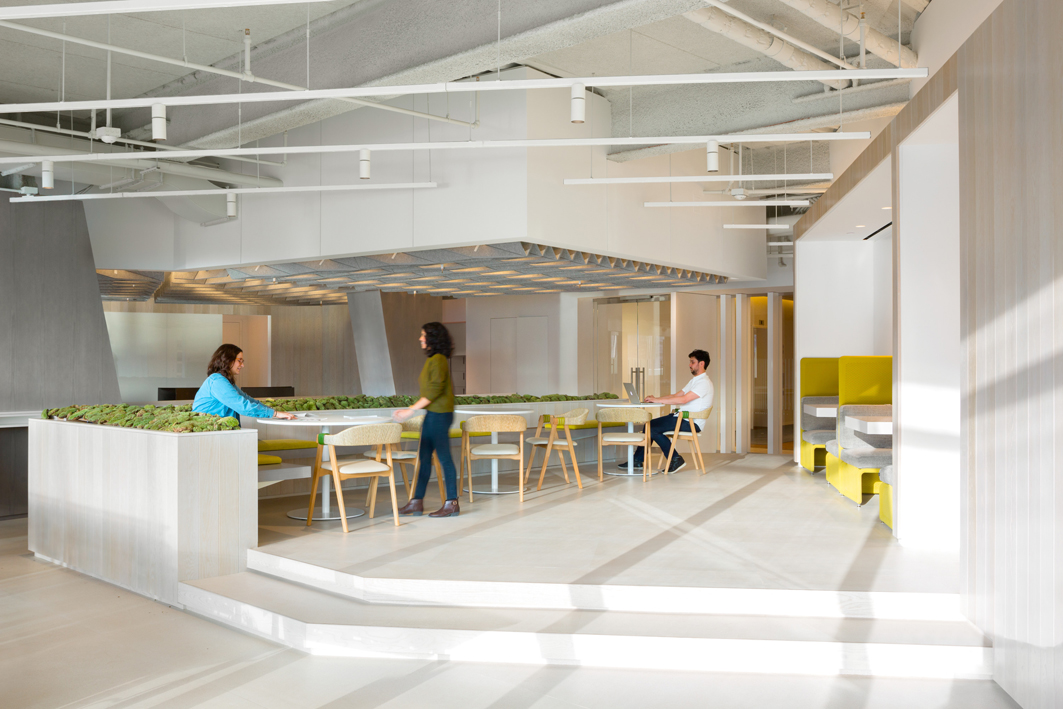 The idea behind Collision Lab at Cornell Tech is simple; get the best and brightest in the space and let their minds "collide" to create tech solutions, start-up companies, new products and so much more.
WRNS Studio's interior architects took inspiration from the scientific method to spur innovation between the rotating cast of engineers, students and venture-funded entrepreneurs that would be using the Lab.
The simple, open layout, which pulls in views of island, river, and city, feels equals parts maker-space, student union and modern workplace.
The open interior is bisected by a central community table and sculptural acoustical canopy, designating softer and louder corners of the Lab. The layout offers areas dedicated to different ways of working.
People's Choice Winner
Hale Junior School by SITE Architecture
Location: Perth, Australia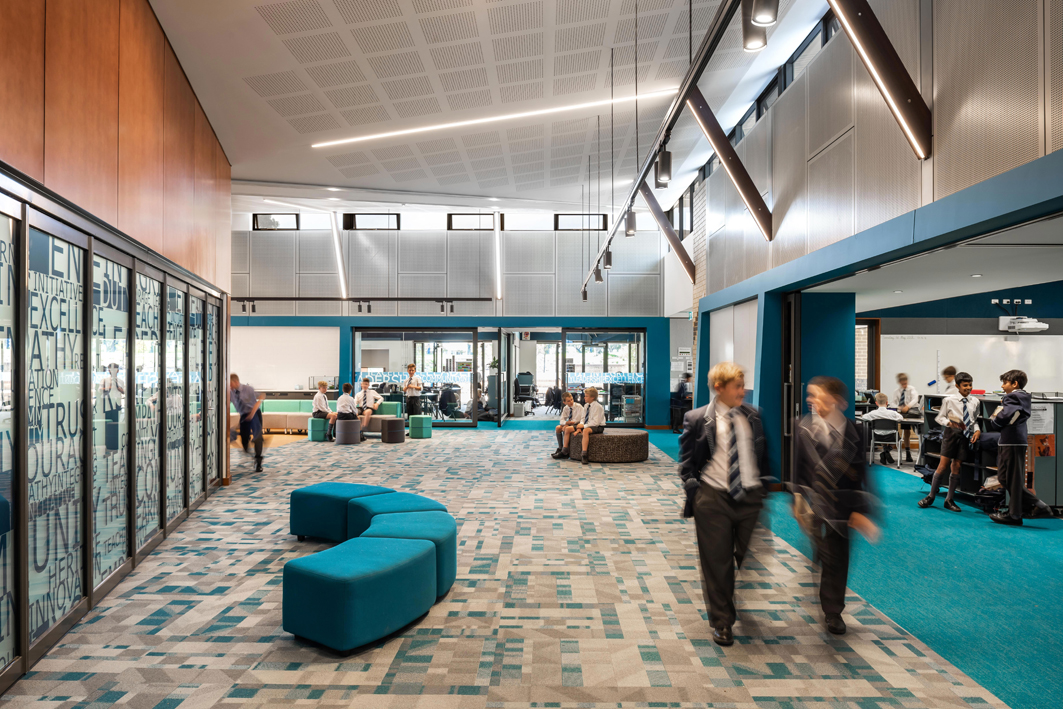 During Hale Junior School's original consultation with SITE Architecture Studio, school leadership made it clear they wanted to create a learning environment that mirrored their educational philosophy of Prepare, Teach and Connect.
The architecture takes cues from the brick history of the school by creating foundations from which new pathways emerge, referring to the use of patterned brickwork. This connection with the past is also symbolically strengthened through a concrete mural depicting Hale Junior boys both past and present.
 The design has three key spaces: a large multi-purpose breakout space defined by smaller general learning spaces and private external passive learning spaces.