NSW-based Kreis Grennan Architecture has framed its contemporary addition to a Heritage cottage in Petersham with on-site recycled bricks.
The single-storey addition was attached to the freestanding Federation-style cottage to considerably increase the floor space for the exisiting residents.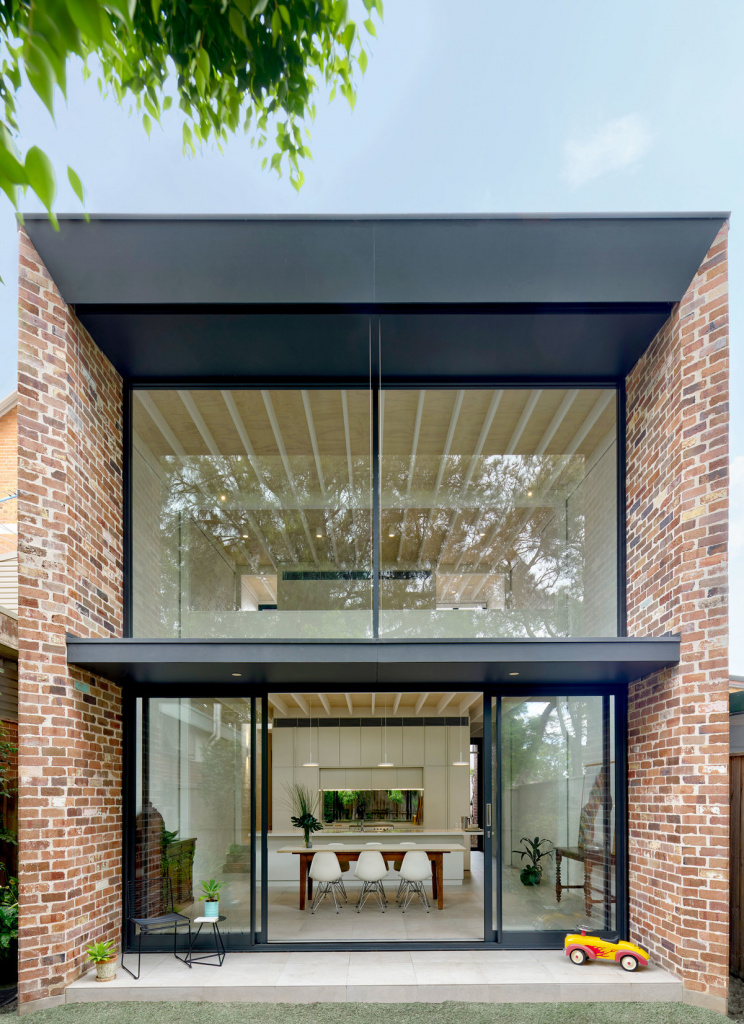 With its exterior of local recycled bricks, the addition frames the new building and "creates a dialogue" with the adjacent period houses and trees.
Its "delicate tapered edge" celebrates the "tradition of masterful brick craftsmanship in Sydney" and the Heritage structures of the surrounding neighbourhood.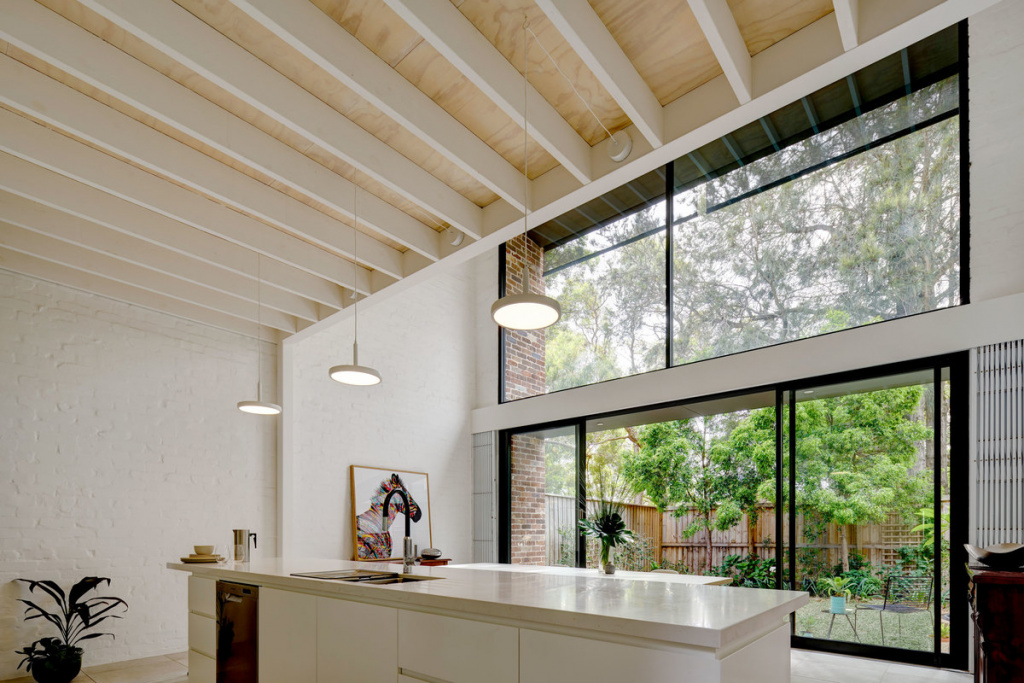 Positioned on the ground floor, the new bathroom, laundry, kitchen and dining area has a double storey void over.
The mezzanine level above has an open studio with ensuite overlooking the dining space, rear garden and trees.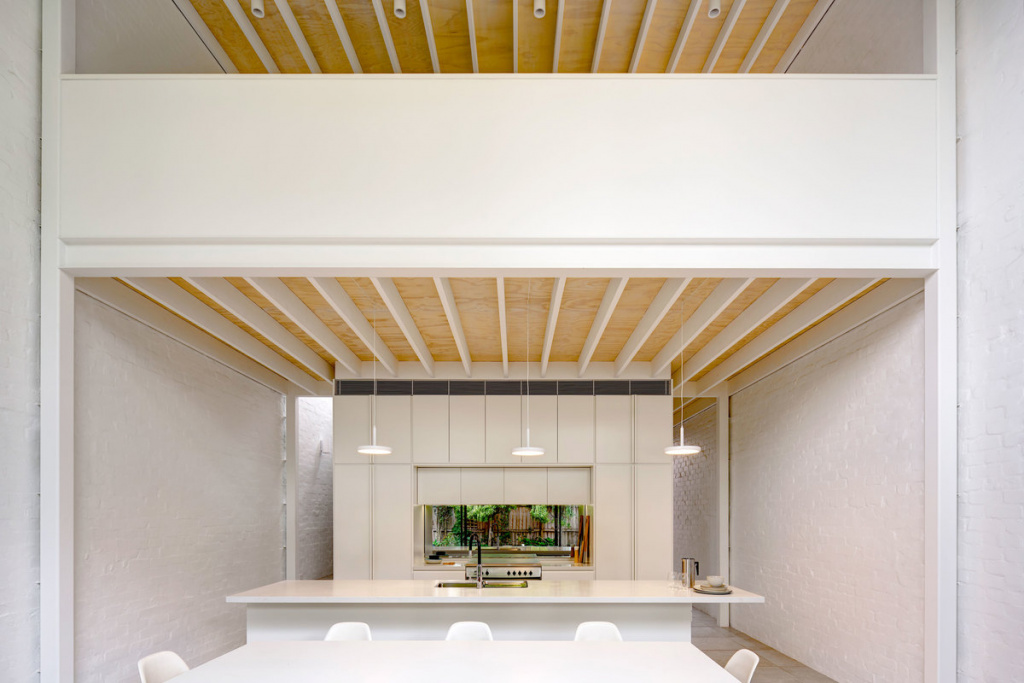 "Our brief was to provide considerably additional floor space and amenities for the existing residents," says Kreis Grennan Architecture.
"Our design response protected the main volume at the front of the existing house with four traditional rooms."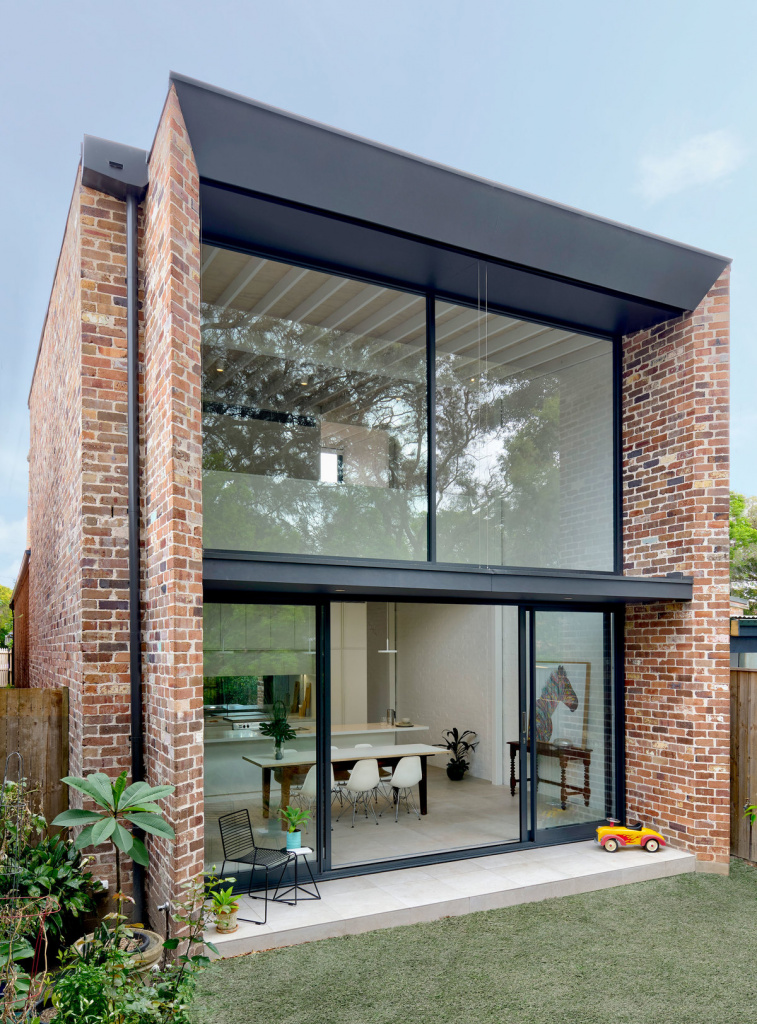 The addition was connected with an articulated link under the gutter revealing the connection through a series of skylights.
Though strategic placement of glazing, the new volume offers better views of the historic sewer chimney stack, in line with three chimneys of the existing dwelling.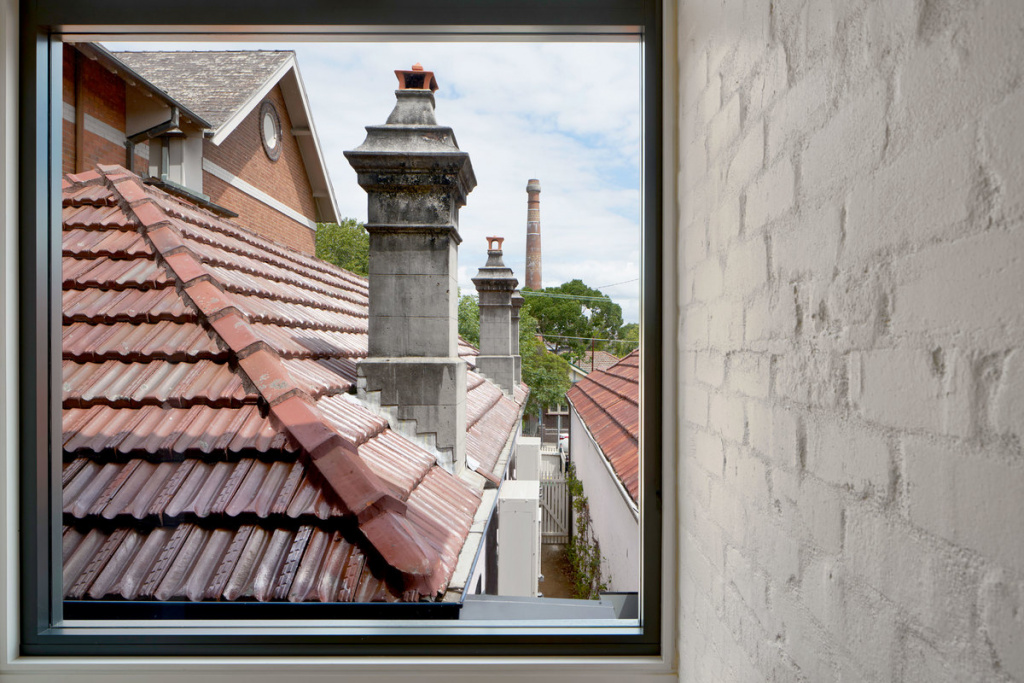 On the opposite side, the brick framed aperture opens to the trees extending from the surrounding context.
"Several beautiful trees stand in the rear garden of the adjoining site, providing a pleasant outlook and shelter from the summer sun," says the practice.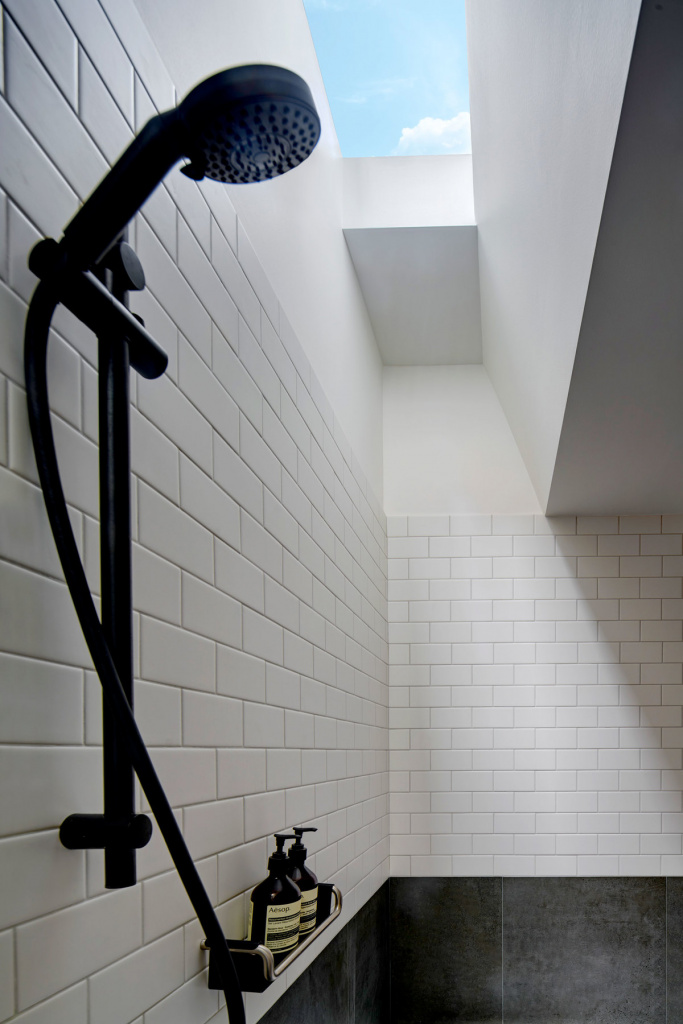 The Federation-style period features were preserved during the construction, providing "historic value of Sydney's Inner West past" to the finished project.
The internal painted brick walls provide material and colour continuity with the existing dwelling while clearly identifying the new addition.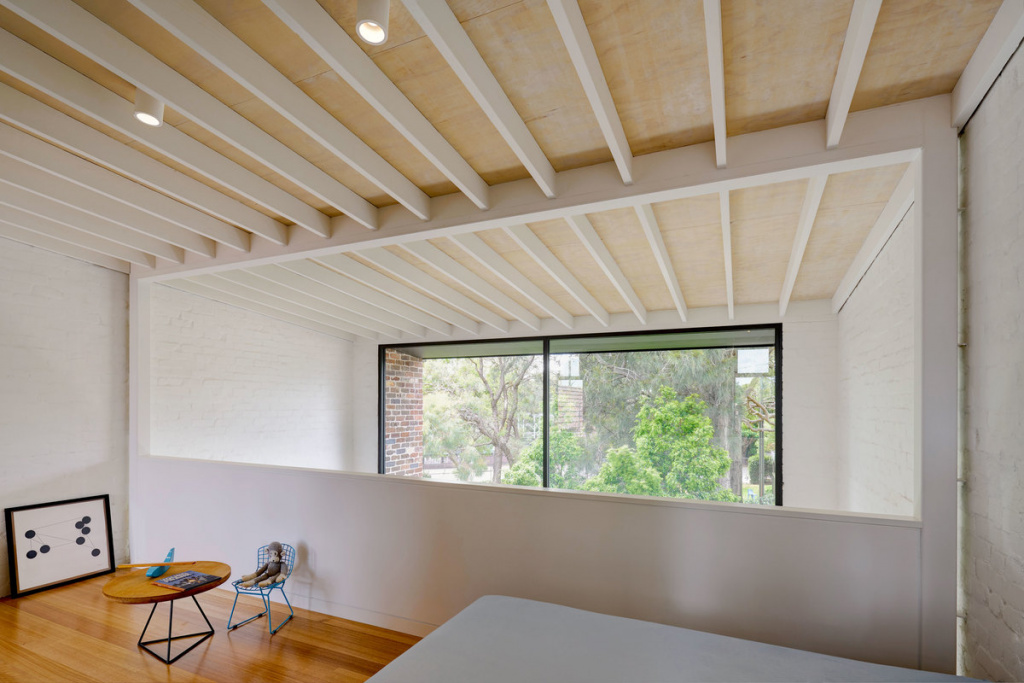 The plywood ceiling contrasts the white exposed beams on both the ground and mezzanine levels. White has also been used in the kitchen cabinetry and subway tiles in the bathroom.
Passive cooling is provided through natural ventilation. The architect added a void into the open mezzanine level and compact spaces with openable windows on both sides.
High level windows allow for heat to be released in summer.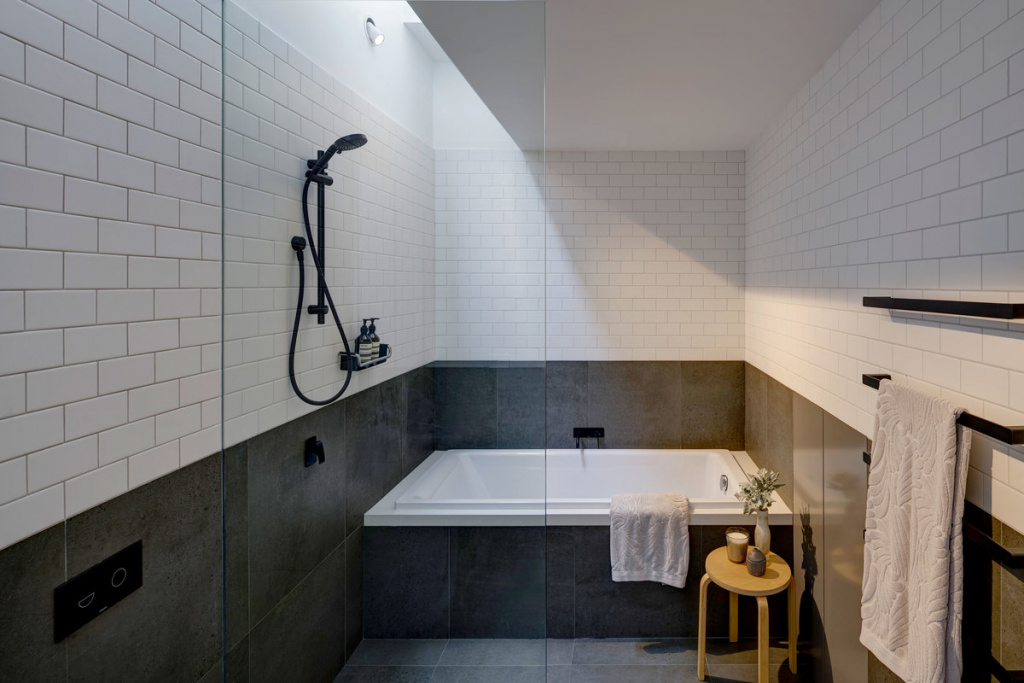 "The new rear volume sits on a new concrete slab with an exposed, sustainably sourced, heavily insulated, LVL and plywood timber roof structure," says Kreis Grennan Architecture.
"The bricks and concrete slab provide significant thermal mass. The occupants can control the diurnal temperature variation in summer and in winter, can store thermal energy during the day and release it several hours later."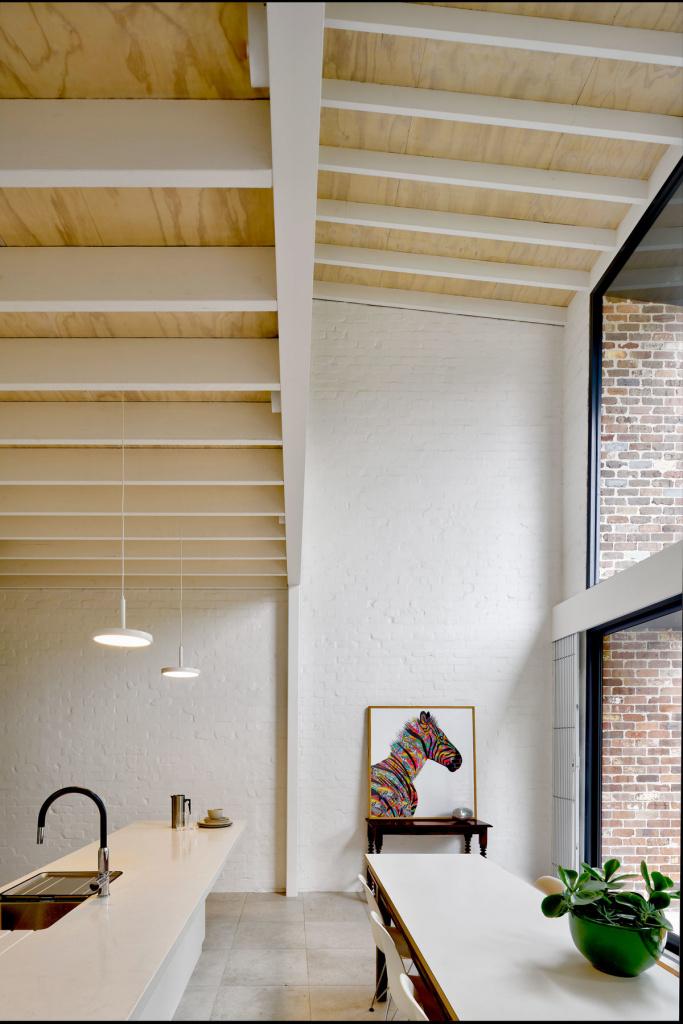 Petersham is a suburb in Inner West Sydney and has a number of Heritage-listed sites.
Kreis Grennan Architecture is a creative collaboration between architect Christian Grennan, and project manager and property developer Chris Kreis.
WOWOWA also embraced Heritage in this Melbourne warehouse redesign, transforming it into a family home expertly realised in both function and form.
Photography: Michael Nicholson