Shona McElroy, principal of Smac Studio, was tasked with the daunting brief to design a house that looked like it 'came out of a magazine.' Mirror Image achieves this in spades.
Completed in September last year and located in Sydney's Dover Heights, the semi-detached duplex home includes four bedrooms, two and a half bathrooms, and a garage and pool.
All of this is adorned in a decadent palette of Venetian plaster, marble in sea blue and sage, eccentric lighting pendants, and classic old-European edge.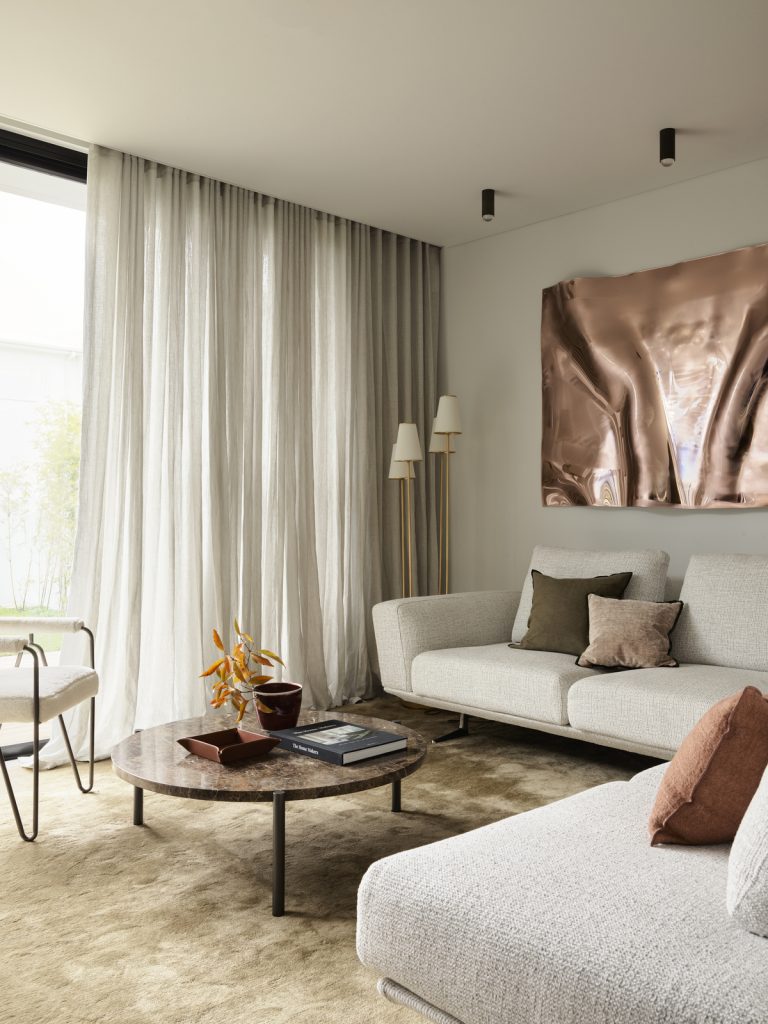 The owners, who are also previous clients of Smac Studio, left the direction for Mirror Image largely to McElroy to discover and develop.
"They left the styling pretty much up to me, but they knew my style, and I love modern takes on European ancient styles," she explains.
"The Venetian plaster and the margin shaker profile, the chevron floors, the borders and the curves are nods to European style.
"But then I modernised it with the clean lines and layout, and contrasting materials."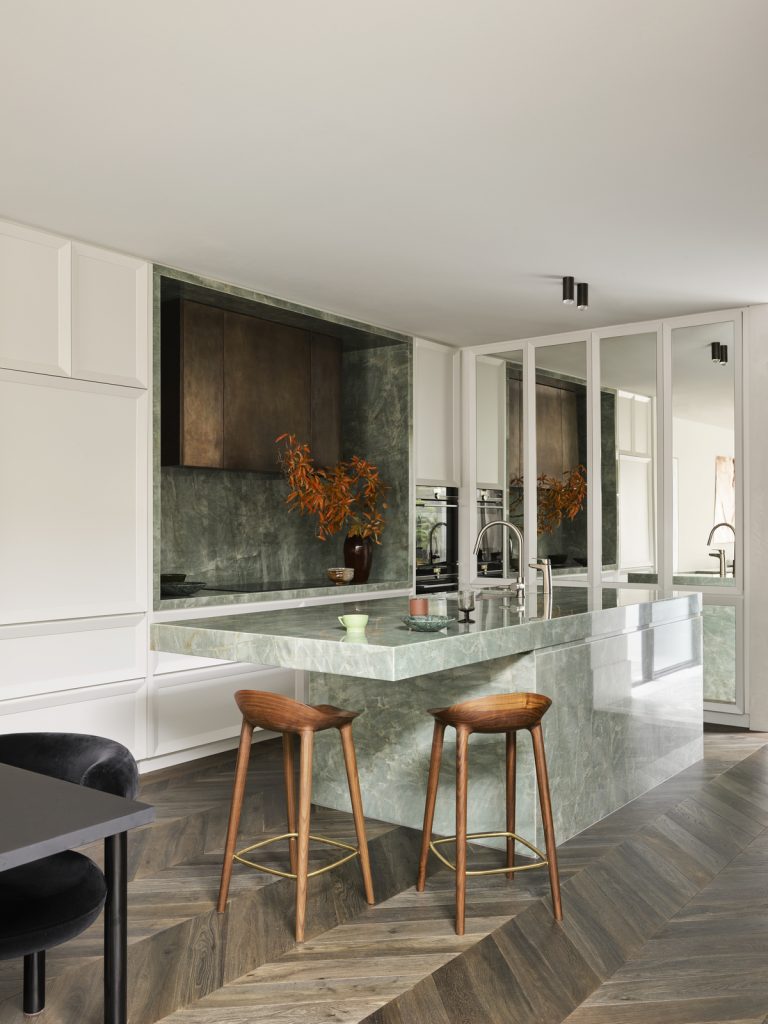 And the owner of Mirror Image couldn't be more pleased. As a property developer they see plenty of extraordinary homes but say this is the first time they've been 'satisfied' with what they have.
"I come home and think, 'there's nowhere else I'd rather live," says the clients for Mirror Image.
Mirror Image did present some initial challenges, with McElroy describing the light and layout as key areas of concern.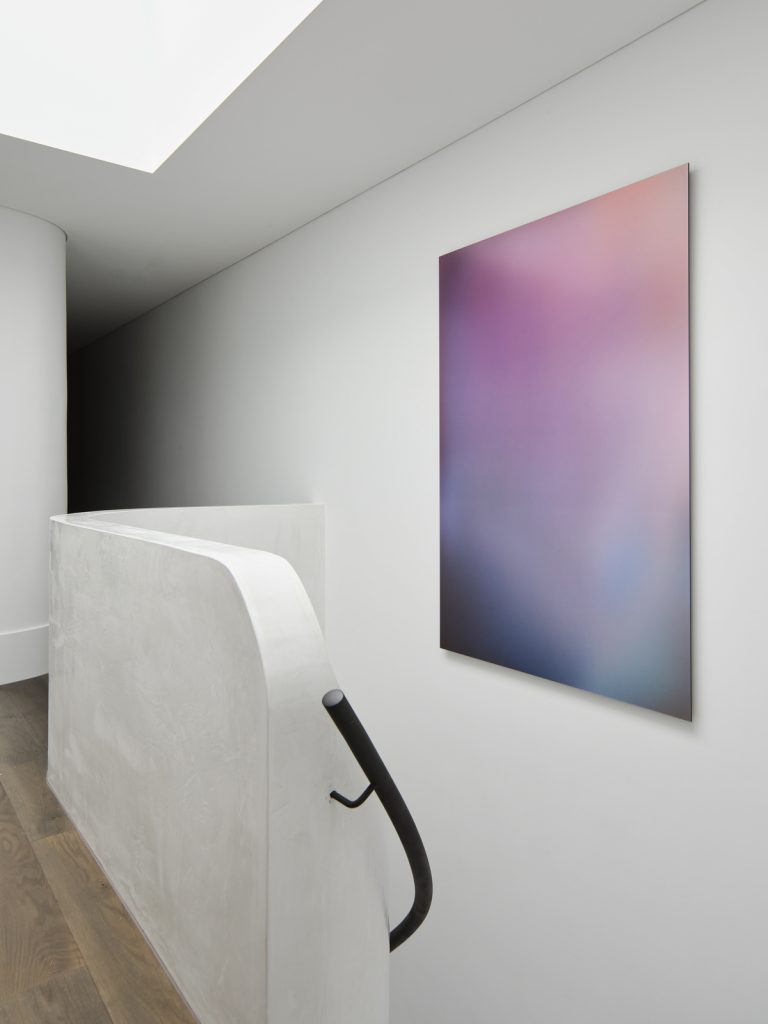 "I felt the spaces were too open plan and lacked formality," she explains.
"But this was overcome by separating the entrance open plan kitchen, and living areas downstairs with mirrored white shaker cabinetry that reflects light and functions as a mini butler's pantry.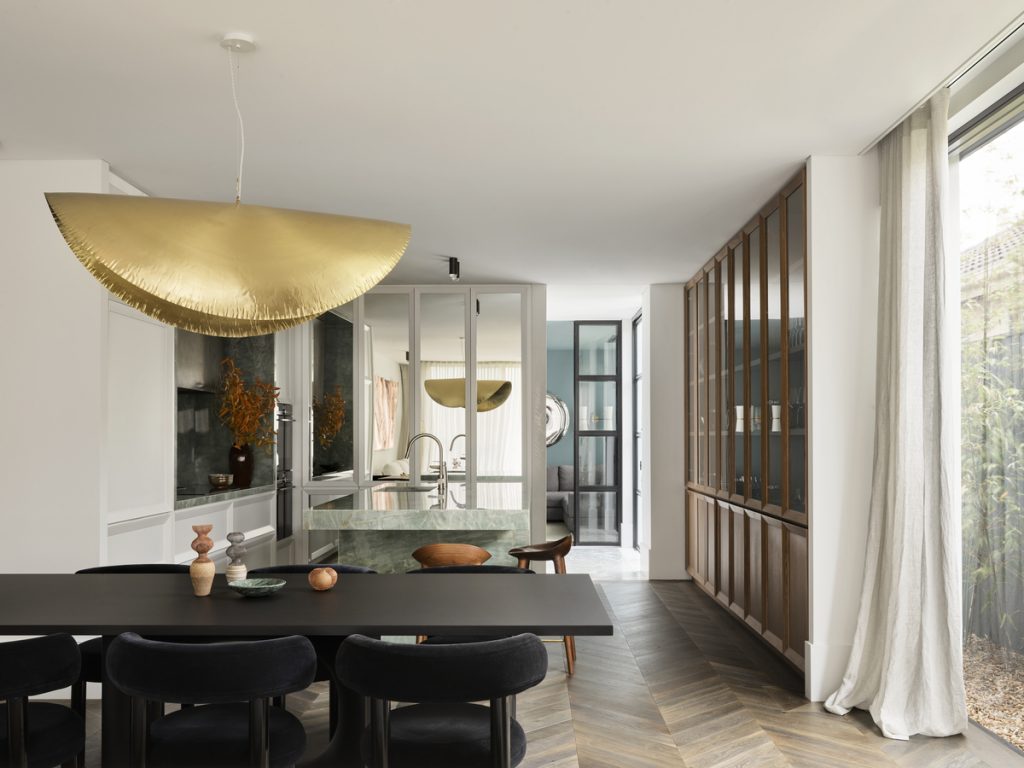 "As for light, the kitchen was flipped to the shared-wall side of the duplex so a floor-to-ceiling three-metre-wide window could be installed for natural light and a garden aspect."
Made of Elba marble, the curved staircase stands at the entrance of the property and gives a hint of the grandeur awaiting further inside.
McElroy says it was a 'big priority' for the staircase to establish the 'formality' of Mirror Image.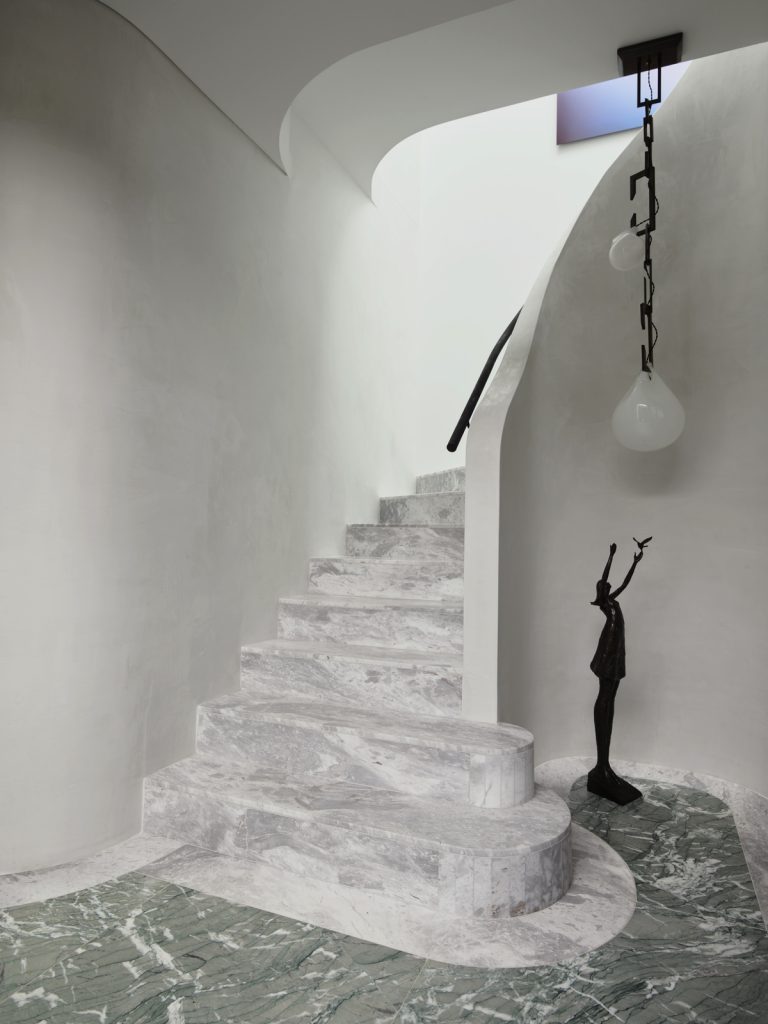 "Sometimes in duplex projects, there is not much sense of an entrance. And I think it's nice to have somewhere to land and this particular client felt that formality was important.
"The entrance is where people come in and have their wow factor moment."
Throughout the home, McElroy left space for artwork and sculptural decor, featuring lighting pieces from Christopher Boots, dark oak floors by Tongue n Groove, and stools by Great Dane.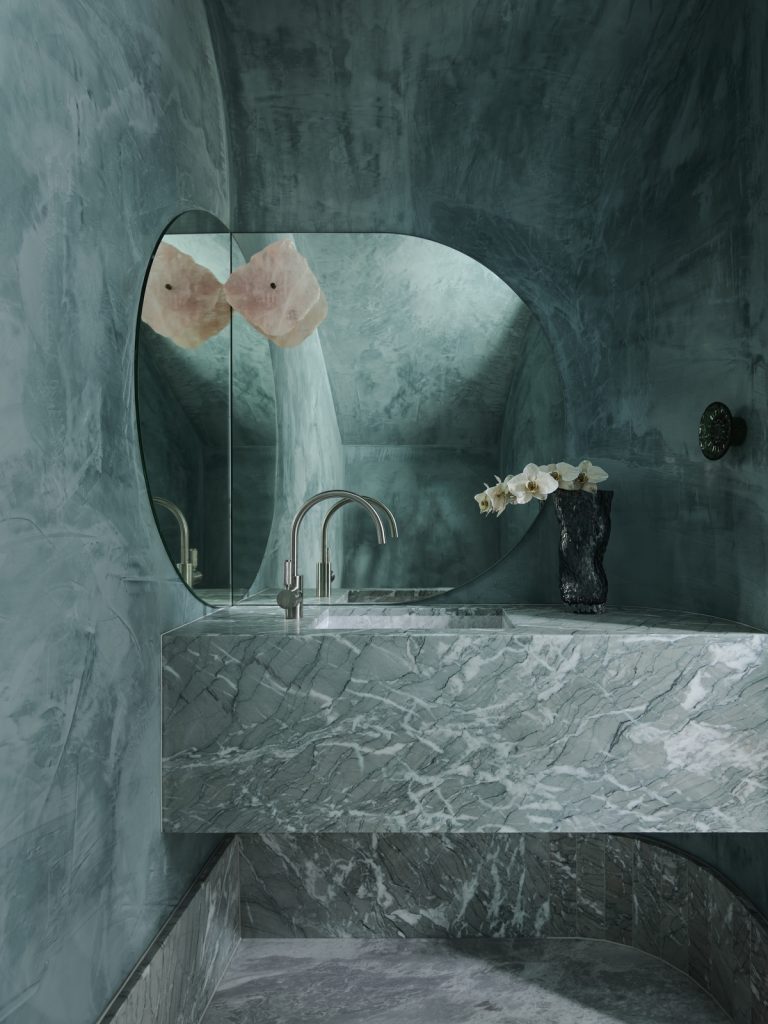 And one often-forgotten room that shines in Mirror Image is the powder room. Decked out in Venetian Plaster in Dulux Hailstorm, and floor, vanity, and sink marble, the room is all about more is more.
Drawing upon her love for European style, the powder room is further dramatised by two semicircular mirrors.
"It's a playful space and I love the idea of reflection. And I love the idea that the semicircle at the back would mirror the semicircle at the front centre hole.
"In doing this, the left completes itself in the reflection and looks like one circle."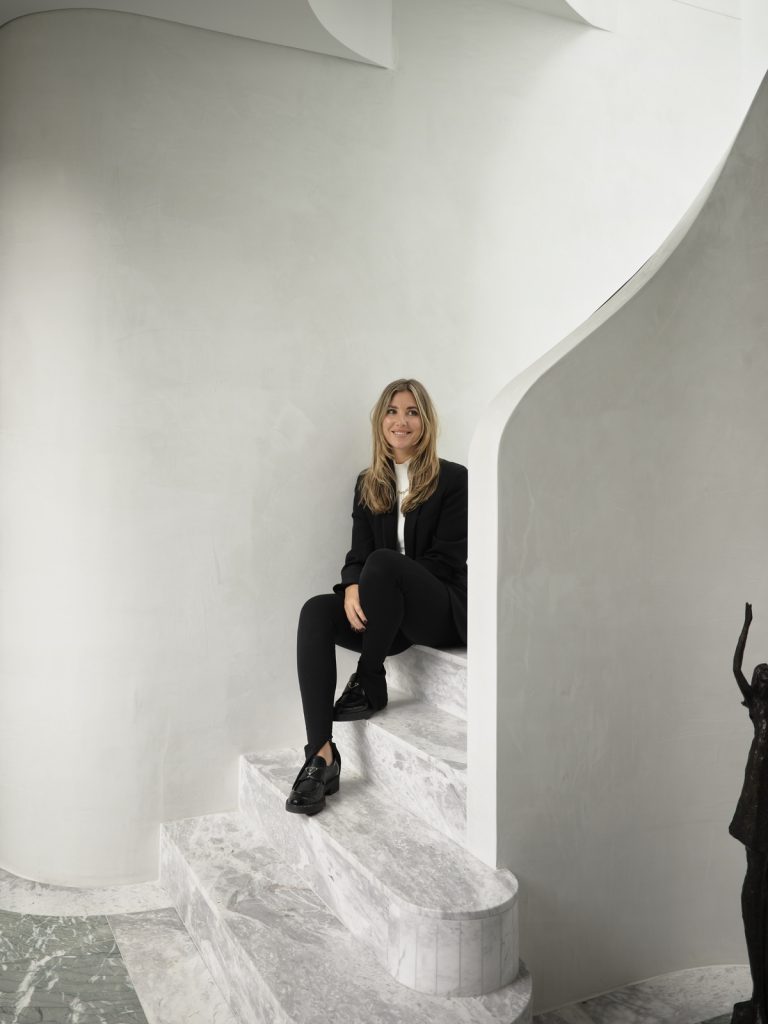 In recognition of her work, Mirror Image was recently shortlisted for an Australian Interior Design Award in the Residential category.
Architect and specialist judge for this year's awards Madeleine Blanchfield described Mirror Images as a 'beautiful, thoughtful and artistic' project.
Only 28-years-of age, McElroy is carving a name for herself in Australian design for distinguished and poised interior design. Tailored and bold, Mirror Image is confident in its purpose and personality.
Photography by Anson Smart with styling by Claire Delmar.