Giant Design's recently completed project Oborozuki is a modern take on Japanese aesthetics at the heart of Sydney.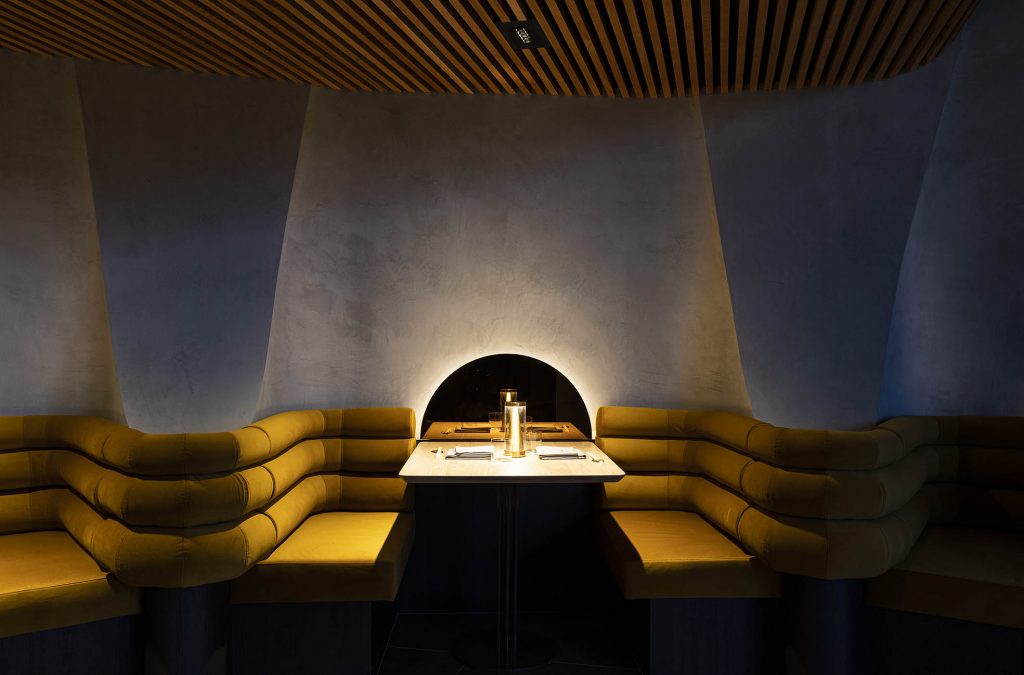 'Oborozuki' roughly translates to hazy moon, an allusion that provided ample inspiration for the interior direction.
A year and a half in the making and with a budget of almost $5 million, Oborozuki was been a labour of love for Giant Design.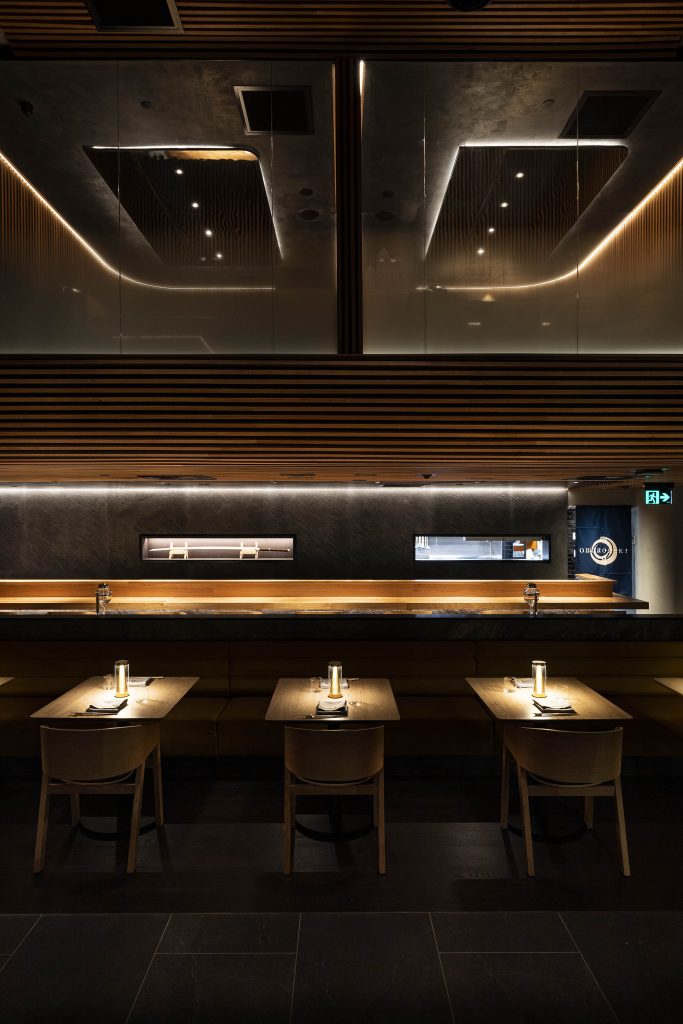 In their 20 years, Giant has designed restaurants for a diverse range of clients, including Luke Nyugen at Red Lantern and Jamie Oliver's Jamie's Trattoria, Rengaya Yakiniku and Spice Alley to QSR brands El Jannah, McDonald's, Oporto, Papparich and lots more. 
The client brief for Oborozuki, Circular Quay, was concise – create the best Japanese restaurant in Australia.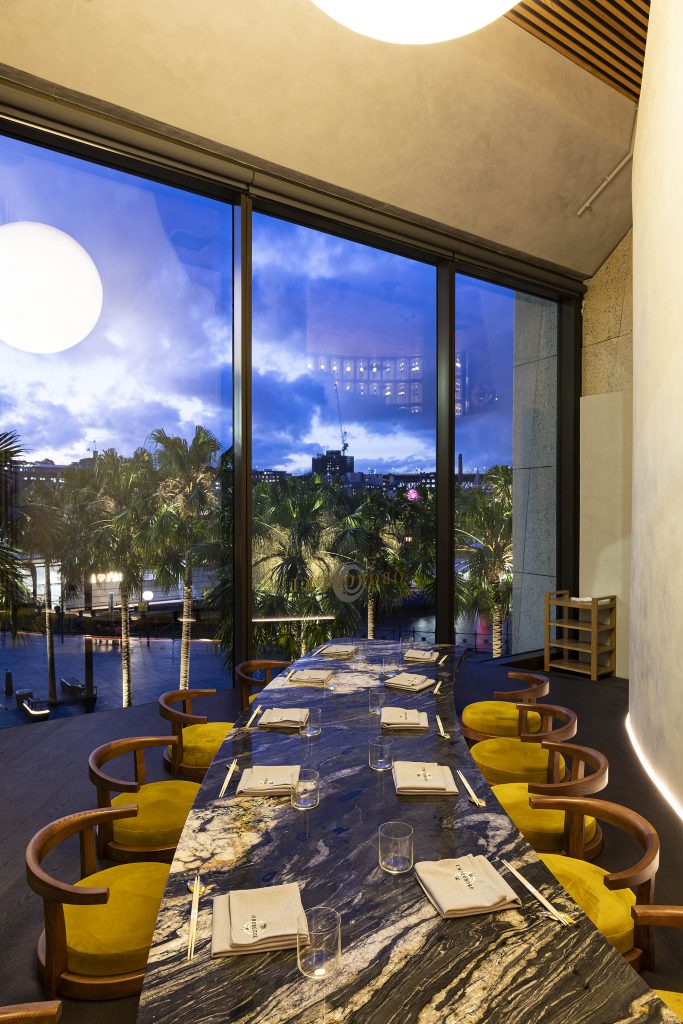 The design was to be a modern take on traditional Japanese interiors with a sense of luxury befitting the quality of the food offering and dining experience.
Expansive harbour views through the double-height windows of the new Opera Quays building were a good starting point for this mission, as were the architectural details of the site including exposed, curved, concrete beams reminiscent of the Opera House interiors and a set-back mezzanine with grand spiral staircase, which have been treated lightly with a micro cement coat and left exposed.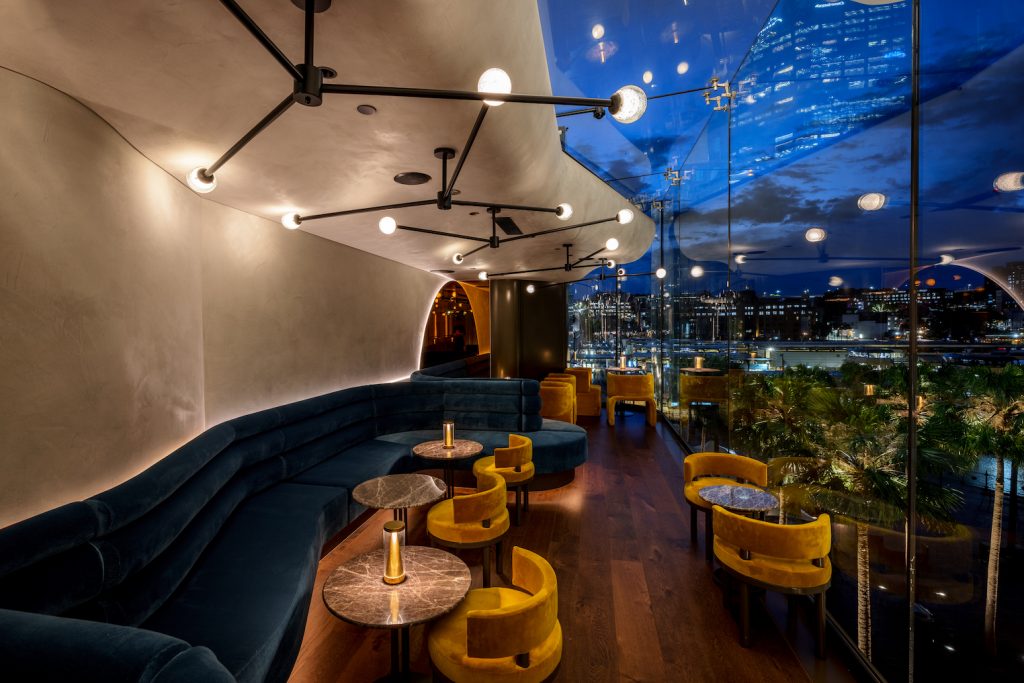 Oborozuki is one of the studio's masterpieces, and its realisation came with challenges.
It was a complex site for services, with restricted headroom in certain areas and difficulty in getting materials for the build, which all added to the challenge.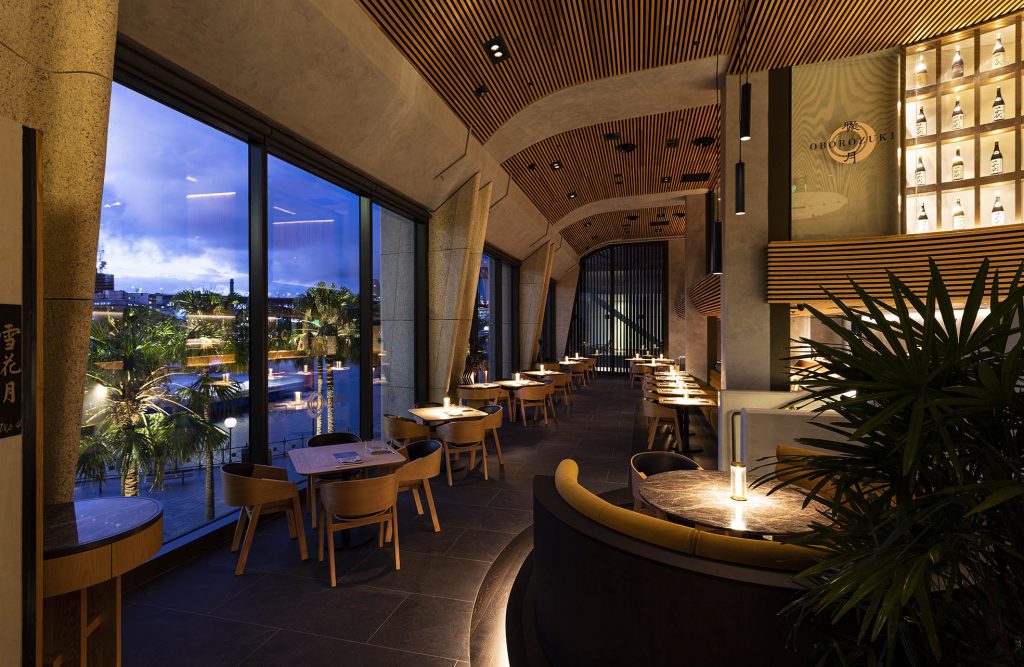 Alongside the traditional Japanese features of light-slatted timber panels and ceilings, softly rendered walls and slate floors, there are layers of dark reflective surfaces and moody elements that cast a mysterious veil over the space.
The patron enters into a round reception of smoked, mirrored walls and a black, polished plaster ceiling that reflects a simple podium reception desk and sculptural tree.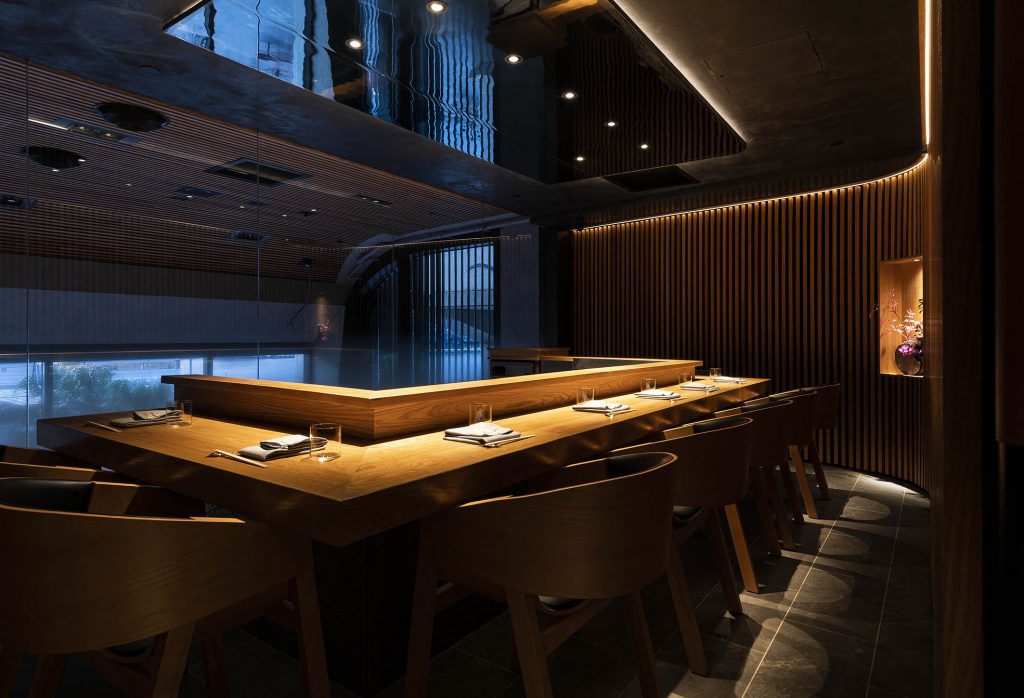 This space opens out to the mezzanine, where curved up-lit walls lead to three timber-clad teppanyaki rooms, deliberately located to ensure privacy and exclusivity, while allowing glimpses of the chef's activity from the dining room below through smoked mirrored ceilings and graded frosting to the glass fronts. 
This gradient to this frosting is reminiscent of fog on moonlit water, a nod to our hazy moon.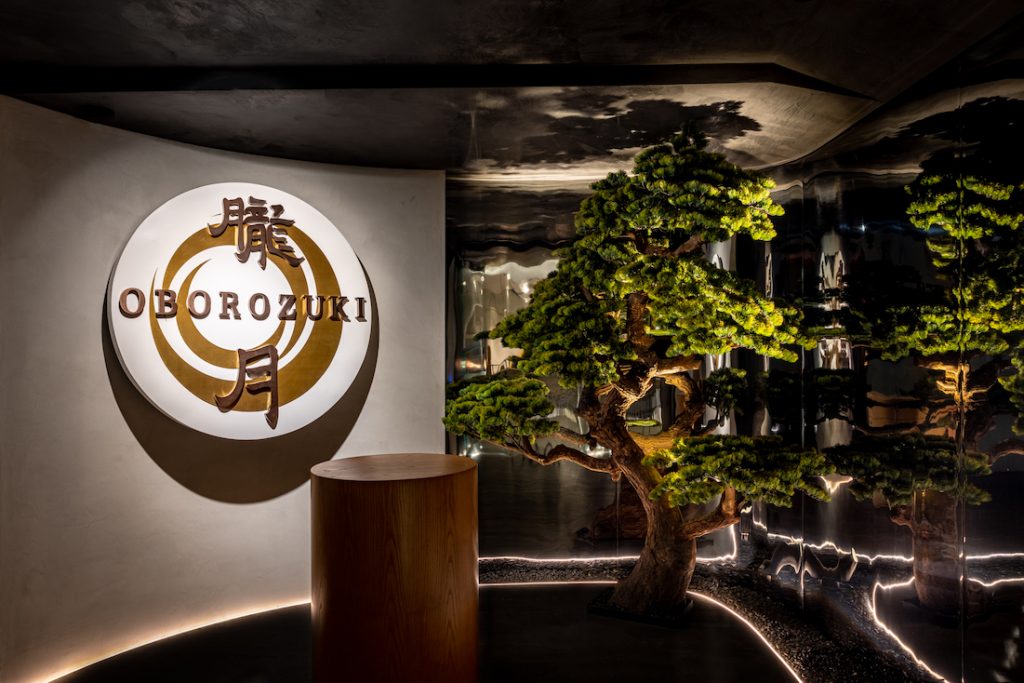 Flanked by a curved wall of uplit Sake bottles, a spiral staircase descends into the main dining space encircling a single circular booth sitting pretty on a raised plinth.
The curved forms continue throughout with two-person booths nestled inside niches cut out of a monolithic double-height micro-cement wall with a cut-out that reveals an epic glowing pendant in the private dining room beyond, a hazy moon on the horizon.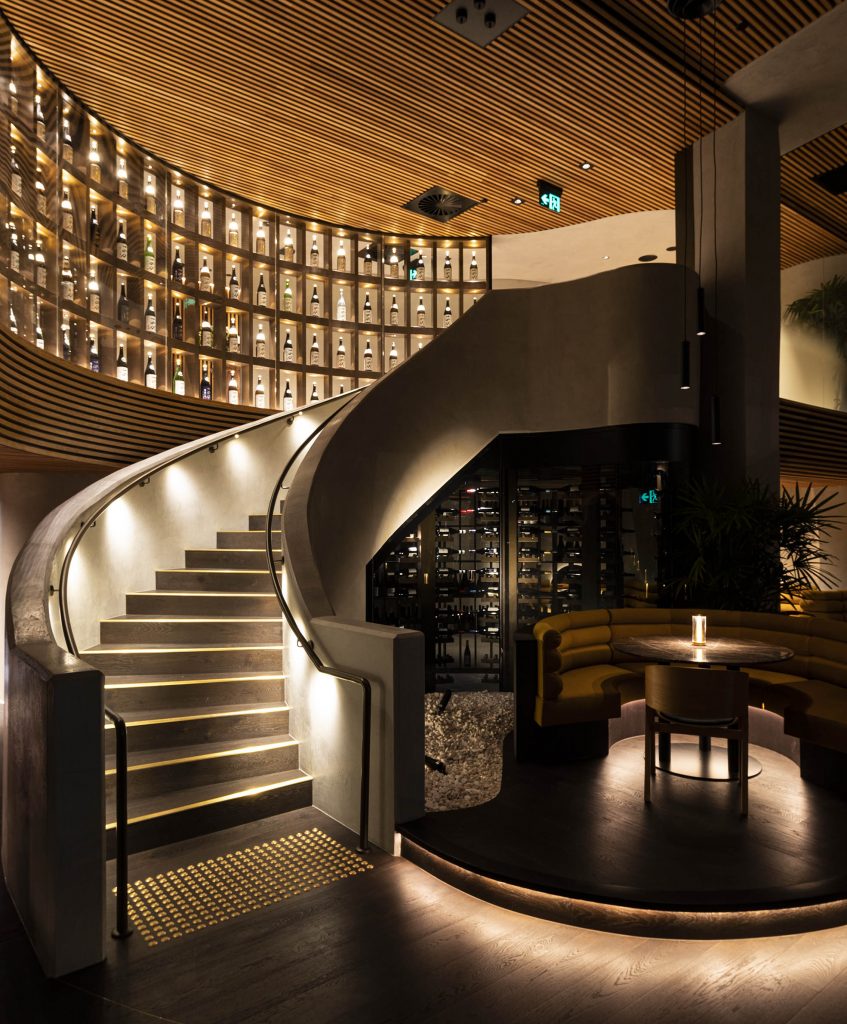 Elsewhere in the room, an Omakase counter glows in front of slate walls, turning the back of the space into an exclusive experience, whilst à la carte diners take in the sumptuous views of the harbour. 
In the narrow glass-walled tenancy next door, a slender cocktail bar extends the concept further. 
A galaxy of pendant lights sparkles in the sky from curved micro-cement forms above a snaking velvet banquette and dark timber floors giving the effect of floating in the night sky and maximising views across the quay. 
Discover also Kori Ice Cream by EAT, an ode to kawaii aesthetics at the heart of Melbourne.