Image above, Jean Paul Gaultier's 2004 runway with Kokon concept by Studio Makkink Bey.  All images Studio Makkink & Bey.
While VAMFF may have wrapped up last week in Melbourne the show must go on for recent NGV guest Jean Paul Gaultier. Studio Makkink & Bey will provide part of the interior design for the forthcoming exhibition in Paris showcasing the work of 'enfant terrible' fashion designer. The exuberant designer first came across Makkink & Bey's Kokon series back in the early 2000's, which inspired the backdrop for his 2004 runway. Chairs and tables were pressed against an elastic skin, showing a skeleton of recognizable furniture forms and shadows. Over 10 years later, the designers and Gaultier will collaborate once more on a section of his Paris retrospective.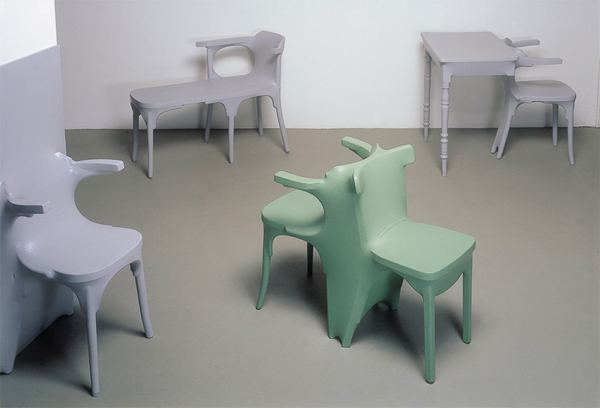 Studio Makkink & Bey's ideal design process is one where projects inform products as much as products inform projects. There is a "zooming in and out" that allows interaction between the domains of architecture, urban design and the conception of products.  On this occasion the conceptualisation of set design and haute couture fashion has been added to the mix of disciplines.
This is not Gaultier's first foray into the furniture design space. In 2010 he used his own infamous wearable artwork the 'Hello, Madonna cone bra!' as a basis to collaborate with French design group Roche Bobois.
The worldwide exhibition has seen millions of visitors flock to its previous locations in New York, San Francisco, London and Madrid. Its Melbourne launch saw over 200,00 visitors with long queues lining the outside of the NGV in its final days. When commenting on the Melbourne exhibition (the ninth location) the exuberant designer was quoted as saying "It's almost perfect… by the time it gets to Paris, it will be!"