A colour palette drawn from native flora and terrain helps channel Australiana nostalgia inside this South Melbourne restaurant, designed by Kylie Dorotic and Alicia McKimm from the Melbourne studio GOLDEN. 
The young duo designed Nine Yards to subtly evoke "images of the bush and the sea".
The bones of the restaurant are heritage – it's a former stable – set on leafy Dorcas Street, in an area that is known for its Victorian-era streetscape.
It's the latest in a number of hospitality projects from GOLDEN, which recently worked on the design of Box Hill coffee shop Penny Drop and it's London sister store of the same name.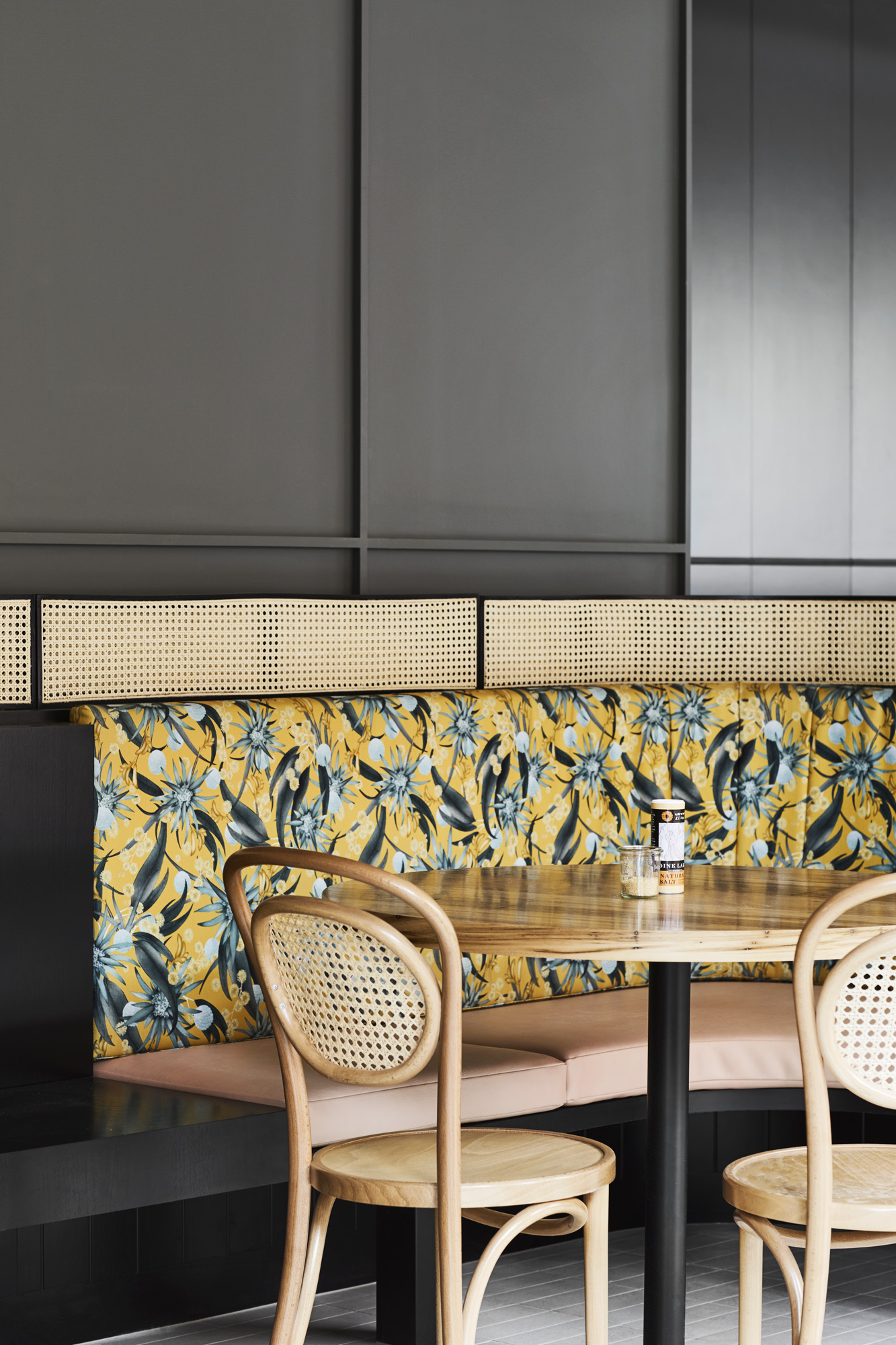 The focal point of Nine Yards is the upholstery, which is a custom-printed Australiana floral pattern in iconic green and gold tones. It's by Melbourne-based designer Louise Jones and is paired with stained Tasmanian oak veneer and banquettes crowned by curved ebonized timber and rattan.
Thonet dining chairs also carry a rattan inlay, while the chevron timber veneer ceiling provides a visual connection for all the elements.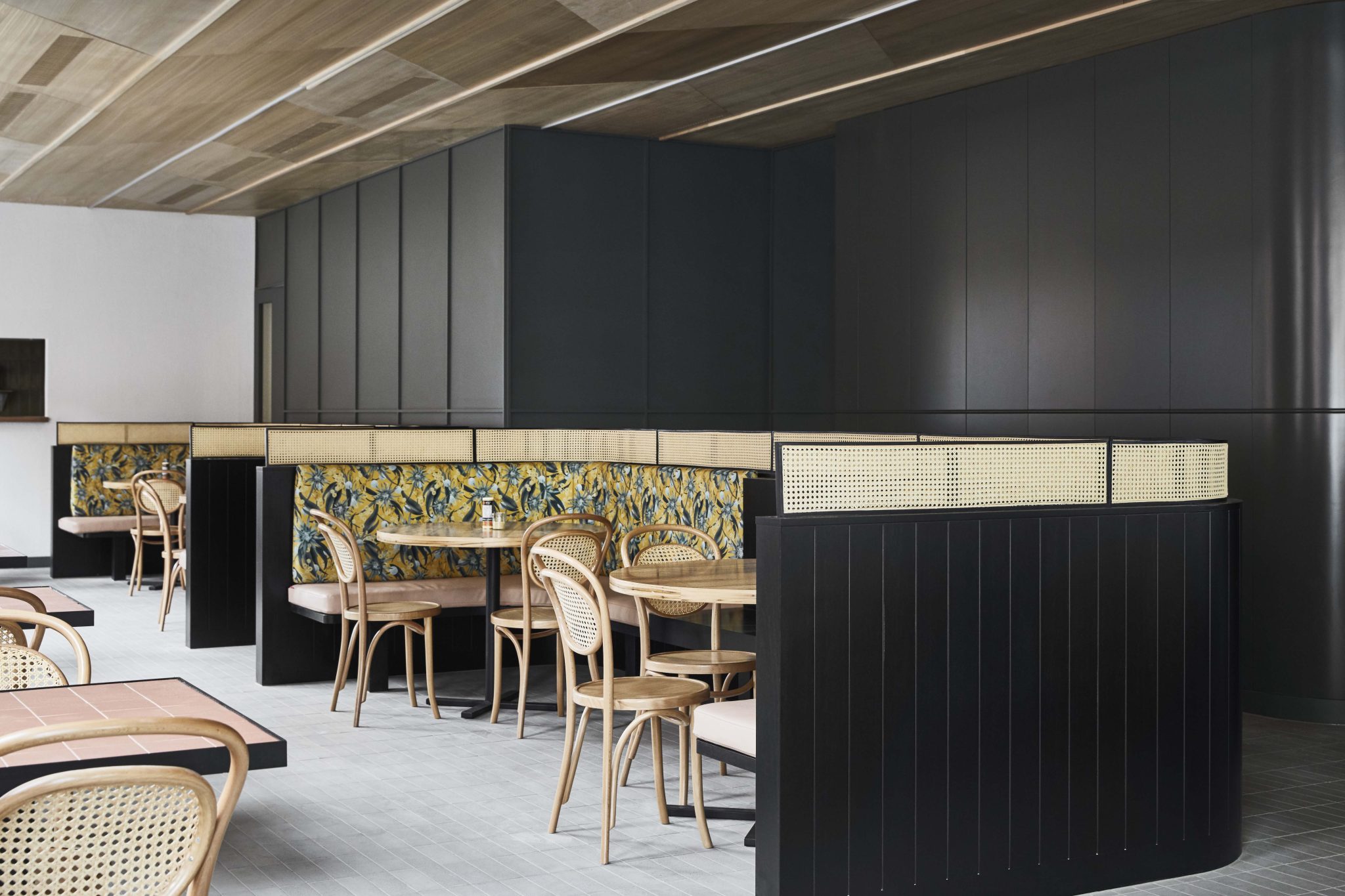 While the space is kept bright by its white walls and terracotta columns, there is also an expansive set of windows to bring in additional natural light from outdoors and provide views of the busy Melbourne street beyond the 140-seat restaurant.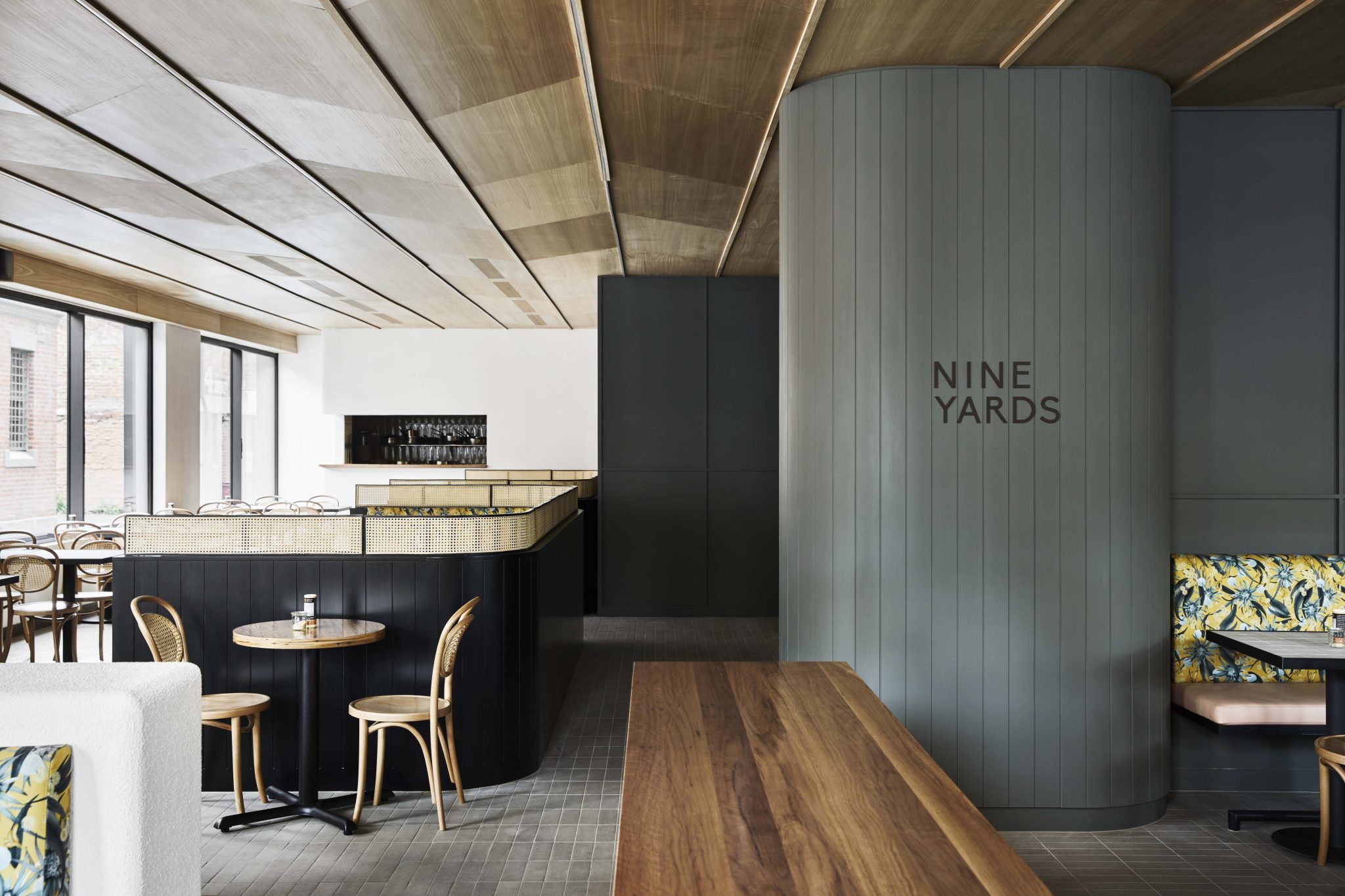 Native flora and floor-to-ceiling eucalyptus-green cabinets bring a raw and natural materiality to the space that's complemented by the blackbutt island separating the dining zones.
But perhaps the most interesting design element is on the tabletops laid with tiles from Tiento, which evoke the red dust desert with an earthy rust palette that's carried on in the velvet banquette seats.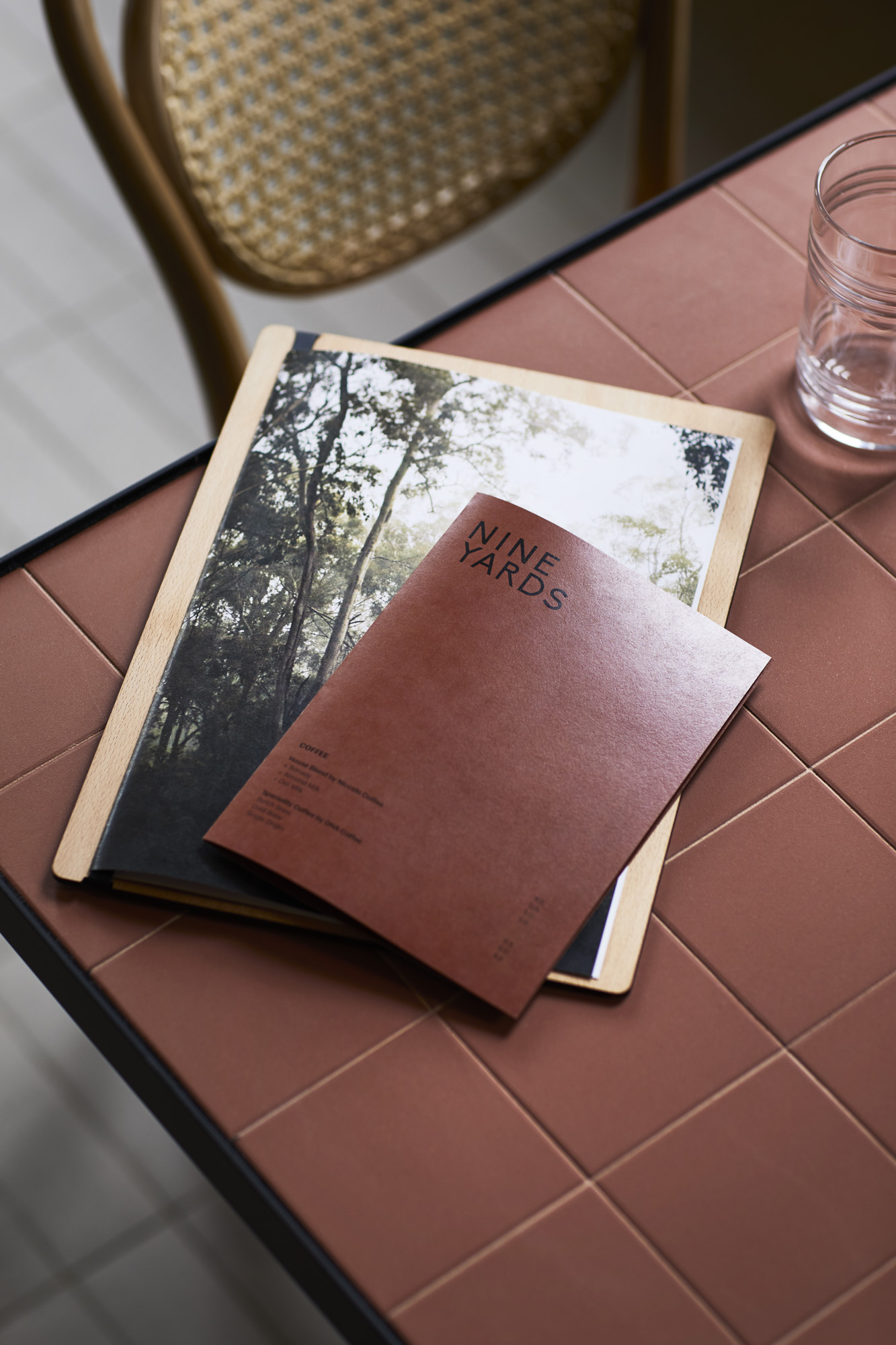 Outside, the curbside combination of bluestone, parchment umbrellas and abundant greenery continues the Australiana visual, but with a hint of yesteryear flowing from the custom steel-cut signage and metal lettering.
With menu items that include everything from Anzac biscuits to Milo, damper to pepper berries, wattle seed to Vegemite, it's clear that GOLDEN was pretty heavily influenced in its interior design by the modern Australian flair of the restaurant's chef.
But the finished look is not heavy handed, it's not kitsch and it's definitely not something out of a Tourism Australia campaign. Instead, it's atmospheric and relaxing, muted and modern and just Australian enough to stir a sense of nationalistic pride for this Great Southern Land.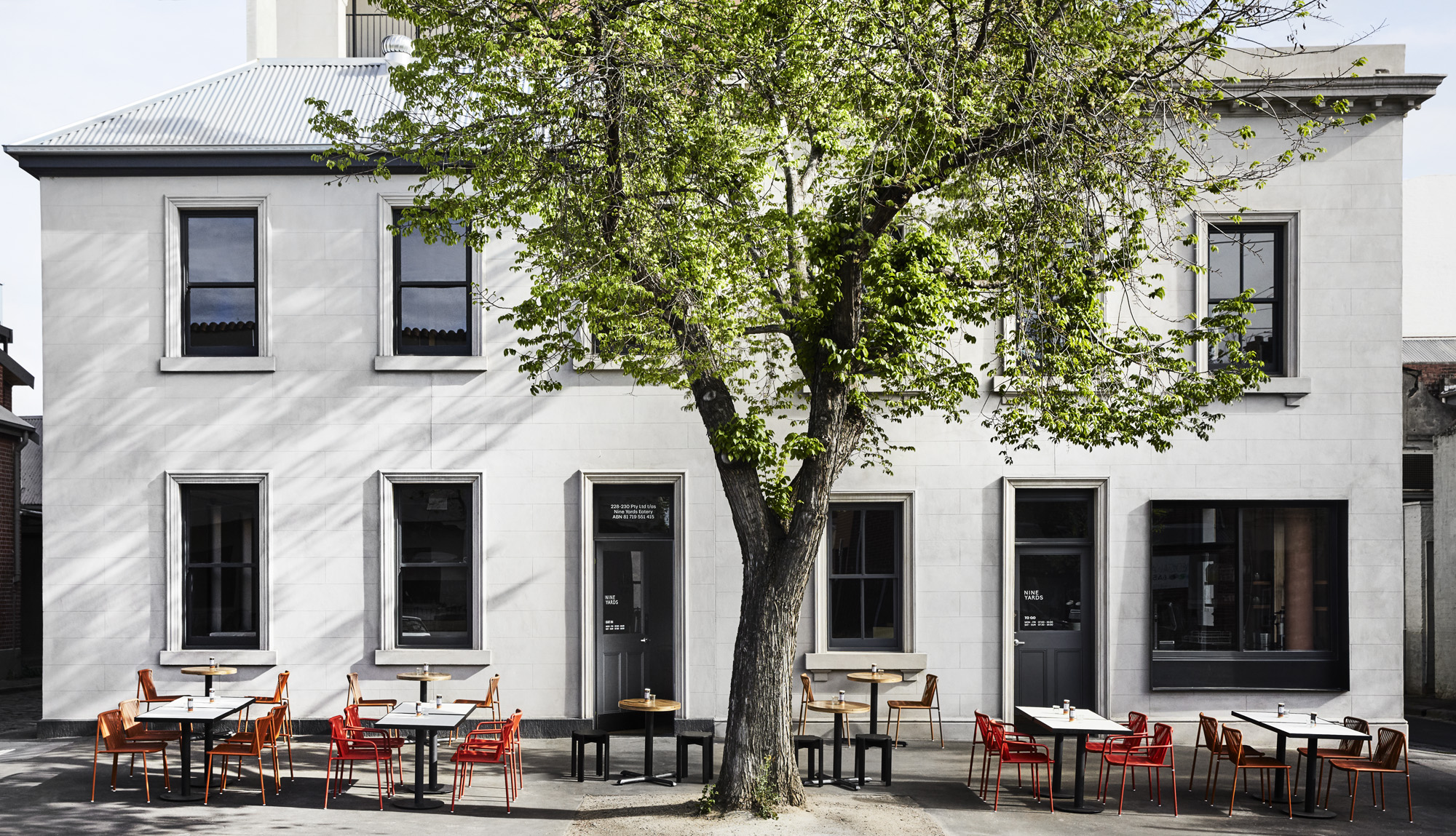 GOLDEN picked up the Best Overall Restaurant at the London Restaurant & Bar Design Awards in 2017 for its design of the Box Hill Penny Drop cafe. It was also shortlisted for Best Cafe at last year's Eat Drink Design Awards for Albert Park Eatery Lenny 3206.
Photography: Sharyn Cairns