Images appear courtesy of Kate & Co.
Recently opened above Polēpolē in Melbourne's Little Collins Street is Glamp, a unique new cocktail bar. Playfully combining an African safari aesthetic with the concept of 'glamping' (glamorous camping), owners Dean and Jeanelle Mariani and Studio Equator, have created a vibrant hospitality experience.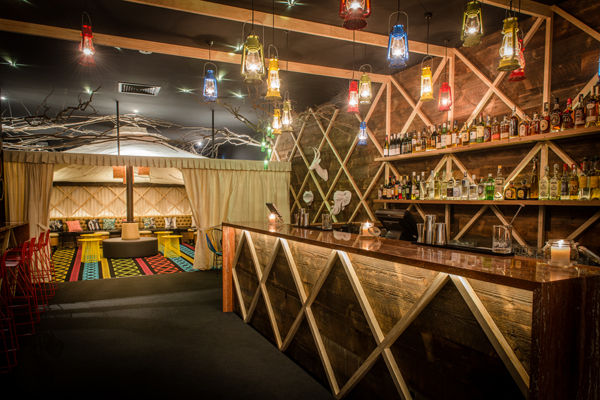 The impressive interior is separated into three distinct areas; the main service area, the Ahadi Lodge and the Lion's Den at opposite ends of the bar.
Street artists Makatron (Melbourne) and Freddy Sam (Cape Town) were commissioned to create a collaboration wall mural for the entrance, where patrons will also be met with a life-sized rhinoceros purchased from Taronga Zoo, named Heavyweight. Through the entrance is a central timber bar, with ambient lighting emitting from primary-coloured hanging lamps.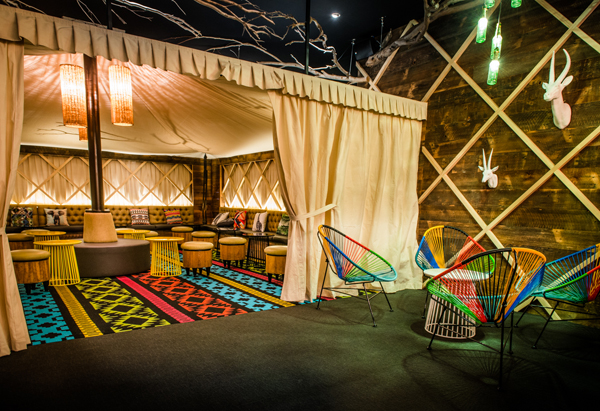 Ahadi Lodge is a giant indoor tent with three cylindrical pendant lights illuminating the semi-secluded area. Both bench and stool neutral coloured seating is used in the space, including colours such as mustard yellows, browns and timber grains with a brightly coloured carpet to brighten up the room.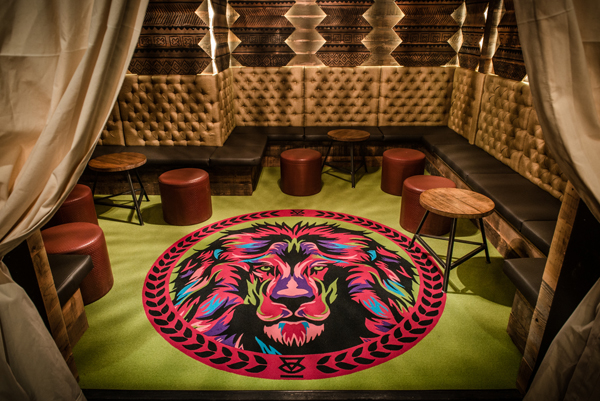 At the opposite end of the bar is the Lion's Den. With an earthier, more masculine feel than the Ahadi Lodge, the area features walls detailed with traditional African-style patterns. The seating includes timber-based seating, as well as brown stools to accompany small timber tables placed around the room. A custom-made psychedelic carpet covers the floor with a large lion's head at the entrance of the room adding green, pink, blue and purple colours to the neutral tones.
Glamp Cocktail Bar provides patrons with boutique bar atmosphere that expresses the exuberance of African culture and hospitality.