All photography by Martina Gemmola.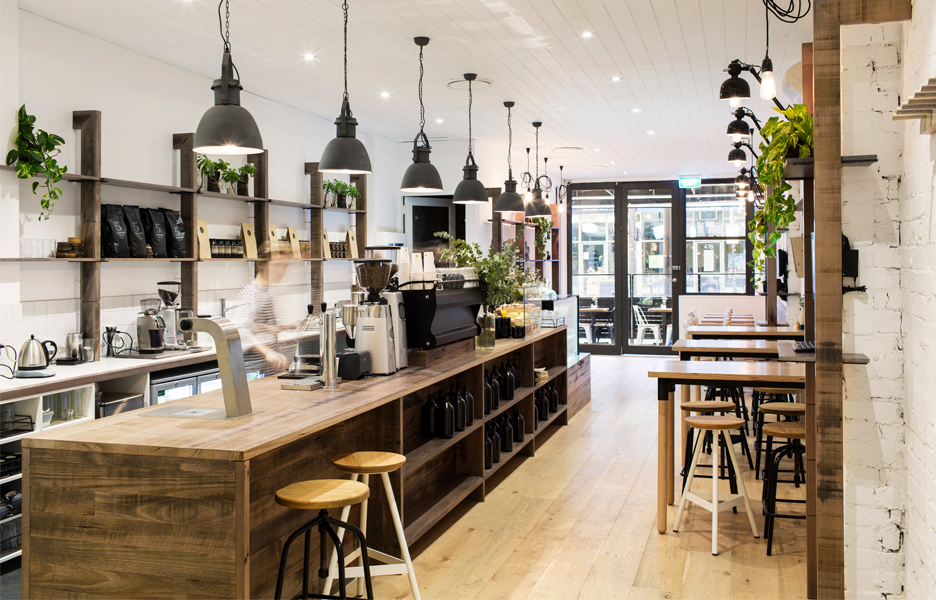 We meet Jean-Pierre Biasol at one of his studio's most publically frequented projects, The Lucky Penny on Chapel Street. The café fit out is fresh and youthful, with an airy feel throughout the elongated space despite its relatively slight frontage. A relaxed, functional aesthetic is expressed through exposed whitewashed brick walls and textured wooden counter, while open shelving and industrial lighting punctuate the space. The Lucky Penny's sparse neutral palette is lifted by living greenery, adding an organic reprieve to the geometric order of the space.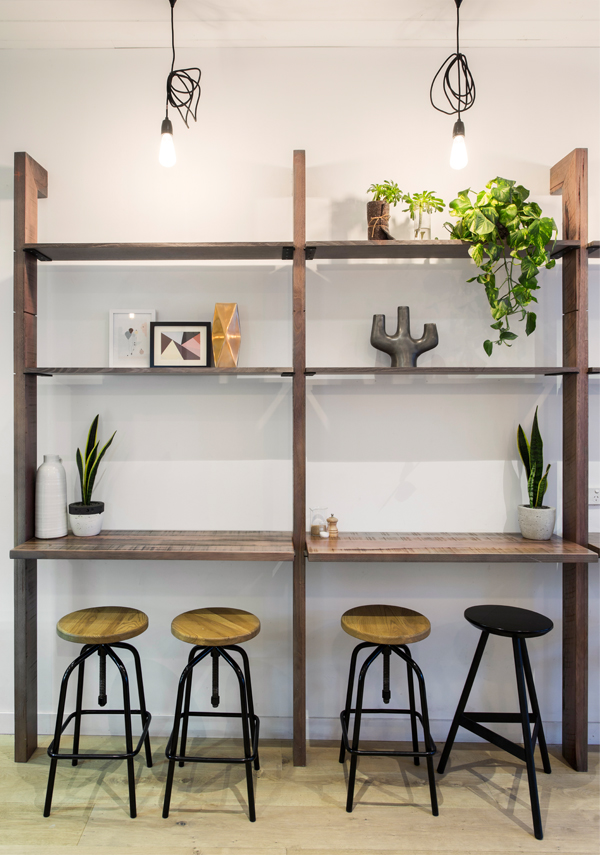 While there is a welcoming familiarity to the space as a recognisably Melburnian hospitality venue, there is a subtle cosmopolitan panache to the Lucky Penny – an air of European sensibility, perhaps not overtly discernable, that pervades much of Biasol Design Studio's work.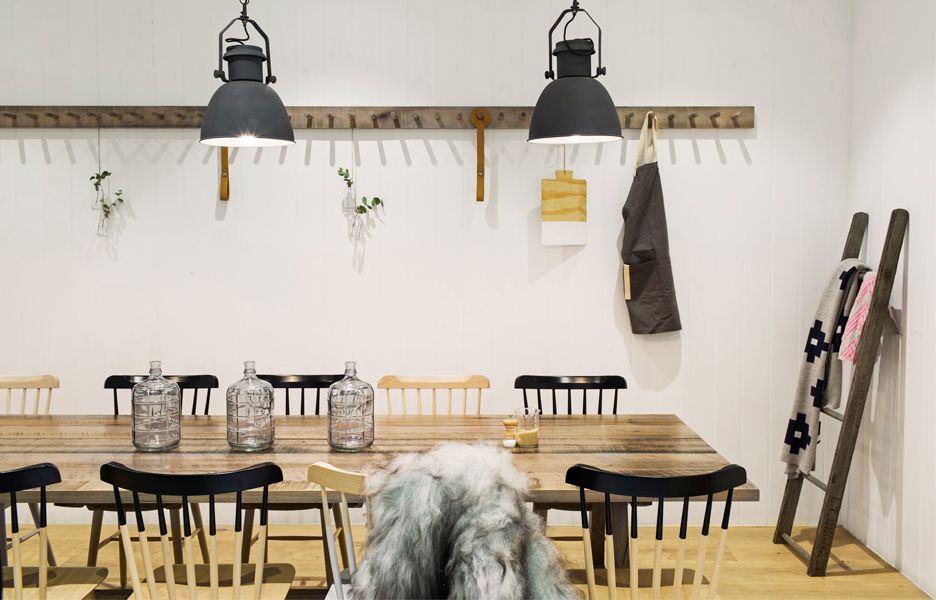 "I lived in Italy for 5 years, doing interior and product design," Biasol says, "and they have a totally different mindset with what they do over there, which was a great experience." During this professionally formative period, Biasol had an opportunity to work with both Achille Michelizzi Architects and Studio Luca Bojola, two well regarded architects and industrial designers in Florence. "I think in Europe, and especially in Italy, they're a lot more driven by the passion and the aesthetic. Whereas in Australia, I find that technical detailing drives design much more."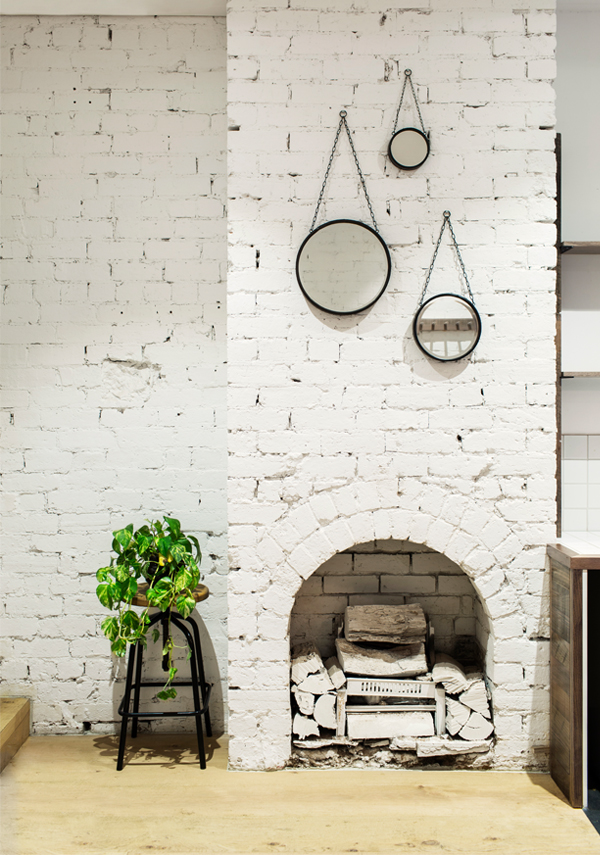 Moreover, Italian studios are traditionally renowned for maintaining a strong relationship between designer and maker, an essential dynamic for Biasol, informing his studio's holistic design approach. "Many of the fit outs we do have a lot of custom manufacturing," says Biasol. Indeed, much of the furniture specified for their hospitality fit outs is designed in house by Biasol Studio. Gesturing to the contemporary, vaguely Scandinavian furniture on the floor at Lucky Penny, Biasol says, "some of these tables, and the stools out the front, we've actually designed for Meizai".
Biasol's pieces for Meizai, the eclectic Richmond furniture house, represent a burgeoning extension to the studio's design service offering. "We might initially design the product to suit a particular space, but Meizai has given us a platform to create an exceptional standalone piece, born from the process of designing a bespoke solution for a venue." Not only does in house furniture design provide a useful avenue for experimentation while diversifying the team's skill set, but it also ensures that Biasol Studio's interior designs achieve a stylistic continuity.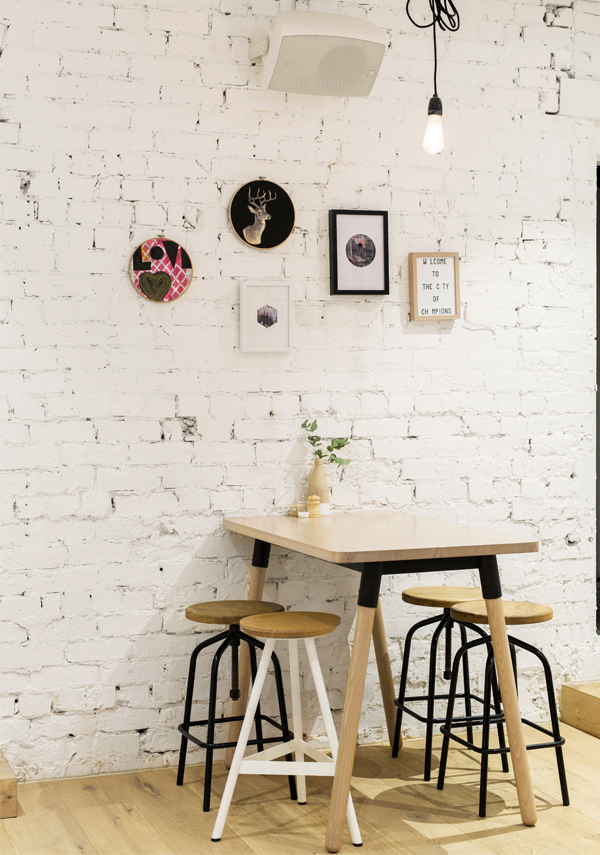 "Being able to select our own products means we can keep a unique signature," says Biasol. "We're highly focused on that – it's something that came out of my time in Florence. They're very artisan based". The team continues to design furniture pieces alongside their interior design and architecture work, with three new ranges coming out through through Meizai this year.
After completing his masters in industrial design in Florence, Biasol set about establishing his own practice upon returning to Melbourne, two and a half years ago. Fortunately for the designer, he "knew a few people in Melbourne that were ready to open up hospitality venues, bars and restaurants, so a couple of projects fell into place very quickly." Besides Lucky Penny, Biasol's local hospitality folio now includes Bar Sur Loup in North Balwyn, Rooftop at Il Gambero, Massoni Wine Bar on Collins Street, and Jury Café at the new Pentridge estate in Brunswick among others. The studio has also been involved in temporary marquee designs for Lavazza at the Melbourne Cup.
"Melburnians are becoming more design savvy; more appreciative of not just the obvious design details, but also the finer points. People we deal with are really interested designers delivering the whole experience," says Biasol.
"Australia in general has such a diverse cultural background that it really adds to our perspective on design. In France or Italy, they seem more focused on preserving their own cuisine, their own style, but here we're spoilt for choice. And we're a younger country too, so we have a fresher take on things".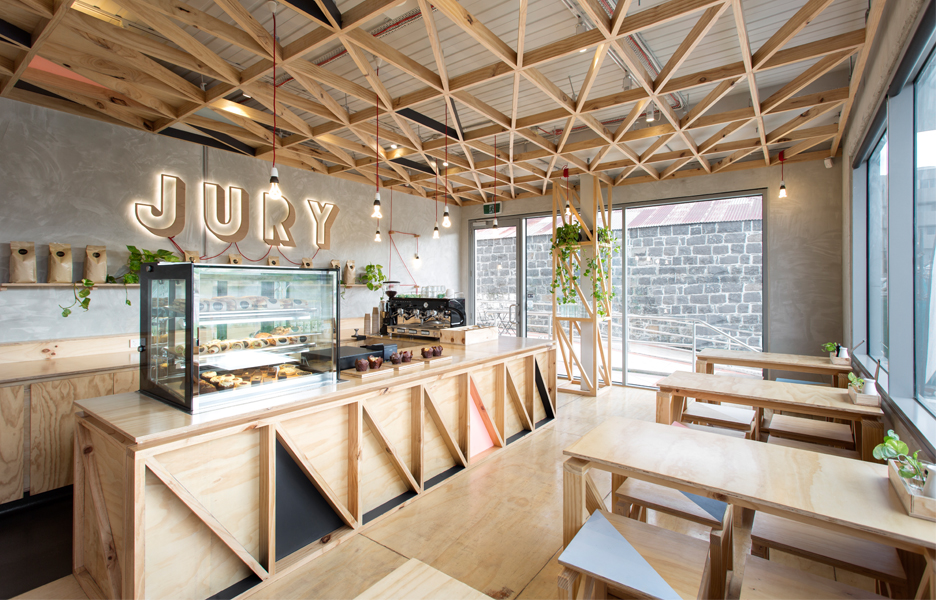 The studio's refreshing approach is neatly showcased in their recent work at Jury Café, a minuscule restaurant with universal appeal resonating beyond our shores. The project has garnered acclaim in international magazines and books, "and we've just had confirmation that it's going to feature in the Grand Designs UK magazine," adds Biasol. "We just didn't expect it to get such a huge response – I mean, it's a project with a budget between 30 and 50,000 dollars, only 35 square metres big!"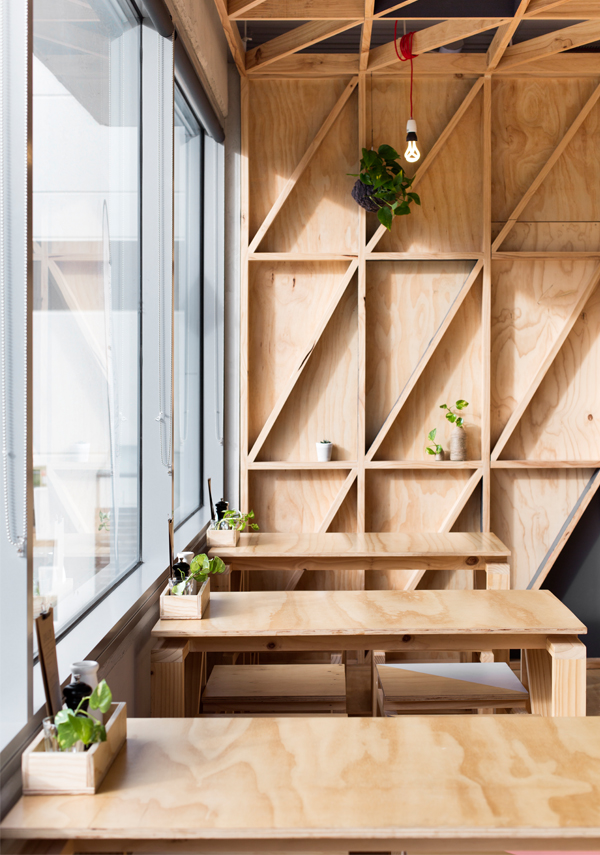 Spatial limitations aside, Jury Café's well-resolved design is imbued with a highly considered conceptual integrity, creating a distinct identity for the restaurant. The interior is an essay in angular plywood; strong triangular motifs frame the space, deftly extending from walls to ceilings. A palette of muted hues was selected to add a playful vibrancy. The soft pastels are anchored by a black accent colour, giving an element of visual strength, with the intention of making "a space that didn't feel either masculine or feminine". A custom designed counter and tables complete the fit out, a definitively contemporary statement against the old bluestone walls of the decommissioned Pentridge prison, where a new housing estate is finding its feet as a community.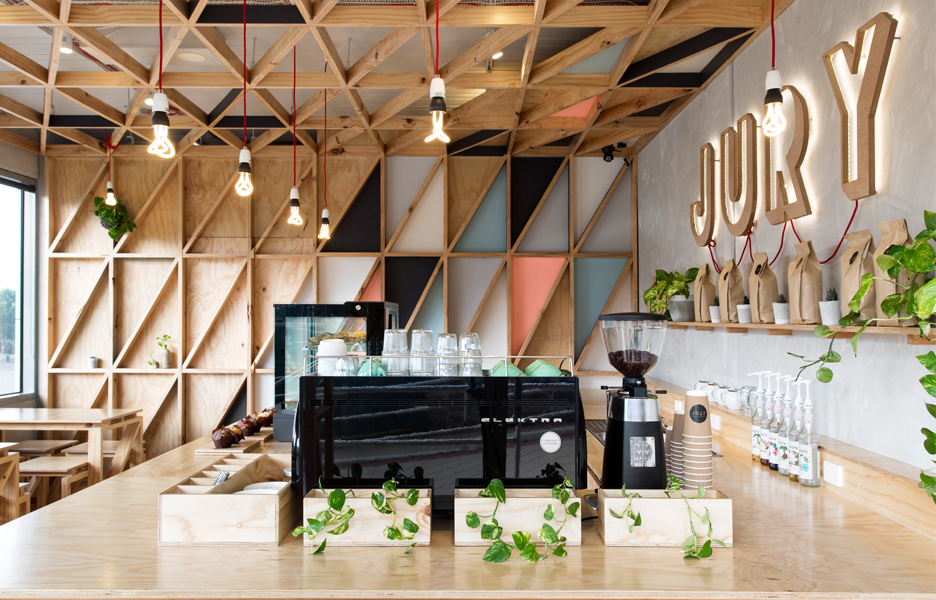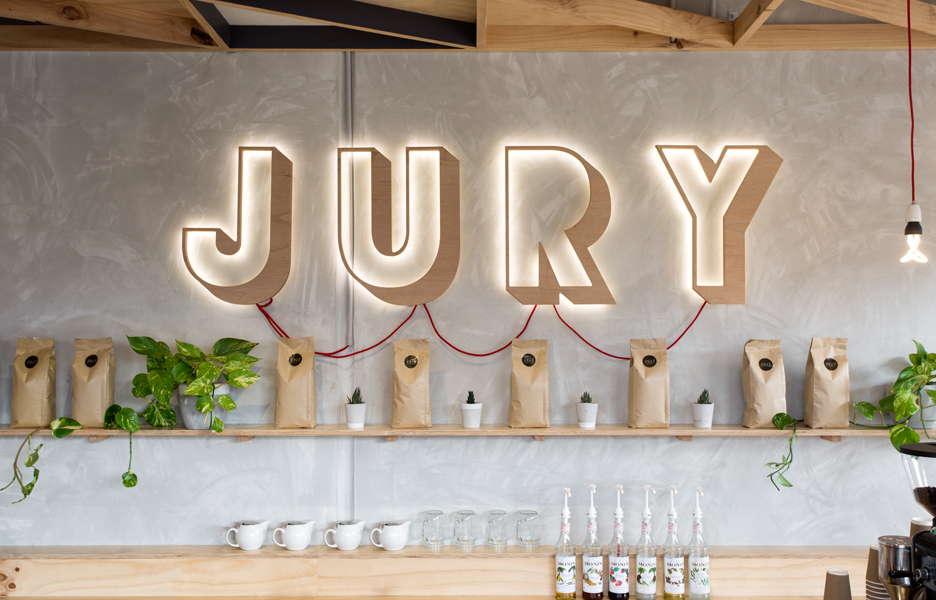 "It was a small space, and we wanted it to have high impact. We were lucky that our client said, "we trust you to do something really different with it" – you don't always get a client like that," Biasol says.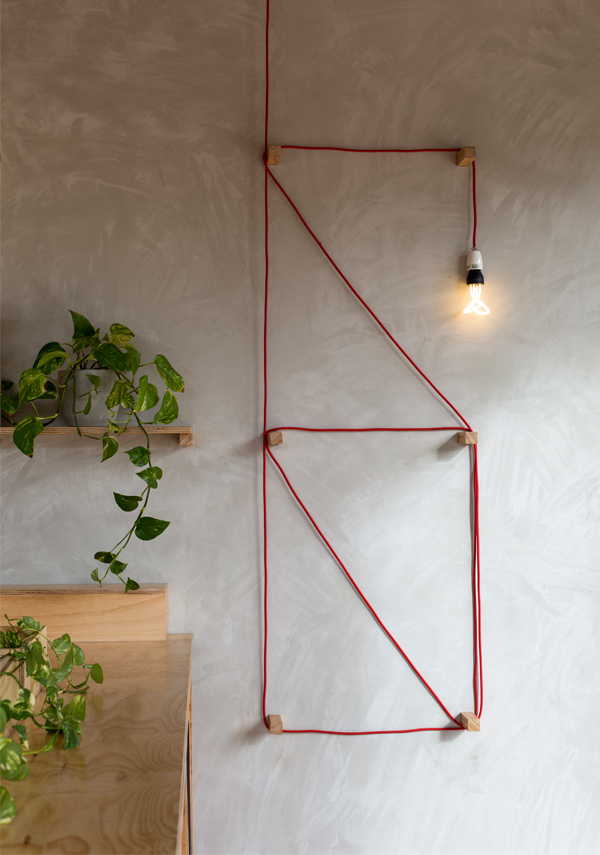 The small team works very closely, seeking opportunities to consolidate each person's skills where possible. "We don't like to pigeonhole someone into one type of role, we try to put people across a range of residential, hospitality and commercial projects, so we can learn off each other and keep every project fresh," says Biasol. "It also keeps a good energy in the studio".
At the moment, the studio is a team of just three architects and designers, though Biasol is looking to add a few more to the mix. Having been nominated for their pro bono work in collaboration with Ygap's Elle Critchley and Ewert Leaf for The Feast of Merit last year, Biasol is again looking to donate their talents for a good cause, as "just to be able to give back is really great".
The practice also works remotely with Biasol's European contacts, with six projects currently on the go in London. Two exciting UK projects for Biasol include boutique café Holborn Grind, which just opened up in the new Hoxton Hotel, and a similar outlet on London Bridge, sure to attract attention in such a high profile location. "We want a strong base here in Australia, but the end goal is to form an international studio. The view for the future is that hopefully in two or three years time, we can have a base in the UK as well".