Wick Architecture & Design and LAND Design Studio have recently completed Sake Dojo, an LA restaurant inspired by the ancient art of Japanese tattooing. 
Located in Los Angeles' popular Little Toyko neighbourhood, Sake Dojo captures the vibe of a modern Tokyo establishment, while exploring the ancient art of Japanese tattooing as its dominant design motif.
In homage to Sake Dojo's "Japanese forward" culinary spirit, designers David Wick and Andrew Lindley fused their impressions of Tokyo, from the traditional and modern to the humorous, and even, fantastical.
"We wanted the space to feel fresh and vibrant, and to express the cohesion of our impressions with art and cultural objects at the core," says Wick. Adding to this, Lindley says, "We wanted to recognize Japan's worldwide reputation for exceptional tattoo art in a way that reframed the experience. By reimagining the scale of its application to beyond life-size, we took tattoo art from personal expression to a sensorial group experience."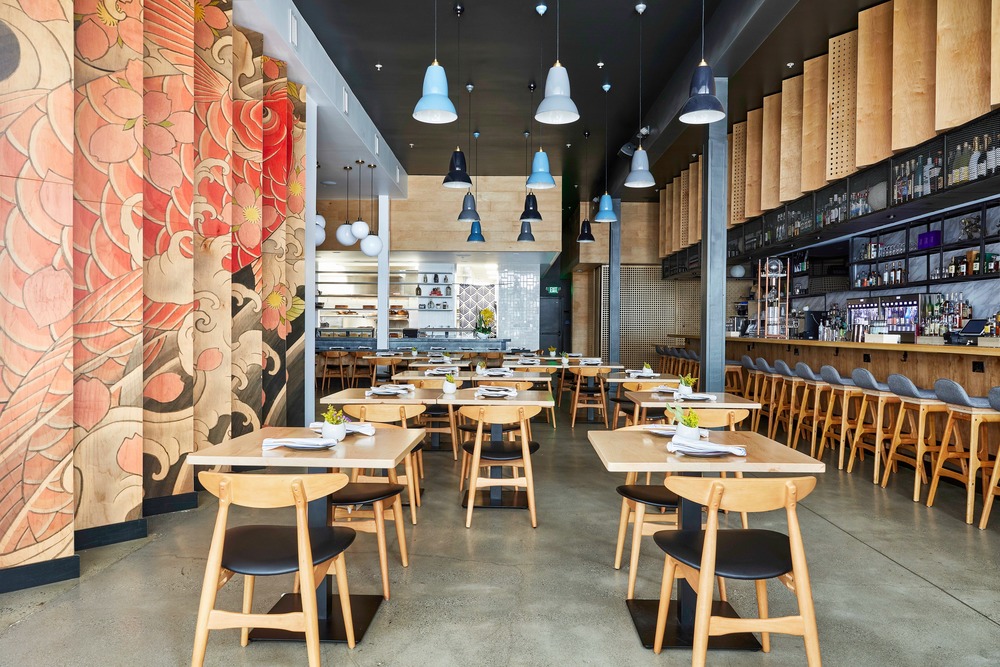 In the context of the restaurant, the wood acts as the canvas instead of human skin, and wood grain is deployed to mimic how ink sets on human skin. Wick and Lindley collaborated with tattoo artist Horifuji and printer Michael Hill of A ō S A to create the lenticular walls of tattoo art and light that fill the space.
Featuring waves, water petals and Koi fish, the aquatic theme is articulated in the main dining area on a feature wall near the entrance and on an adjoining wall, before rising 5 feet above the bar and running its entire 50-ft length span.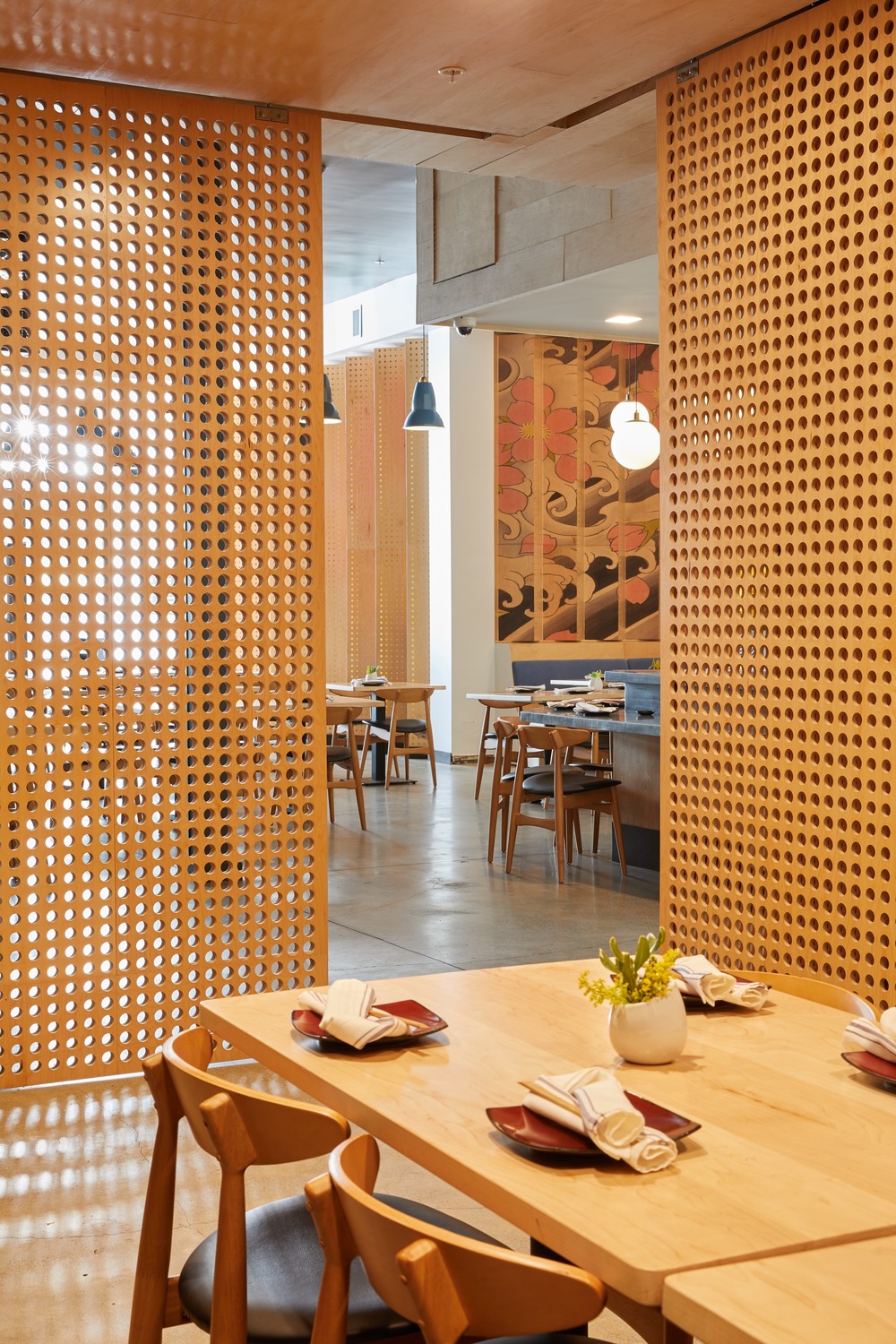 The perforated plywood panels also house lighting systems, cover mechanical diffusers and contain HVAC above the bar. In the restaurant's private dining room, floor-to-ceiling sliding perforated panels continue the design motif, cleverly enclosing the room and providing dappled views inside and out.
Throughout the 3,283 square foot space, Wick and Lindley layered a tongue-in-cheek environment with vintage décor that includes a series of American movie posters in Japanese, including Life Aquatic and The Good, the Bad and the Ugly, as well as vintage cameras, sake bottles and Japanese cookbooks.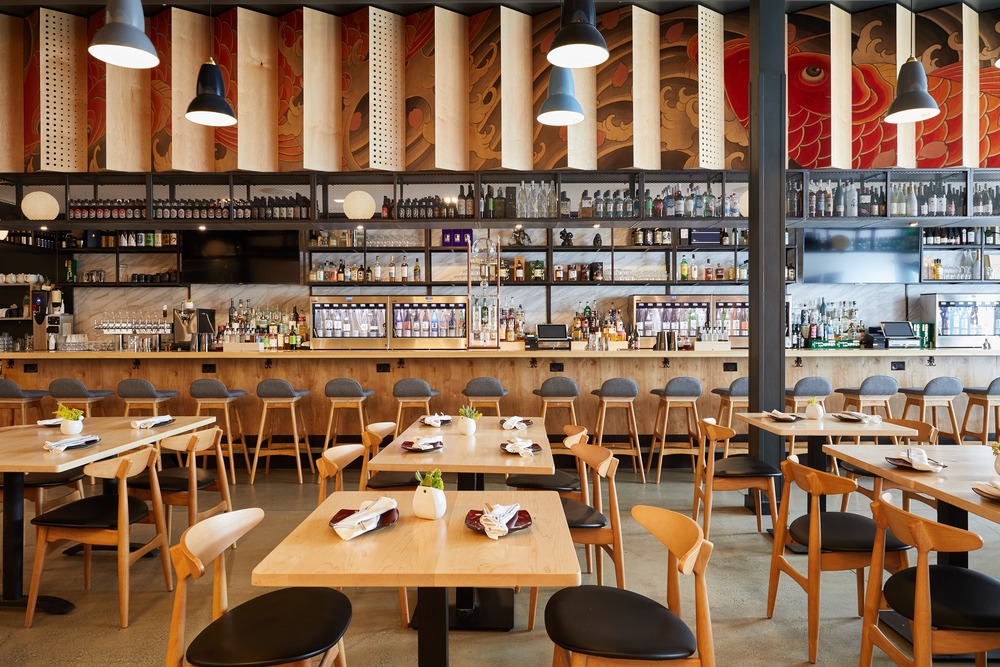 In the expansive bar area, an expanded steel liquor cage and generously sized bar amplify the sake theme, where guests can order more than 120 varieties on tap.
The effect overall—a high-design environment with a welcoming, energetic and urban vibe—is exactly what Sake Dojo's proprietors envisioned. "We are deeply invested in Little Tokyo's transformation," says Sake Dojo co-owner Don Tahara, who alongside partners Mike Gin and Enrique Ramirez, also opened Far Bar in 2006. "David and Andrew have a long history of exceptional design commissions in downtown LA, so we appreciated not only their creative chops but also their commitment to transforming the neighbourhood while respecting its cultural significance."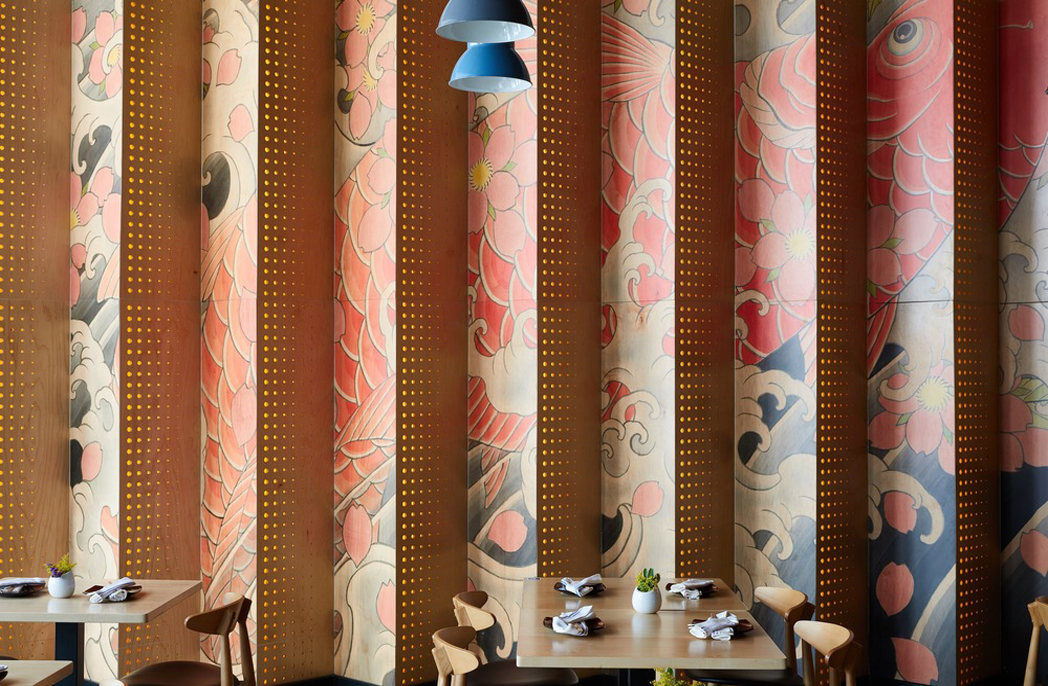 Located on the ground floor of the recently remodelled Mikado Hotel in a historic building dating back to 1914, Sake Dojo is the fourth restaurant project Wick and Lindley have completed in Los Angeles' flourishing downtown.
Photography by Nicole LaMotte Photography